Publié le par Bernard Duyck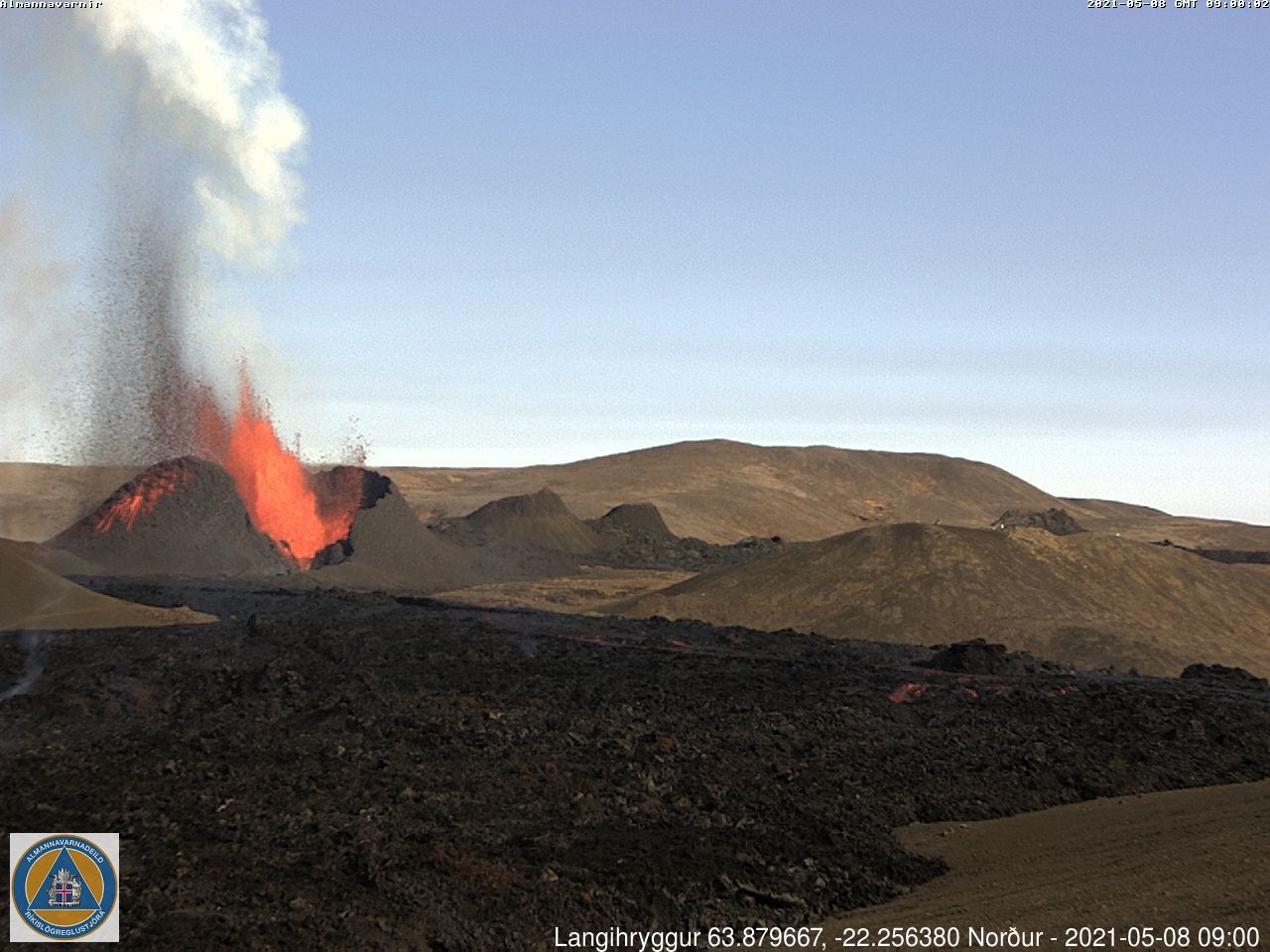 Geldingadalur - one of the last lava fountains on vent 5 - 08.05.2021 / 09h00 - webcam langihryggur N
Changes in activity occurred on May 8, 2021 in the morning at Fagradalsfjall :
just before the disturbances, the lava fountain was very powerful, around 8:58 a.m., exceeding 450 meters in height. (see video below)
At 9:20 am, a small vent opened in the inner wall of the cinder cone on crack 5S. After the start of activity at this location, the fountaining stopped in favor of a weak spattering of the active vents.
Since then, the emission of lava by the vent system has been continuous and no longer fluctuates. Lava flows spread south into Nafnlausi Dalurinn (the unnamed valley).
The fountaining seems to have resumed, in a more modest way at vent 5, according to the images of the webcam langihryggur N.
Sources: Dr. Ev.Ilyinskaya, Volcano chaser, Óróapúls
Video Viðburðastofa Vestfjarða / 08.05.2021
In Nicaragua, the Telica volcano recorded gas and ash explosions
in the morning of May 8, 2021, according to the images of the webcam Ineter
Source: Ineter
At Piton de La Fournaise, the amplitude of the volcanic tremor (indicator of an emission of lava on the surface) continues its slow decrease that began on May 2. However, its amplitude remains significant, still reaching 40% of the maximum amplitude observed during this eruption on April 13.
The 2 cones remain active on May 8, with a more marked degassing of the downstream cone.
The flow front continues its progression in the Grandes Pentes and reached an altitude of approximately 1,200 meters on May 8 during the day.
Source: OVPF