Publié le par Bernard Duyck


Reykjanes Peninsula - Lava from vent # 5 flows into Meradalur - Image Sentinel-2 bands12,11,4 from 07.05.2021 - one click to enlarge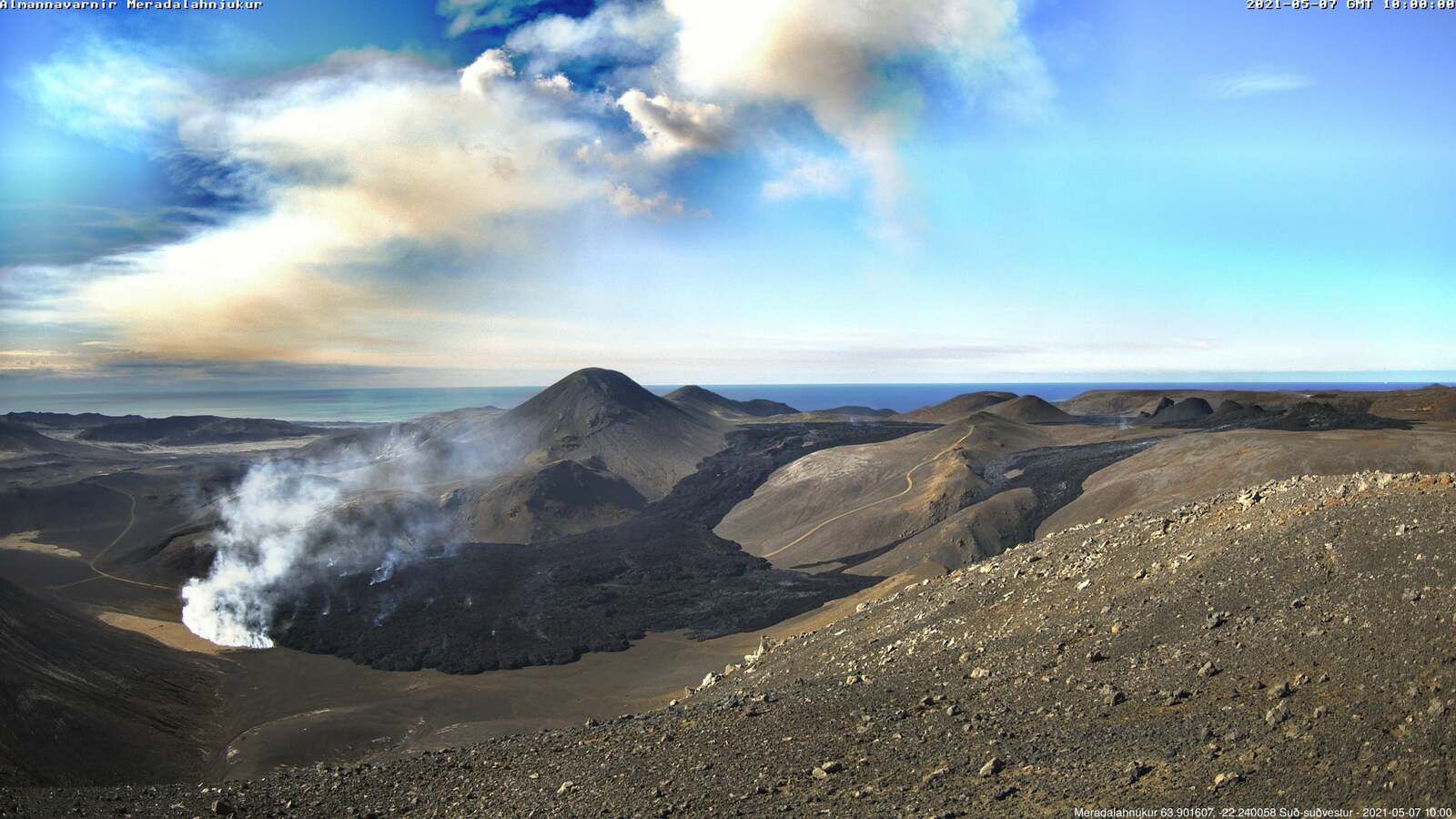 Meradalur - lava about to pass through one of the drains, traces earthquake faults on the surface. - photo Pall Einarsson / Jarðvísindastofnun Háskólans
The eruption in Geldingadalur continues with spaced pulses.
Vent # 5 is still active and its lava is now also pouring into Meradalur, on the green grass, and is about to cross one of the drains, tracing earthquake faults on the surface.
The Insivumeh reports the observation of periods of degassing of white and gray color at the Mackenney crater of the Pacaya up to 900 meters above the crater, moving north and northeast.
Effusive activity is maintained at the level of the crack on the northwest flank; it feeds a flow which descends the southwest flank for 2,400 m. about
Guatemalans performed a ritual in front of the Pacaya volcano, a few dozen kilometers from the capital, to demand the end of volcanic activity.
Source: Insivumeh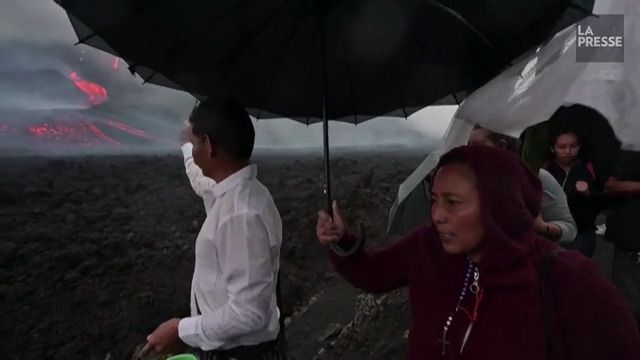 Guatemalans performed a ritual in front of the Pacaya volcano, to demand the end of volcanic activity. - La Presse.ca
At Piton de La Fournaise, the tremor decreases slightly, with an amplitude which remains significant at 50% of the max. observed on April 13.
Both cones are active; degassing is more marked on the downstream cone.
The flow of the lava at the exit of the eruptive vents, takes place mainly in tunnels and this almost to the upper limit of the large slopes, where resurgences of lava are visible on the surface,
The flow front continues its slow progression at the top of the Grandes Pentes.
The CO2 fluxes in the soil are still increasing in the far field (Plains region), but sharply decreasing in the near field (Gite), suggesting that the deep recharge is continuing; The slight inflation (swelling) of the summit zone continues, which testifies to a pressurization of the surface reservoir in accordance with its recharge by deeper magma. This confirms the interpretation derived from observations of CO2 fluxes in the soil.
The favorable weather conditions during last night, allowed an estimation of the lava flow by satellite imagery. Surface flows estimated from satellite data via the HOTVOLC platform (OPGC - Clermont Auvergne University) remain below 7 m³ / s. However, the lava flow, now largely tunneled, as well as the cloud cover, probably lead to an underestimation of this flow.
Source: OVPF