Publié le par Bernard Duyck
During the period from May 3 to 9, 2021, the Sabancaya presented a moderate level activity, with an average of 66 daily explosions, accompanied by plumes of ash and gas up to 2,500 meters above the summit.
At the level of seismicity, I.G. Peru reports 1,609 volcanic earthquakes associated with the circulation of internal maglatic fluids.
Volcano-tectonic earthquakes, linked to the fragmentation of rocks, were detected mainly in the northeast of the volcano, with magnitudes between 1.0 and 2.0.
The deformation monitoring as usual includes a slight inflation of the northern sector.
Nine thermal anomalies, with a max. of 18 MW, are linked to the presence of a surface lava body in the crater.
The alert remains at the Naranja level, with a no-access zone of 12 km.
Source: I.G. Peru
The eruption that began at Piton de La Fournaise on 04/09/2021 at 7 p.m. (appearance of the tremor) continues. The amplitude of the volcanic tremor (indicator of an emission of lava on the surface) continues its slow decrease initiated since May 2, with an amplitude of 30% of the maximum amplitude observed during this eruption, on April 13, which remains significant.
The two cones are still active, with a degassing which is always more marked and projections of lava always present at the level of the most downstream cone.
The main cone has a base cone width of 226 m and a height of around 35 m.
The flow front has still not reached Piton Fréri (located at an altitude of 1000 m), confirming its slow progression. The lava, however, engulfed the small cone above the Piton Fréri.
The CO2 fluxes in the soil are still increasing in the far field (Plains region) and decreasing in the near field (Volcano Gîte) suggesting that the deep recharge is continuing. But the slight inflation (swelling) of the summit area seems to have stopped.
Source: OVPF - press release dated 11.05.2021 / 6.15 a.m.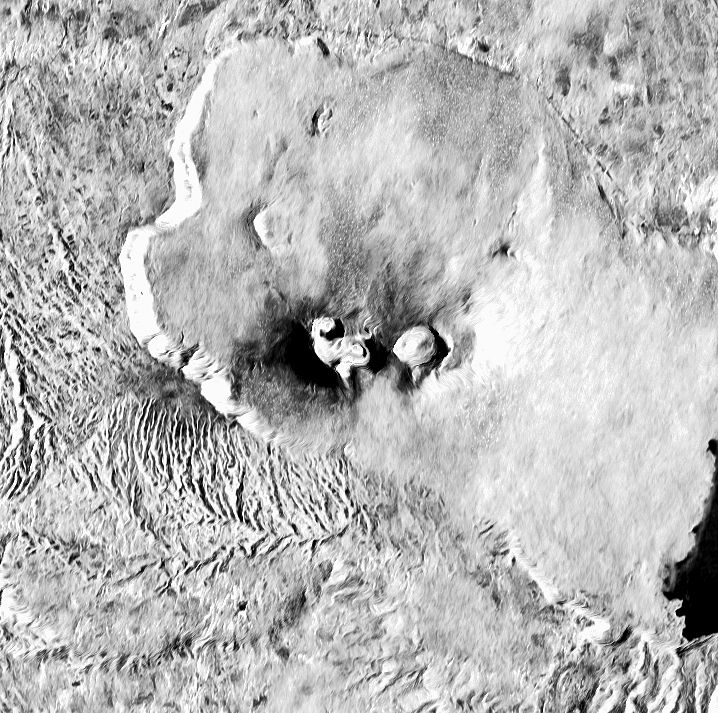 Masaya, les cratères sommitaux - image Sentinel-1 SAR Intensity VV filt 05,05,2021 / descending (55)
The presence at the Masaya volcano, in Nicaragua, of two lava lakes at less than 80 meters in the Santiago crater has been confirmed for some time by Tanguy de St Cyr.
Its teams are present on site, with the authorization of Ineter and the Masaya National Park, in collaboration with scientists from the University of Clermont-Ferrand and the production of the program "Le monde de Jamy" / FR3 , and descended several times on the 1st terrace, 250 meters below the summit, thanks to a zip line supported by a 6 m tripod. height.
Sources: Tanguy de St Cyr & Mirova / Sentinel / Mounts project
the photos can be seen on his Facebook page