Publié le par Bernard Duyck
Suðurnes police decided on June 13, 2021 to block traffic in the Fagradalsfjall eruption area for safety reasons.
The decision was taken in consultation with the Civil Protection Department of the National Police Commissioner after lava began to flow from south of Geldingadalur, on hiking trail A and up to Nátthaga. The Coast Guards flew over the area which was closed on Sunday and checked to see if anyone had been trapped. According to information from the guards, no one was seen in the area.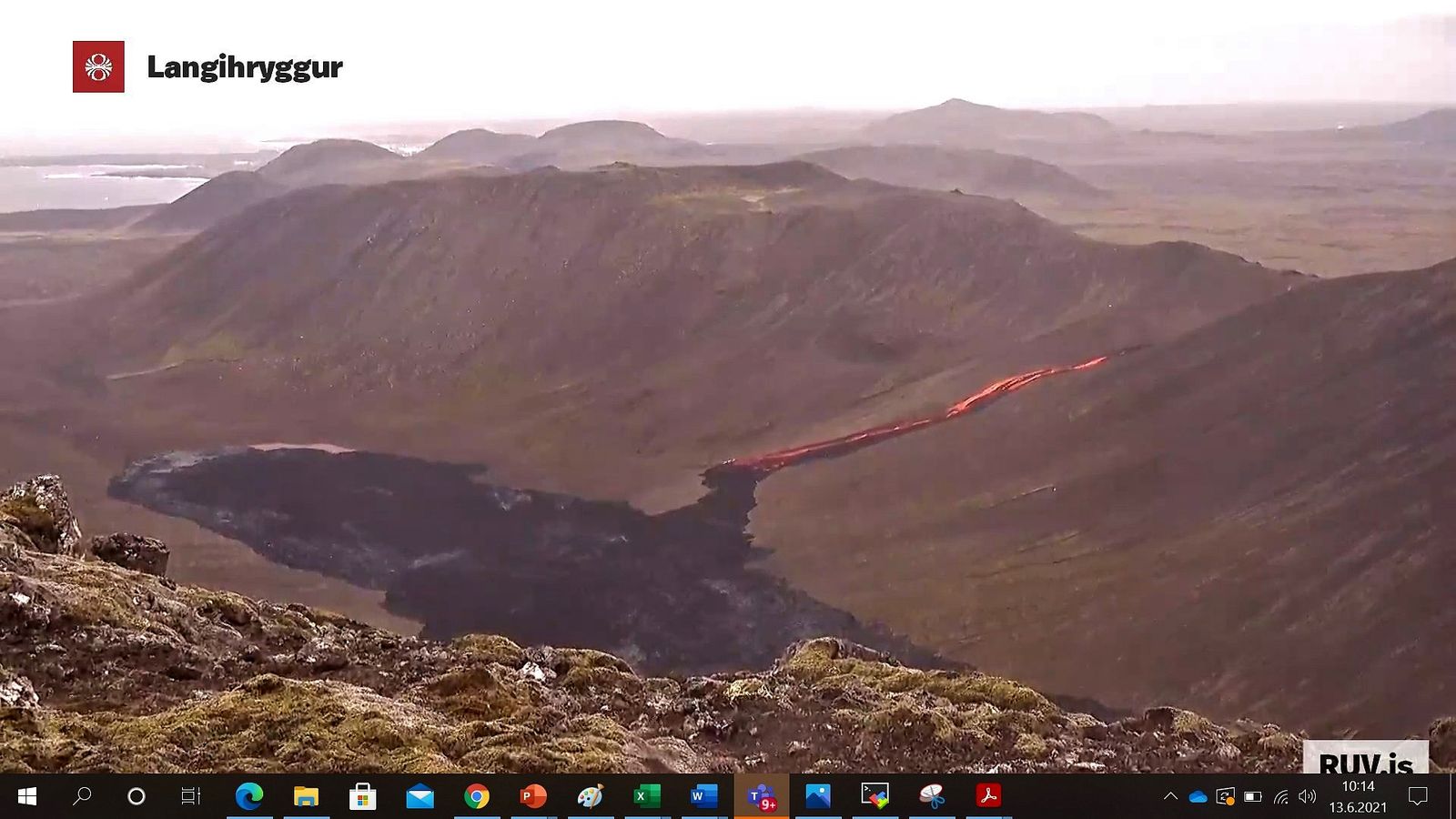 Fagradalsfjall - Lava cuts trail A and flows into Natthaga - 06/13.2021 10:14 am - RUV webcam via Kristin Jonsdottir
Preparations have started for the construction of a new hiking trail at a location similar to hiking trail B, i.e. on the west side of Fagradalsfjall.
The eruption sites are open today, but people will be directed to route B which is actually more for experienced hikers (harder and longer). Hiking trail A is not considered safe.
There is also an easy walking route to Nátthaga, where lava flows from Geldingadalur and south of Meradalur.
Geldingadalir Volcano, Iceland - LIVE! Nátthagi camera mbls
New measurements were taken on Friday, June 11, when Garðaflug flew with the Hasselblad camera from the Institute of Natural History, and new land models of Fagradalshraun have now been prepared based on the images.
The average lava flow over the period from 02 to 11 June (9 days) is nearly 12 m³ / s, which is unchanged from the previous period (18 May - 02 June). The lava flow has therefore remained almost constant for the past six weeks and has been twice as high as the average for the first six weeks.
The lava now measures 63 million cubic meters and the area is 3.23 square kilometers. The area has increased considerably since the last measurement, to more than 60,000 square meters per day. This corresponds to around 9 football pitches every day.
Sources: University of Iceland - http://jardvis.hi.is/eldgos_i_fagradalsfjalli (posted on 14.06.2021) & police of Suðurnes, RUV and mbls.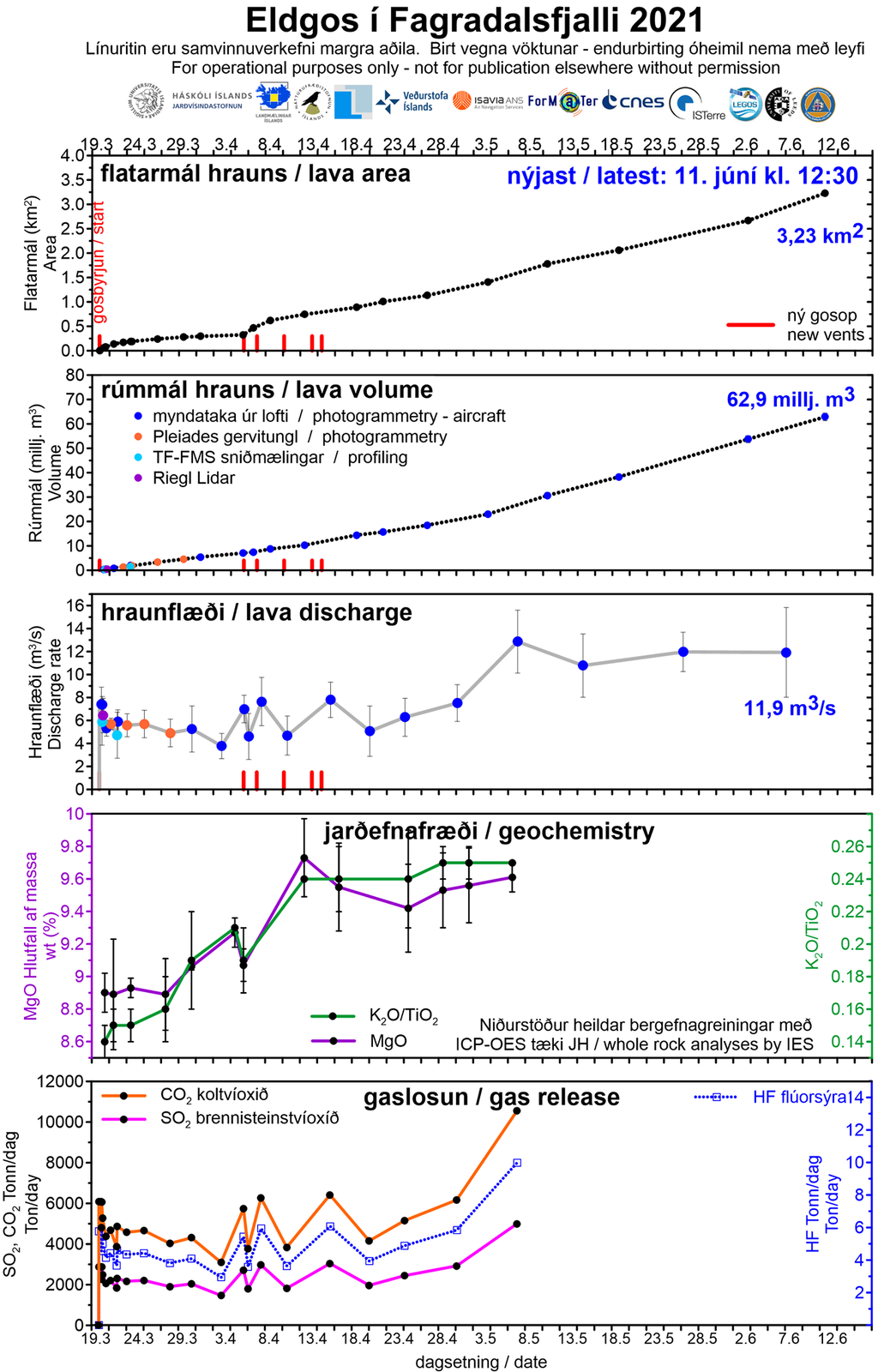 Fagradalsfjall eruption - parameters (area, volume and discharge of lava, geochemistry, analysis and quantities of gas emitted) - Doc. jardvis.hi.is/eldgos_i_fagradalsfjalli
The Bulusan volcano monitoring network, in the Philippines, recorded one hundred and five (105) volcanic earthquakes on 12.06.2021 in the last 24 hours of observation. Weak emission of white vapor-laden plumes from the lower southeast vents before drifting north-northwest was observed. Soil deformation data from real-time electronic deformation monitoring recorded sustained inflation of the upper slopes that began on March 6, 2021, which corresponds to short-term inflation of the building as measured by GPS monitoring continuous since February 2021. These parameters generally indicate that shallow hydrothermal processes are occurring under the edifice.
The monitoring network recorded on 13.06 twenty-seven (27) volcanic earthquakes during the last 24 hours of observation.
The increase in seismic activity is probably due to shallow hydrothermal activity following the recharge of rainwater in the Bulusan hydrothermal system.
Bulusan Volcano has Level 1 alert status, which means it is currently in an abnormal state. Local authorities and the public are reminded that entry into the permanent danger zone (PDZ) with a radius of 4 kilometers must be strictly prohibited and that vigilance in the extended danger zone (EDZ) of 2 kilometers in the sector southeast must be exercised due to the increased possibilities of sudden and dangerous phreatic eruptions

Source: Phivolcs