Publié le par Bernard Duyck
Sara Þórðardóttir Oskarsson is an Icelandic artist, who has just made her dream come true: to paint a volcano on a ... erupting volcano.
That of Fagradalsfjall offered him this "golden opportunity".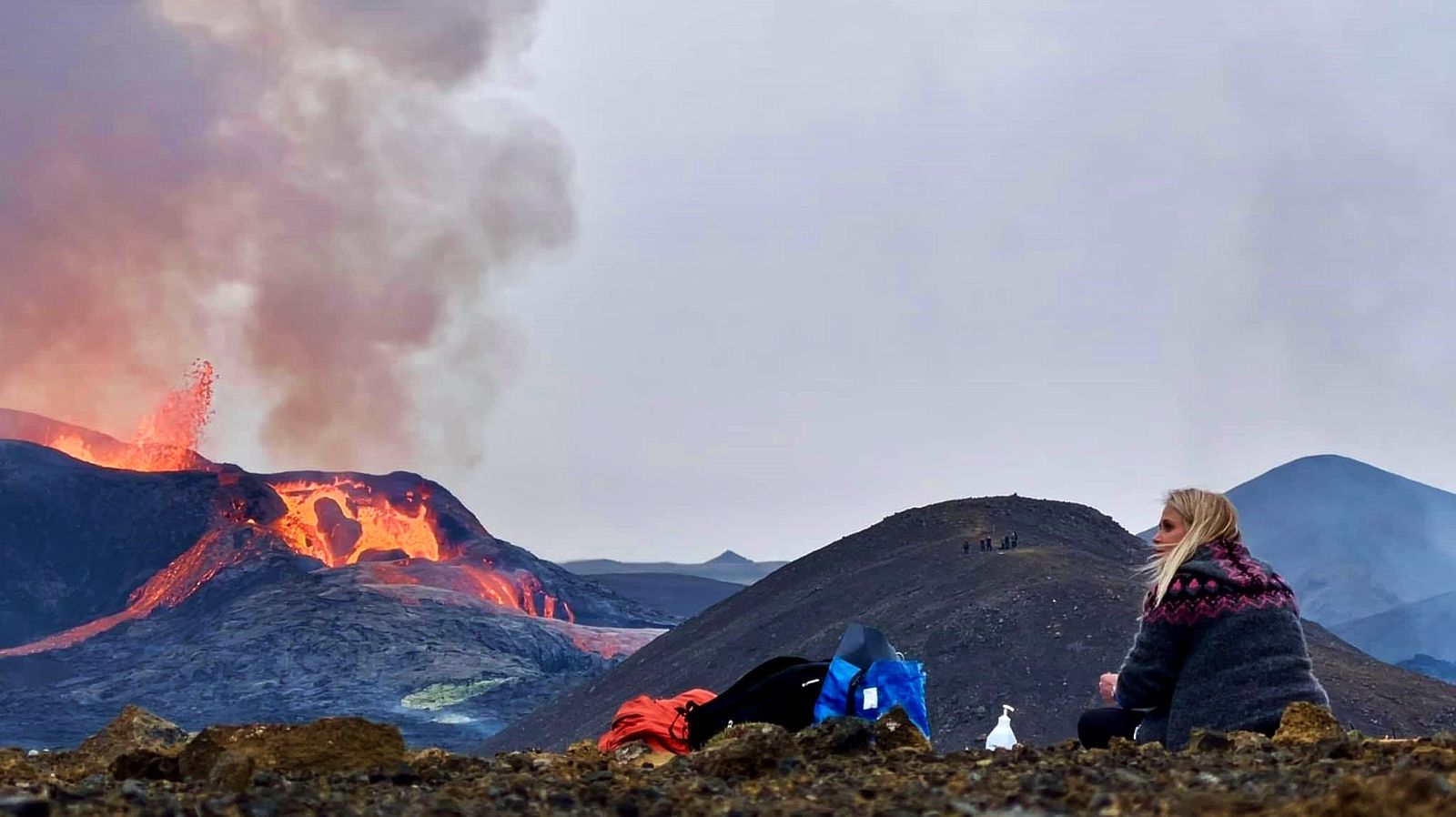 Artist Sara Þórðardóttir Oskarsson on the site of the Icelandic eruption of Fagradalsfjall - photo from her Facebook page of 06.10.2021 (https://www.facebook.com/saraelisa)
As she comments: " Materials play a central role in my work. I mostly employ non-traditional materials and processes within the settings of 'painting.' I largely incorporate chemistry and try to develop the work. by experimenting with the materials I use, this often involves accessing the expertise of scientific disciplines and using materials still in development in the field of chemistry.
Matter itself is not fully understood, nor is our relationship to it. How consciousness comes from matter is a mystery. By sourcing a wide range of materials and incorporating chemistry into my work, I want to take apart or melt down the physical world and rearrange it on the canvas. The material loses all meaning and form before being reorganized into a functioning, understandable, living. "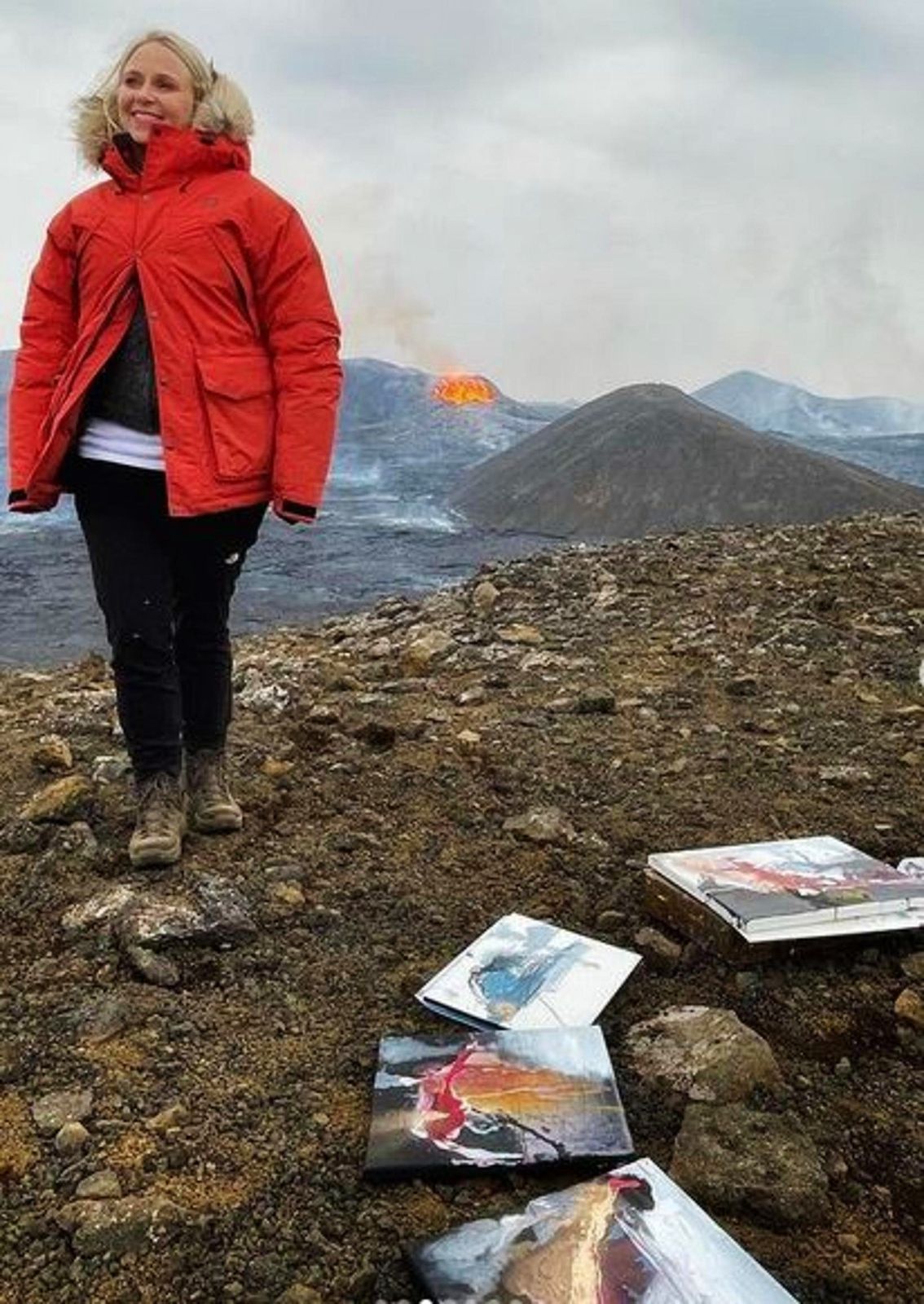 A dream come true - photo of Sara Oskarsson after a day's work on the volcano - photo from her Facebook page
Brief biography:
Born in Reykjavík in 1981, she moved with her family to Dundee, Scotland in 1985, where her father had gone to study medicine, and where she lived until her teenage years.
Nostalgic for Scotland, she moved there when she was 17. She was planning to study chemistry there ... until she decided to focus on her other area of ​​interest, art, at the Edinburgh College of Art, and she harmonized these two subjects in order to enhance them.
Today her paintings are based on chemistry and ideologically and philosophically connect with the work she does in politics, where she serves as the Pirate Party MP in the Icelandic Parliament. It can be described as a very interdisciplinary approach to the challenges within each subject.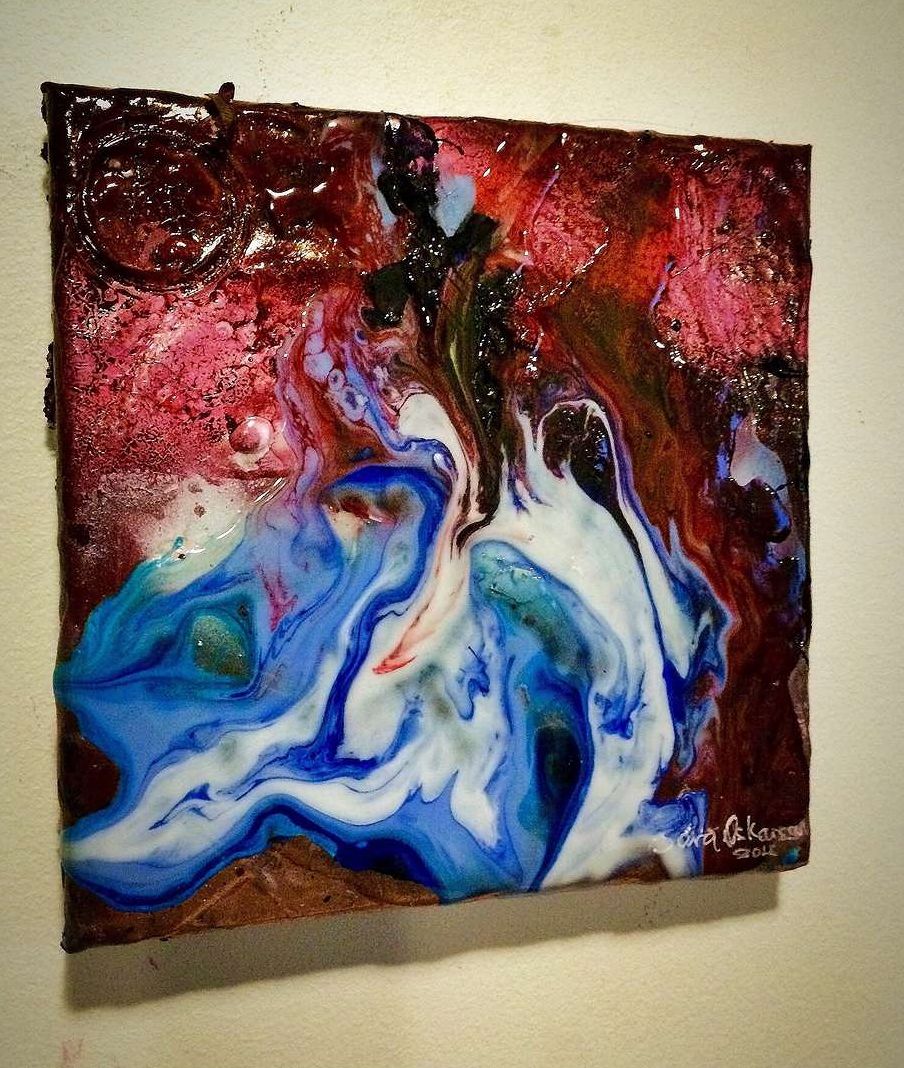 "Fire and Ice" - another work by Sara Þórðardóttir Oskarsson - Original painting in mixed media on canvas. - 10/10 cm - https://newbloodart.com/artwork/fire-and-ice-by-sara-oskarsson
This other work by Sara Oskarsson, titled "Fire and Ice", is commented on on the New Blood Art page:
" A duality of layers appears in Oskarsson's large and tempestuous canvases. Their surfaces carry a tense underlying materiality that at once fractures yet combines their abstract play of colours. Her complex transformation of materials indicates her interest in chemistry, one that advances Jackson Pollock's alchemical philosophy. "
Sources: various media (Frettabladid - The Telegraph- New Blood Art - Saatchi Art - Facebook - Instagram)