Publié le par Bernard Duyck
At 07:12 UTC on 27 June , a strombolian activity has resumed at the South-East Crater of Etna, producing an ash cloud that is moving eastwards.
Strombolian activity in the southeast crater is gradually increasing, producing modest ash emissions. In addition, a southwestward overflow of lava is underway.
At 08:10 UTC, the amplitude of the volcanic tremor is at high values with an increasing trend.
From about 09:00 UTC, the surveillance cameras observe the transition from strombolian activity in the southeast crater to a lava fountain. The activity occurs from three vents in the western part of the southeast crater.
By 09:50, lava spouting activity in the south-east crater has ceased, but ash emission continues; the eruptive column reaches a height of 9-10 km, heading east-southeast. Volcanic ash fallout is reported on the eastern flank of the volcano.
The INGV reports at 12.27 pm that explosive activity in the south-east crater has ceased. The lava flow emitted from the "saddle mouth" of the southeast crater is no longer fed, but is still extending southwestwards, with an active front at an altitude of about 2700 m.
Source: INGV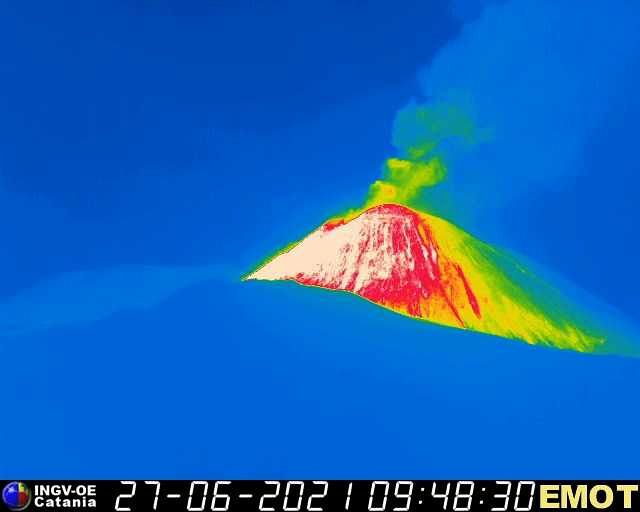 Etna SEC - 27.06.2021 / 09h48 UTC - end of fountaining, and continued ash emission - INGV EMOT webcam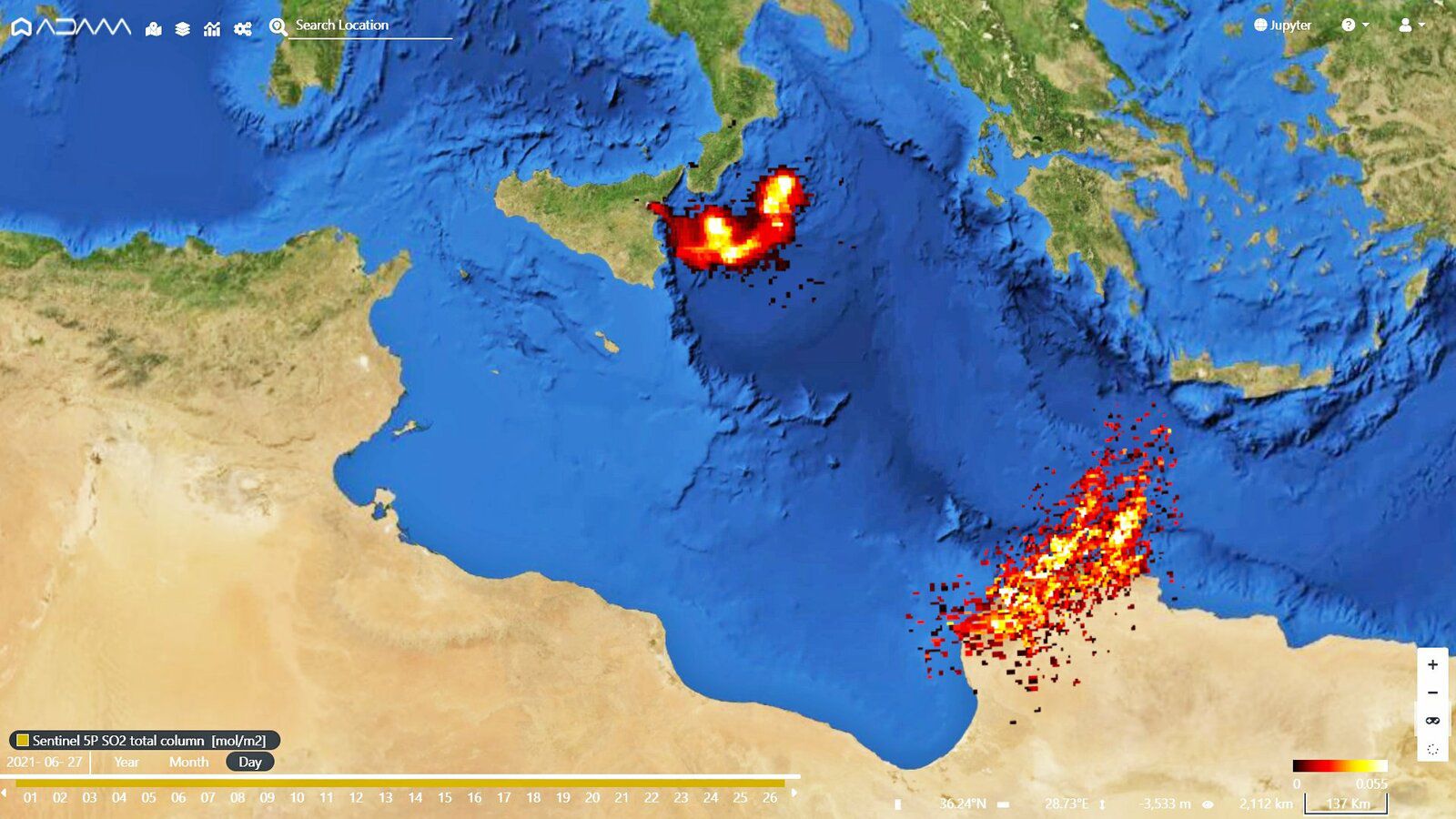 Etna - the trace of 2 eruptions on one image: SO2 plume of 27 and 26.06 - Doc. Adam Platform / Sentinel -5P
At Reventador in Ecuador, the IGEPN reports the observation on 27 June 2021 of ash emissions at an average height of 1,000 metres above the crater, and the descent of incandescent blocks on the south-eastern flank over a distance of up to 800 metres below the crater level
Seismicity is characterised by 12 LP earthquakes, 55 explosion earthquakes; and 8 tremor episodes.
Two thermal anomalies have been recorded in the last 24 hours.
The alert level remains at naranja
Source: Instituto Geofísico
SENTINEL-2 and Lansat 8 / USGS satellite images from 26 June 2021 of the Fagradalsfjall eruption show that there is still considerable activity in the lava fields of the Meradalur and Geldingadalur valleys.
The most active areas remain the crater and the lava rivers (in white), the high temperature lava field is coloured red and yellow.
" The temperature of the magma rising in the crater is about 1200 degrees," says Þorvaldur Þórðarson, professor of volcanology at the University of Iceland. " It is therefore clear at the time the photo was taken that there is a large lava flow in the southwestern part of Geldingadalur and also in the western part. The photo also shows that a channel extending eastwards is pumping magma down the slope into Merardalur. Two yellow dots in the picture are puddles where lava has accumulated ". (interview in RUV)
Sources: RUV, Benjamin hennings, Sentinel-2 and Landsat 8