Publié le par Bernard Duyck
At Fagradalsfjall, the variations of the tremor resumed.
After a half-day break, the eruption in Geldingadalur took a better turn on July 16. The rash increased and resumed properly from ten o'clock this morning. Lava started to flow from the crater again towards Meradalur.
A plane operated by the meteorological office flew over the region several times on 07/16: the eruption increased and the crater filled.
In a conversation with mbl.is, a nature conservation expert at the meteorological office said the lava flow could be assumed to have a flow rate of around ten cubic meters per second.
Source: mbls
An explosion occurred at Suwanosejima at 7:58 a.m. on July 17, and the eruptive plume rose 3,400 m above the crater rim.
Volcanic ash disperses northwest of the crater and a large amount of ash fell on the village of Toshima
In addition, in the area from the crater about 4 km to the north, small volcanic bombs are blown away.

Source: JMA
The seismic activity at La Soufrière, St Vincent has remained weak since the tremor associated with the explosion and the ash evacuation of April 22. In the past 24 hours, only a few small earthquakes have been recorded.
Persistent vapor emissions from a few regions within the crater continue to be the dominant observable feature.
Thermal anomalies continue to be detected but do not indicate that an explosive event is imminent but that there is a heat source, most likely from a small body of magma remaining, near the bottom of the summit crater.
Sulfur dioxide flow measurements at La Soufrière were taken by boat off the west coast on July 13, with the help of the coast guard. Several crossings were made and gave an average SO2 flow of 306 tonnes per day.
The volcano is at the ORANGE alert level.
Sources: UWI-SRC & NEMO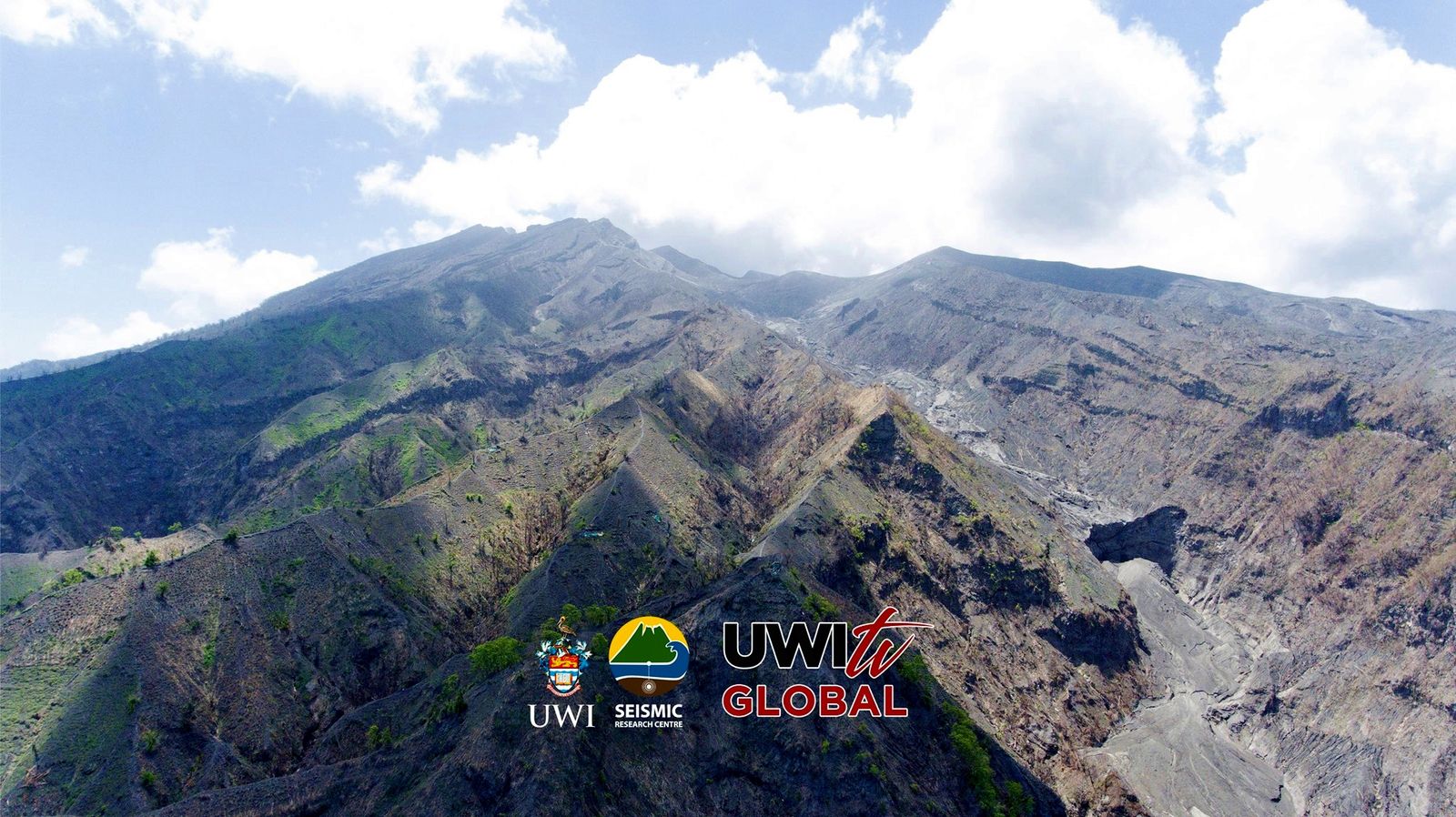 Soufrière de St. Vincent - The top of the volcano and the top of the Larakai valley filled with deposits. - photo Javid Collins, UWI-TV.
Between July 9 and 16, the Volcanological and Seismological Observatory of Martinique recorded at least 76 volcano-tectonic earthquakes of magnitude less than or equal to 0.2. There were 41 earthquakes between July 2 and 9.
This week's 76 earthquakes were located inside the volcanic edifice between sea level and 1 km above sea level. None of these earthquakes were felt by the population.
A main area of ​​heavily degraded vegetation is still observed on the southwest flank of Mount Pelée, between the upper Claire River and the Chaude River.
These observations reflect the variable dynamics of the processes of magmatic and hydrothermal origin at Mount Pelée in line with its renewed activity since April 2019.
The alert level remains on Yellow alert.
Source: OVSM