Publié le par Bernard Duyck
From around 19:00 UTC on July 8, the resumption of Strombolian activity is observed at the level of the south-eastern crater of Etna; this is sharply increasing from 19:55 UTC. Based on the forecast model, the ash produced by the current activity is dispersed in the direction of S.
Around 8:45 p.m. UTC, we observe the gradual passage of Strombolian activity at the lava fountain stage at the Southeast crater. In addition, there is an overflow of lava in the SW direction. According to the forecast model, the eruptive cloud produced by the current activity disperses in the S direction, reaching a height of about 4000 m above sea level.

The INGV reports at 22:47 that the lava fountain of the Southeast crater is complete, while a weak emission of ash continues.
The explosive activity produced an eruptive cloud which reached about 11,000 m altitude, based on satellite images, moving first in the S direction then in the SE direction, and a small lava flow from the southern flank of the south-eastern crater cone. The flow, which has moved towards the SW, is currently still fed and is located at an altitude of about 2800 m above sea level. News has been received of fallout of volcanic material on the villages of Zafferana Etnea (E side), Fleri (SE side), Pedara and Cannizzaro (S side).
Source: INGV OE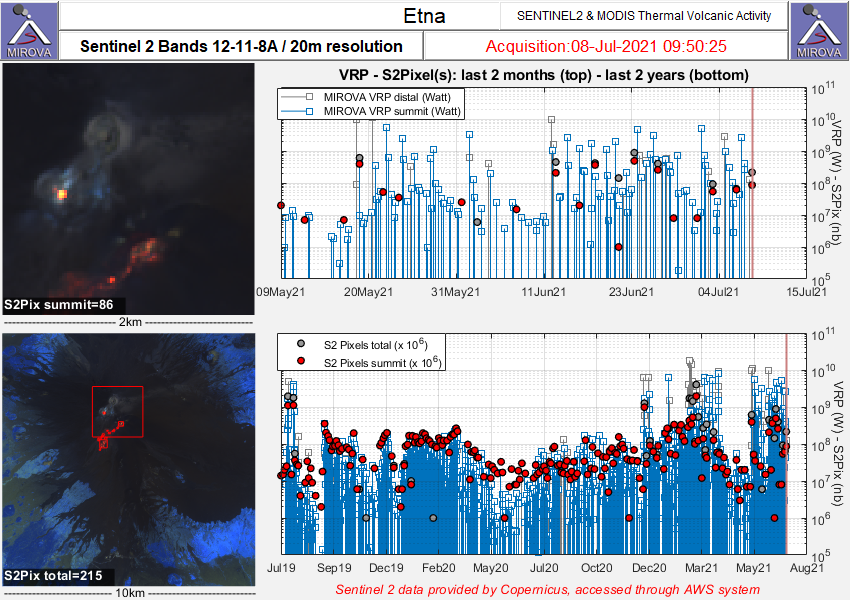 Etna - Thermal anomalies at 07.08.2021 / 9.50 a.m. - Sentinel-2 bands 12,11,8A and MODIS thermal volcanic activity images - Doc. Mirova
A moderate activity is observed at the Karymsky on July 7 and 8, 2021; it is accompanied by plumes of ash at 2,500 m. asl. extending 60 km west of the volcano.
KVERT issued an orange VONA on July 8, with ash explosions that can affect civil aviation and low-level flights at any time.
Source: KVERT / KSCNET
In Nyiragongo, the air quality monitoring carried out by the OVG during the eruption made it possible to limit the loss of human life due to toxic gases. However, some loss of human life was noted.
Source: Dr. Charles Balagizi / 08,07,2021