Publié le par Bernard Duyck
On July 16, there were two explosions at Popocatépetl, respectively at 8:01 p.m. and 8:43 p.m. accompanied by the emission of water vapor, gas and ash. The emission reached an average height of 900 m in a westerly direction.

On July 17 from 1:50 a.m., a low amplitude tremor episode started and at 3:50 a.m. the amplitude increased with a continuous emission of water vapor, gas and ash, in addition to incandescent fragments were observed at short distance.
At 3:40 a.m. a high amplitude tremor episode began which continues at this time with a continuous emission of water vapor, gas and ash towards the west.
Cenapred further reports, in the last 24 hours, 74 exhalations of water vapor, gas and light amounts of ash have been identified, as well as a total of 457 minutes of tremor.
A weak thermal anomaly, of VRP 5 MW, was noted by Mirova on July 17 at 8:15 a.m.
Volcanic alert remains at AmarilloFase2
Source: Cenapred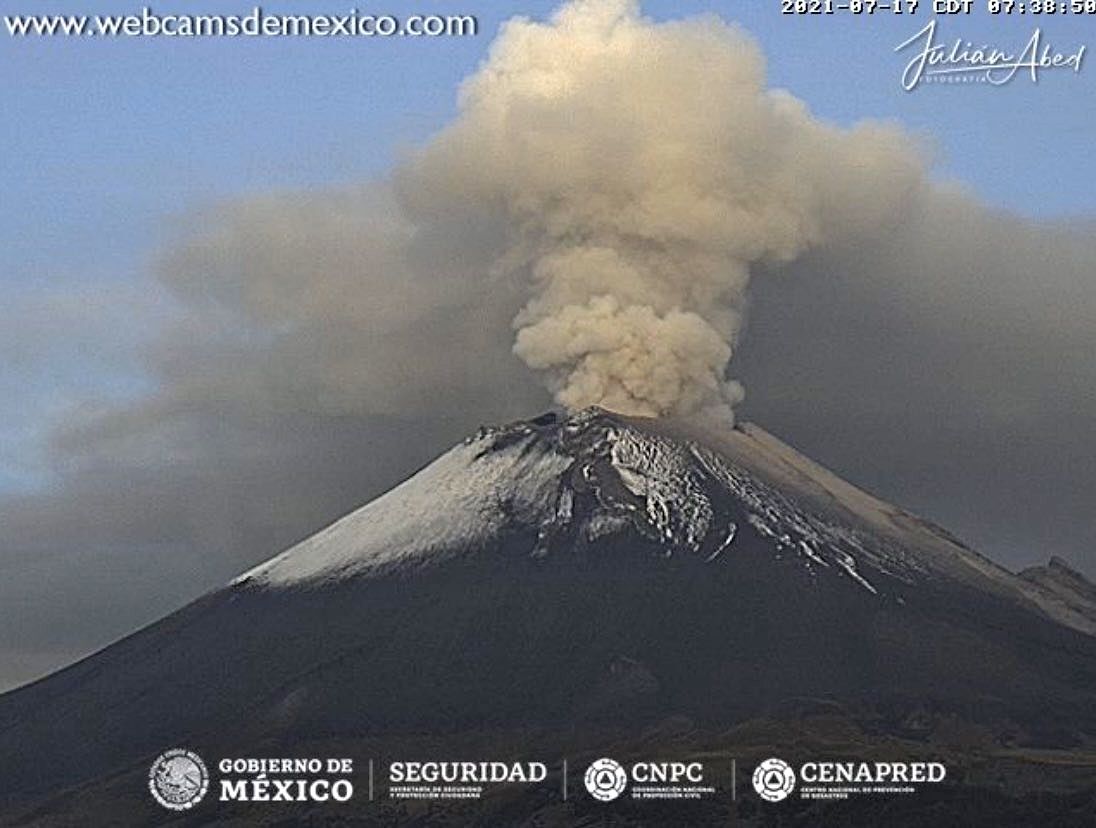 Popocatépetl - continuous emission of gas and ashes, ... on 07/17/2021 / 07:08 a.m. - Mexico City webcams
No eruption is reported at Poas, the activity is limited to passive degassing and thermal convection of the lake,
The fumaroles on the north and east walls of the active crater and the sub-lacustrine fumarole on the southeast side remain active on July 15 and 16.
There is a persistent tremor of very low amplitude and dominant frequency of 5.5 Hz associated with fumarolic activity. A smaller number of volcanic earthquakes is recorded. Magmatic gas emissions remain low, as does seismicity. The Poas maintains a slight extension.
Source: Ovsicori
In the last 24 hours, the Taal Volcano Network recorded 86 volcanic earthquakes, including 84 volcanic tremor events with durations of one to 34 minutes, 1 low frequency volcanic earthquake, 1 hybrid earthquake and the low-level bottom tremor that has persisted since July 7, 2021.
High levels of volcanic sulfur dioxide emissions and vapor-rich plumes that reached heights of 2,100 meters before drifting northeast were generated from the main Taal crater.
Sulfur dioxide (SO2) emissions averaged 5,466 tonnes / day on July 17, 2021. Based on soil deformation parameters from electronic tilt, continuous GPS and InSAR monitoring, the island Taal volcano began to deflate in April 2021 while the Taal region continues to experience very slow expansion. since 2020.
Alert level 3 (magmatic disturbances) now prevails over the Taal volcano. At Alert Level 3, magma exiting the main crater could cause an explosive eruption. The public is reminded that the entire Taal Volcano Island is a Permanent Danger Zone (PDZ) and entry to the island as well as the high risk barangays of Agoncillo and Laurel must be prohibited due to the dangers of pyroclastic and volcanic density currents. tsunami in case of strong eruptions. All activities on Taal Lake should not be permitted at this time.
Source: Phivolcs
In Iceland, the eruption continues at Fagradalsfjall, under stubborn fog and the consequent lack of aerial observation.
The tremor continues to vary; on webcams, we can observe a lava overflow at 2:17 p.m., which fed lava flows in Meradalur.
Sources: RUV webcam and mbls, tremor via Hraun.vedur.is