Publié le par Bernard Duyck
Aviation color code and alert level for Semisopochnoi, in Aleutian Arc, changed to Orange / Watch due to seismic tremor and low level ash emissions on 12.07. 2021.
A continuous volcanic tremor began to be observed at ~ 8:00 p.m. UTC (12:00 a.m. AKDT) and is continuing. Ash emissions were visible in satellite data starting around 9:00 p.m. UTC (1:00 p.m. AKDT) down to an altitude below 5,000 feet asl (depending on wind direction). Satellite observations yesterday afternoon showed a robust steam plume and sulfur dioxide emissions.
Source: AVO
In Sinabung, on the island of Sumatra, on Tuesday July 13, 2021 at 09:34 WIB, an eruptive episode is observed, accompanied by an ash plume observed at ± 300 m above the summit (± 2760 m above the sea ​​level). The ash column is gray, thick, leaning to the east and south-east.
This eruption was recorded on a seismograph with a maximum amplitude of 14 mm and a duration of 1069 seconds.
Sources: PVMBG, Magma Indonesia, Beidar Sinabung
Mount Ili Lewotolok experienced an eruptive episode on Tuesday, July 13, 2021 at 10:06 a.m. WITA, which produced an ash plume observed ± 800 m above the summit (± 2223 m above sea level).
Sources: PVMBG, Magma Indonesia.
Gas and ash emissions were observed yesterday afternoon in Reventador, Ecuador, 500 to 1,000 meters above crater level in a northwest direction.
VAAC Washington reported 2 alerts of satellite-observed transmissions, which reached heights of 700 meters above crater level in a west-northwest direction.
FIRMS has reported 1 thermal alert to the Reventador in the last 24 hours.
At night, an incandescence was observed in the crater and the rolling of incandescent materials along the southeast flank of the volcano up to 300 meters below the level of the crater. The rest of the time, the volcano remained cloudy.
The alert level is Naranja
Source: IGEPN
The eruption continues at the same pace as yesterday in Fagradalsfjall, with better visibility, at least this early morning.
From the images of the webcams, we will retain for this July 13, a dark plume at 3:48 a.m., and various incandescent events, including one at 4:10 a.m.
The tremor remains in the standards of the day before.
Sources: webcams and tremor diagram via Hraun.vedur.is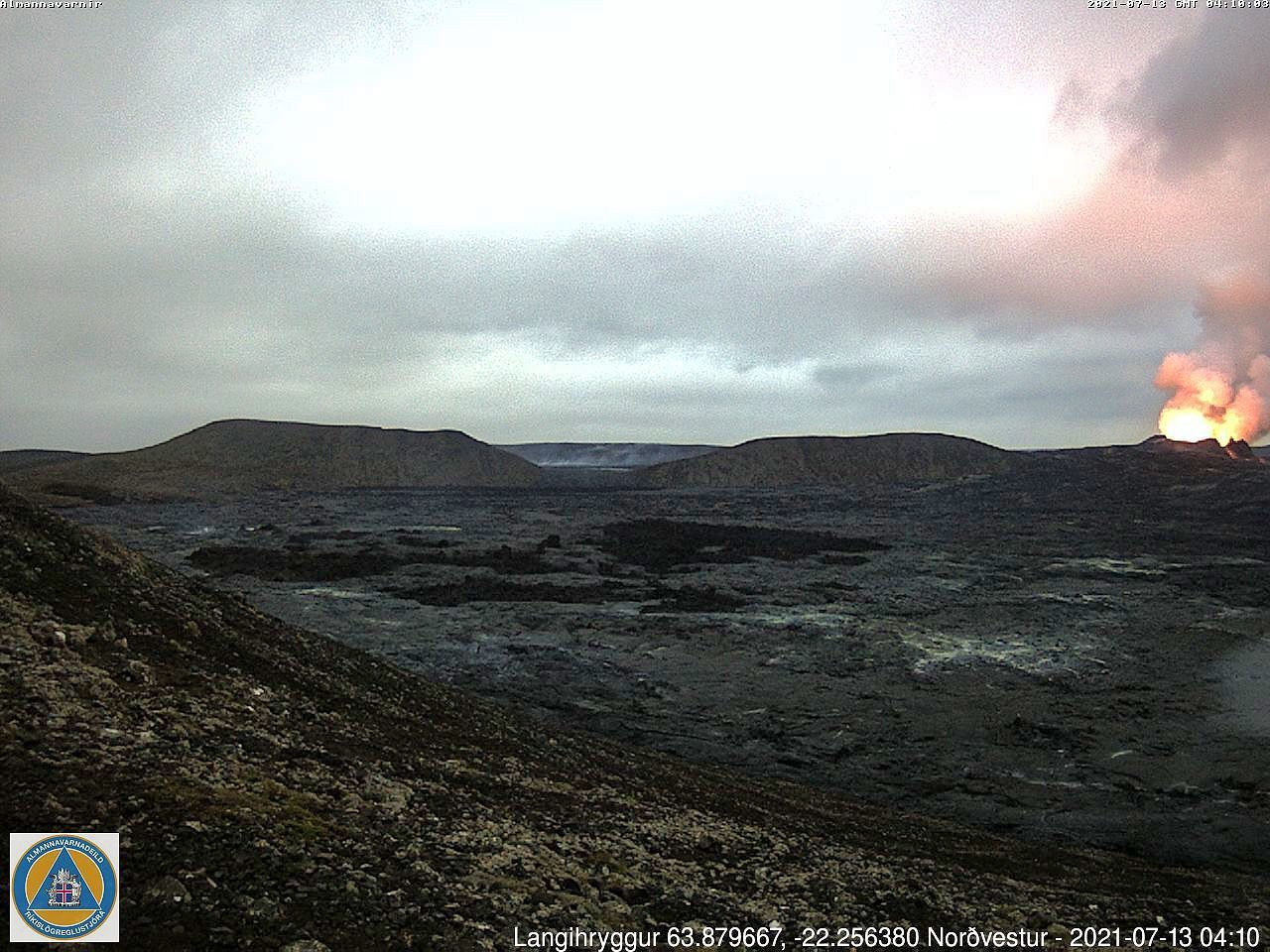 Fagradalsfjall - incandescence at the crater active on 13.07.2021 / 04:10 a.m. - webcam_langihryggur NV