Publié le par Bernard Duyck
Small fever in the volcanoes of southern Italy: Etna and Stromboli respond to each other.
On July 28, 2021 at 14:47 UTC / 16:47 local, the Stromboli surveillance network recorded an explosive event energetically more intense than usual in the area of ​​the terrace of the Central / Central-South crater. The products of the explosive activity dispersed radially in the area of ​​the crater terrace with relapse along the Sciara del Fuoco and in the Pizzo area.
Seismically, the explosive event at 14:47 UTC is clearly visible at all seismic stations in Stromboli. Regarding the amplitude of the volcanic tremor, an increase was observed from 14:00 UTC. Currently, the magnitude of the tremor is on medium-high values.
No significant variation is observed in the distortion signals of the GPS and clinometric networks of Stromboli.
Sources: INGV OE & LGS
The INGV reports this July 28 from 07:25 UTC a resumption of Strombolian activity at the level of the south-eastern crater of Etna; it remains confined in the crater and generates discontinuous and light ash emissions in the summit area.
Around 07:40 UTC the average amplitude of the volcanic tremor of Etna showed a sudden increase reaching high values.
The source of the quake is located in the craters of Bocca Nuova and the southeastern crater at an altitude of about 2800 m above sea level.
The infrasonic activity is increasing and is located in the south-eastern crater.
For the moment, the distortion signals of the permanent GNSS and clinometric networks do not show significant variations.
Source: INGV OE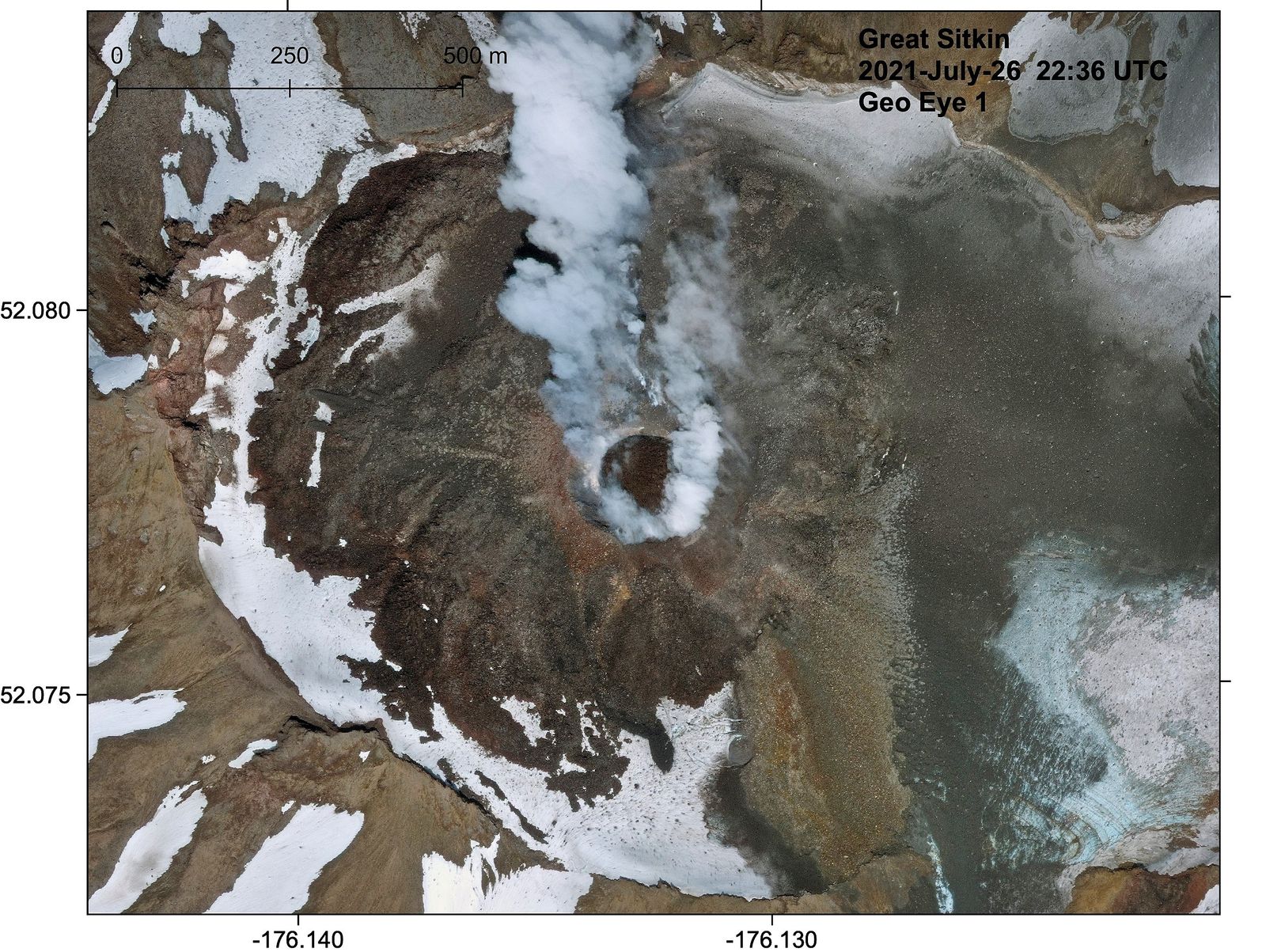 Great Sitkin - the crater with his dome and the steam plume 07.26.2021 / 10:36 PM UTC - Doc. AVO - DigitalGlobe via NextView license / Matt Loewen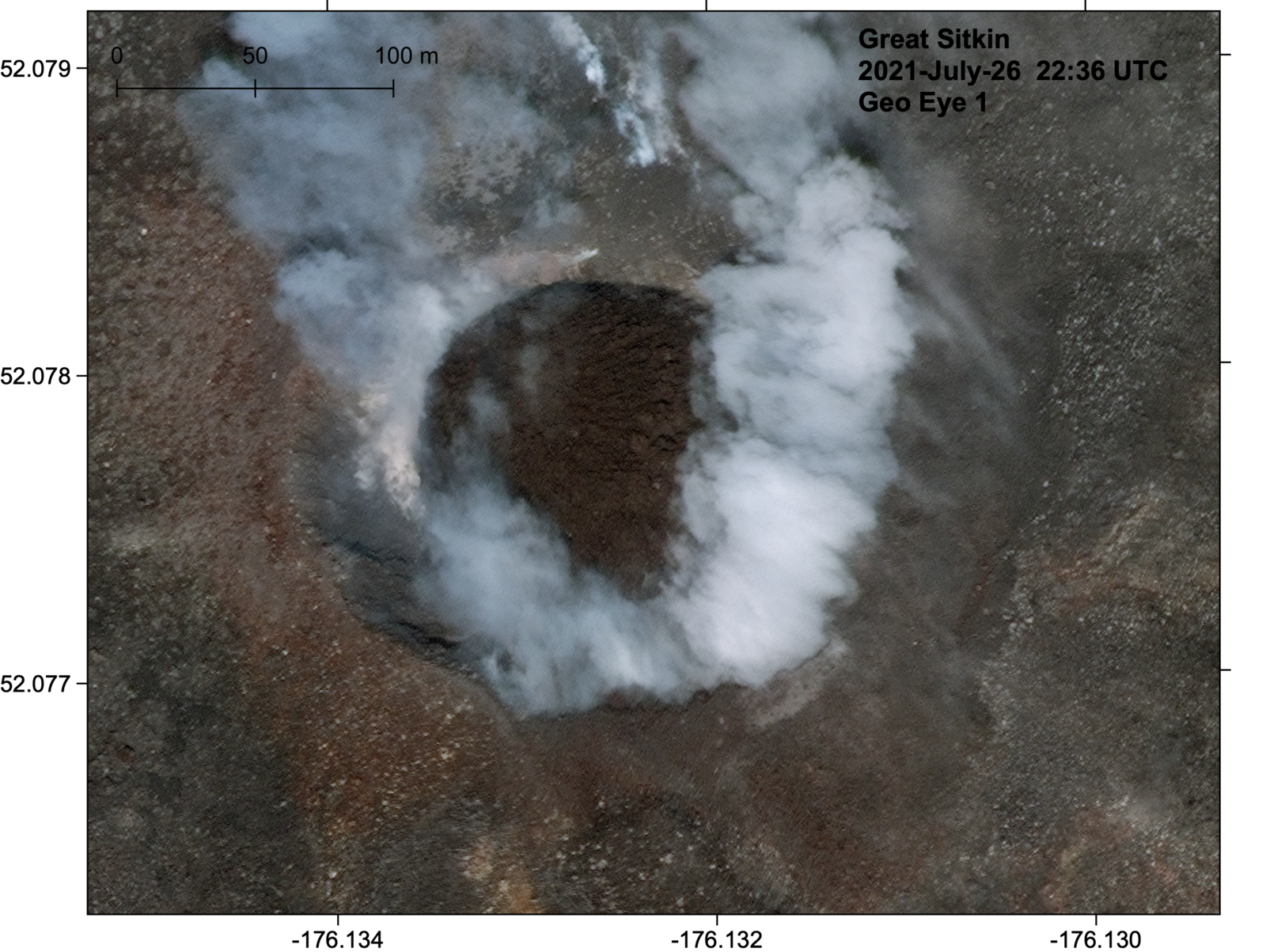 Great Sitkin - the lava dome surrounded by fumaroles - photo 26.07.2021 / 22:36 UTC - Doc. Geo Eye 1 - AVO / Matt Loewen
Unrest continues at Great Sitkin volcano over the past day. Small earthquakes were detected over the past day, but no explosive activity was observed in the seismic or infrasound data. High surface temperatures have been observed in satellite data over the past day. A steam plume was observed drifting northward in satellite data.
Recent images have shown a new lava dome in the Great Sitkin crater. Seen on July 26, 2021, it measures ~ 130 m in diameter, and it has been growing since July 22, when an uplift zone of 50 meters in diameter was revealed by the AVO.
Great Sitkin is in the Aleutians 42 km away. E from Adak, and is currently on ORANGE / WATCH alert.
Source: Avo / Image: DigitalGlobe via NextView license
Continuation of the eruption at Fagradalsfjall, which was visible that night from Keflavik and Reykjavik.
The activity continues, with variations of the tremor, and lava effusions towards Meradalur, mainly in lava tubes.
Sources: Icelandic Media