Publié le par Bernard Duyck
In Fagradalsfjall, the eruption continues, at the rate of the usual fluctuations of the tremor for several days. Some pictures are better than a long description.
Lava flows in Meradalur.
Fagradalsfjall - the active cone in Geldingadalur on 07/30/2021 / 08:08 - video Hjörleifur Jóhannesson
Fagradalsfjall eruption - Timelapse 30th July 2021- Visir video
As the eruption on the Reykjanes Peninsula continues, the Katla is joining the news in its own way.
On the evening of July 29, two earthquakes of magnitude 3.2 occurred at 7:20 p.m. and 7:22 p.m. about 30 smaller earthquakes followed.
Despite the seismic activity, no changes were detected in the flow or conductivity of water on local rivers, including Múlakvísl.
Met Office natural hazards specialist Bjarki Kaldalón Friis believes the Katla earthquakes were likely caused by the summer melting of the Mýrdalsjökull glacier that covers the volcano.
Sources: RUV, IMO
In the Mariana Volcanic Arc, ground observations from local residents indicate that there were felt earthquakes and light emissions from Mount Pagan north around 4.30am UTC on July 29, 2021.
Due to the increase in activity, aviation color code / volcanic alert status changed to YELLOW / ADVISORY. Seismic data, infrasound and web cameras from the Pagan volcano remain unavailable. No activity observed on satellite images during the past week.
The current volcanic alert is Advisory and the aviation code is Yellow
The last eruptive activity in Pagan dates back to the period from October 30 to December 11, 20212 (GVP)
Sources: USGS Volcano Hazards Program & Global Volcanism Program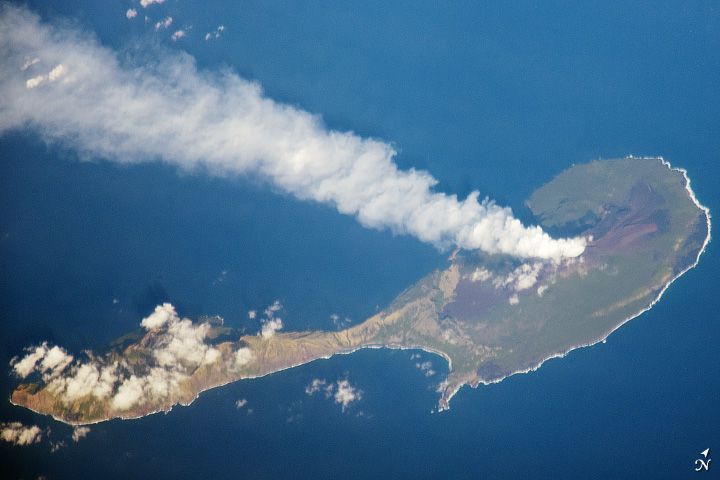 Pagan island - North Pagan steam plume on 03/06/2012 - Astronaut photograph ISS030-E-122047. Courtesy of NASA-JSC.
The VAAC Darwin issued a volcanic ash emission advisory and an aviation code Yellow for the Bagana / PNG on Bougainville Island on July 31, 2021 at 5:15 a.m.
The ashes are reported at an altitude of flight 150, moving west. Steam emissions, containing little ash were observed this morning by the Himawari-8 satellite; the observation was no longer possible afterwards because of the cloud cover.
The GVP reports the eruption in progress since February 28, 2000.
Sources: VAAC Darwin and Global Volcanism Program