Publié le par Bernard Duyck
For 3 days (July 21 to 23), a moderate activity has continued at the Karymsky.
According to Himawari-8 satellite data from KVERT, ash emission continues continuously. The explosions send ash between 1,300 and 1,600 meters above sea level, and the ash plume extends 50-100 km east-northeast of the volcano.
Ash explosions up to 6-7 km altitude could occur at any time. The current activity could affect low-flying planes, and justify the orange aviation code.
Sources: KVERT, VAAC Tokyo, and Mirova
Mount Ili Lewotolok continues its activity, with on Friday July 23, 2021 at 07:26 WITA, an explosion accompanied by a plume of thick and gray ash observed at ± 800 m above the summit (± 2223 m above the level of the sea) to the west. This eruption was recorded on a seismograph with a maximum amplitude of 11 mm and a duration of 39 seconds.
However, there has been a relative decrease in seismicity for a few days.
Source: Magma Indonesia
The south-eastern crater of Etna, taking a "break" for 3 days, allowed a site visit on July 22. According to boris Behncke, " its cone has become incomprehensible and is most likely now the new summit of the volcano. A few small explosions made the investigation more ... exciting."
Source: Boris Behncke
On Big Island / Hawaii, Mauna Loa volcano remains in a state of low unrest.
Seismicity rates at the summit remain slightly above long-term background levels, with 38 low-magnitude earthquakes (below M2.5) recorded below the summit and upper flanks over the past week. of Mauna Loa. The majority of these earthquakes occurred at shallow depths below 8 kilometers below sea level.
Monitoring of soil deformation, gas releases and visual monitoring show no significant changes.
The volcanic alert level remains at advisory, and the aviation code at Yellow.
Source: HVO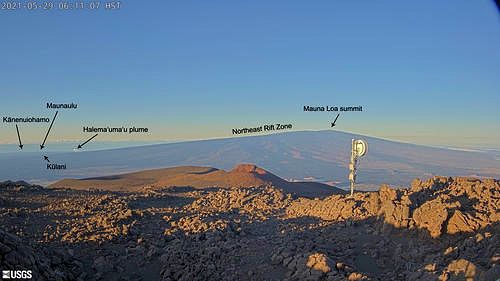 The new MKcam is positioned on Mauna Kea with a southerly view of the summit of Mauna Loa and the Northeast Rift Zone. The MKcam view also includes elements of the East Rift Zone and Kīlauea Summit, including Kānenuiohamo, Maunaulu, and the Halema'uma'u plume. Kūlani, a cone over the northeastern Mauna Loa fault zone, is also visible in the image. - USGS webcam image. / 29.05.2021