Publié le par Bernard Duyck
At Ili Lewotolok, in level 3 / siaga activity since November 29, 2020, plumes of color varying between white and gray are observed at heights up to 800 meters above the summit on July 15.
At the seismicity level, the PVMBG reports:
- 18 eruption earthquakes
- 32 blast / emission earthquakes
- 5 episodes of harmonic tremor
- 50 episodes of non-harmonic tremor
- 1 deep volcanic earthquake.
Communities around Mount Ili Lewotolok as well as visitors / climbers / tourists are recommended not to engage in activities within 3 km of the summit / crater.
Sources: PVMBG, Magma Indonesia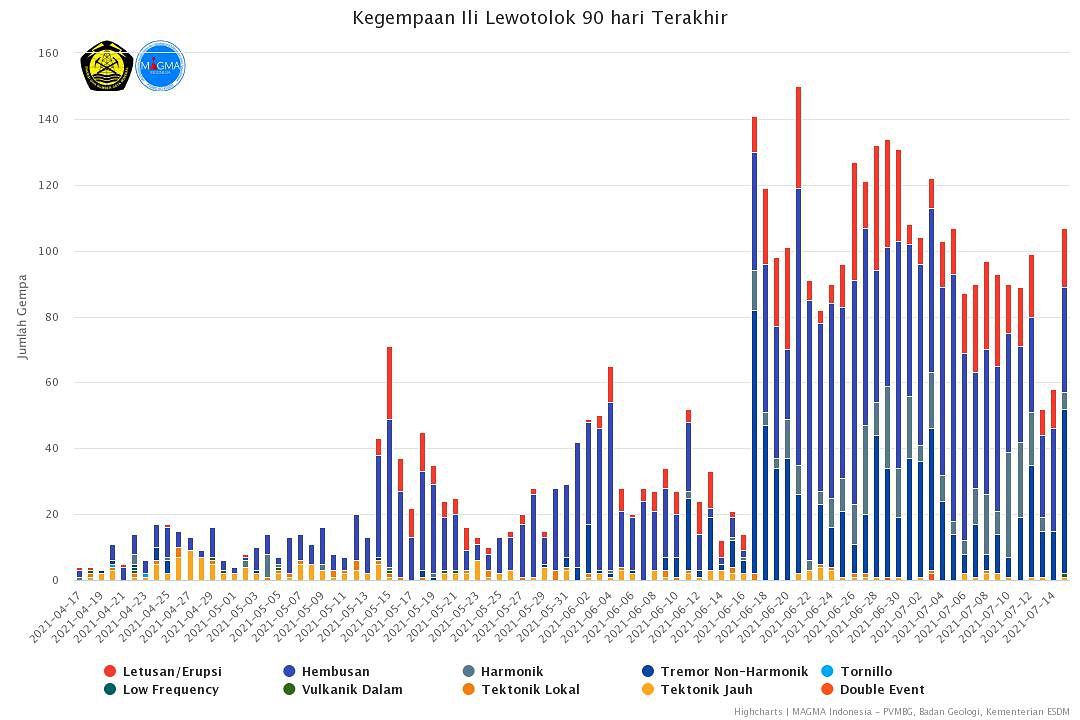 Ili Lewotolok - seismicity - there are three stages / phases between April and July 2021 - Doc. Magma Indonesia - one click to enlarge
A moderate eruptive activity continues at Karymsky.
Satellite data shows ash plumes extending up to 80 km from the volcano on July 8, 11 and July 15.
A thermal anomaly is observed on July 8 and 10-13.
The KVERT reports for this July 15 an ash plume at 2,000 meters asl. Moving over 42 km towards the SEE.
The aviation code remains orange; other ash explosions can occur at any time and affect air traffic.
Sources: KVERT é VAAC Tokyo
In Fagradalsfjall, lava flows in tunnels.
July 15, only visible difference: modifications of the tremor after 4 days of intense variations.
Due to bad weather, the observatory has still not been able to make new satisfactory aerial observations and measurements.
Skylight in the middle of a large lava field near the Fargadalsfjall volcano. Captured with the Mavic 2 Pro drone by Sigurður þór Helgason