Publié le par Bernard Duyck
The AVO / Alaska Volcano Observatory - USGS website announces this July 9 five volcanoes in aviation code Yellow / level of advisory alert: the Great Sitkin, the Gareloi, the Cleveland, the Semisopochnoi and the Pavlof.
The status of the Veniaminof volcano changed from unassigned to green / normal this week.
The status of the Pavlof volcano changed from green to yellow / Advisory alert level on July 9 at 11:40 a.m. The seismic activity has increased during the last day and is characterized by an almost continuous tremor. The tremor has also been observed in infrasound and regional seismic data.
No eruptive activity or emission from the summit was observed in cloudy views from satellites and web cameras. The increase in seismicity doesn't mean an eruption is imminent, but the Pavlof's past eruptions have occurred with little to no warning.
Pavlof Volcano is a snow and ice covered stratovolcano located at the southwestern end of the Alaska Peninsula about 953 km (592 mi) southwest of Anchorage. The volcano is approximately 7 km (4.4 mi) in diameter and has active vents on the north sides and is near the summit. With more than 40 historical eruptions, it is one of the most active volcanoes in the Aleutian arc. Eruptive activity is typically characterized by sporadic Strombolian lava fountains that continue for several months. Ash plumes up to 49,000 feet ASL were generated by past eruptions of the Pavlof, and during the eruption of March 2016, ash plumes up to 40,000 feet above sea level were generated and the ash has been tracked in satellite data as far away as eastern Canada. The nearest community, King Cove, is located 48 km (30 miles) southwest of Pavlof.
Source: AVO-USGS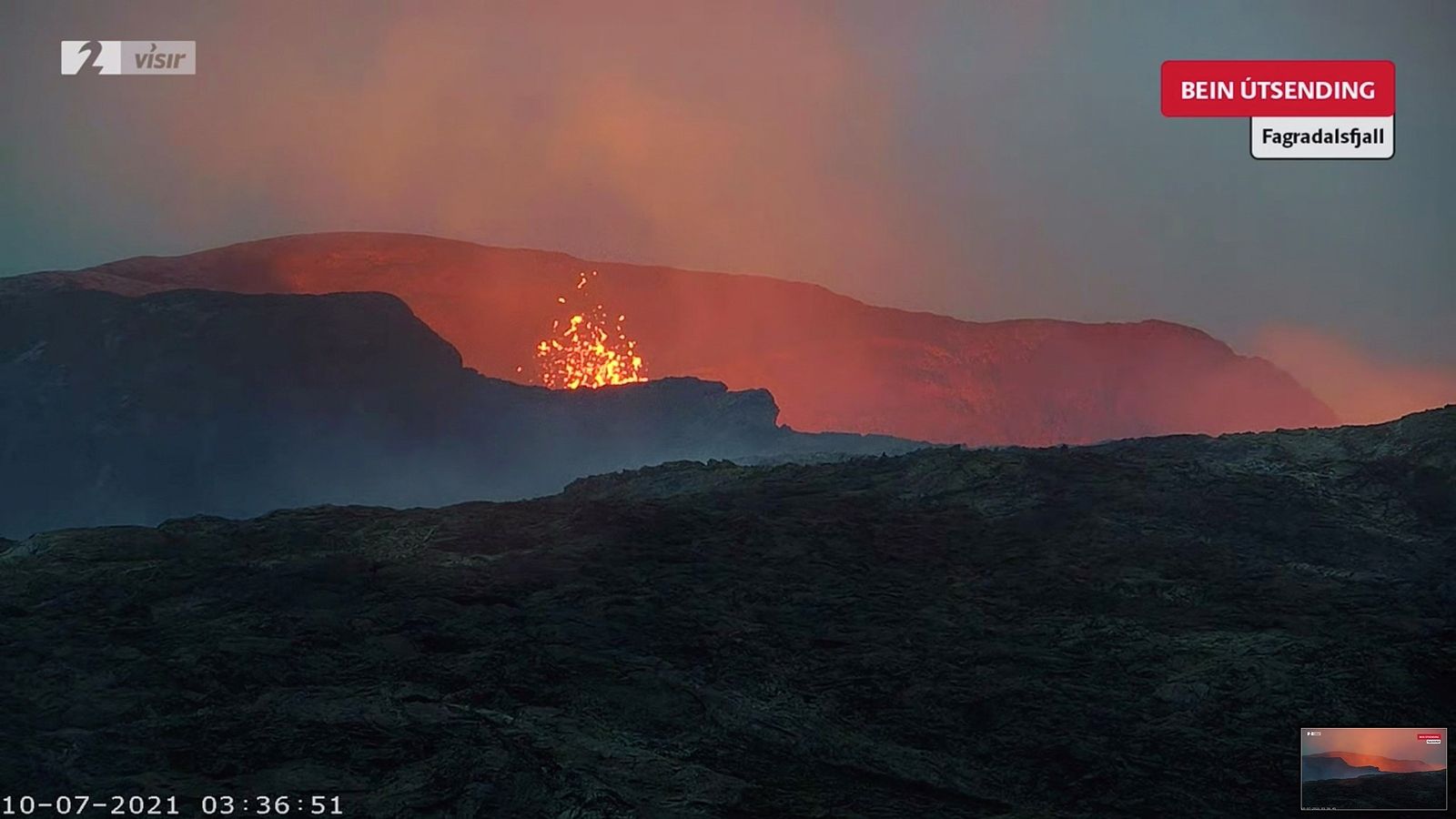 Fagradalsfjall - spattering at cone # 5 on 07.10.2021, at 3:36 a.m. - VISIR webcam - one click to enlarge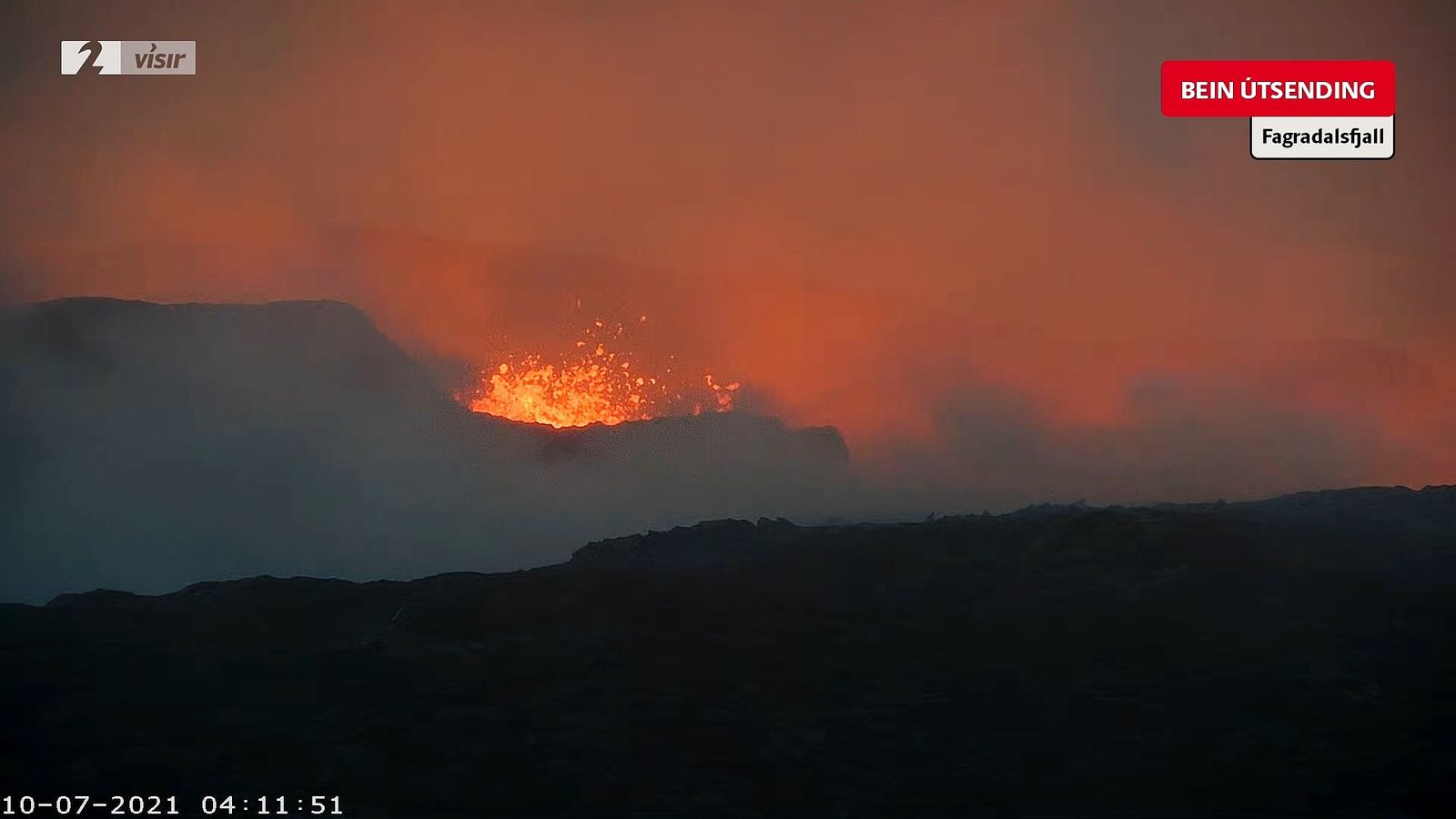 Fagradalsfjall - spattering at cone # 5 on 07.10.2021, at 4:11 a.m. - VISIR webcam - one click to enlarge
At Fagradalsfjall, despite the foggy atmospheric conditions unfavorable to direct observation, we can observe a resumption of activity at the level of vent # 5 around the middle of the night.
An incandescence is first noticed, followed by spattering. The effusion of lava produces a lava flow, which spreads out in Meradalur.
Sources: Visir and almanavir webcams; Hraun, vedur, is
The eruption, which began in October 2015 (GVP), is still ongoing in Langila, on New Britain / Papouasie Nouvelle-Guinée.
On the image Sentinel-2 bands 12,11,4 of June 30, and July 7 - 10, 2021, we can observe a hot spot at the active crater and a plume of gas and ash marking an explosion, drifting towards the WNW.
Source: Sentinel-2