Publié le par Bernard Duyck
At 5:18 a.m. on July 7, a short-lived phreatomagmatic eruption occurred at the main Taal crater and generated a grayish plume that rose 300 meters before drifting southeast. Five other short phreatomagmatic bursts occurred at 8:47 am, 9:15 am, 9:26 am, 11:56 am and 9:41 pm yesterday and caused short plumes that rose up to 700 meters above the main crater lake.
In the past 24 hours, the Taal Volcano network recorded 61 volcanic earthquakes, including
5 explosion-type earthquakes, 24 low-frequency volcanic earthquakes, 21 volcanic earthquakes. episodes of two 2 to four 4 minutes, 10 hybrid earthquakes and a low level background tremor which ended yesterday at 6:21 pm but resumed at 9:52 pm.
High levels of volcanic sulfur dioxide or SO2 gas emissions and vapor-rich plumes that rose to 1,500 meters before drifting southwest were generated from the main crater of Taal. Sulfur dioxide emissions averaged 11,397 tonnes / day on July 7, 2021. Based on soil deformation parameters from electronic tilt, GPS continuous monitoring and InSAR, Taal Volcano Island began to deflate in April 2021 while the Taal region continues to experience a very slow expansion. Since 2020.
Alert level 3 (magmatic disturbances) now prevails over the Taal volcano. At Alert Level 3, magma exiting the main crater could cause an explosive eruption. The public is reminded that the entire Taal Volcano Island is a Permanent Danger Zone (PDZ) and entry to the island as well as the high risk barangays of Agoncillo and Laurel must be prohibited due to the dangers of pyroclastic and volcanic density currents. tsunami in case of strong eruptions. All activities on Taal Lake should not be permitted at this time.
Source: Phivolcs
Taal volcano island - DJI AIR2s drone flight over the crater lake - World Of Fun and Travel video 07.06.2021
Sernageomin and Segemar reported increased activity at Copahue, starting with minor and sporadic increases in tremors first detected in late May.
From June 30 to July 2, the tremors increased and the volume of water in the crater lake decreased significantly. Coincidentally, the crater's glow was visible in nighttime webcam views, and gas emissions increased. Residents reported smells of volcanic gas.
The increase in gas and vapor emissions between 11:00 a.m. and 2:00 p.m. on July 2 contained minor amounts of ash which left visible deposits on the SE and ENE flanks.
The alert level remained at green (the lowest level on a four-color scale).
Sources: Sernageomin & Global Volcanism Program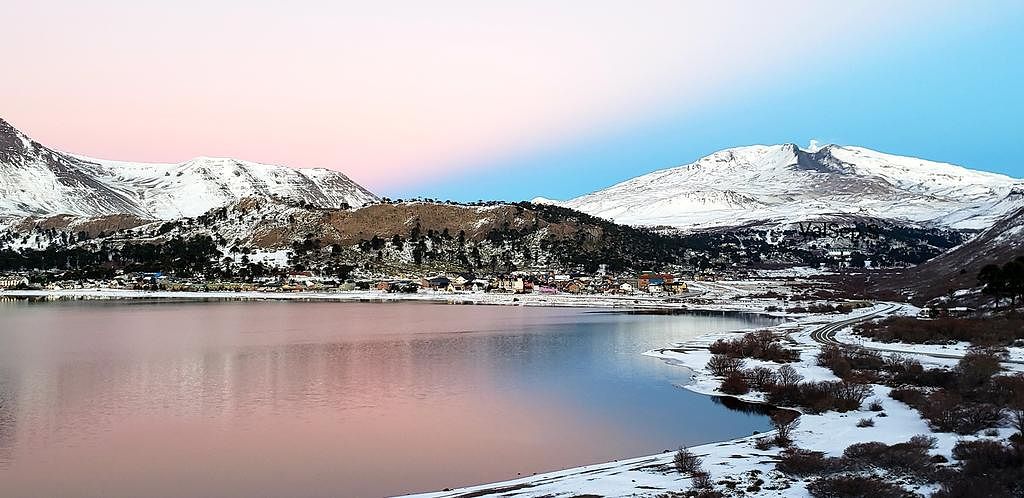 Copahue - ash deposits and small plume on 03.07.2021 - photo Valentina Sepulveda from Caviahue - one click to enlarge
In Fagradalsfjall, the breaks are getting longer and the activity time is shorter, with a preference for night hours.
New flow measurements are awaited to confirm or deny the constancy of the magma supply.
Sources: Webcams & measurements of the tremor / Hraun
Dr Adam Stinton returned to St Vincent to undertake a preliminary photogrammetric study of the La Soufrière summit in June 2021.

This aerial photographic mapping (performed using a Sony a6000 24.2MP camera with a 20mm lens - software: AgiSoft Metashape) confirmed that no new lava dome formed as a result of the explosions that ended on the 22 April 2021, and the average characteristics inside the new crater (including the crater itself) are all the result of the explosive phase of the eruption between April 9 and 22, 2021.
Mapping has identified several prominent fumaroles that are the source of the vapor and gas plumes visible above the rim of the summit crater on a clear day.
The presence of fumaroles also confirms the detection of thermal anomalies inside the new crater by the satellites.
Source: UWI-SRC