Publié le par Bernard Duyck
At Fagradalsjfall, the eruption continues with views of the active cone splashing with lava the NE rim of the crater on August 19, and showing flows entering Geldingadalur, Meradalur & SyðriMeradalur, in keeping with the style of building a lava shield
The lava flow on August 19 is shown schematically on the lava thickness map
Sources : Ben Edwards, volcanologist & Hraun.vedur.is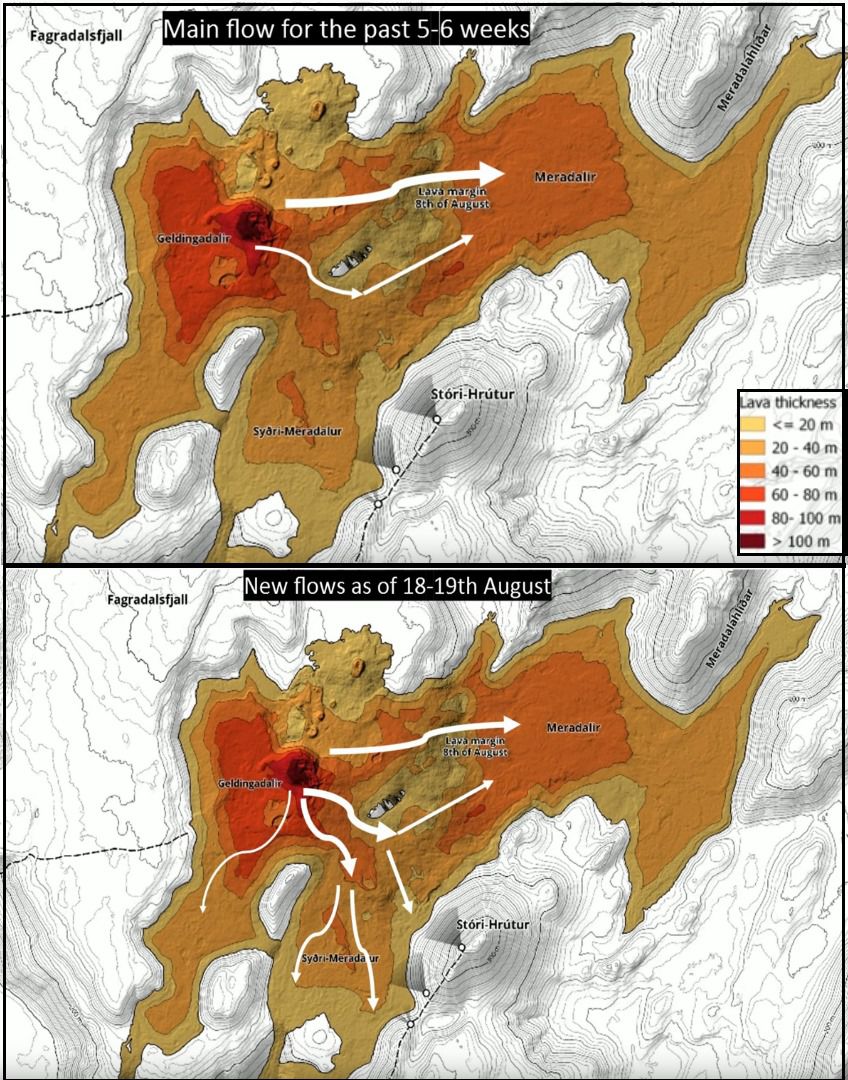 Fagradalsfjall - lava flows and main flow directions over the last 5 weeks, with change August 18-19, 2021 - map based on doc. Institute of Natural History & al
At Sheveluch, the growth of the lava dome continues: a strong fumarole activity, and an incandescence of the lava dome and hot avalanches accompany this process. Satellite data showed a plume of gas and steam containing a certain amount of ash reaching 4,000 m. asl., then extending 86 km east-southeast of the volcano. (data Himawari-8)
This extrusive eruption of the volcano continues, and ash explosions can occur at any time up to 10-15 km (32,800-49,200 feet) above sea level. Current activity could affect international and low-flying aircraft. The code aviatio is orange.
Sources : KVERT & Kamcharka-Inform
During the last 24 hours, the Taal volcano network has recorded one hundred and thirty-five volcanic earthquakes, including 112 volcanic tremor events with durations of 1 to 110 minutes, twenty-three low-frequency volcanic earthquakes and a bottom tremor of low level which has persisted since July 7, 2021.
The activity of the main crater was dominated by the rise of hot volcanic fluids in its lake which generated plumes 3000 meters high that drifted southwest and northeast. Sulfur dioxide emissions were on average 4,756 tonnes / day on August 20, 2021. In addition, VOG was observed over the Taal volcano and its surroundings.
Based on ground deformation parameters from electronic tilt, GPS and InSAR continuous monitoring, Taal Volcano Island began to deflate in April 2021 as the Taal region continues to decline. undergo a very slow expansion since 2020.
Alert level 2 (increased unrest) prevails over the Taal volcano. DOST-PHIVOLCS reminds the public that at Alert Level 2, sudden explosions of steam or gas, volcanic earthquakes, minor ash falls and fatal accumulations or expulsions of volcanic gas can occur and threaten areas in and around TVI.
Source: Phivolcs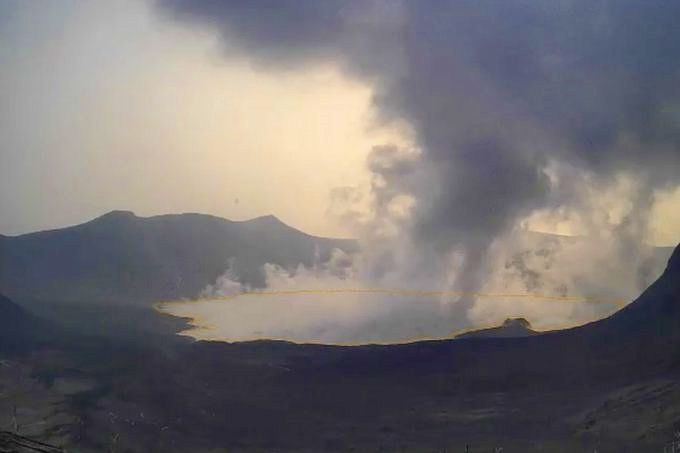 Taal - plume of gaz under the VOG this 08.21.2021 (contours of the lake of volcano island underlined) - photo Phivolcs
This week 13 to 19.08, 20 pyroclastic avalanche flows southwest of Merapi were observed, with a maximum slide distance of 3,500 m. Falls of incandescent boulders were observed 172 times towards the southwest with a maximum sliding distance of 2000 m.
Ash rains were reported in several areas on August 16, 2021, including Dukun, Sawangan, Tegalrejo, Secang, Gowok, Mertoyudan, Selo, Mojotengah, Temanggung, Kedu, Pringsurat, Bulu, Tlogomulyo, Kranggan and Parakan districts .
Morphological analysis of the Deles5, Tunggularum, Ngepos and Babadan2 camera stations showed that there were morphological changes in the southwest lava dome due to avalanches and hot clouds, while the central dome was relatively constant. The volume of the southwest lava dome is 1,350,000 m3.
The deformation of Mount Merapi, which was monitored using EDM this week, showed a distance shortening rate of 1.9 cm / day.
The state of the activity is defined in level 3 / Siaga
The current potential danger consists of lava avalanches and hot clouds in the southeast-southwest sector for a maximum of 3 km to the Woro River, and 5 km to the Gendol, Kuning, Boyong rivers. , Bedog, Krasak, Bebeng and Putih. Meanwhile, the ejection of volcanic material in the event of an explosive eruption can reach a radius of 3 km from the summit.
Source: BPPTKG