Publié le par Bernard Duyck
According to the observation of the Himawari meteorological satellite, an eruption was observed from around 6:20 a.m. on August 13, 2021 at the submarine volcano Fukutoku Okanoba (about 50 km south of Iwo Jima)
A volcanic cloud spreads westward, without affecting any population.
Fukutoku Okanoba - volcanic ash advisory by JMA and VAAC Tokyo for August 13, 2021 - one click to enlarge
Fukutoku-Oka-no-ba is an underwater volcano located 5 km NE of the pyramidal island of Minami-Ioto. Water discoloration is frequently observed from the volcano and several ephemeral islands formed in the 20th century. The first of these formed Shin-Ioto ("New Sulfur Island") in 1904, and the most recent island was formed in 1986. The volcano is part of an elongated edifice with two high oriented topographic peaks. NNW-SSE, and is a trachyandesite volcano geochemically similar to Ioto.
The last eruption dates from February 3, 2010 to April 8, 2010 (GVP)
Sources: JMA, VAAC Tokyo and VAAC Darwin, Global Volcanism Program
More than 20 small explosions were detected in the North Cerberus crater in Semisopochnoi during the day of August 12. None of these were noted on satellite imagery, and a stable, low-level steam plume, possibly containing ash, was seen on clear web camera images this morning. Ash emissions from these explosions are likely similar to those of the past few days, but not always detected due to the low altitudes and cloud cover.
Small eruptions producing minor ash deposits near the active northern crater of Mount Cerberus and ash clouds less than 10,000 feet above sea level have characterized recent activity and show no signs of abating . Small explosions can continue and could be difficult to detect, especially in bad weather.
The volcanic alert remains with Watch, and the aviation code with Orange.
Source: AVO
Monitoring stations installed near the Nevados de Chillán volcanic complex, detected on August 12 two earthquakes associated with fluid dynamics inside the volcanic system (Long Period), respectively at 01:53 local time (05:53 UTC ) and at 03:28 local (07:28 UTC).
The Sernageomin reports two LP earthquakes on August 13 at 00:46 and 01:04 local time (04:46 and 05:04 UTC).
The technical alert remains at Amarilla
Source: Sernageomin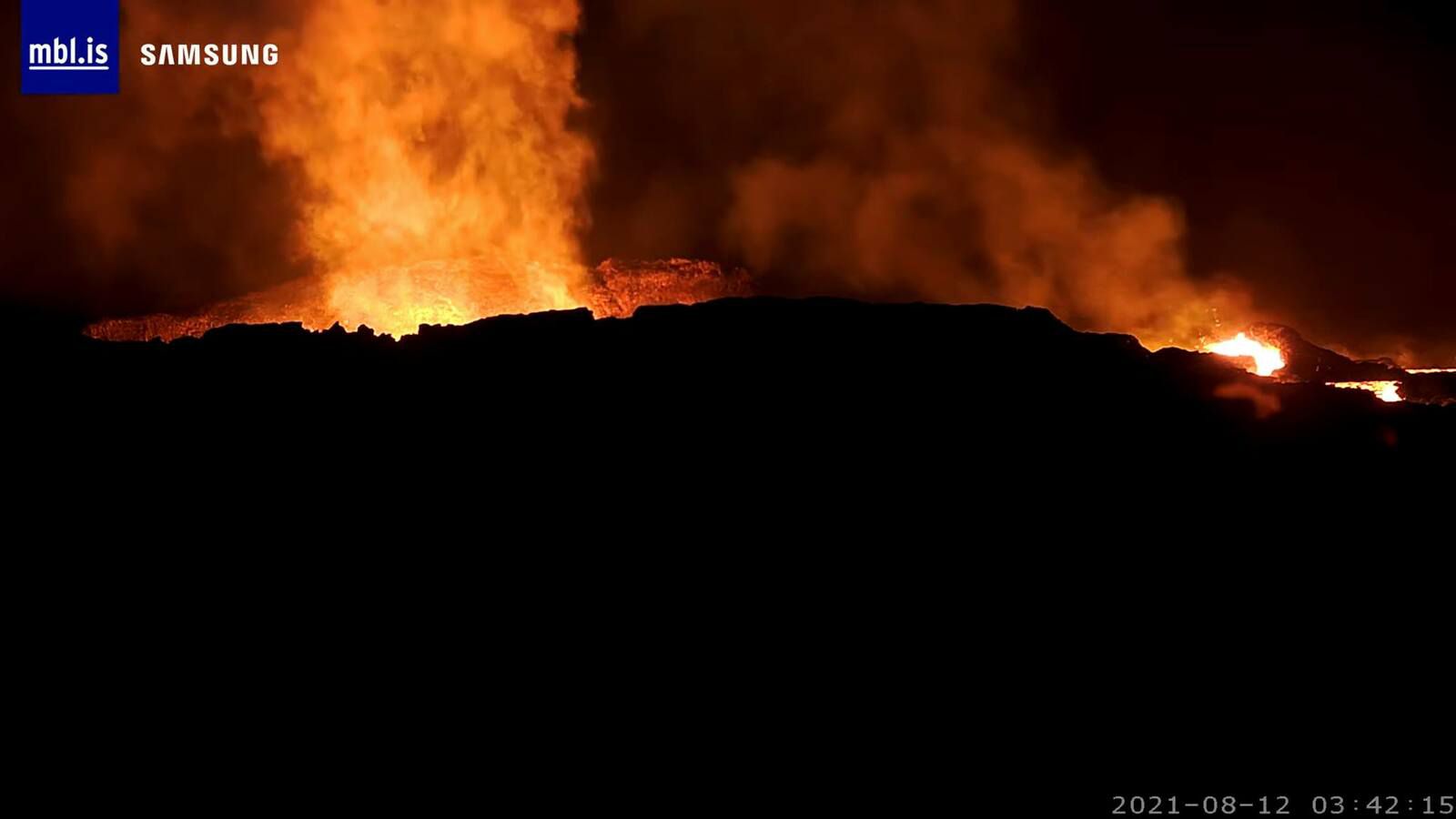 Fagradalsfjall - incandescence at the active crater and lava flows - 08.12.2021 / 03.42 a.m. webcam mbls
The eruption continues at Fagradalsfjall according to a now fluctuating pattern, as evidenced by the variations of the tremor.
Beautiful lava flows flow into Meradalur, first channeled then spreading out into deltas.
A mapping of the lava thicknesses was carried out by the Institute of Natural History and the collaboration of various organizations: it oscillates between 20 meters in the distal zones and a hundred meters near the active cone.
Sources: Institute of Natural History, Mbls, Hraun