Publié le par Bernard Duyck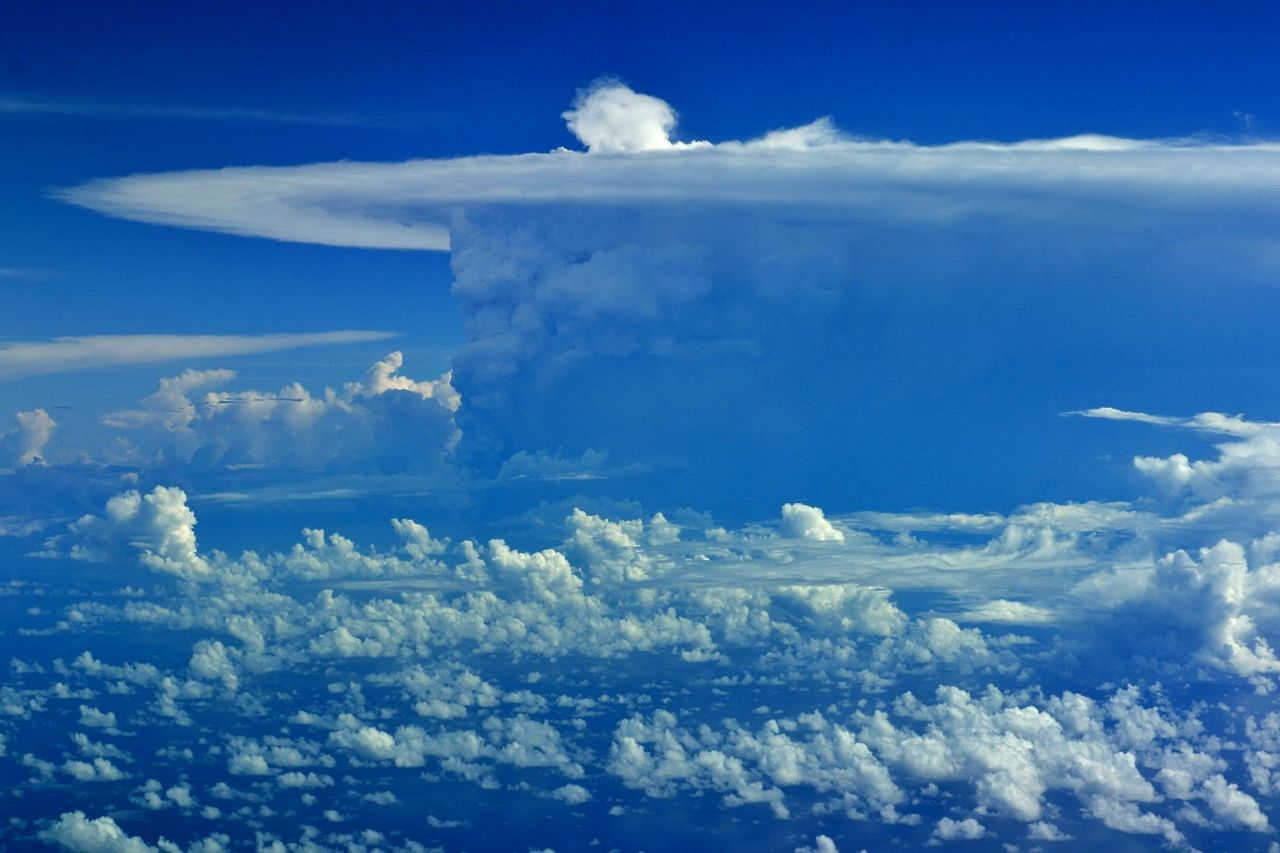 Fukutoku-Okanoba - plume of steam and gas at 6,000 meters, spreading out like an umbrella. - photo Japan Coast Guards 08/13/2021, taken about 90 km north of Fukutoku Okanoba and about 6000 m above sea level. - one click to enlarge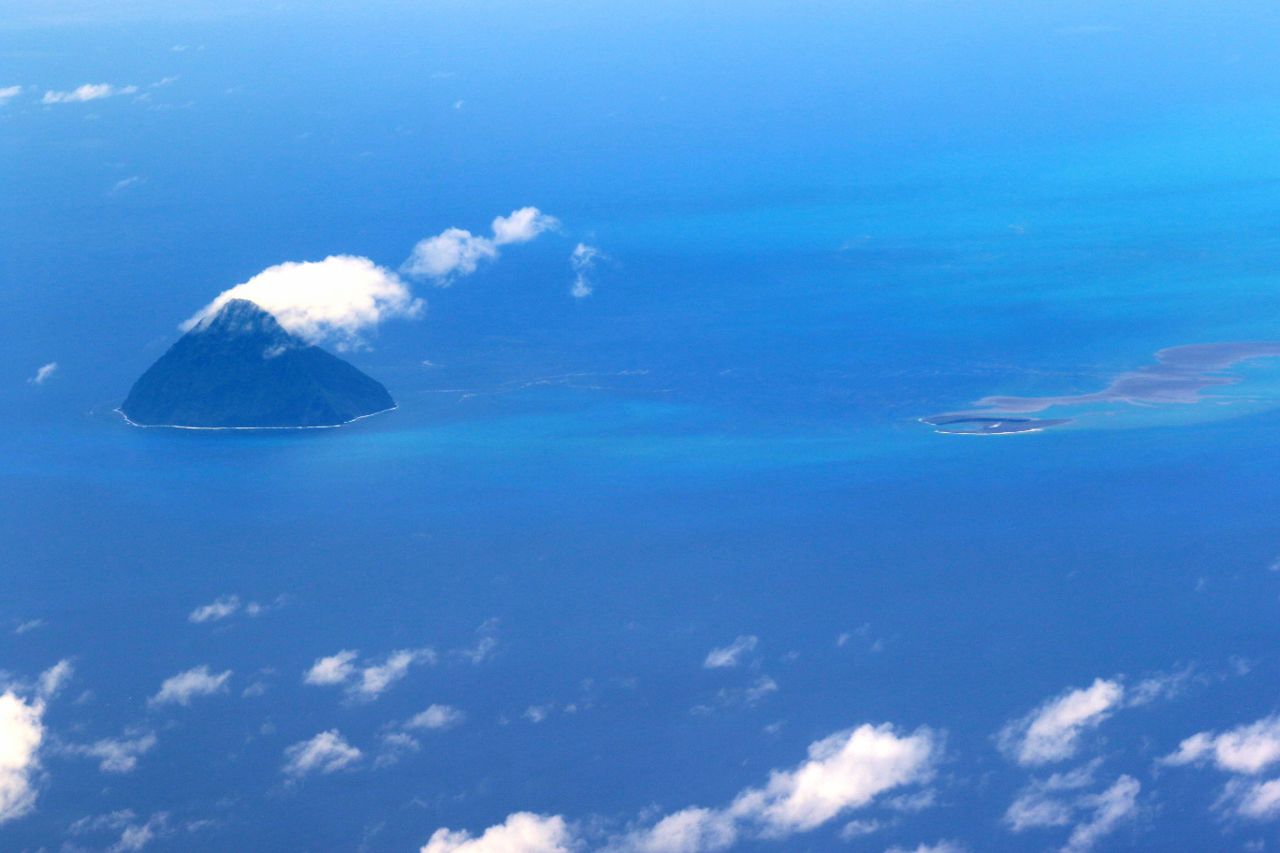 South Iwo Jima (left) and Niijima in Fukutoku- Okanoba (right) - Japan Coast Guards 08.15.2021 / 12:47 - one click to enlarge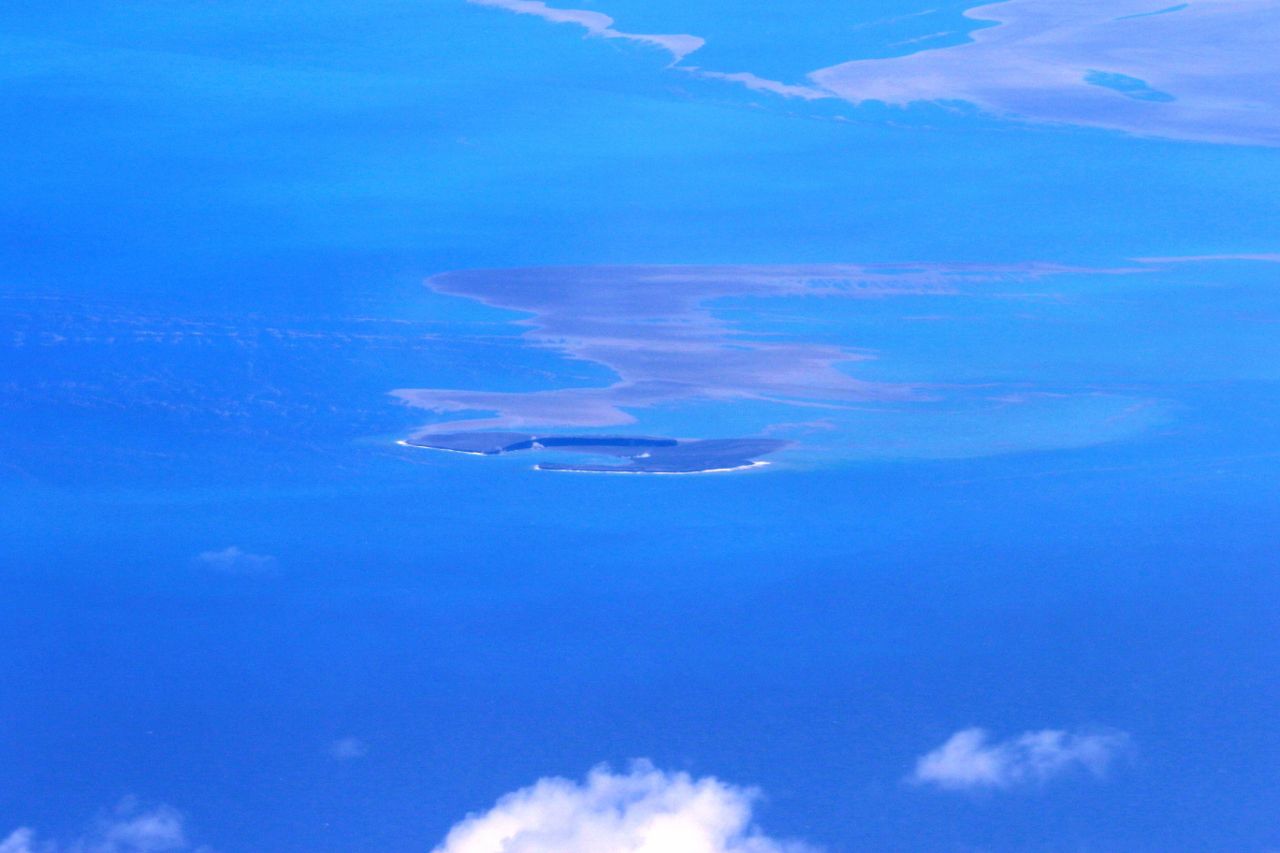 Fukutoku-Okanoba - a break in the activity shows the horseshoe structure - photo Japan Coast Guards 08.15.2021 / 12:45 p.m.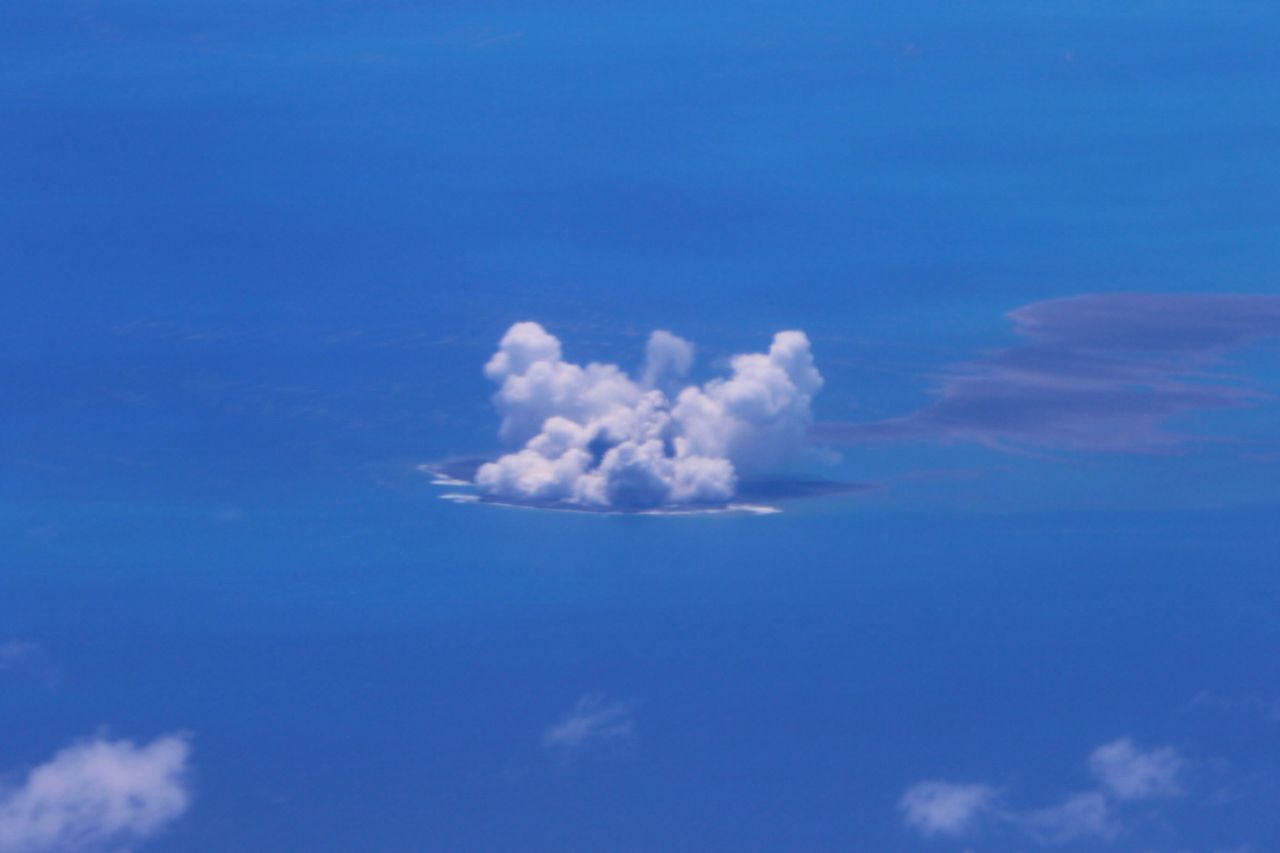 Fukutoku-Okanoba - activity on 08.15.2021 / 12.51pm - photo Japan Coast Guards - one click to enlarge
Observation overflights were carried out in Fukutoku-Okanoba by the Japan Coast Guards teams on August 13 and 15, 2021.
They make it possible to specify that the initial eruptive plume of gas and vapor rose to an altitude estimated at 16 km. and unfolded as an umbrella.
Several international flights between Japan and the Philippines were canceled on August 15 due to possible ash emissions
This August 15, black jets of the "surtseyen" type were visible in the plume of gas and steam, above the horseshoe structure on the Coast Guard video (2021 / 8/15 12:40 -13: 10 - https://www1.kaiho.mlit.go.jp/GIJUTSUKOKUSAI/kaiikiDB/video/fukutoku/fuku210815.mp4)
Source: Japan Coast Guards
Sheveluch - expulsion of juvenile materials at the lava dome - photo Y.Demyanchuk / KVERT 08.10.2021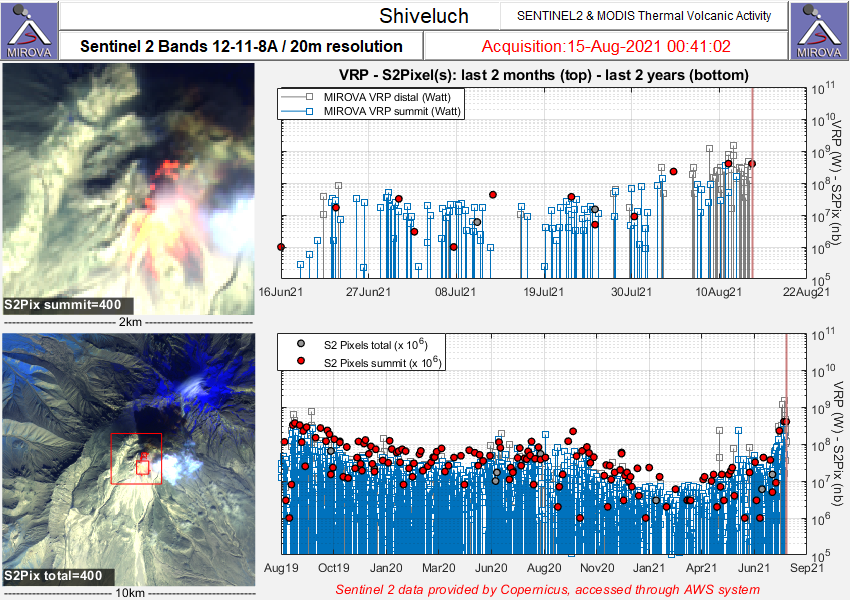 Sheveluch -15.08.2021 / 00h41 images Sentinel-2 bands 12,11, 8A & Modis thermal volcanic activity - Doc. Mirova
At Sheveluch, the growth of the lava dome continues; it is accompanied by strong fumarole activity, the incandescence of the dome, and avalanches of blocks.
A plume of gas and vapor, containing small amounts of ash is noted at 3,000-3,500 m. altitude, extending up to 33 km. at the ESE of the volcano.
The aviation code remains orange, due to the continuation of the extrusive eruption.
Mirova detected thermal anomalies with a max. of VRP 873MW this August 15.
Sources: KVERT, Mirova and VAAC Tokyo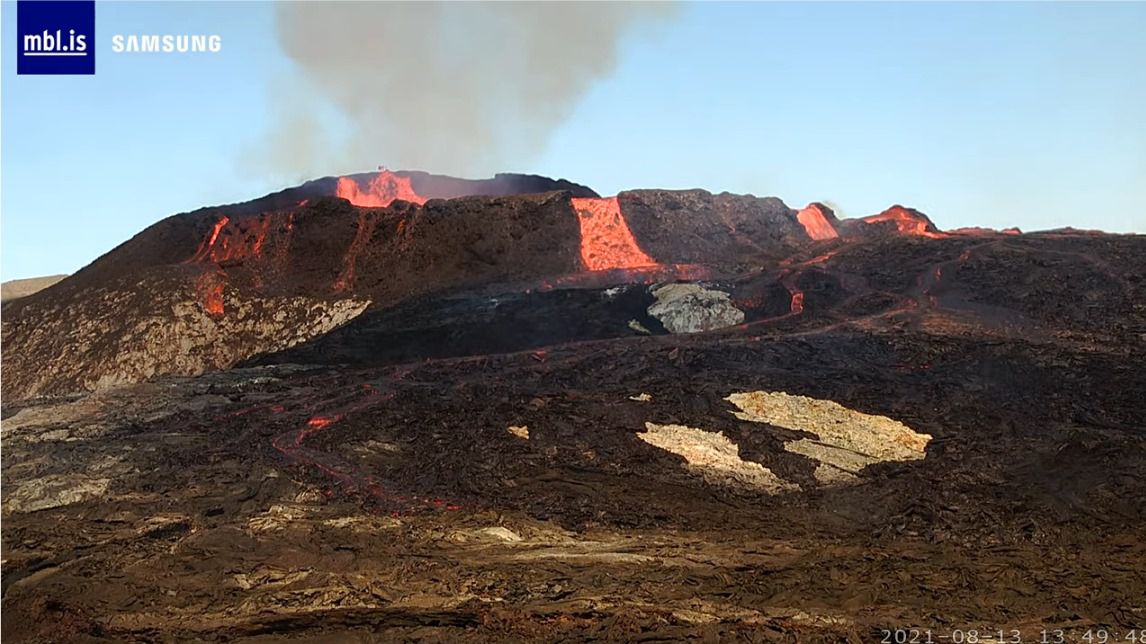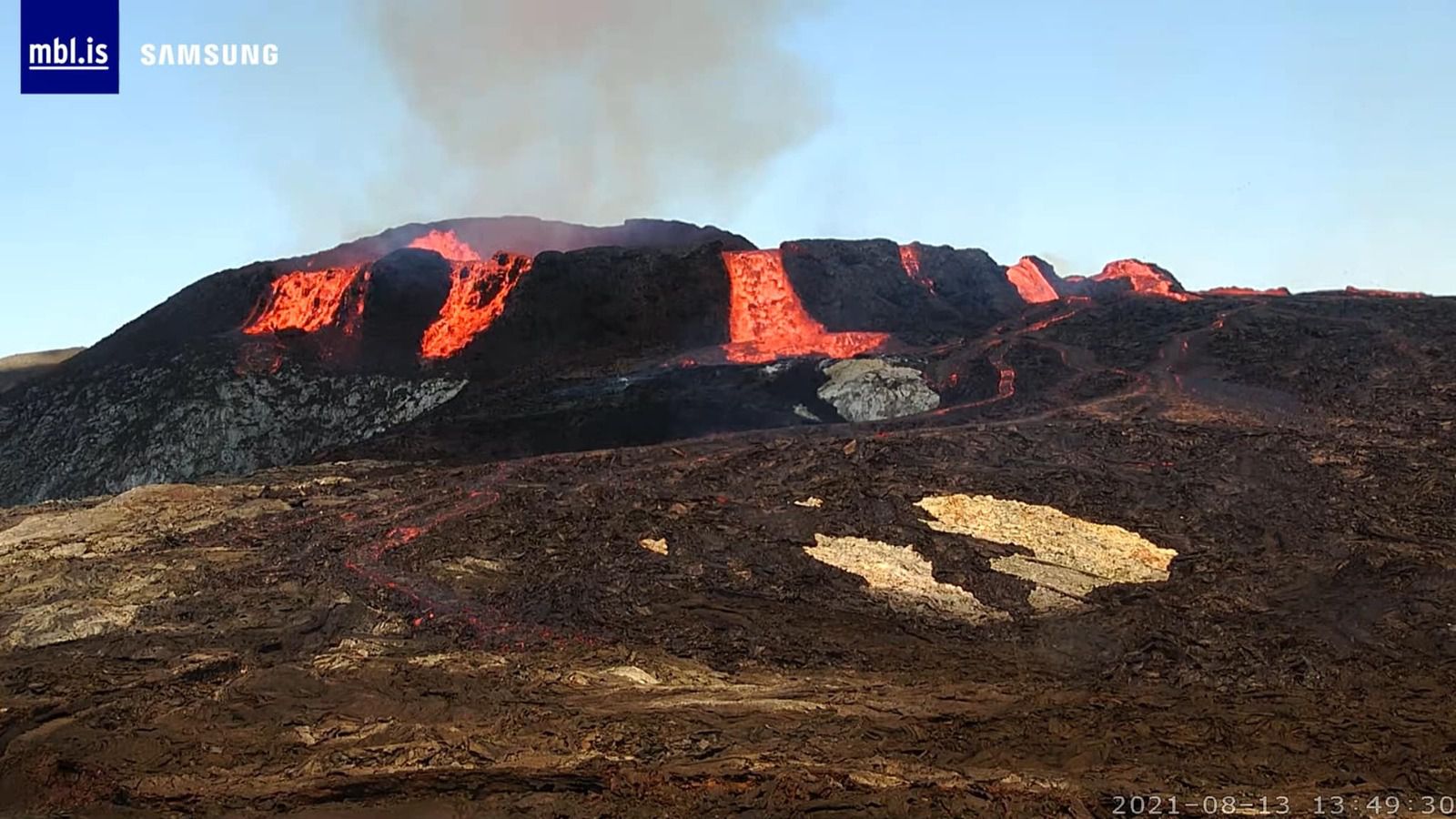 Fagradalsfjall - 08.13.2021, at 1:49 p.m. and 1:50 p.m. respectively - lava overflow at the active crater - mbls webcam
In Fagradalsfjall, the eruption continues with vigor.
Video footage from August 13 shows a crater disgorging its lava in waves in multiple flows towards Meradalur; a piece of the crater wall was washed away by these lava waves.
The eruption paused on August 15 around 5:35 am, and in less than a minute, according to webcams ... but seems to continue according to a receding pattern.
Sources: mbls, Volcano Raging and GutnTog videos, Hraun.vedur
Fagradalsfjall - 08.13.2021 - Fire & Iceland Volcano Raging video
The active crater active in smoke and VOG on 08.14.20210 - video GutnTog
At Montagne Pelé / La Martinique, between August 6 and 13, the OVSM recorded at least 29 volcano-tectonic earthquakes of magnitude less than or equal to 0.2 (since the lightning of the night of June 29 to 30, 82% of the Montagne Pelée seismological station network and 86% of the volcano's deformation detection network are operational). The previous week, between July 30 and August 6, 121 earthquakes were recorded.
These earthquakes were located inside the volcanic edifice between 0.3 km above sea level and the surface. None of these earthquakes were felt by the population. This volcano-tectonic-type superficial seismicity is associated with the formation of microfractures in the volcanic edifice.
A degassing zone at sea was detected at shallow depth (between Saint-Pierre and Le Prêcheur). "The IPGP is currently setting up experiments to map this zone of gas emanations, carry out physicochemical measurements of the fluids and samples of these fluids in order to constrain the origin of this degassing and to assess its relationship possible with the hydrothermal system of Mount Pelée ", indicates the OVSM.
The alert level remains on Yellow alert.
Sources: OVSM & France Antilles / La Martinique