Publié le par Bernard Duyck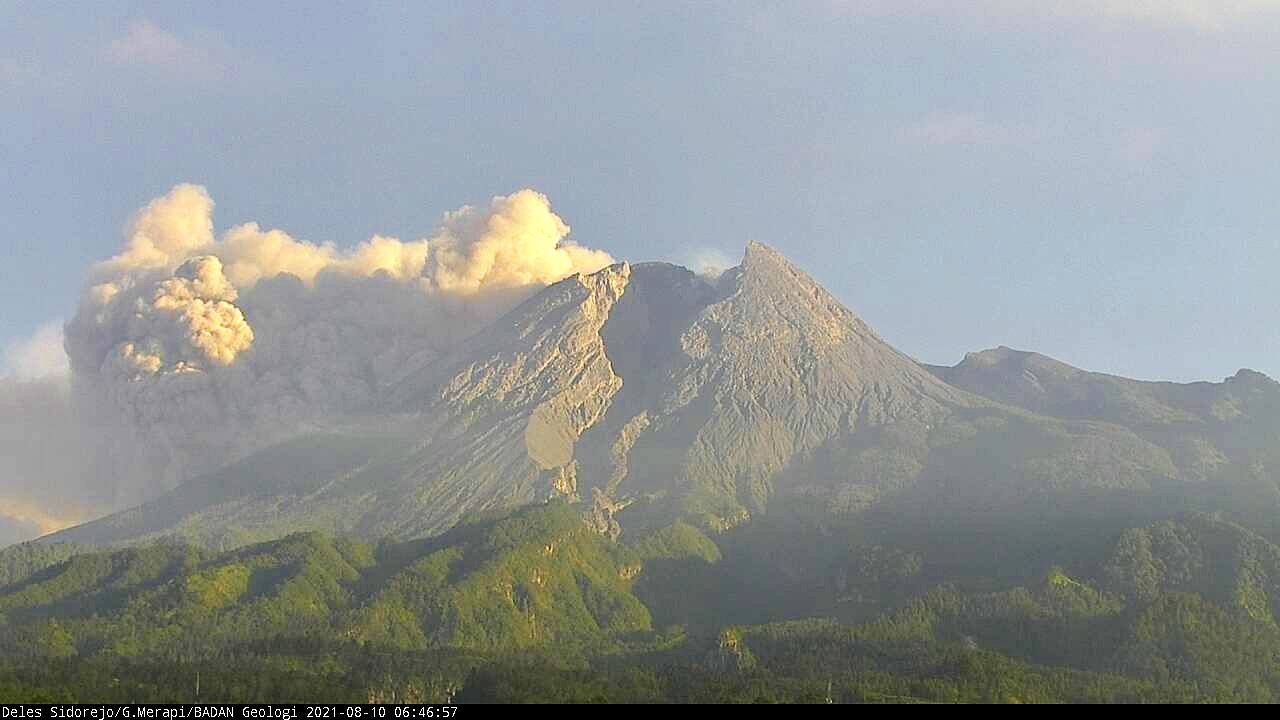 Merapi - pyroclastic flow from 08.10.2021 / at 6:46 am WIB - webcam Deles PVMBG - one click to enlarge
The activity of Merapi / on Java was important on August 10 and 11, 2021.
The observatories report for August 10:
- Three pyroclastic flows, respectively at 05:58 WIB, 06:43 WIB, and 20:27 WIB, affecting distances of 2,500-3,000 meters and recorded on seismograms with an amplitude of 36-55 mm for 157-214 seconds.
- 385 avalanche earthquakes with an amplitude of 4 to 50 mm and a duration of 20 to 157 seconds; these avalanches were observed over a distance of 800-1,500 m. to the southwest.
- 21 blast / emission earthquakes, with an amplitude of 3 to 12 mm and a duration of 11.2 to 22.2 seconds.
- 1 low frequency earthquake
- 125 hybrid / multiphase earthquakes
- 33 shallow volcanic earthquakes, with an amplitude of 29 to 75 mm and an earthquake duration of 8.1 to 21 seconds.
- 6 distant tectonic earthquakes.
For August 11, 35 avalanches of incandescent lava were observed, with a sliding distance of 800 to 1,800 m to the southwest.
VAAC Darwin has issued an ash plume advisory reaching 4,300 m. altitude / alt. flight 140.
The activity level remains at 3 / siaga. The current potential danger consists of lava avalanches and hot clouds in the south-east-south-west sector for a maximum of 3 km to the Woro river and 5 km to the Gendol, Kuning rivers, Boyong, Bedog, Krasak, Bebeng and White. During this time, the ejection of volcanic material in the event of an explosive eruption can reach a radius of 3 km from the summit.
Sources: PVMBG, Magma Indonesia, BPPTKG, VAAC Darwin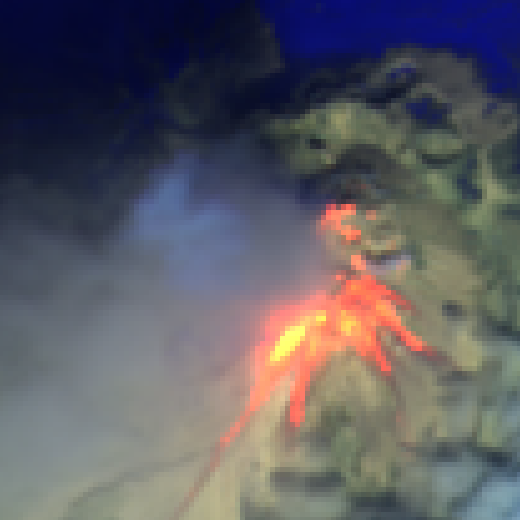 Sheveluch - thermal anomalies at 08.12.2021 / 00h26 - image Sentinel-2 bands 4,3,2 & bands 12,11,8A and zoom in bands 12,11,8A - Doc. via Mounts Project
Strong gas and vapor emissions, with some amounts of ash continue at Sheveluch. A volcanic cloud rose to 4,500 - 5,000 m. asl., extending 51 km west- sid-west of the volcano.
KVERT mentions the collapse of the Dolphin lava block and a few small explosions.
The aviation code remains Orange, following the continuation of the "eruptive extrusive; other ash explosions can occur at more than 10 -15 km. asl. at any time and affect air traffic.
The VAAC Tokyo issued an ash advisory, and a plume at an estimated height of 5,200 meters above sea level, moving southwest.
Sources: KVERT, VAAC Tokyo, Mirova, Sentinel-2 / via Mounts project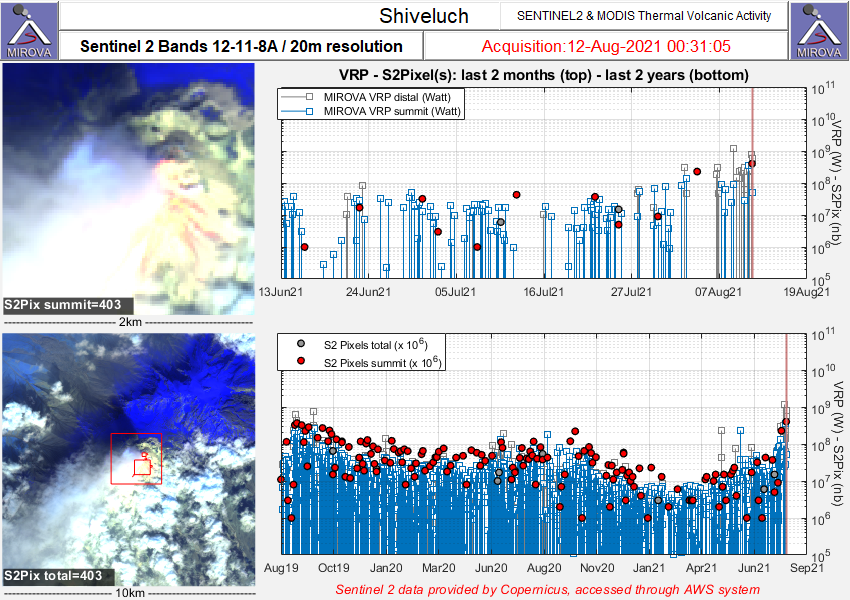 Sheveluch - Sentinel-2 bands 12,11,8a & Modis thermalvolcanic activity - Doc. Mirova 08/12/2021 / 12:31 a.m.
Numerous small earthquakes were detected at a depth of 3-6 km and about 7 km southwest of the Korovin volcano. Earthquakes represent an increase over background seismic activity, but do not necessarily lead to an eruption. In response, the Alaska Volcano Observatory raised the Aviation Color Code and Alert Level of the Akta Volcanic Complex to YELLOW / Advisory.
The Alaska Volcano Observatory will continue to monitor the Atka complex for signs of volcanic activity. The area is monitored by local seismic and infrasound sensors, satellite data and regional lightning detection instruments.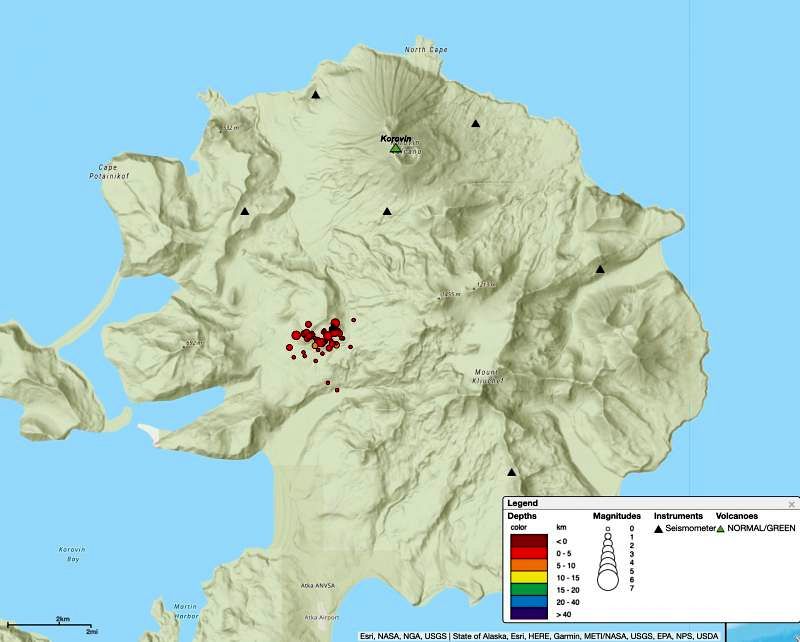 Atka volcanic complex - recent earthquake hypocenters as of 11.08.2021 - Doc. Matt Loewen / AVO - USGS
The largest volcanic center in the Central Aleutians, Atka consists of a central shield and Pleistocene caldera with several post-caldera volcanoes.
A major dacitic explosive eruption accompanied the formation of the caldera about 500,000 to 300,000 years ago. The most important of the post-caldera stratovolcanoes are the Kliuchef and the Sarichef, both of which may have been active in historical time. The Sarichef has a symmetrical profile, but the less eroded Kliuchef is the source of most if not all of the historical eruptions. The Kliuchef may have been active on occasion at the same time as the Korovine volcano to the north. The hot springs and fumaroles are located on the slopes of the Kliuchef and in a glacial valley to the south-west of it.
Sources: AVO and Global Volcanism Program