Publié le par Bernard Duyck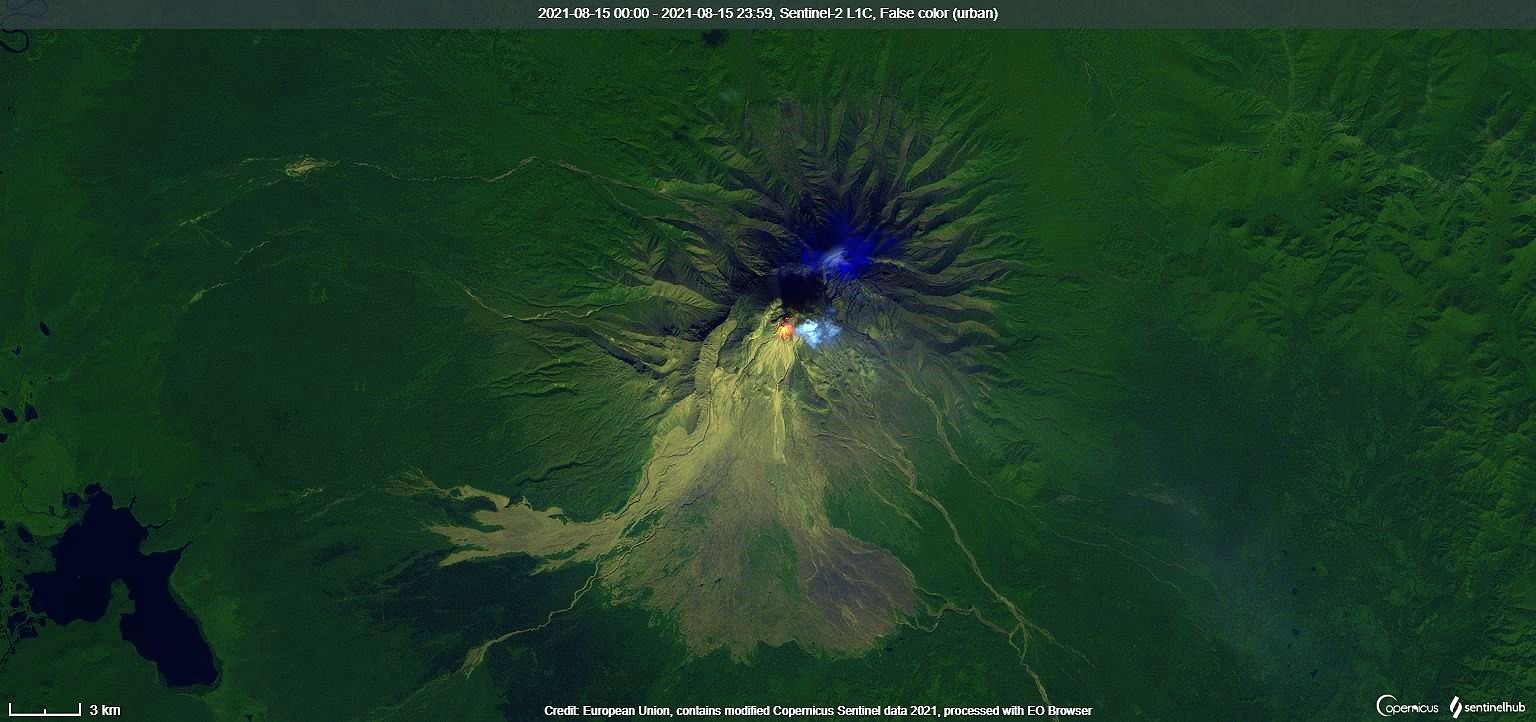 Sheveluch - thermal anomaly at the dome on 08.15.2021 - image Sentinel-2 L1C bands 12.11.4 / via Copernicus - one click on the photo to enlarge
At Sheveluch, the growth of the lava dome continues: a strong fumarole activity, and an incandescence of the lava dome and hot avalanches accompany this process.
Satellite / Suomi NPP data showed a gas and vapor plume at 3,000-3,500 m. asl, containing a certain amount of ash, and extending about 100 km east-southeast of the volcano.
The aviation code remains orange, due to the continuation of the extrusive eruption of the volcano. Ash explosions up to 10-15 km (32,800-49,200 feet) altitude. could arise at any time. Current activity could affect international and low-flying aircraft.
In the KVERT control zone, four volcanoes are today in aviation code orange: Sheveluch, Karymsky, Ebeko and Chirinkotan; the Bezimianny is in yellow aviation code.
Source: KVERT
High surface temperatures and small earthquakes were detected during the last day at the Great Sitkin volcano, which corresponds to the continued growth of a lava dome.
Satellite imagery d16.08 at noon showed that the lava dome is now greater than 700 m in diameter. (against 380 m. on 08/09). A plume of steam and gas could be seen above the summit on satellite images and by ground observers. No explosion or ash emission was detected.
The current volcanic alert level remains at Watch and the aviation code at Orange.
Source: AVO
At Merapi, a moderate to thick white plume was observed at the main crater about 200 meters from the summit. The weather is sunny to cloudy, the wind is weak to moderate in the west.
The seismicity of August 17, 2021 is characterized by
- 4 earthquakes linked to the pyroclastic flows of collapse, with an amplitude of 15-52 mm and an earthquake duration of 62-128 seconds. They occurred at 5:18 am WIB, 7:01 am WIB, 9:39 am WIB and 10:49 am WIB respectively.
- 73 collapse avalanche earthquakes, with an amplitude of 3 to 40 mm and a duration of 17 to 136 seconds.
- 3 blast / emission earthquakes, with an amplitude of 3 to 8 mm and an earthquake duration of 17 to 21 seconds.
- 6 hybrid / multiphase earthquakes
- 1 shallow volcanic earthquake
- 1 distant tectonic earthquake.
Sources: Magma Indonesia, BPPTKG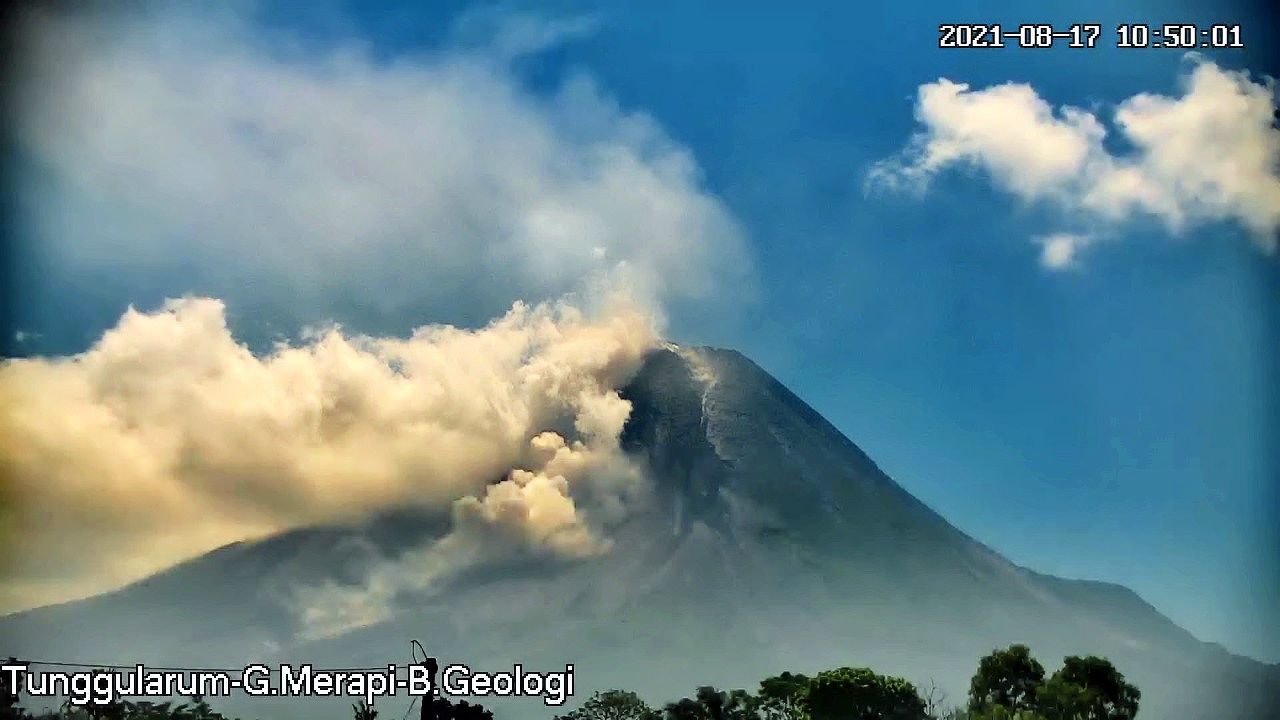 Merapi - Collapse pyroclastic flow of collapse on 08/17/2021 / 10:50 a.m. - Tunggularum / Badan Geologi webcam
At Fagradalsfjall, it seems that a new small spatter cone has started to develop at the edge of the eruptive center, with an independent and powerful crater.
Observers dated its opening the same day the Gónhóll fissures were discovered and may have appeared.
The thermal anomalies noted by Mirova were very high on August 16, with a maximum at VRP 5262 MW at 2:35 p.m.
Sources: mbls, RUV, Mirova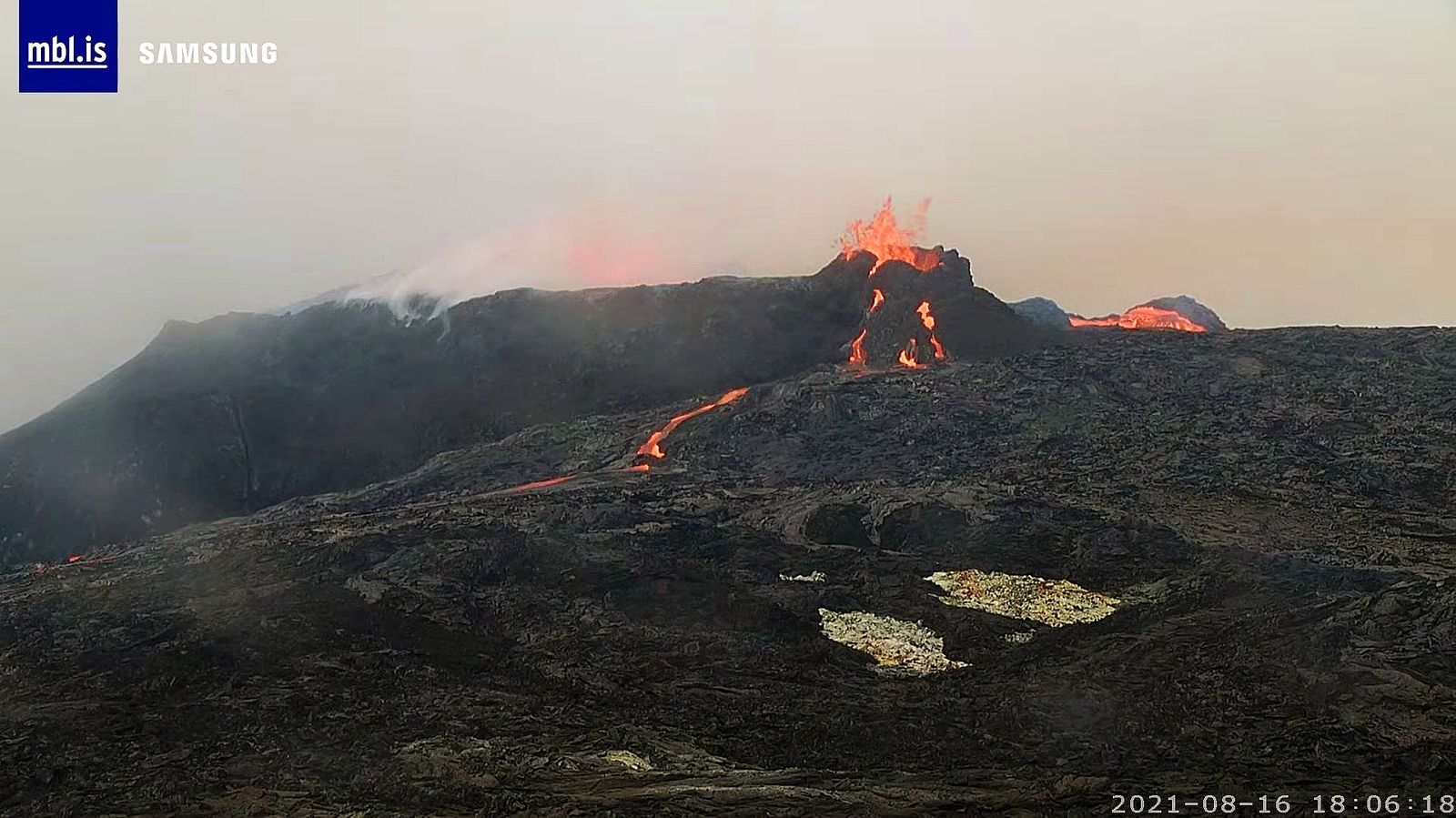 Fagradalsfjall - new spatter cone on the side of the eruptive cone on 08.16.2021 / 6:06 p.m. - mbls webcam
Sabancaya's activity remained moderate between August 9 and 15, 2021, with an average of 29 explosions per day, accompanied by plumes of gas and ash up to 3,000 meters above the summit.
During this week, I.G. Peru detected and analyzed 826 earthquakes of volcanic origin linked to the circulation of internal magmatic fluids. The VT earthquakes remain localized to the north and northwest of the volcano.
The deformation does not present any significant anomalies.
Four thermal anomalies, with a max. de11 MW were identified by Mirova, associated with the presence of a surface lava body in the crater.
Sourec: I.G. Peru