Publié le par Bernard Duyck
On Suwanosejima, volcanic activity continues at high levels.
Moderate to strong vulcanian explosions are again in progress at the crater at the top of On-take volcano NE.
Similar activity occurred in early August as a series of violent eruptions sent ash up to 3 km above sea level.
A spectacular ash plume rising to 2,600 m. above the summit could be observed around 9:10 a.m. local time today and dispersed in a northwesterly direction, in accordance with the ash scattering advisory issued by VAAC Tokyo.
Explosions generated pyroclastic bombs and blocks ejected up to 400 meters from the crater.
An almost constant glow is visible at the summit at night, detected by surveillance cameras.
Sources: JMA & VAAC Tokyo
Eruptive activity was detected in the Nyamulagira crater by the Sentinel-1 and Sentinel-2 probes on August 25, 2021.
Thermal anomalies have been observed by Mirova more regularly since August 22, 2021.
Sources: Charles Balagizi / GVO, Sentinel and Mirova.
The Ol Doinyo Lengai crater in Tanzania is busy filling up.
Pictures of sat. Sentinel-2 shows hot spots in the crater, while Mirova reports thermal anomalies on August 24 and 25 from VRP between 13 and 81 MW.
These satellite images depend on both activity and the absence of cloud cover, a factor enabling thermal anomalies to be measured.
Sources: Sentinel-2 and Mirova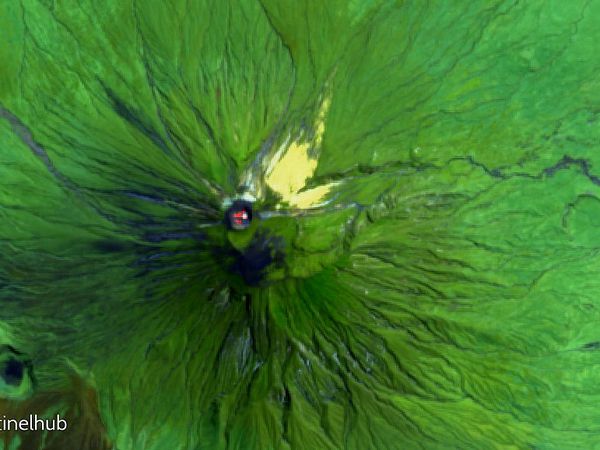 Ol Doinyo Lengai - images Sentinel-2 bands 12,11,4 (green dominant) and 12,11 8A bands (blue dominant) and zoom on the hot spots in the crater / Sentinel-2 bands 12,11,8A - one click to enlarge
Lava from the Fagradalsfjall eruption cascades again into the Nátthaga Valley.
Þorvaldur Þórðarson, volcanologist on site says that " the lava flow is of importance ... a breach has opened in the crater and the lava flows on August 26 at Syðri-Meradalur and from there to Nátthaga, where it cascades, very fluid ... The front edge of the lava field, which is now moving over Nátthagi, covers almost the entire valley. In other words, it extends between the slopes ", Þorvaldur explains.
The eruption continues with an alternation of active phases and pauses, as illustrated by the outline of the eruptive tremor.
Considering the unchanged flow, it will probably take about two weeks to fill Nátthaga. Then it will take some time to fill the square on Suðurstrandavegur.
Sources: mbls, RUV, Iceland Review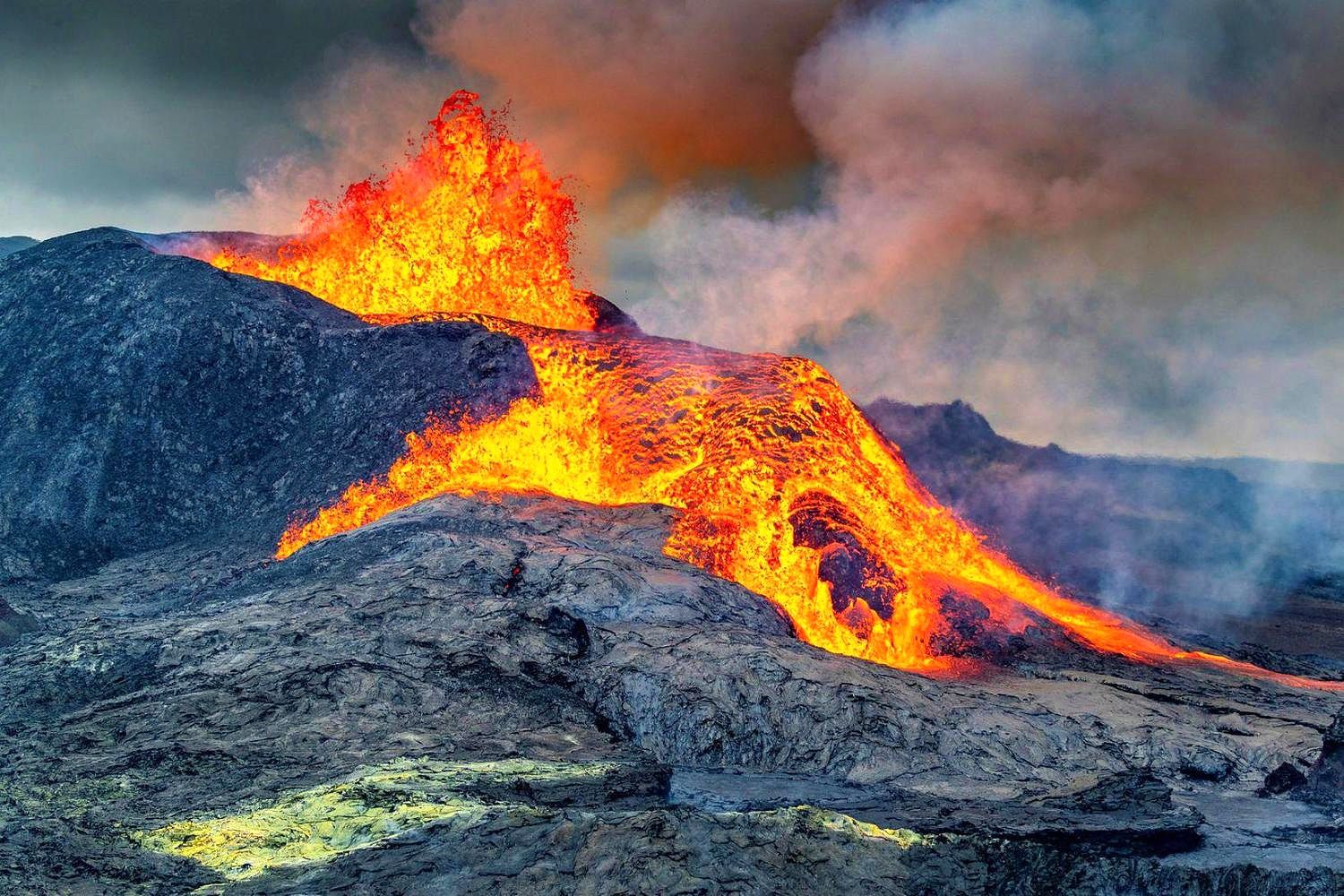 Fagradalsfjall eruption - 26.08.2021 - lava overflow at the active crater and distribution in several arms - photo mbl.is / Árni Sæberg / Twitter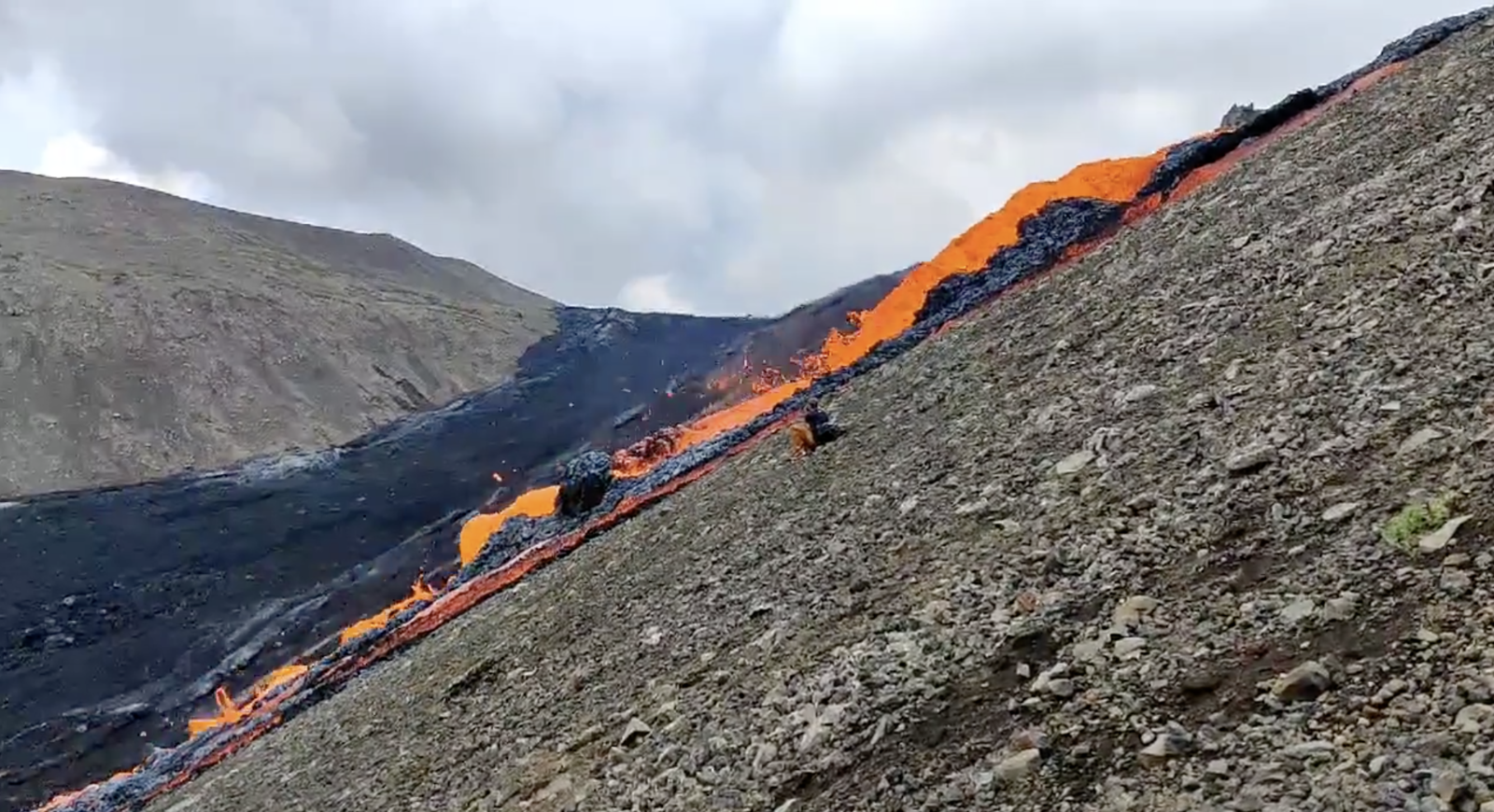 Fagradalsfjall - the lava cascading in the Nátthaga valley - 26.08.2021 / 11:33 - Screen-Shot video Daníel Páll Jónasson
An ash emission was observed at Nevado del Ruiz on August 26 at around 8 a.m. thanks to webcams. The column of gas and ash reached a maximum height of 490 m., With a direction of dispersion to the west - north-west. The fall of ashes in the communes located in the direction of the wind is not to be excluded.
The Nevado del Ruiz volcano continues in the yellow activity level (or III).
Source : SGC