Publié le par Bernard Duyck
Incandescence was visible over the growing lava dome of Great Sitkin on Friday evening (August 6) around 10:30 p.m., along with a robust plume of steam.
High surface temperatures were seen on a satellite image, but all other satellite and webcam views of the volcano over the past day have been obscured by clouds. The high surface temperatures are the result of an effusion of lava in the summit crater.
The dome was measured, using satellite radar images, over 230 m in diameter as of Thursday, August 5.
Source: AVO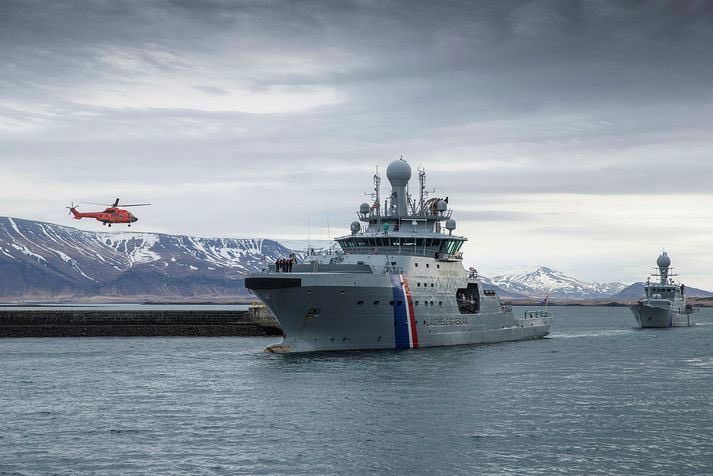 Reykjanes peninsula - Deployment of a coastguard vessel for verification off Krisuvik on 07.08.2021 - photo Visir
In the Reykjanes Peninsula, the Coast Guard received a report shortly after 8 p.m. on August 7 from a passerby in Selvogsvita who had seen plumes of dark gray smoke at sea. Although nothing was noticed on the aircraft. IMO control vessel, the coastguard vessel Þór made a sortie west of Krýsuvíkurberg to confirm or deny the existence of signs of an underwater eruption. The Coast Guard information officer said no smoke was visible ...
The eruption continues on earth. After a sudden drop in the tremor during the day of August 7, it rose again in the early evening, and the night was marked by incandescence and lava flows.
Sources: mbls webcam and Visir
Lava tornado in Meradalur on 08/06/2021 - video Hugi Podarson
The seismic activity at La Soufrière in St Vincent has remained weak since the tremor associated with the explosion and the ash removal of April 22. In the past 24 hours, only a few small earthquakes have been recorded.
Current activity corresponds to a period of unrest after a rash. This can last for weeks or even months. While volcanic activity is on the decline, there is the continued presence of hot spots near the surface, daily seismic activity, and persistent outgassing.
Sulfur dioxide flow measurements at La Soufrière were taken by boat off the west coast on August 3, with help from the coast guard. Several crossings were made and gave an average SO2 flow of 207 tonnes per day.
The volcano is at the Orange alert level.
There is a small, but not insignificant, possibility that magmatic activity will resume in the event of an influx of new magma from the depths.
Source: UWI - SRC 07.08.2021 / 1pm