Publié le par Bernard Duyck
The eruption of the submarine volcano Fukutoku - Okanoba, in the Ogasawara Islands, which began on August 13, 2021 continues.
The eruptive plume of white vapor, traversed by lightning caused by the friction of the pyroclasts expelled at high speed, continues to be emitted and to drift in a west-southwest direction.
The Sentinel-5P / Tropomi satellite recorded a strong plume of sulfur dioxide 35 km from the volcano and 3 km. of altitude, with 18.53 DU of SO2. The estimated mass at 300 km is 6.5 kilotons.
Sources: JMA, VAAC Tokyo, Tropomi / Sentinel-5P, Kyodo news
The Japanese Meteorological Agency announced on the 13th that an eruption would have occurred on the submarine volcano "Fukutoku Okanoba", located about 50 kilometers south of the islands of Ogasawara and Iwo Jima. - Kyodo news video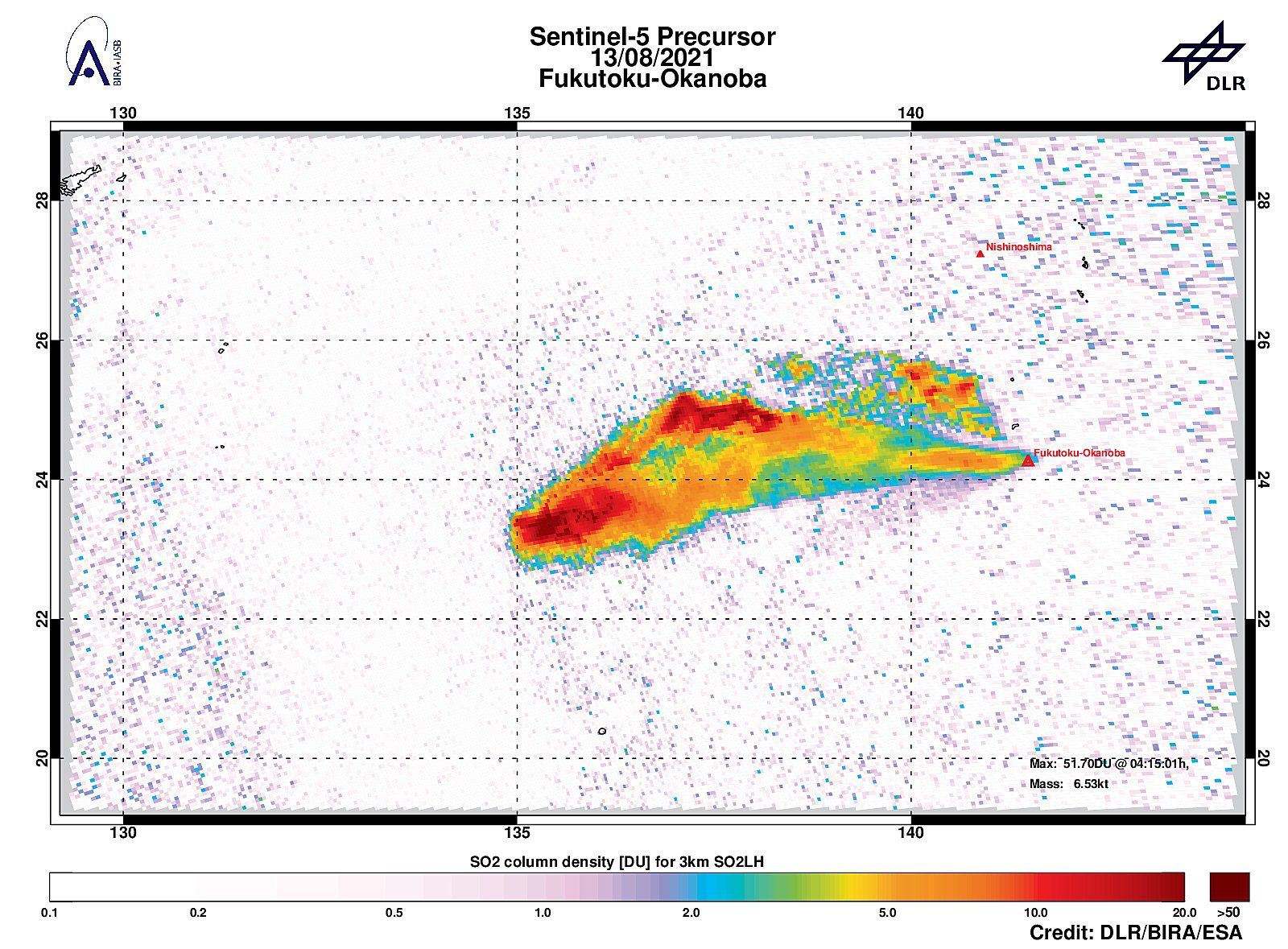 Fukutoku - strong plume of sulfur dioxide on 08.13.2021, 35 km from the volcano and 3 km. altitude, with 18.53 DU of SO2 - Doc. Tropomi / DLR - BIRA - ESA
The eruption of a lava dome in the summit crater of the Great Sitkin volcano continued over the past week.
Satellite data showed the dome grew from around 300m in diameter on August 6 to around 380m on August 9. Plumes of steam were visible in satellite and web camera images, but no ash emission was detected. Small earthquakes were detected which are probably associated with the lava effusion. No explosive activity was detected.
There is no indication of how long the lava flow lasted during the current eruption, and it is possible that explosive activity could occur with little or no warning.
The volcanic alert remains at Watch and the aviation code at Orange
The Great Sitkin volcano is monitored by local seismic and infrasound sensors, satellite data, web cameras, and remote infrasound and lightning networks.
Sourec: AVO
A moderate eruptive activity continues in Chirinkotan, in the Kuril archipelago, with this August 14, 2021 at 02:15 UTC, an explosive episode, accompanied by a plume of gas at 3,000 - 3,500 m asl., drifting 12 km towards the SSE of the volcano.
The aviation code remains orange, other strong explosions can occur at any time, with potential ash plumes at an altitude of 10-15 km.
Source: KVERT & VAAC Tokyo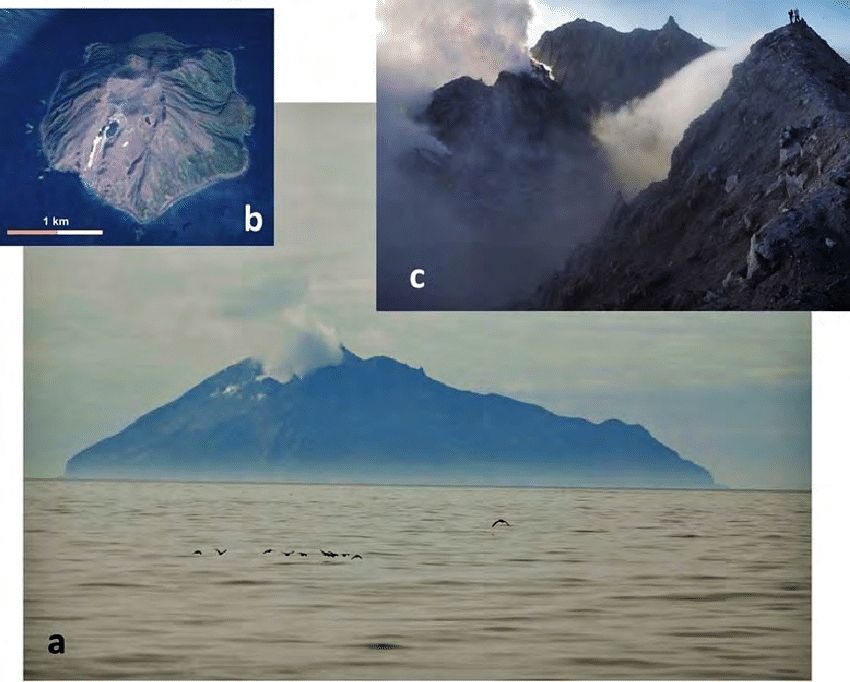 Chirinkotan island in July 2016 / photo Y.Taran (a) - Google image (b) - the crater of Chirinkotan volcano in August 2015 / photo O.Chaplygin - Doc. Via Research Gate
In Nyiragongo, the eruption of May 22 released lava flows, which are covered with whitish deposits.
These deposits are used by the population of the Chiefdom of Bukumu and surroundings as a substitute for cooking salt.
A press release from the Governor of the Province of North Kivu has just been published banning the use and consumption of this "volcano salt".
After an analysis, its composition shows that it contains elements unfit for consumption: siliceous substances not soluble in water and traces of heavy metals and radioactive substances, toxic to the human body.
Source: Charles Balagizi / Goma Volcano Observatory