Publié le par Bernard Duyck
A plume was observed on August 25 at the main crater of Ili Lewotolok / East Nusa Tenggara, white, gray and black in color with moderate to thick intensity, about 50-1200 meters from the summit.
Thanks to the seismographic recordings of August 25, 2021, it was recorded
- 1 eruption earthquake, but visually the height of the eruption and the color of the ash were not observed.
- 18 times the blowing earthquake
- 12 times the harmonic tremor
- 3 times the non-harmonic tremor
- 3 times the distant tectonic earthquake.
On August 26, a white, gray and black plume from the main crater was observed with high intensity, thick, about 200-1000 meters from the summit
Between 00 and 12h WITA, the seismicity is characterized by
- 2 eruption earthquakes, with an amplitude of 16 to 21 mm and an earthquake duration of 30 to 31 seconds.
- 3 blast / emission earthquakes, with an amplitude of 5 mm and the duration of the earthquake was 11 to 38 seconds.
- 7 Harmonic episodes, with an amplitude of 4 to 5 mm and an earthquake duration of 5 to 13 seconds.
- 1 deep volcanic earthquake with an amplitude of 11 mm, S-P 1 second and a duration of 12 seconds.
- 1 distant tectonic earthquake
Activity level remains at 3 / siaga. Communities and visitors around Mount Ili Lewotolok should not conduct activities within 3 km of the summit of Mount Ili Lewotolok. The community of Jontona Village should always be aware of the potential threat of avalanches of weathered material which may be accompanied by hot clouds originating from the southeastern part of the volcanic peak.
Sources: PVMBG, Magma Indonesia, and video Erwin Winarno
Video of the summit and crater of Ilil Lewotolok - by Erwin Winarno, uploaded on 08.24.021
The Taal volcano, in the Philippines, is still on level 2 alert / increased unrest.
The activity of the main crater is dominated by a rise of volcanic fluids in the lake, which generate plumes of gas and steam.
Some parameters for the month of August 2021, showing the flow of sulfur dioxide and the number of volcanic earthquakes: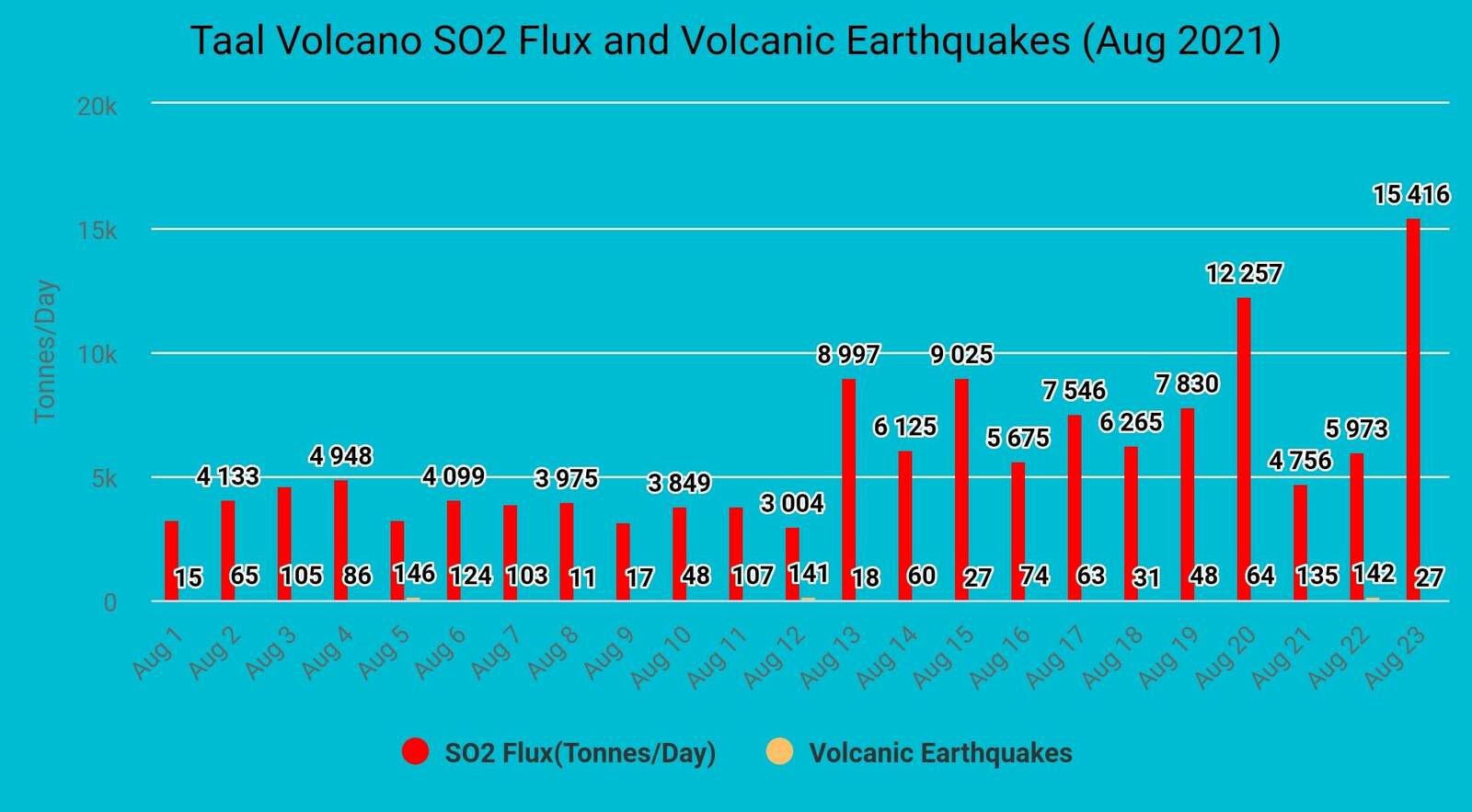 Taal - sulfur dioxide flux and nbr. of volcanic earthquakes from August 1 to 23, 2021 - Doc. Phivolcs
For the last few days, reports mention:
- 08/23: 15,416 tonnes of SO2 / d. and 27 volc.
- 08/24: 8,577 tonnes of SO2 / d. and 42 volc.
- on 25.08: 3,307 tonnes of SO2 / d. and 43 volc.
- on 26.08; 3,848 tonnes SO2 / d. and 6 volc.
VOG was reported on days of high sulfur dioxide emissions, including August 23 and 24.
At this stage, lethal build-up or expulsion of volcanic gases can occur without warning, as can gas and steam-generated explosions, ash falls and volcanic earthquakes.
The Phivolcs recommends not to enter the central volcanic island, nor the permanent danger zone, and not to practice any activity on Lake Taal.
Source: Phivolcs-Dost
Ebeko volcano eruption - Kuril Islands, RUSSIA / August 24, 2021 - video FA Climate, Weather and Atmosphere
Among the 4 volcanoes of Kamchatka an aviation code orange, the Sheveluch, the Karymsky, the Chirinkotan and the Ebeko, the latter presents, on August 25, a moderate eruptive activity with an explosion, accompanied by an ash plume of more than 3,700 meters asl., drifting south-east.
A Thermic anomaly is seen by the satellites.
Sources: KVERT and FA Climate Weather and Atmosphere