Publié le par Bernard Duyck
A white plume was observed at the main crater of Merapi, with moderate to thick intensity, about 100 meters from the summit on August 3, 2021.
The seismicity of August 3 is characterized by:
- 151 collapse earthquakes, with an amplitude of 3 to 40 mm and a duration of 7 to 120 seconds.
- 11 blast / emission earthquakes, with an amplitude of 3 to 6 mm and a duration of 9.3 to 17 seconds.
- 450 hybrid / multiphase earthquakes
- 80 shallow volcanic earthquakes, with an amplitude of 9 to 75 mm and an earthquake duration of 3 to 28 seconds.
- 2 distant tectonic earthquakes with an amplitude of 3 mm, S-P 31.6 seconds and an earthquake duration of 112-129 seconds.

The activity level remains at 3 / Standby, with recommendations not to be in danger zones.
The current potential danger consists of lava avalanches and hot clouds in the south-east-south-west sector for a maximum of 3 km to the Woro river and 5 km to the Gendol, Kuning rivers, Boyong, Bedog, Krasak, Bebeng and White. During this time, the ejection of volcanic material in the event of an explosive eruption can reach a radius of 3 km from the summit.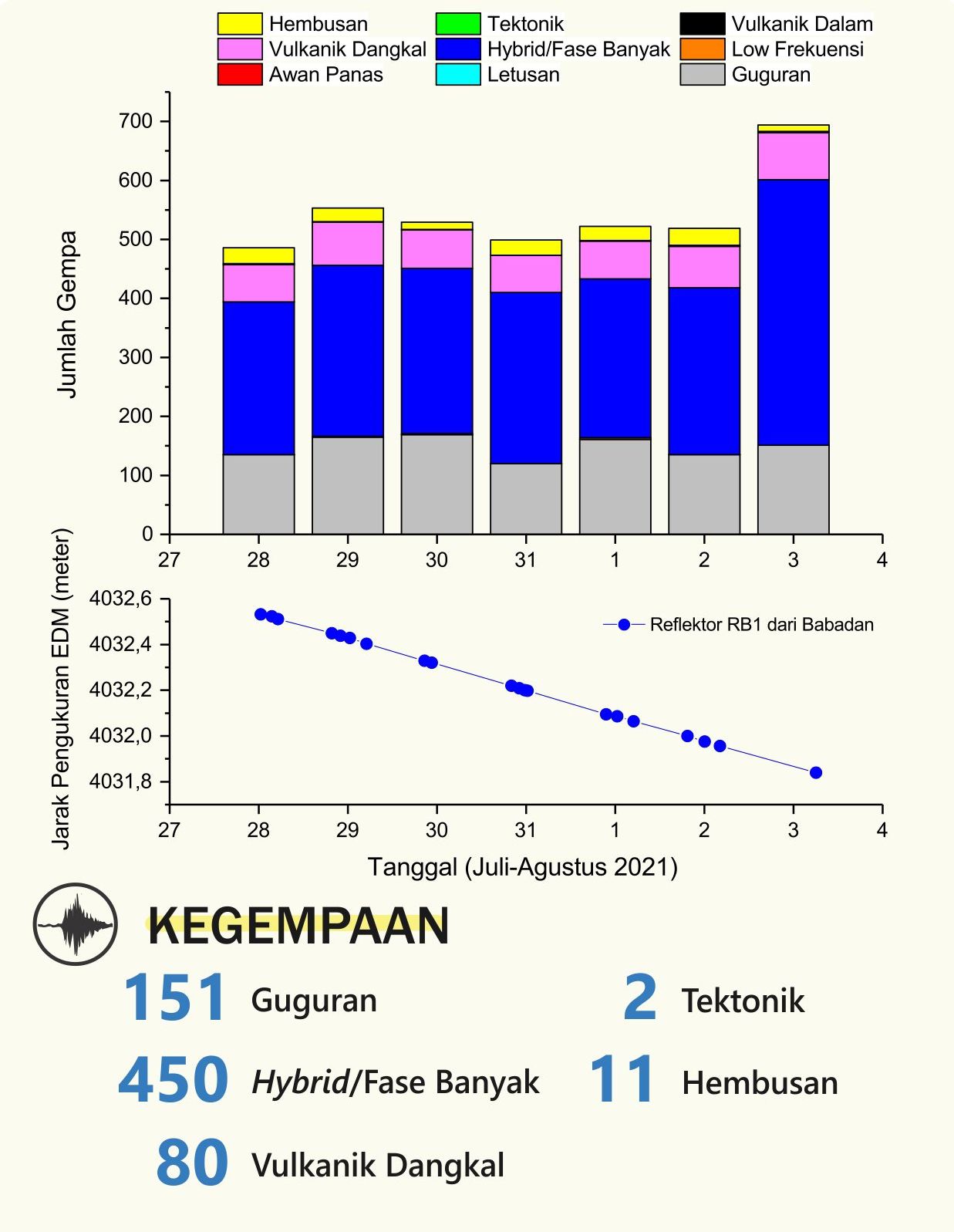 On August 4 at 5:41 am WIB, we can observe on webcams a plume of moderate to thick intensity, reaching 400 m. above the summit. A pyroclastic flow of collapse left a trace on the 16 mm seismogram. Amplitude, lasting 141 sec.
Sources: PVMBG, Magma Indonesia and BPPTKG
An eruptive episode marked the Ili Lewotolok on Wednesday 04 August 2021 at 09:19 WITA, with an ash plume observed at ± 1300 m above the summit (± 2723 m above sea level). We observe that the ash column is gray to black with a thick intensity, leaning towards the west. This eruption was recorded on a seismograph with a maximum amplitude of 28 mm and a duration of 41 seconds.
Source: PVMBG, Magma Indonesia
At Reventador, several ash emissions were observed in a westerly and north-westerly direction, this August 3, 2021, reaching up to 800 meters above the crater level. The Washington VAAC issued 3 alerts of emissions observed on the satellites, its direction was maintained towards the northwest and the heights did not exceed 800 meters above the level of the crater.

Seismicity is characterized between August 2 and 3 at 11 a.m. by 91 explosion earthquakes, 75 LP earthquakes, 10 emission tremor episodes, and one harmonic tremor episode.
Neither FIRMS nor MIROVA have logged any thermal alerts in Reventador in the past 24 hours.
In the afternoon and night of yesterday, the volcano was repeatedly cleared and incandescence was observed in the crater.
Source: IGEPN
Sabancaya maintained moderate volcanic activity between July 26 and August 1, with an average of 54 explosions per day, accompanied by ash plumes reaching up to 2,000 meters above the summit.
I.G.P. detected and analyzed 1,170 earthquakes of volcanic origin associated with the circulation of internal magmatic fluids. During the same period, VT earthquakes associated with rock fracturing, of magnitudes between 2.7 and 3.9, occurred mainly in the north and southwest areas.
The deformation does not present any significant anomaly. Five thermal anomalies were identified, with a VRP max. of 13 MW, attesting to the presence of a surface lava body in the crater.
The volcanic alert remains in Naranja, with an inaccessible area of ​​12 km radius around the crater.
Source: I.G. Peru