Publié le par Bernard Duyck
A moderate eruptive activity continues at Karymsky, with an ash plume on September 17 at 2,000-2,500 meters asl. extending eastward for 38 km.
On September 18, explosions were accompanied by an ash plume at more than 4,300 m. asl., moving 145 km east and northeast of the volcano.
A thermal anomaly marks the volcano.
The aviation code remains orange, other ash explosions can occur at any time, reaching an altitude of 6-7 km and affecting air traffic.
Sources: KVERT & Mirova / Sentinel-2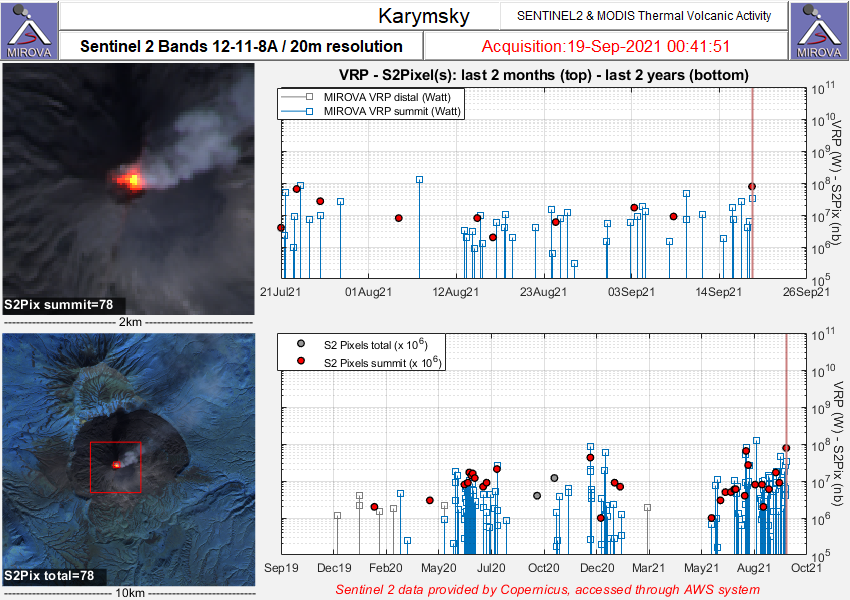 Karymsky - image Sentinel-2 bands 12,11,8A and Modos thermal volcanic activity from 09.19.2021 / 00h41 - Doc. Mirova S2MIR_Last
In Fagradalsfjall, around 2:45 p.m. on September 18, police and civil defense announce the closure of Trail A. Lava has now started to flow over the reserve areas near Trail A and it won't be long before it begins to flow on the path and up to Nátthagakriki.
Police and rescue teams are now working to clear the trail. People are ordered to go to trail B or C. Trail C is particularly recommended in this regard. Caution is recommended: the course of events remains unpredictable and lava can flow with great speed.
Around 5:40 p.m. local time, the tremor began to drop suddenly ... yet another behavior of this surprising volcano. Due to the weather on webcams, it's hard to tell how long the lava is flowing or if lava is still in the crater.
Sources: Police and Civil Defense of Suðurnes, Hraun.vedur, RUV, mbls
The seismic activity in Cumbre Vieja / La Palma, which started on the 11 at 03:18 (UTC), has decreased over the past 48 hours, however, over the past 12 hours there has been a slight increase with an earthquake of magnitude 3.2 mbLg located at 03:26 (UTC) today, at a depth of 0.1 km, which was felt by the population of intensity III (EMS98). So far and since the start of the series, 5391 earthquakes have been detected, of which 1102 have been located.
The maximum cumulative vertical deformation is of the order of 10 cm in the zone close to seismicity and its distribution is still compatible with a center of pressure in this zone. These movements were observed both with the island's GNSS network and with InSAR data (Sentinel-1).
Source: IGN 18.09.201
La Palma - interferometric analyzes by Sentinel-1 / variations between 2 satellite passes - one click to enlarge
La Palma remains under close monitoring :
INVOLCAN today installed a seismic network on La Palma. It will allow a type of signal: the volcanic tremor, to be detected with more sensitivity, if it occurs.
A seismic network is a set of seismic stations installed at a short distance from each other which, in addition to detecting seismic waves, makes it possible to establish the direction from which these waves originate.
Using analysis techniques similar to those used by telecommunication antennas, this tool will detect with even more sensitivity any seismic signal coming from inside the volcano, including volcanic tremor, which is an important precursor of a possible eruptive phase.
This activity was made possible thanks to the VOLRISKMAC (MAC / 3.5b / 124) and VOLRISKMAC II (MAC2 / 3.5b / 328) projects, co-financed by the INTERREG VA Spain-Portugal MAC Cooperation Program (Madeira-Azores-Canaries) 2014- 2020 from the European Commission.
Update from 4.30 p.m. (Canary Island time): no significant thermal anomaly was observed in the surface environment of the western slope of Cumbre Vieja and in the summit area, during helicopter overflight
Source : InVolcan