Publié le par Bernard Duyck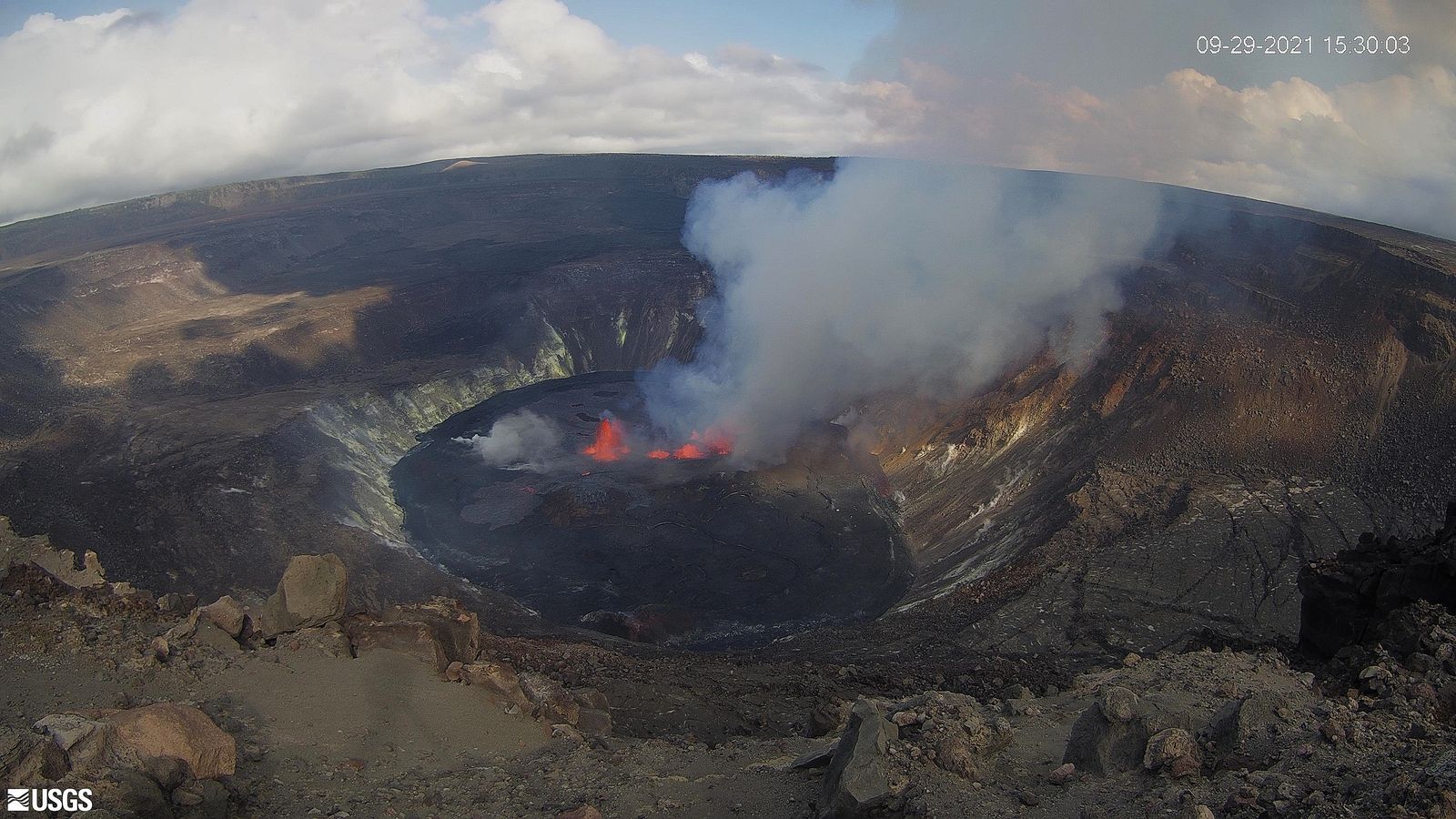 Kilauea / Halema'uma'u - 09.29.2021 / 3:30 p.m. HST - eruption in progress at the center of the crater - USGS-HVO - one click to enlarge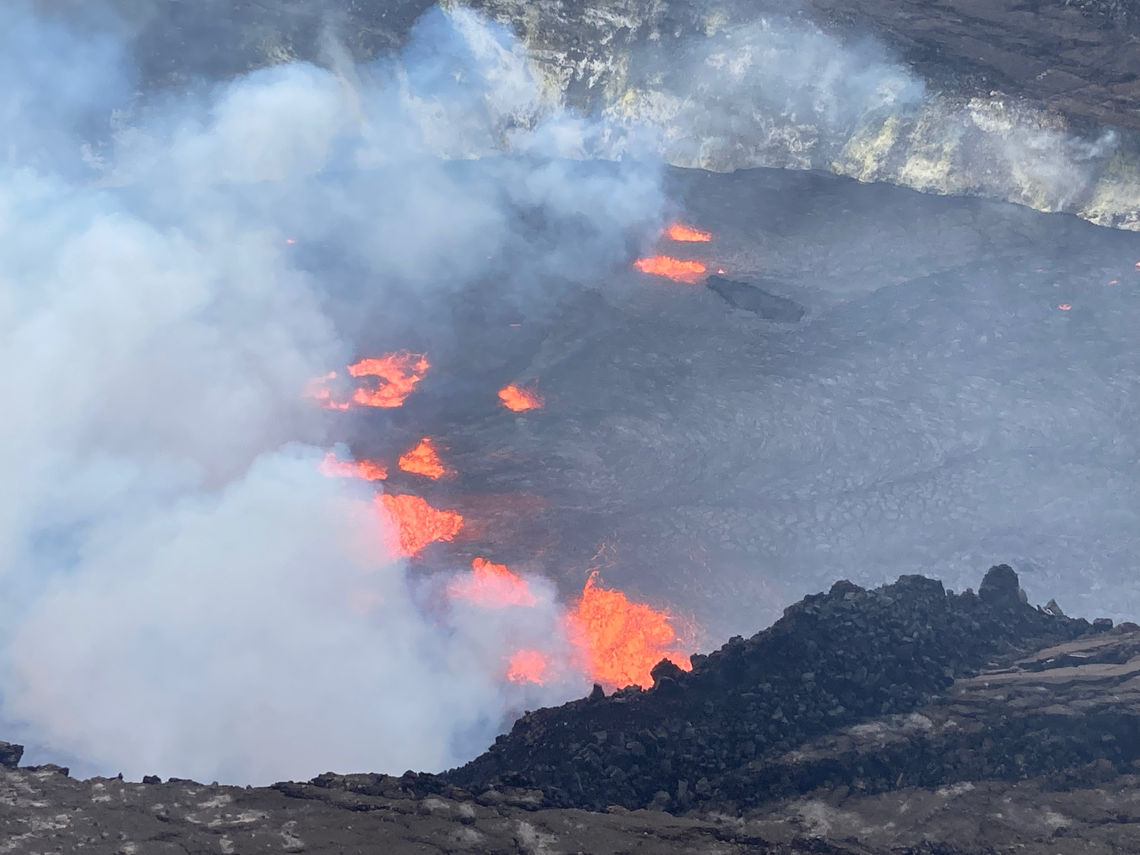 Kilauea / Halema'uma'u - 29.09.2021 - eruptive fissure in the crater - photo USGS-HVO - one click to enlarge
In Kilauea, an increase in seismic activity and changes in soil deformation patterns at the top of the volcano began to occur around noon on September 29, 2021, indicating movement of magma in the subsoil.
Around 3:20 p.m. HST on September 29, 2021, the USGS Hawaiian Volcano Observatory (HVO) detected a glow in the Kīlauea summit webcam images indicating that an eruption had started in Halema'uma'u Crater in the summit caldera of Kīlauea. Webcam imagery shows cracks at the base of Halema'uma'u crater generating lava flows to the surface of the lava lake which was active until May 2021.
The US Geological Survey Hawaiian Volcano Observatory (HVO) raises the Kīlauea volcanoes alert level from Watch to WARNING and its aviation color code from orange to RED as this new eruption and associated hazards are assessed.
Activity is limited to Halema'uma'u and the risks will be reassessed as the rash progresses.
The opening phases of eruptions are dynamic and uncertain.
Source: HVO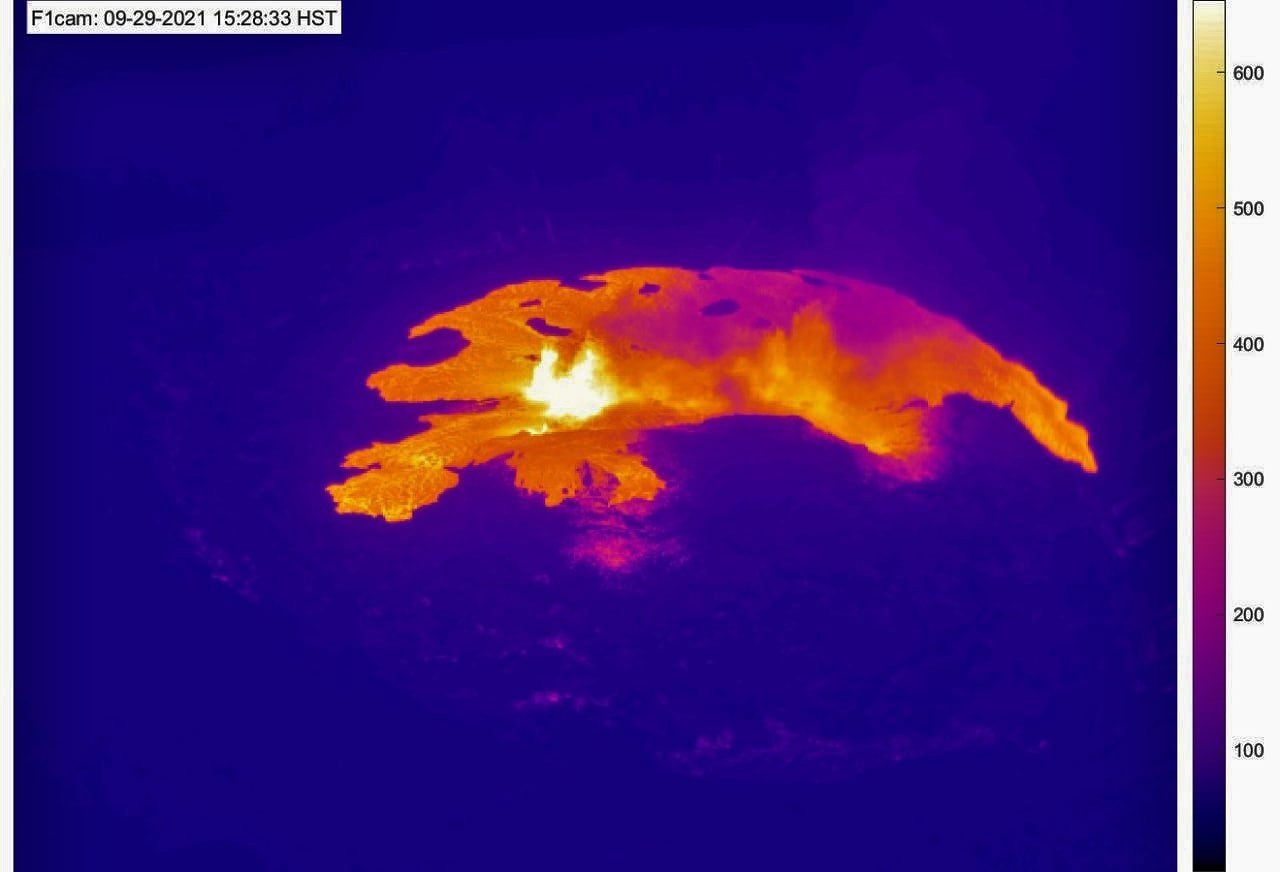 Kilauea / Halema'uma'u - 09.29.2021 / 3:28 p.m. HST - exit point for lava spreading over the hardened crust of Halema'uma'u - USGS-HVO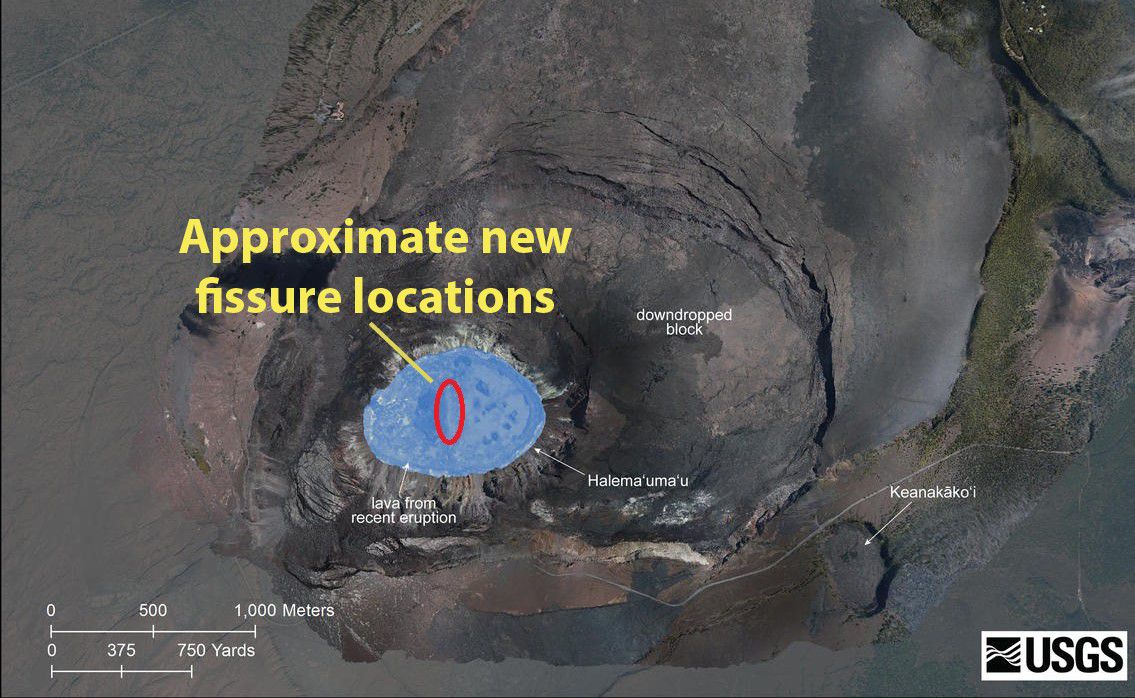 Kilauea / Halema'uma'u - 09.29.2021 - location of eruptive cracks in the Halema'uma'u crater - doc. USGS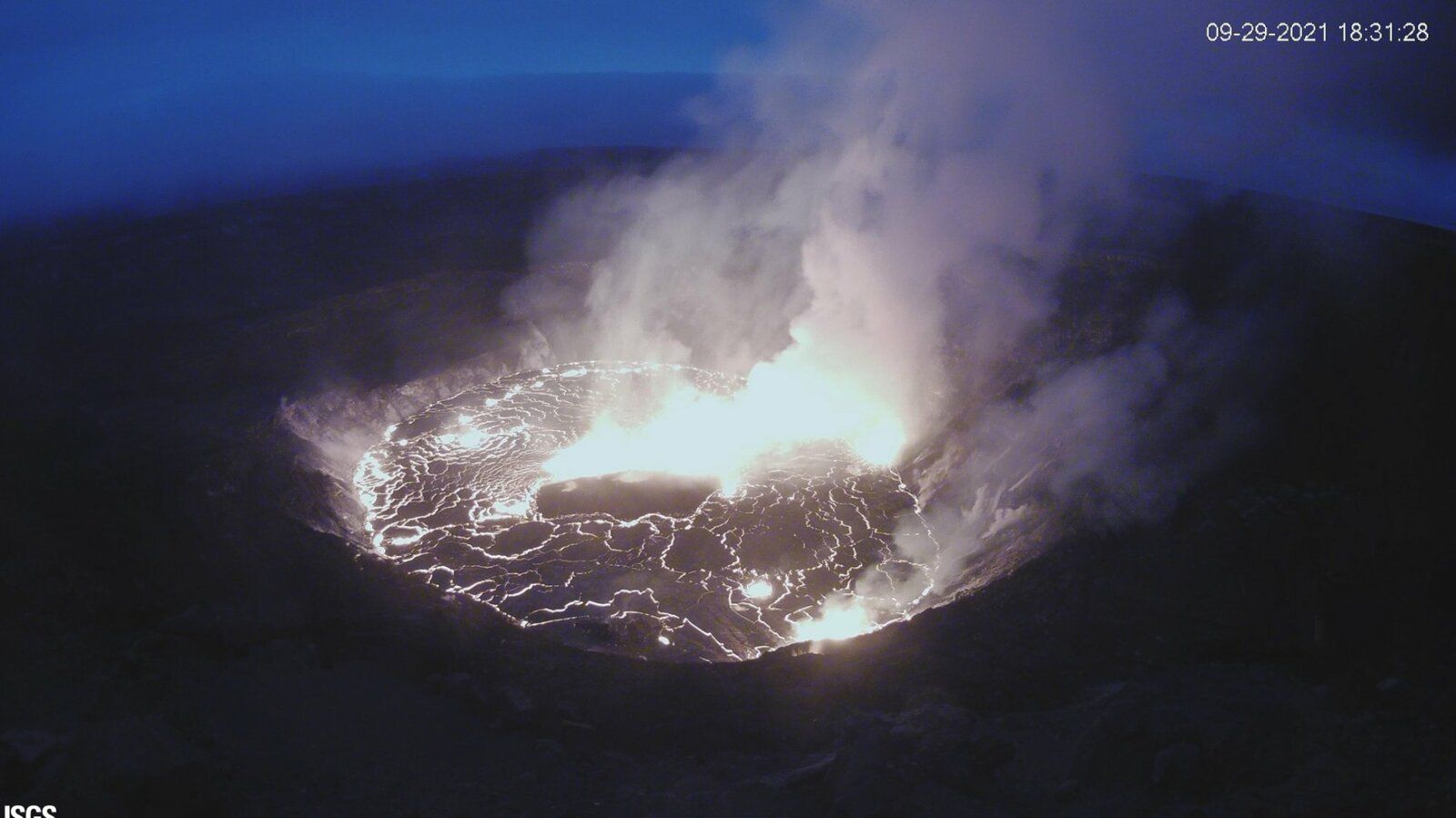 Kilauea / Halema'uma'u - 09.29.2021 / 6:31 p.m. - lava regains its former extension - photo USGS-HVO - click to enlarge
Lava is back in the summit crater of Nyiragongo, according to the OVG based on Sentinel-2 satellite images of September 29
The thermal anomalies noted by Mirova are included on September 28 and 29 between VRP20 and 573 MW.
Source: OVG, Sentinel-2 and Mirova

Nyiragongo - image Sentinel-2 LC1 bands 12,11,4 du 29.09.2021 -Doc.Copernicus / Sentinel HUB - one click to enlarge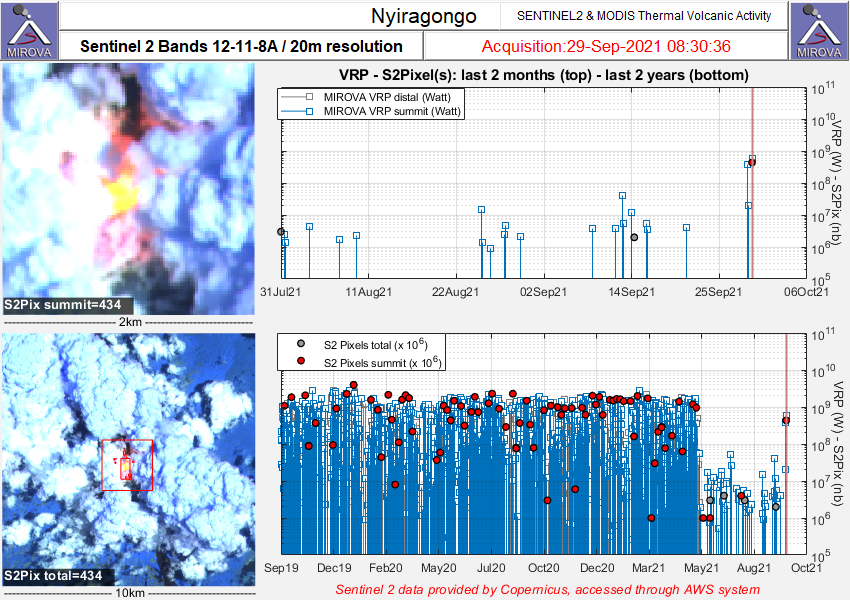 Nyiragongo - Sentinel-2 bands 12,11,8A & Modis thermal volcanic activity at 29.09.2021 / 08:30 am- Doc. Mirova
In La Palma, the eruption of Cumbre Vieja continues. At around 11 p.m. Tuesday evening, lava tumbled over the coastal cliff.
This coastal cliff reaches about fifty meters at this point. The lava therefore first formed a talus of scree and when it reached the top of the cliff, the lava was able to flow into the ocean, constituting a coastal platform which is already advancing. of at least 50 meters into the ocean.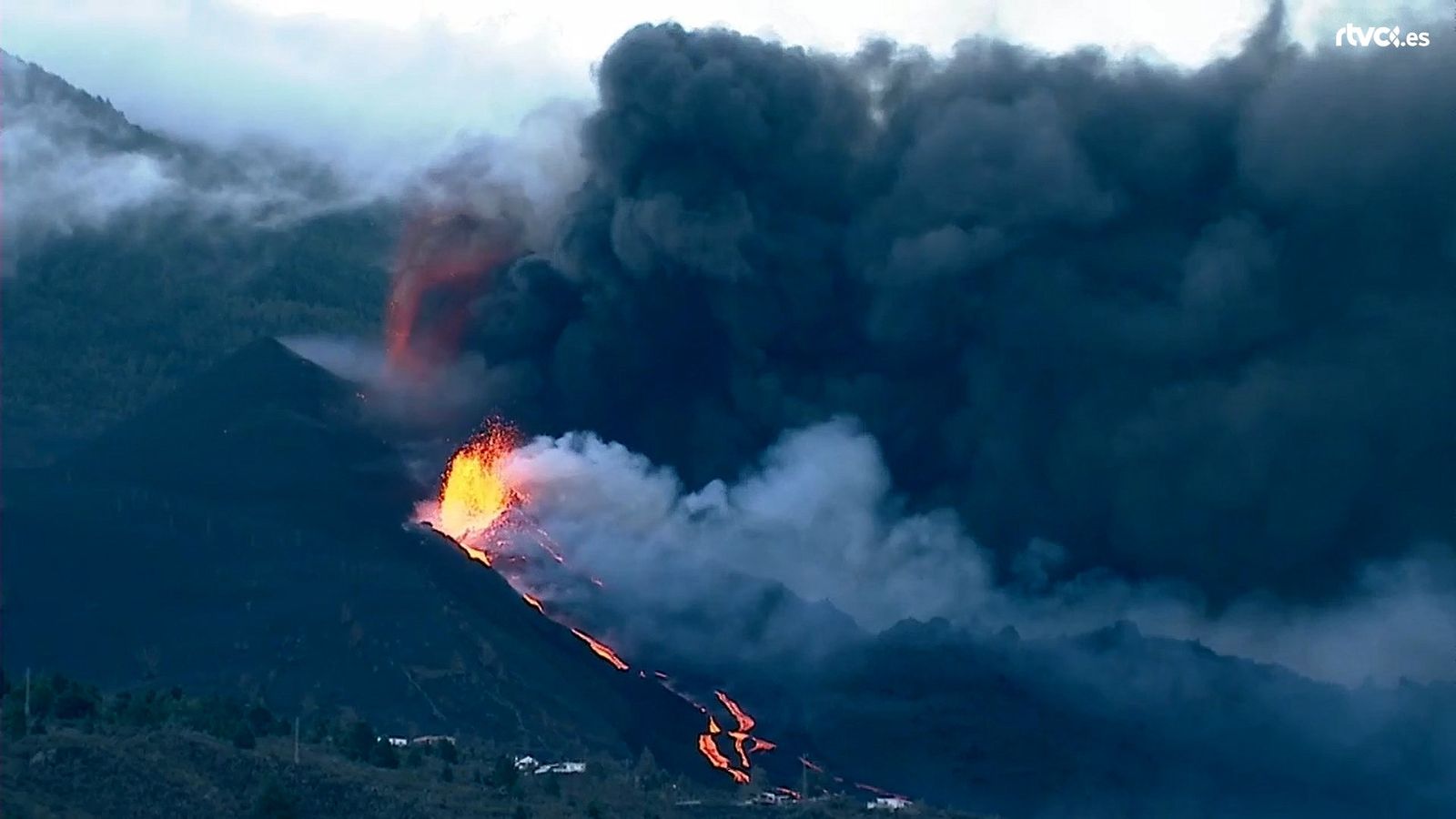 La Palma / Cumbre Vieja - activity remains intense at the active site this 29.09.2021 - photo via Oroapuls
The total area affected since the start of the eruption is 476 ha. 981 affected infrastructures, of which 855 have been totally destroyed.
Seismicity continues to be recorded, south of La Palma, in the area of ​​Fuencaliente, in relation estimated with the current emissions :
- 21 earthquakes (9-14 km deep), including 4 of magnitude 3.3 (mbLg), including one felt by the population
- the tremor remains very stable
- a slight uplift / deformation is observed towards the southwest
- the height of the eruptive column is 3500 m
A strong SO2 signal was detected by Sentinel-5P / Tropomi at a distance of 47.1 km from Cumbre Vieja with 43.70 DU of SO2 at an altitude of about 2 km. Estimated mass at less than 300 km: 42.7 kt.
Sources: IGNes, RTVC, Copernicus, Volcanes y Ciencia Hoy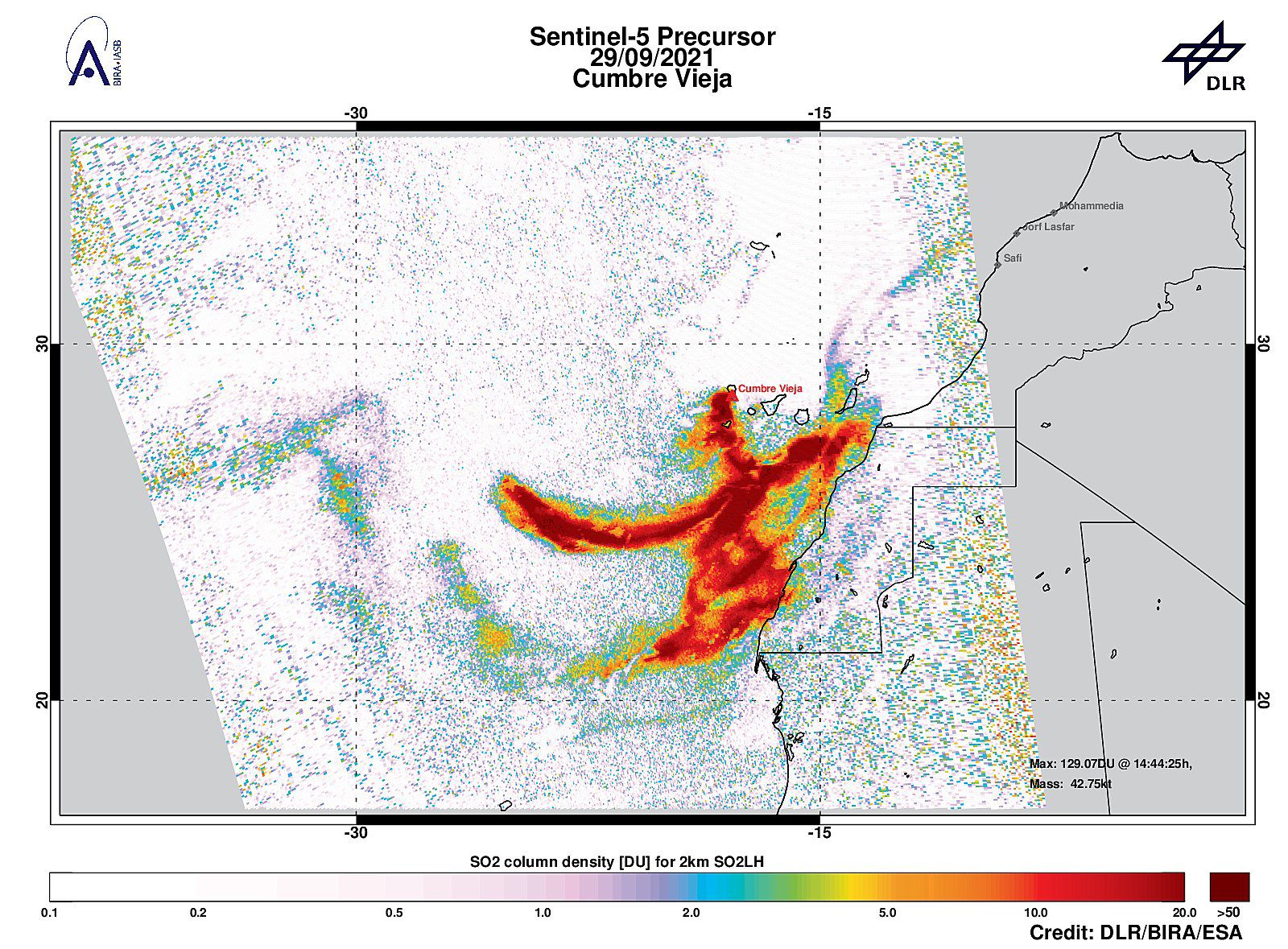 2021.09.29 LaPalma - strong SO2 signal at 47.1km from Cumbre Vieja (43.70DU of SO2 at an altitude of ~ 2km.) - Sentinel-5P Tropomi
Sabancaya's activity was maintained between September 20 and 26 at moderate levels, with 29 explosions per day, accompanied by ash plumes reaching 2,000 meters above the volcano.
The volcanic alert remains in Naranja, along with the non-accessible area of ​​12 km radius.
Source: I.G. Peru