Publié le par Bernard Duyck
Since the last press release and until 24 hours yesterday, September 26, there was little seismicity in the eruptive zone of Cumbre Vieja, with a single earthquake located at 21:03 UTC of magnitude 2.5 (mbLg). Throughout this morning, between 4:00 a.m. and 7:00 a.m. UTC, a seismic swarm occurred in the area with 16 earthquakes located between 7 and 14 km deep.
The largest earthquake occurred at 06:05 UTC with 3.2 (mbLg).
The average amplitude of the volcanic tremor remained around the average values ​​of yesterday's eruption and began to increase sharply from 9 p.m. It reached a maximum value at 00:00 today and from that time until 9:00 a.m. it dropped sharply, coinciding with the observations of a decrease in surface flow on September 27.
The lava is no longer visible and sporadic ash emissions continue. They fall on La Palma, but also on the other Canary Islands.
"What happened today is ultimately only the result of the lack of gas in the magmatic system" according to David Calvo, spokesperson for InVolcan
This new calmer phase is normal, but we must keep an eye on the evolution of the eruption: at the seismic level, long-period hybrid events or LP mixed with rupture earthquakes or "tornillos" are observed, first-order eruptive precursors, indicating a short-term eruption.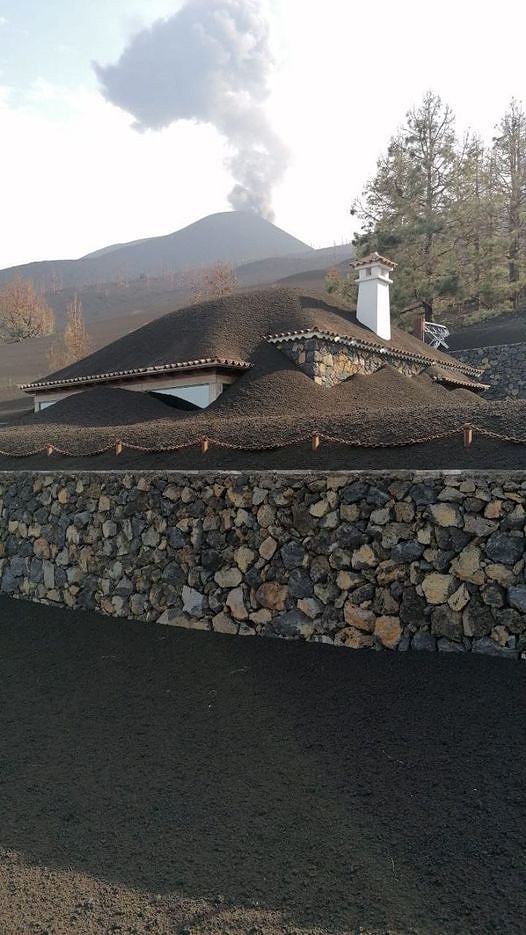 La Palma / Cumbre Vieja éruption - de grands quantités de cendres sont tombées et menacent l'intégrité des habitations - photo auteur inconnu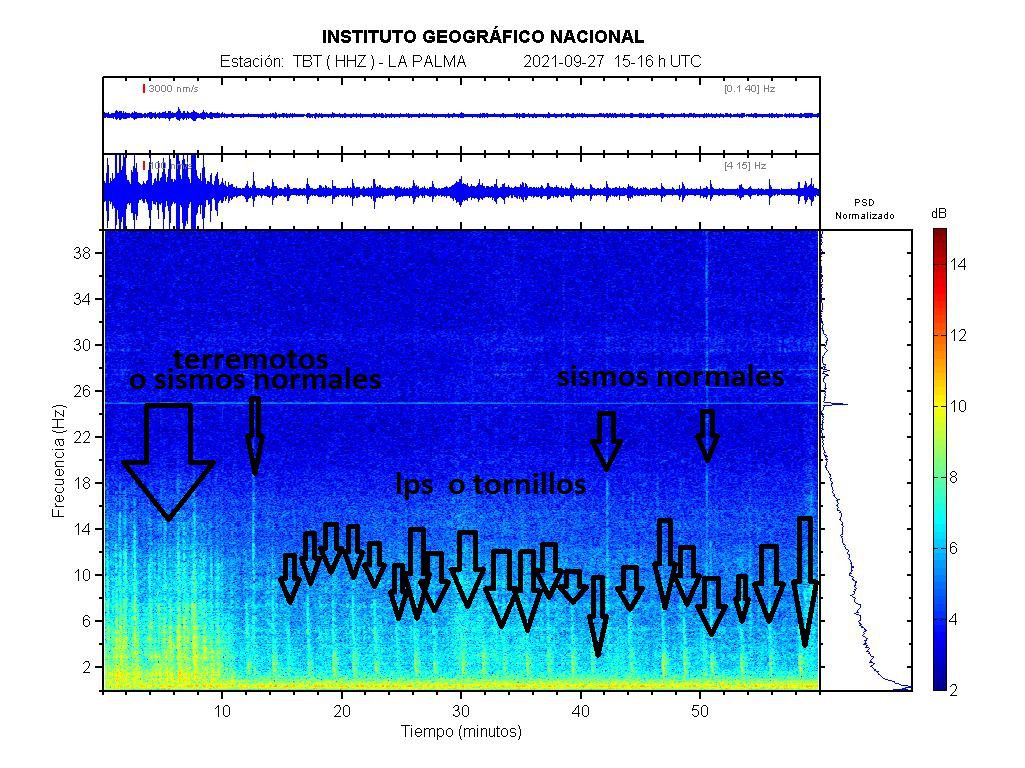 La Palma / Cumbre Vieja - sismo. showing tornillo-type earthquakes - Doc. IGN 09/27/2021 / 3:16 p.m.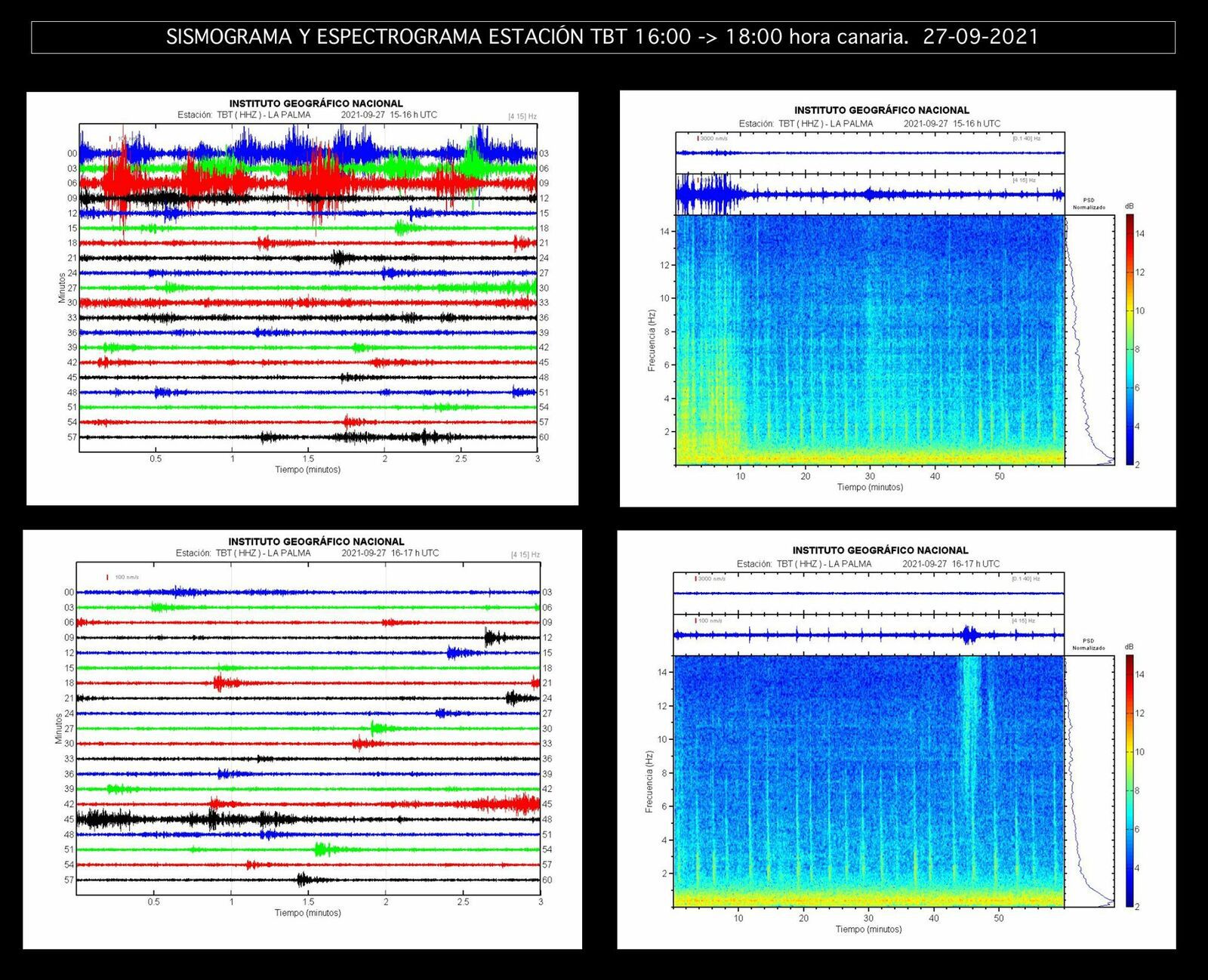 La Palma / Cumbre Vieja -sismogram and spectrogram from 09/27/2021/16 at 6 p.m. loc. - Doc. IGNes - one click to enlarge
Around 6:45 p.m., RTVC announced the reactivation of the activity, with weak Strombolian explosions.
After a period of calm, an effusive phase has arrived where lava flows, of a more fluid nature, descend from the main cone.
The volcano formed several mouths which specialized in different things:
- the lowest at the base of the pyroclastic cone are those which expel the most lava, very hot fluids very liquid> 1200ºC and with little gas, Hawaiiana type.
- the middle of the strombolian type pyroclastic cone with much more gas and which forms the ash and lapilli explosions, as well as the pyroclastic cone and finally
- behind the main cone and in the higher areas, there are more explosions of very violent phreatomagmatic type, which project many gases and water vapor at high speed, forming a lot of very fine ash ... (Volcanes y Ciencia Hoy)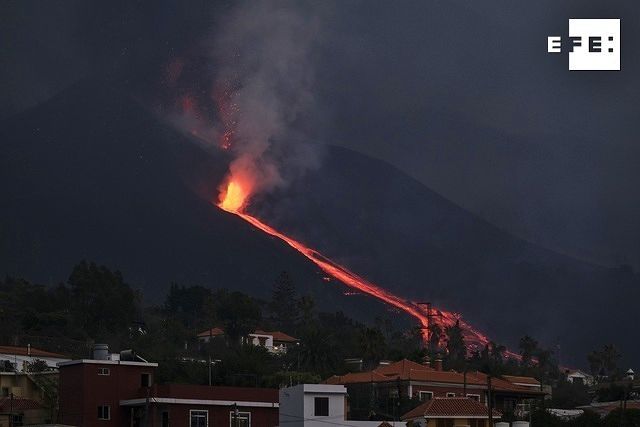 La Palma / Cumbre Vieja - resumption of Strombolian activity in the evening of 27.09.2021 - Doc. RTVC
La Palma / Cumbre Vieja - 09.27.2021 / 8 p.m. / webcam therm. InVolcan and lava flows at 9:40 p.m. / InVolcan - one click to enlarge
7 additional hectares have been covered since the last data. The south flow maintains a low flow rate. The northern flow, more active, is between 800 and 1,000 meters from the coast of Tazacorte
First estimate of the quantity emitted by the eruption of La Palma: 46.3 million m³ of material expelled on September 27, 2021 (press release from IGNes)
Sources : IGNes, RTVC, Copernicus, Volcanes y Ciencia Hoy
An eruption occurred at Suwanosejima (Mitake crater) at 1:51 p.m. on the 26th, accompanied by a plume that rose 2200m above the crater rim.
The volcanic ash moves southwest of the crater, and within an hour, is reported in large quantities of ash in the village of Toshima
In the area going from the crater about 4 km to the southwest, there is a risk of fallout from small volcanic bombs.
On September 27 at 9 p.m., the JMA announced the incandescence accompanying an eruption 700 meters above Mitake crater.
Source: JMA
An earthquake, of magnitude 5.8 according to the Geodynamic Observatory of Athens, M6 according to the American Institute USGS, occurred at 06:17 GMT on 27.09.2021 about twenty kilometers from Heraklion, capital of the island of Crete. It was followed by many aftershocks of strong magnitude (M4.5 - 4.3) It particularly affected the agricultural town of Arkalohori, where a worker died and where extensive damage was observed, according to Spiros Georgiou, head of the Civil Protection press office. Nine people were slightly injured.

The epicenter of the earthquake, with a depth of 10 km, was recorded 346 km south of the Greek capital, according to the Athens Observatory.
Stephen Hicks pointed out that this is an outage that has yet to be mapped, but is similar to the two neighboring sowers. It is the strongest earthquake since 1959 in Crete.

Sources: EMSC, RTBf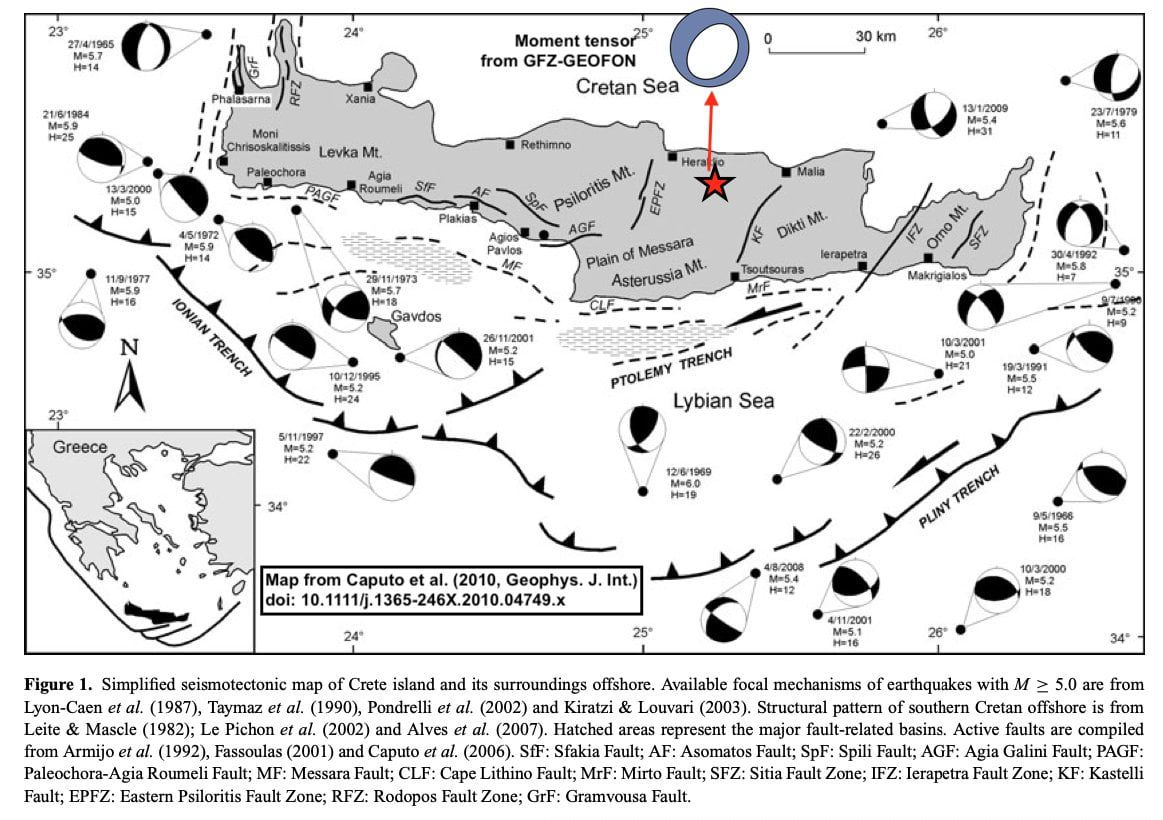 Crete island - - M6 / 27.09.2021 earthquake and localization in relation to faults - Doc. GFZ - Geofon / Caputo & al - one click to enlarge