Publié le par Bernard Duyck
During the last 24 hours, thanks to the monitoring systems of the Popocatépetl volcano, 95 exhalations have been identified, some accompanied by water vapor, volcanic gases and ash. The broadcasts were mainly dispersed to the northwest.
Five minor explosions were also detected on 09/16 at 11:05 am and 3:35 pm and three recorded on September 17 at 12:41 am, 3:34 am and 5:49 am. A moderate explosion occurred on 09/16 at 10:07 p.m.
In addition, 334 minutes of low to medium amplitude tremors and a volcanotectonic earthquake (VT) with a calculated magnitude of 1.7 were recorded yesterday at 19:54 (local time).
Cenacom reports light ash falls in the municipalities of Valle de Chalco, Ixtapaluca, Chalco, Tlalmanalco, Amecameca, Ayapango, Tenango del Aire, Temamatla y Ecatzingo in the State of Mexico, as well as in the municipalities of Iztapalapa, Xochimilco and Tlahuac in Mexico City.
The volcanic alert remains at Amarillo Fase 2.
Source: Cenapred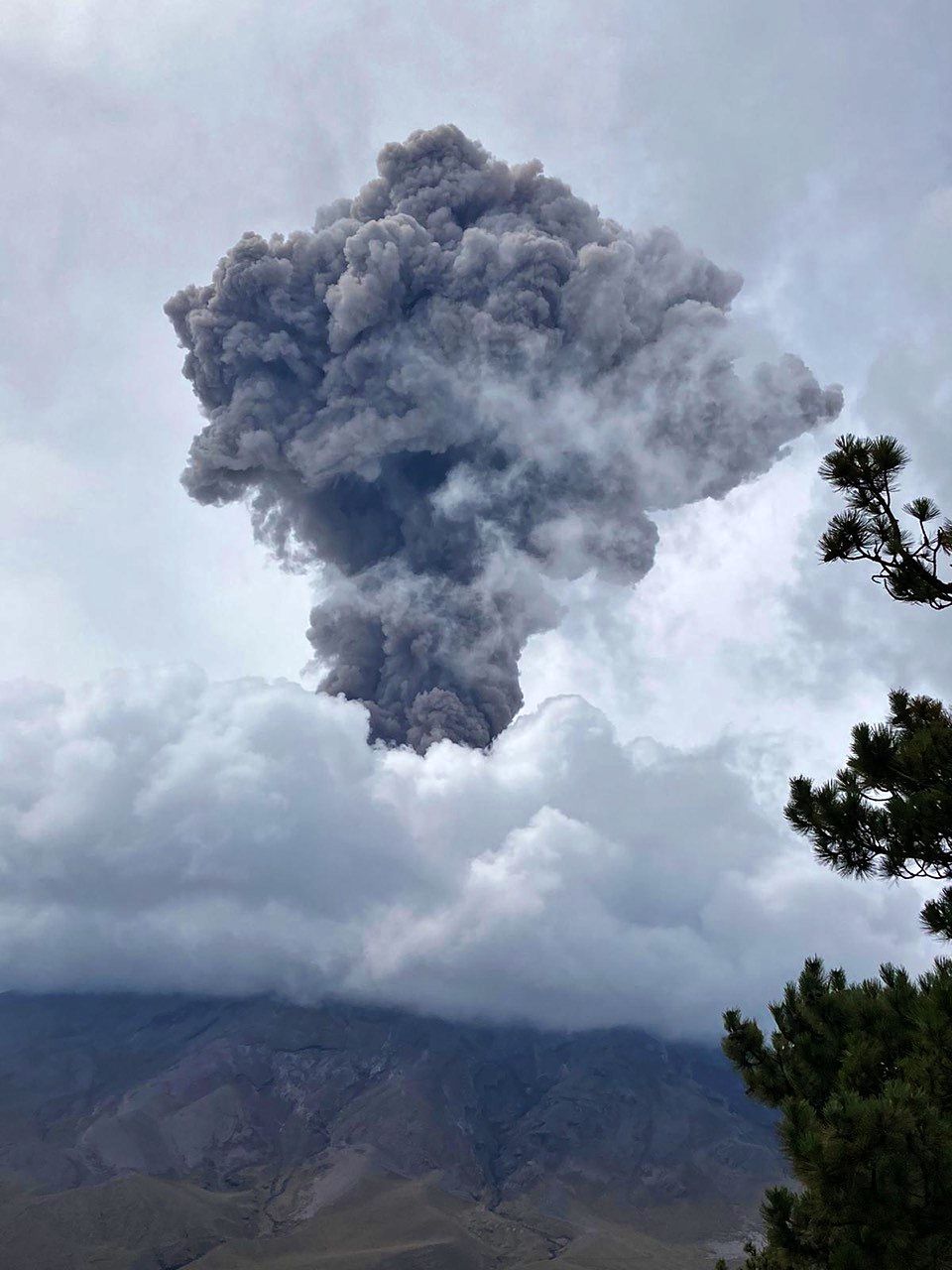 Popocarépetl - plume of 09.17.2021 / 11:45 a.m. - photo Dra. Ana Lillian Martin del Pozzo Via Volcanologia UNAM
The eruption continues, and lava is still flowing at Fagradalsfjall.
Mirova detected a very strong thermal anomaly on September 18 at 4 a.m., of VRP 2,891 MW.
An observer reports a vegetation fire caused by the entry of lava into a hole.
Iceland In Frame / live this night video - https://www.youtube.com/watch?v=qJq6a5AeA-8&t=2521s
The Fagradalsfjall eruption is remarkably divided into sections, as Páll Einarsson explains in a synthetic graph. The volcano switches between eruptions suddenly and very decisively.
The division into sections is clearly shown in this composite disturbance graph of the Fagradalsfjall seismic station since August:
- periodic eruption (lotubundið gos) until September 2,
- interruption of the rash (goshle) 2-11. September, then a
- eruption (sigos) until September 13,
- and a volcanic eruption (sveiflugos) thereafter, where the eruption lasts a few minutes but is not seen for 5 to 10 minutes.
Sources : Video Iceland In Frame & Páll Einarsson / Jarðsöguvinir - Friends of Historical Geology
Everything indicates that the Grímsvötn volcanic system under the ice cap of the Vatnajökull glacier is ready to erupt, according to Benedikt Gunnar Ófeigsson, a deformation scientist at the Icelandic Met Office, picked up by mbl.is.
Data from a GPS station at the top of the glacier shows that the ice cap above Grímsvötn continues to expand.
A second nearby GPS station, on a cliff in Grímsfjall mountain, southeast of Grímsvötn, also recorded inflation. "This station shows increased inflation, which is due to the build-up of magma," says Benedikt.
"What is different now compared to the last eruption is that the surface of the (subglacial) lakes is higher than it has been for a long time. Therefore, once a jökulhlaup ( glacial breakup) will occur, a very sudden drop in pressure will accompany it. This can trigger an eruption, according to the data we have on previous eruptions at Grímsvötn. "
Source : mbls
The growth of the Sheveluch lava dome continues, strong fumarole activity and incandescence of the lava dome and hot avalanches accompany this process.
An extrusive eruption of the volcano continues. Ash explosions up to 10-15 km. altitude. could arise at any time. Current activity could affect international and low-flying aircraft.
Satellite data by KVERT showed a thermal anomaly over the volcano.
Aviation Code Orange
Sources: KVERT 16.09 and Mirova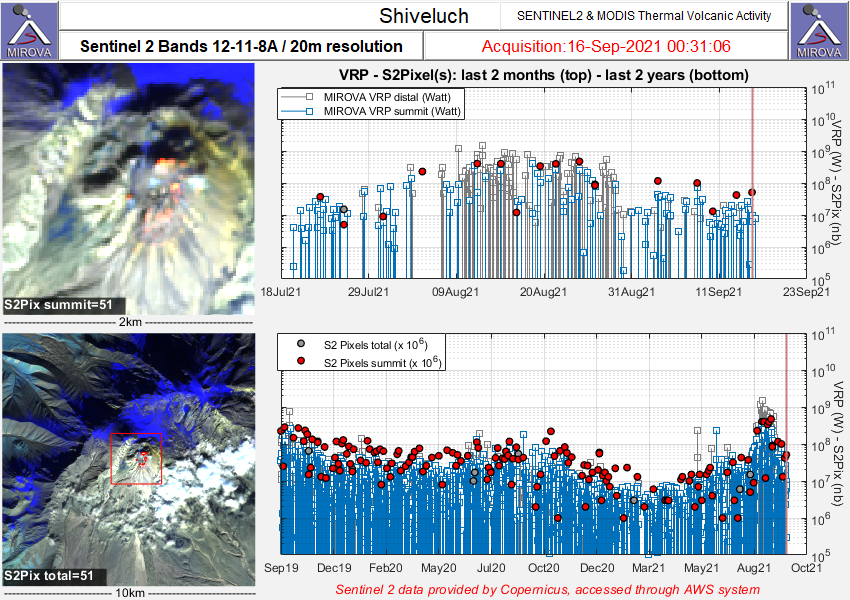 Sheveluch - Image Sentinel-2 ba, ds 12,11,8A & Modis thermal volcanic activity at 09.16.2021 / 00h31- Doc. Mirova
The effusion of lava continued at Great Sitkin this week. The growing lava dome has now reached the southern and western edges of the summit crater.
A satellite radar image from September 16 shows that the dome currently has dimensions of about 1,130 m east-west and about 910 m north-south, and a thickness of about 30 m.
Seismicity remains high with small earthquakes consistent with the continued lava flow. High surface temperatures have been seen on clear satellite images over the past week. No explosive activity or ash emission was detected in the seismic, infrasound and satellite data.
There is no indication of how long the lava effusion will continue during the current eruption, and it is possible that explosive activity will occur with little or no warning.

The current alert level is Watch and the aviation code Orange
The Great Sitkin volcano is monitored by local seismic and infrasound sensors, satellite data, web cameras, and remote infrasound and lightning networks.
Source: AVO