Publié le par Bernard Duyck
Eruptive activity continues in the northern crater of Mount Cerberus on Semisopochnoi Island. Short-lived explosions, lasting several minutes, were detected by local seismic and infrasound networks during the last day.
These ash clouds were blown horizontally by wind with little vertical uplift at altitudes below 5,000 feet asl. Sulfur dioxide emissions continue to be observed in satellite data (once daily) and have extended to 275 km.
northeast yesterday afternoon.
The volcanic alert is in Watch, and the aviation code in Orange.
Source: AVO
Seismic activity at La Soufrière de St. Vincent has remained low since the tremor associated with the explosion and ash ejection of April 22.
Current activity corresponds to a period of unrest after a rash. This can last for weeks or even months. While volcanic activity is on the decline, there is the continued presence of hot spots near the surface, daily seismic activity, and persistent outgassing.
Lahar signals were observed but at a lower rate.
Work was completed to finalize the installation of the summit seismic station on September 1 with assistance from the British RFA Wave Knight helicopter.
The helicopter flight provided excellent views of the crater and observations indicate that no major changes have occurred in the crater since the explosive activity ended on April 22.
There is a small, but not insignificant, possibility that magma activity will resume in the event of an influx of new magma from the depths.
The volcano is at the ORANGE alert level.
Source: UWI - Volcan La Soufrière - Update 07/09/21 13:00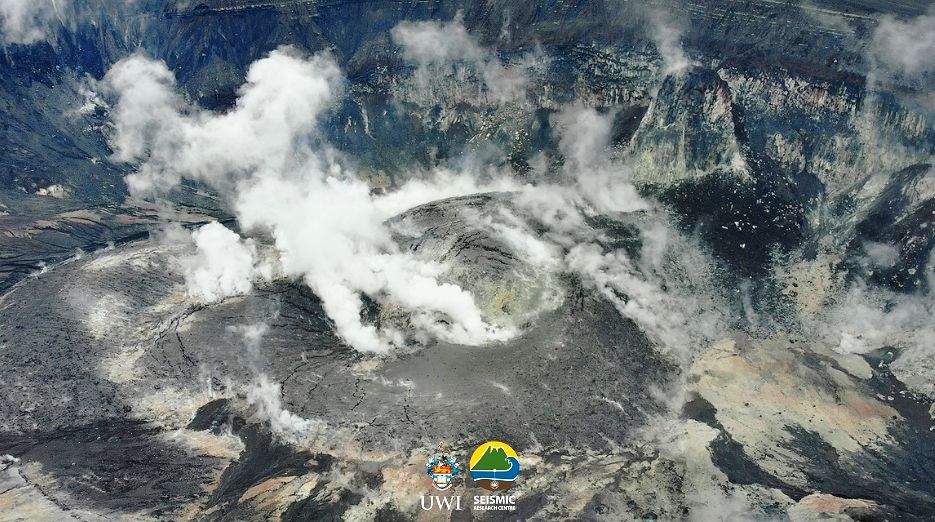 Soufriere de St. Vincent - the crater during the flight, with its many fumaroles - photo Dr. Richard Robertson / 07.09.2021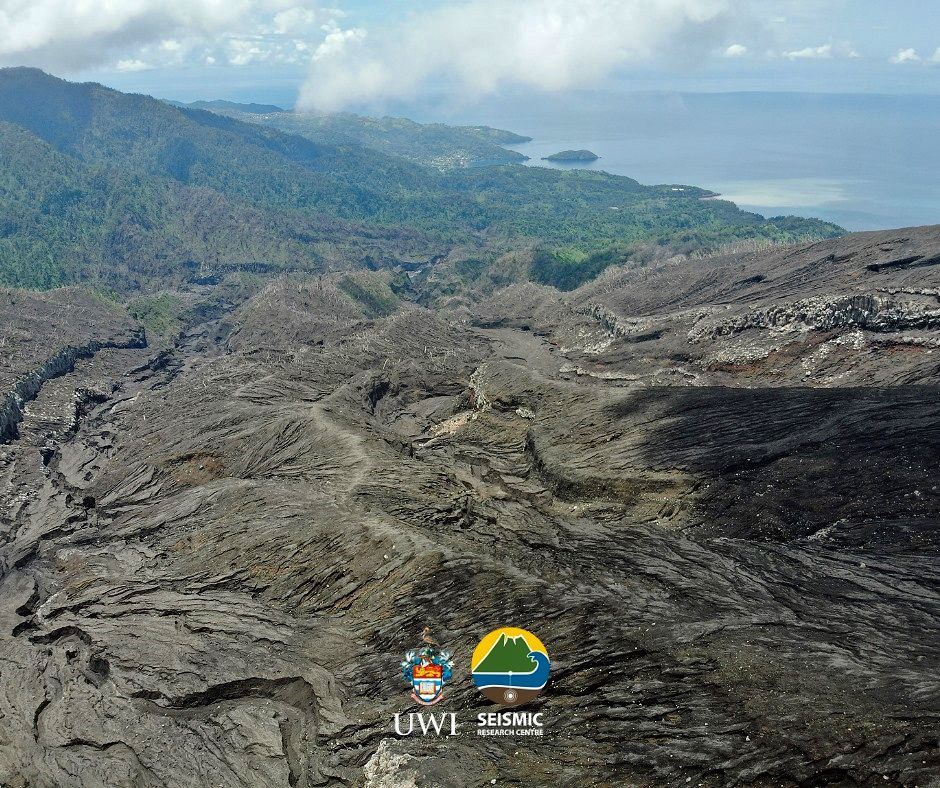 Soufrière de St. Vincent- View of the leeward coast, and the side of the island from the summit. - Dr. Richard Robertson / 07.09.2021
At Merapi, on level 3 alert, a thick, white plume can be observed about 200 meters above the main crater on September 7.
Lava avalanches are reported to the southwest with a sliding distance of 1000-1500 m.
Thanks to the seismographic recordings of September 7, 2021, it was recorded:
- 216 avalanche earthquakes
- 75 blast / emission earthquakes
- 59 low frequency earthquakes
- 1 hybrid earthquake
- 1 shallow volcanic earthquake
The current potential danger consists of lava avalanches and hot clouds in the south-east-south-west sector for a maximum of 3 km to the Woro river and 5 km to the Gendol, Kuning rivers, Boyong, Bedog, Krasak, Bebeng and Putih. During this time, the ejection of volcanic material in the event of an explosive eruption can reach a radius of 3 km from the summit.
Sources: PVMBG, Magma Indonrsia and BPPTKG
Two episodes of inflation marked Askja, the current one starting around August 30. The rate of increase is currently about 5 mm / day. Data: cGPS near the Vedurstofan Uprising Center; Processing and tracing: HG. / via Halldor Geirsson.
The site remains under the supervision of volcanologists.
Source: Vedurstofan / via Halldor Geirsson & VTLAB / via Joël Ruch