Publié le par Bernard Duyck
The growth of the lava dome continues at Sheveluch, with strong fumarole activity; an incandescence of the lava dome, and hot avalanches accompany this process; They are however less important according to Y.Demyanchik / local observatory. Satellite data showed a decreasing thermal anomaly over the volcano.
Aviation color code is Orange - Status is 4 on a scale of 5 / eruption in progress

Sources: Kvert, Mirova, Sentinel-2 & Global volcanism Program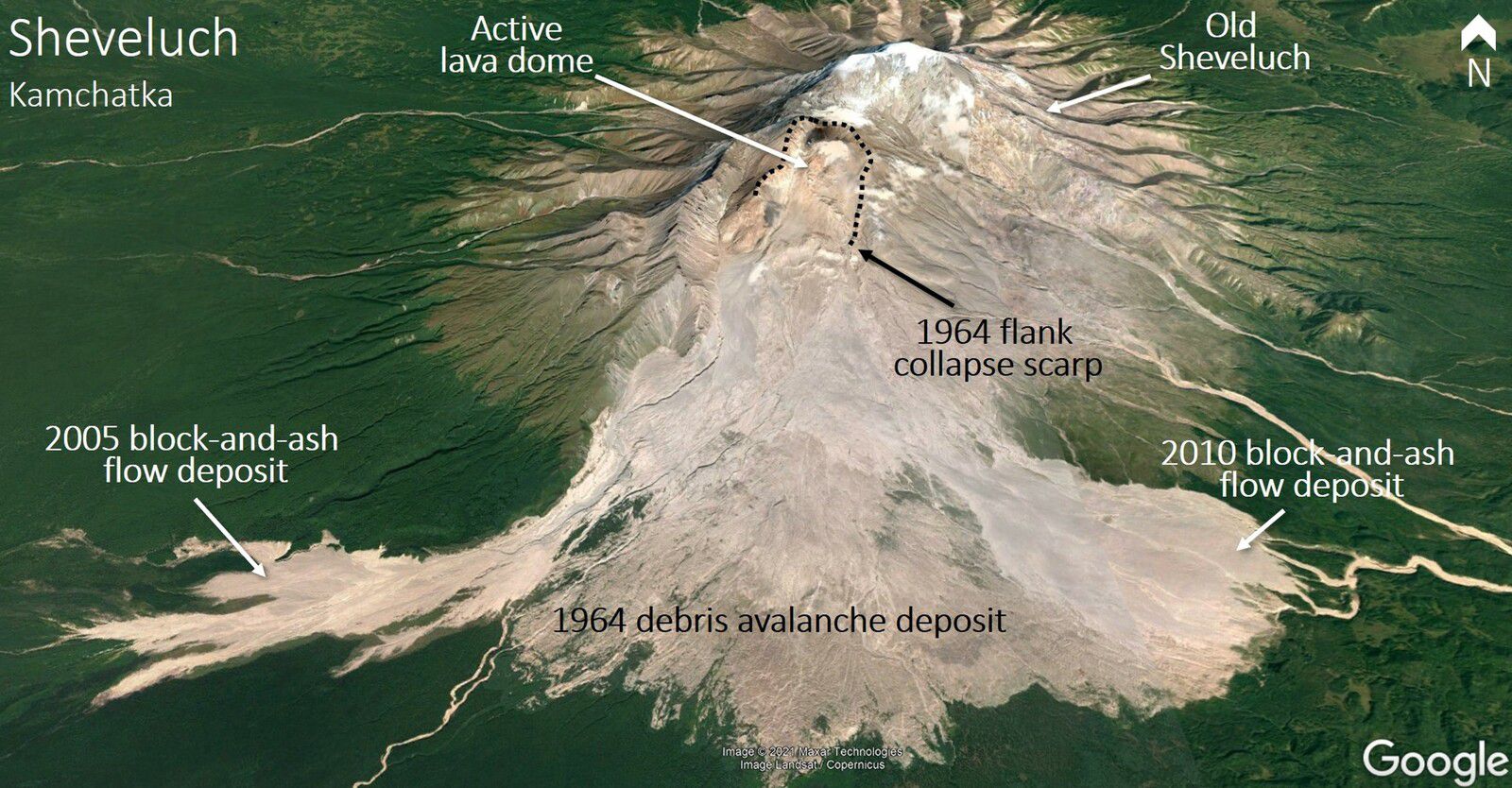 Sheveluch - Sentinel-2 bands image 12,11,4 from 04.09.2021 and structural explanations / photo captioned G.V.P.
I.G. Peru informs us that the activity of Sabancaya remained moderate during the week of 31.08 to 05.09.2021n with an average of 44 daily explosions, accompanied by plumes of gas and ash up to 3,500 m. above the summit.
The number of earthquakes of volcanic origin linked to the circulation of magmatic fluids has decreased, with 584 earthquakes recorded over the week. The VT earthquakes related to the fracturing of rocks of M 3.0 to 3.7, occur mainly in the western and eastern sectors. No significant deformation anomalies.
Mirova detected 10 thermal anomalies, with a max VRP of 24 MW, associated with the presence of a surface lava body in the crater.
The volcanic alert remains in Naranja, with an inaccessible area of ​​12 km radius around the crater.
Sources: I.G. Peru and Mirova
In the last 24 hours, the Taal volcano network recorded 55 volcanic earthquakes, including 17 volcanic tremor events with durations of 2 to 6 minutes, 36 low frequency volcanic earthquakes, 2 hybrid events and one low background tremor. level which persists since July 7, 2021.
The activity of the main crater was dominated by the rise of hot volcanic fluids in its lake which generated plumes 2,500 meters high which drifted towards the southwest. Sulfur dioxide emissions averaged 6,374 tonnes / day on September 6, 2021.
Alert level 2 (increased unrest) prevails over the Taal volcano.
Source: Phivolcs
In Iceland, ENSu representatives were on site in Skaftá today and reviewed conditions in Skælingar and Sveinstindur. The river is very swollen and there are many tides in the tributaries below Skælingar.
The ice cap above the eastern Eystri-Skaftár cauldron has now declined more than 50m and there has been little to no slowdown in this scenario. The flow at Sveinstindur is now over 1350 m³ / s.
Source: IMO