Publié le par Bernard Duyck
During the last 24 hours (01.09.2021- 02.09.2021 / 08h00), the Taal volcano network recorded 19 volcanic earthquakes, including 3 volcanic tremor events lasting two to three minutes, 11 low frequency earthquakes, 5 hybrid earthquakes and a low level background tremor that has persisted since July 7, 2021.
The activity of the main crater was dominated by the rise of hot volcanic fluids in its lake which generated plumes 2,500 meters high which drifted towards the southwest. Sulfur dioxide emissions averaged 2,632 tonnes / day as of September 1, 2021. Based on soil deformation parameters from electronic tilt, continuous monitoring by GPS and InSAR, Taal Volcano Island started to deflate in April 2021 as the Taal region continues to experience very slow expansion. Since 2020.
Mirova announced a high thermal anomaly, of VRP 909 MW on September 2 at 5:10 am, not mentioned in the daily report of the Phivolcs.
Alert level 2 (increased unrest) prevails over the Taal volcano. DOST-PHIVOLCS reminds the public that at Alert Level 2, sudden explosions of steam or gas, volcanic earthquakes, minor ash falls and fatal accumulations or expulsions of volcanic gas can occur and threaten areas in and around TVI.
Sources: Phivolcs and Mirova
The USGS monthly report on Yellowstone, in Volcanic Alert Current Level Normal and Aviation Code Green, shows us in summary:
- background activity levels
- 97 localized earthquakes (max M3.1); no swarms (!)
- no change in the deformation style
- no eruption of the Steamboat Geyser (most recent date of July 8)
The earthquakes occurred on existing faults, triggered by increased pore pressure from additional groundwater that accumulated during the snowmelt. One of the things we are looking at to see if magma was involved are changes in soil deformation. No change in soil deformation during the month of July was outside the multi-year trends.
Yellowstone Volcano Observatory scientist Mike Poland discusses activity in Yellowstone in this monthly update recorded near Solitary Geyser in Yellowstone National Park.
https://www.facebook.com/USGSVolcanoes/videos/218681650120637
Source: Yellowstone Volcano Observatory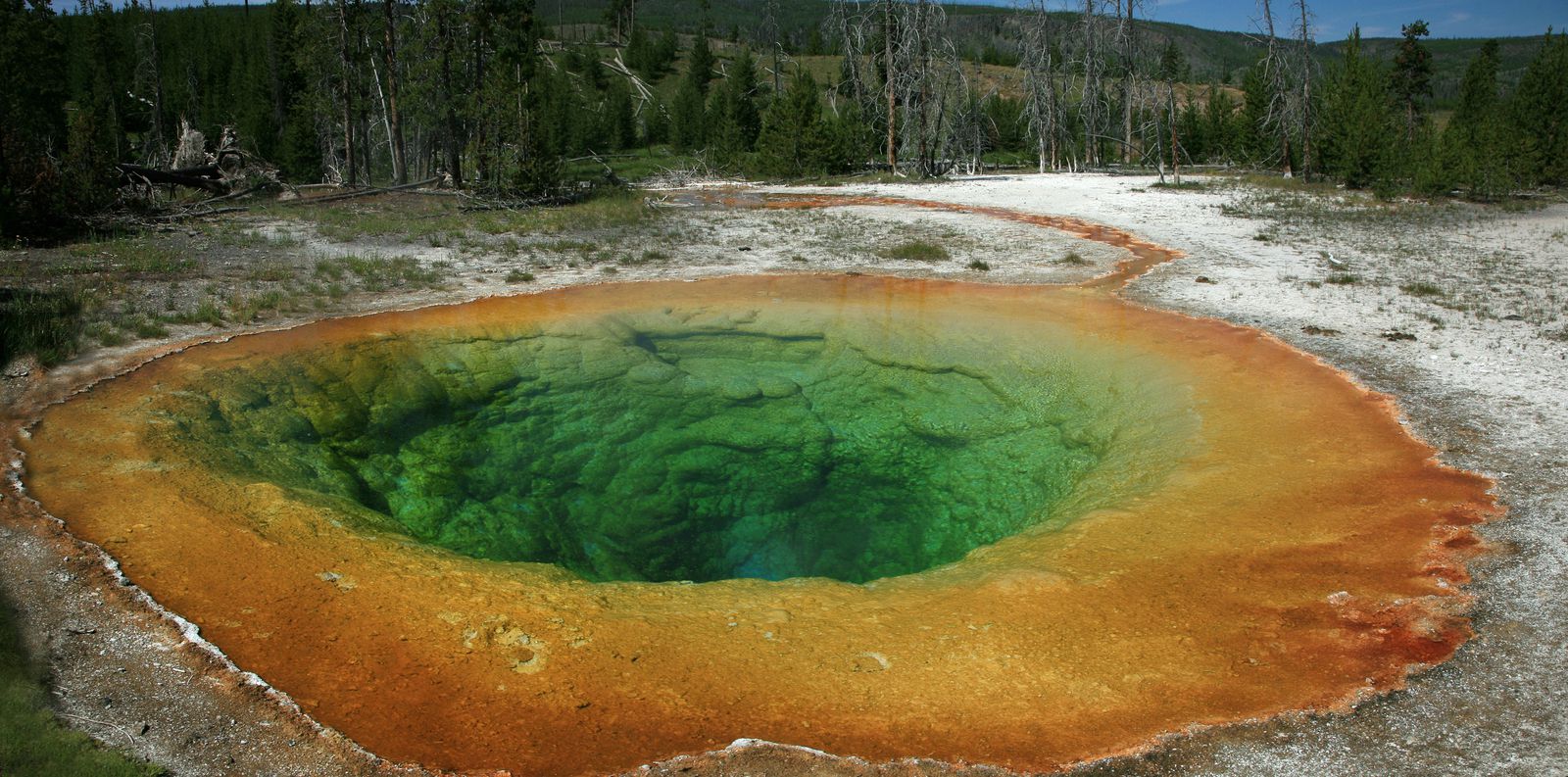 Yellowstone national Park - Morning Glory pool - photo archives © Bernard Duyck 2009 - one click to enlarge
In Villarica, the Sernageomin reports for the month of July, emissions of whitish gases of varying intensity, little loaded with particulate matter. The plumes reach less than 600 meters above the crater.
The parameters suggest a stable behavior of the internal dynamics of the volcano, with the detection of minor thermal anomalies and the permanence of a lava lake at depth. The open duct condition and fluctuations in the lava lake can cause explosions that can affect the surroundings of the crater.
The technical alert for the month of July remained in Green.
Sources: Sernageomin & Laura Angarita
Eruptive activity continues in the northern crater of Mount Cerberus on Semisopochnoi Island. Several small explosions have occurred over the past 24 hours, detected by seismic and infrasound networks. High SO2 emissions continue to be observed in satellite data.
Small eruptions producing minor ash deposits near the active northern crater of Mount Cerberus and ash clouds generally less than 10,000 feet above sea level have characterized recent activity, which shows no sign of slowing down. Small explosions can continue to occur and could be difficult to detect, especially in bad weather.
Current volcano alert level: Watch
Current Aviation Color Code: Orange
Sources: AVO & Sentinel-2