Publié le par Bernard Duyck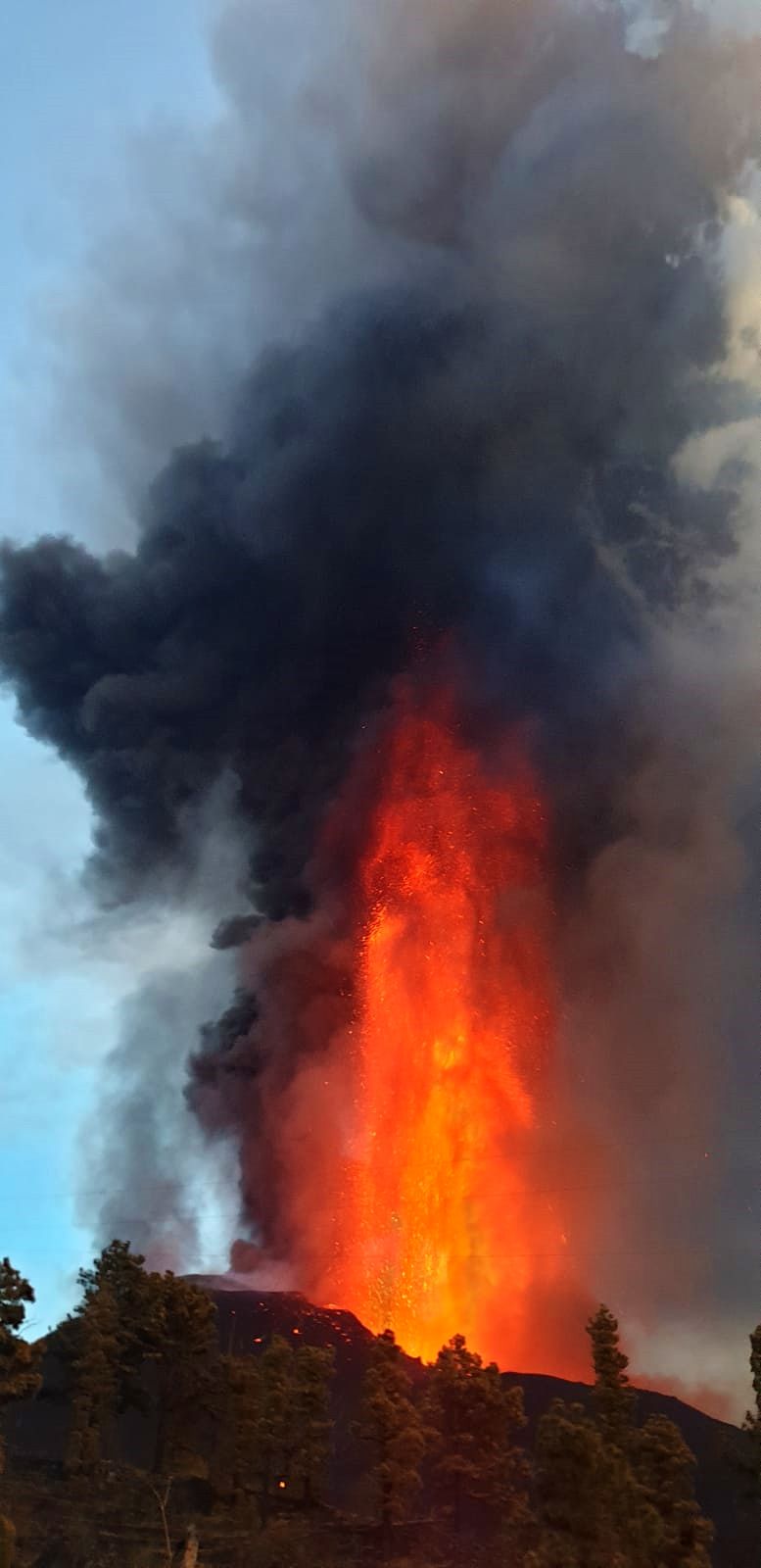 La Palma / Cumbre Vieja - 26.10.2021 - Significant emission of pyroclasts from the main cone - photo David Moure / twitter
From 25.10 / 8am to 26.10. / 8 h, 184 earthquakes were located in the area affected by the volcanic reactivation of Cumbre Vieja; 17 of these earthquakes were felt by the population. Of all the localized earthquakes, 80 have a magnitude equal to or greater than 3.0 mbLg.
An earthquake was located by IGN with a magnitude of 4.9 mblg at a depth of 34 km with an epicenter east of Fuencaliente on October 26 at 5:25 p.m. Canary Islands time.
It was felt in La Palma, El Hierro and Tenerife - Intensity: IV
Five earthquakes were located at depths of about 30 km, the rest of the hypocenters of the period are located at a shallower depth, about 12 km.
The amplitude of the volcanic tremor signal is maintained at high average levels, with intensifying pulses.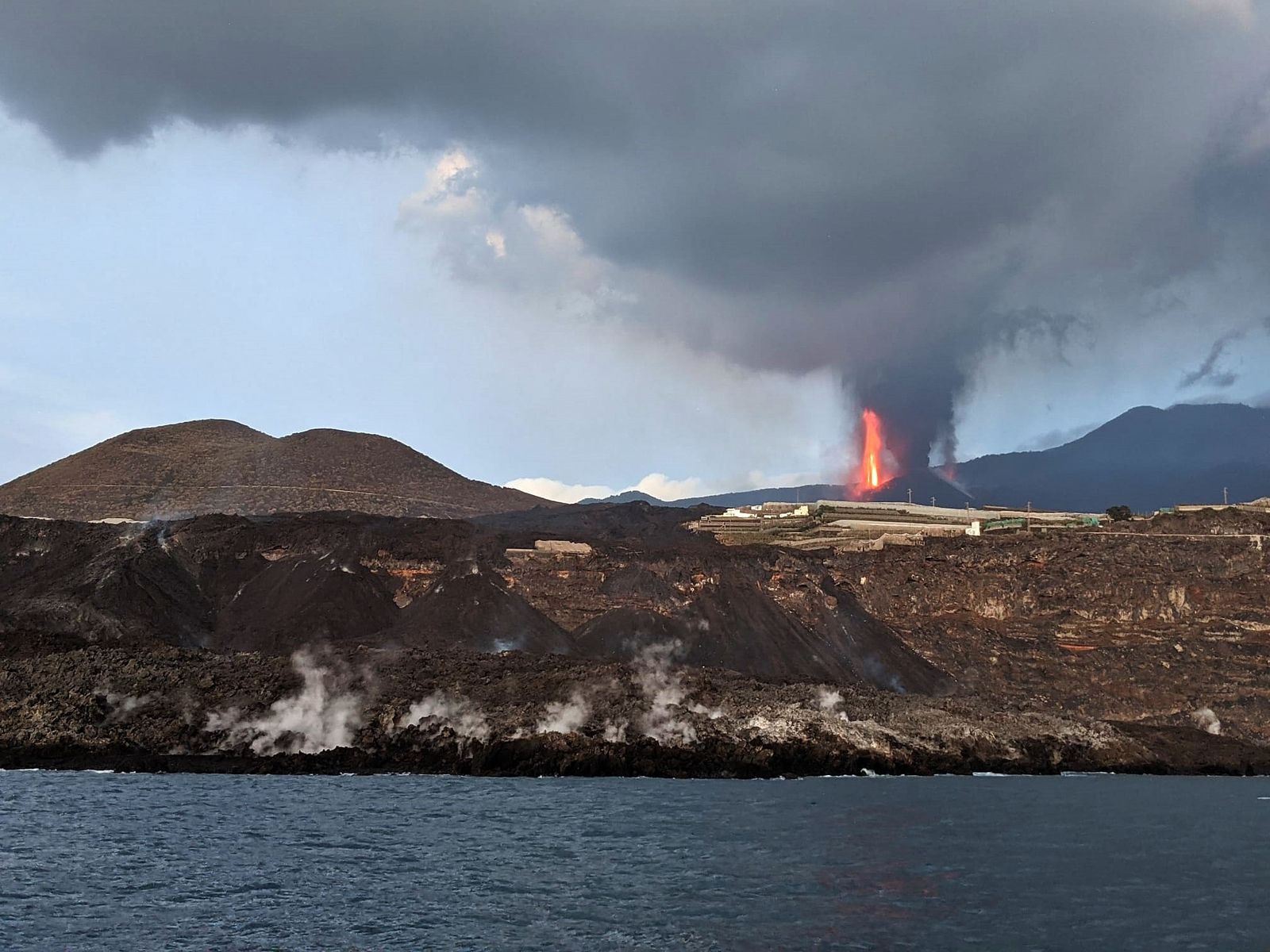 La Palma / Cumbre Vieja - the lava delta and the eruptive site on 27.10.2021 - photo IEO from the ship Ángeles Alvariño
SO2 emissions are around 56,300 tonnes / day, very very high and announces more activity in the coming days.
The air quality is deteriorating in the area with these high emissions: concentrations occur in nearby areas that are not recommended, with almost 400 micrograms per cubic meter of SO2 around 4:00 p.m. in the Aridane Valley.
The island's network of permanent GNSS stations shows an elevation of more than 10 cm from yesterday and a southerly deformation at station LP03, which is closest to the eruptive centers. On the other hand, at the most distant stations, a slight deflation is maintained, possibly linked to deep seismicity.
The inner cone collapsed on itself. At 6:50 p.m. (Canary Island time), the volcanic plume reached 2,000 m. After the collapse in the late afternoon, explosive activity increased again in the last hour. The main mouth indeed feeds majestic lava fountains over 600 meters high.
The lava continues to flow above the old flows, which makes them increase in height and connect them together. The affected area is 879.69 ha.
Sources: InVolcan, IGNes, DSN.
The Anak Krakatau erupted on Tuesday October 26, 2021 at 2:13 p.m. WIB with the height of the ash column observed at ± 500 m above the summit (± 657 m above sea level). We observe that the ash column is gray with a thick intensity towards the north. This eruption was recorded on a seismograph with a maximum amplitude of 45 mm and a duration of 45 seconds.
Visuals coming directly from the video surveillance made it possible to observe a large plume of gas and white-gray ash 500m from the summit of the volcano, the direction of the wind slowly towards the north.
Aviation code orange - activity level 2 / waspada
Source: PVMBG / Magma Indonesia
A moderate eruptive activity continues at Karymsky with an explosive plume at 2,500 m. asl. this October 27, 2021, dispersing towards the ESE over 32 km.
Other ash explosions can occur at any time and affect aviation. The aviation code remains orange
Sources: KVERT & VAAC Tokyo