Publié le par Bernard Duyck
Effusive and explosive activity continues in La Palma / Cumbre Vieja, at high levels. During the night and this morning, frequent lava rises occurred at the level of the crater.
Large amounts of lava can be seen flowing in waves from the pierced crater, covering the lower northwest flanks of the cone with leaf-shaped flows.
These lava floods are likely caused by partial collapses at or around the lower vent in particular.
According to Pevolca & InVolcan, a new eruptive vent has opened southeast of the main vent. It ejects gases and pyroclasts.
The two streams that are south of La Laguna mountain are monitored, as they could converge and reach the sea.
The last Copernicus map dated October 14 at 19:02 UTC mentions 733 ha covered by lava flows, and 1,817 buildings destroyed.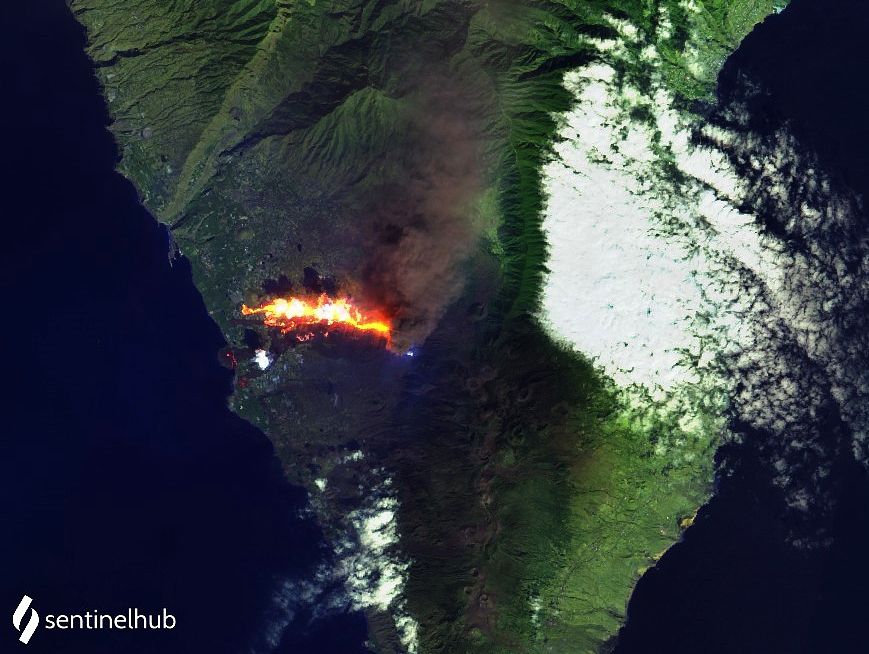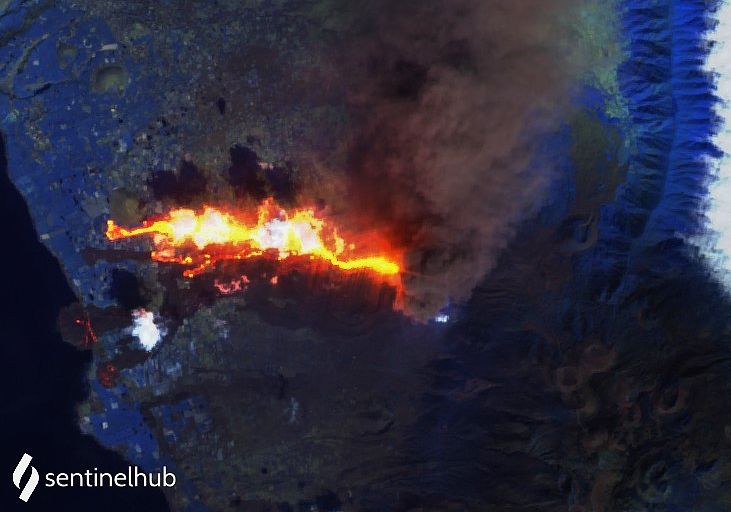 La Palma - Cumbre Vieja - images Sentinel-2 bands 12.11.4 (top) and bands 12.11.8A (bottom) from 15.10.2021- one click to enlarge
The CSIC posted a video in which Vincente Soler, titular volcanologist, exhibits a sample taken by a colleague in an area near the eruptive center which, in the absence of laboratory verification, is inclined to classify as pre-oceanic sediment. island (more than 2 million years old), with strong similarities with the "restingolitas" emitted during the eruption of the submarine Tagoro volcano, in El Hierro.
Sources: IGNes, CSIC, InVolcan, Pevolca, IGM, Copernicus.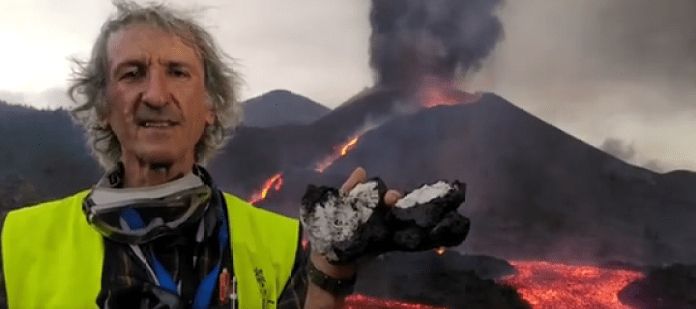 La Palma Cumbre Vieja - 14.10.2021- sample similar to "restingolitas" presented by Vicente Soler, volcanologist at CSIC. - Image CSIC
Lava effusion continued this week at the Great Sitkin in the Aleutian Arc, and lava now fills more than half of the summit crater. Satellite imagery from October 11 showed that two lava lobes, flowing over low points on the crater rim, extend down a slope 330 m to the south and 350 m to the west. Lava also reached the rim of the crater on its northern periphery. In a few areas, lava advanced over snow and ice, but no abnormal melting, vapor formation or water accumulation was observed. This indicates that melt rates are likely low and that there is no indication of impending hydrological hazards.
The lava lobes which have passed the edge of the summit crater flow into small valleys developed on the volcanic edifice. The terrain is steep in these areas, and boulders of lava and lava rubble could break away from the terminus of the flow lobes without warning and form small rock avalanches in these valleys. Such avalanches can release ash and gas and could travel several hundred meters beyond lava flows; they would be dangerous for anyone in these areas.
Satellite imagery shows a likely-formed boulder deposit extending 450 m beyond the western flow lobe terminus.
The level of seismicity has been slightly elevated over the past week and there have been persistent small earthquakes likely associated with the ongoing lava flow. No explosive activity or ash emission was detected in seismic, infrasound, satellite or web camera data.
There is no indication of how long the lava flow lasted during the current eruption, and it is possible that explosive activity could occur with little or no warning.
Current volcano alert level: Watch
Current Aviation Color Code: Orange.
Source: AVO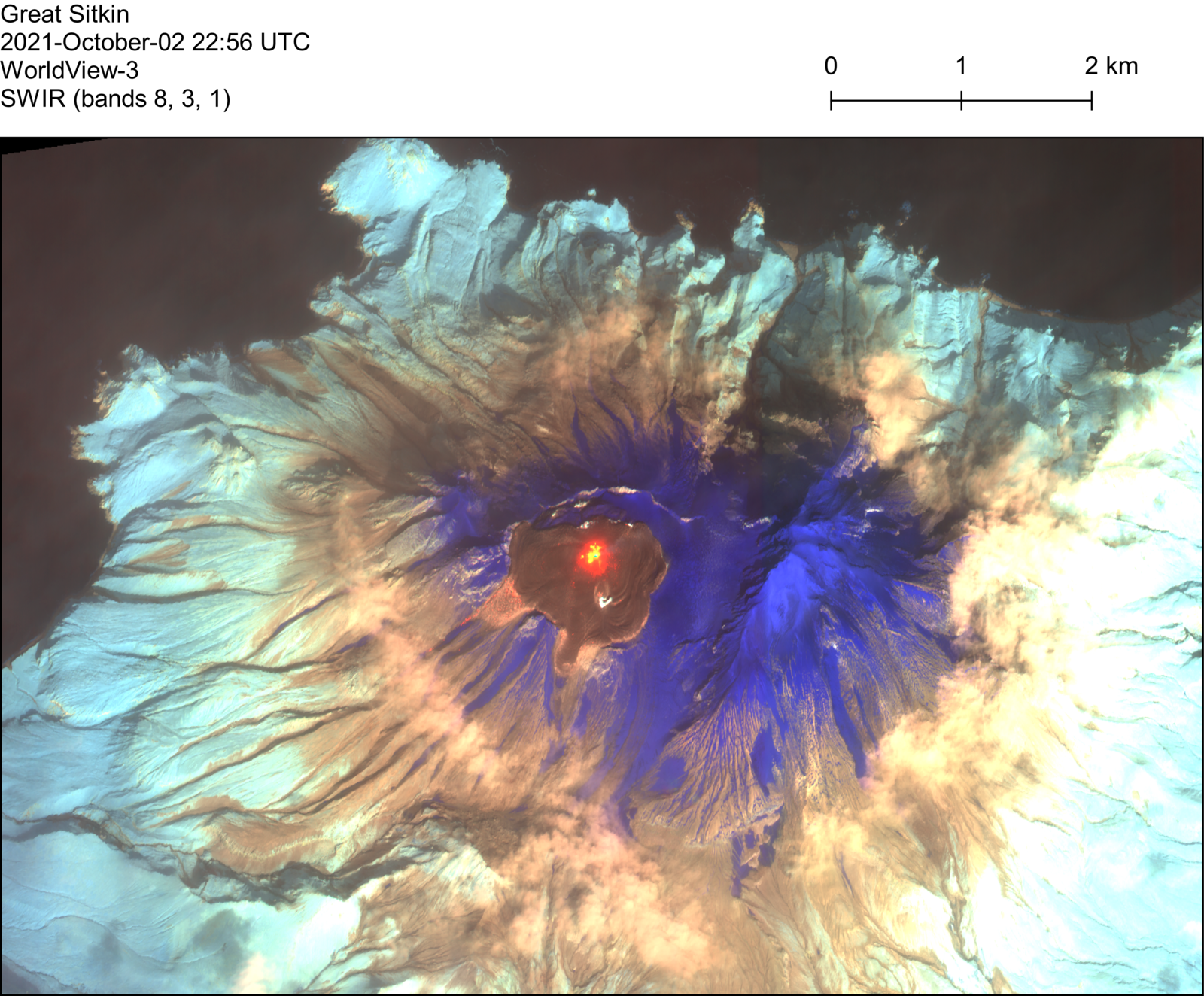 Great Sitkin - WorldView-3 SWIR image from 02.10.2021 / 22:56 UTC - Doc.AVO MM.Loewen (The red-orange areas are high temperature lava, while the blue is snow. The light blue is the vegetation and browns to blacks are the rock.) - one click to enlarge
In Merapi, on Java, during the week of October 8 to 14, 2021, the BPPTKG reports avalanches of incandescent blocks were observed 41 times towards the southwest with a maximum sliding distance of 2,000 m.
The height of the southwest lava dome has decreased by ± 2 m, and the height of the central lava dome has been increased by approximately ± 4 m. The volume of the southwest lava dome is 1,609,000 m³ and the central dome is 2,927,000 m³.
This week's seismicity is higher than that of last week. The Merapi deformation which was monitored using EDM and GPS this week showed no significant changes.
The activity level remains at 3 / siaga.
The current potential danger consists of lava avalanches and hot clouds in the southeast-southwest sector for a maximum of 3 km to the Woro River, and 5 km to the Gendol, Kuning, Boyong rivers. , Bedog, Krasak, Bebeng and Putih. During this time, the ejection of volcanic material in the event of an explosive eruption can reach a radius of 3 km from the summit.
Sources: BPPTKG, PVMBG and Magma Indonesia.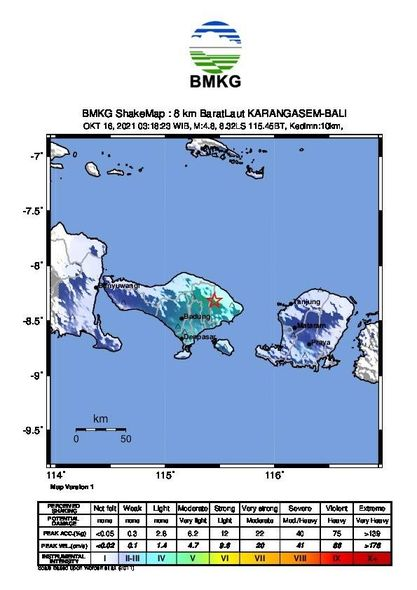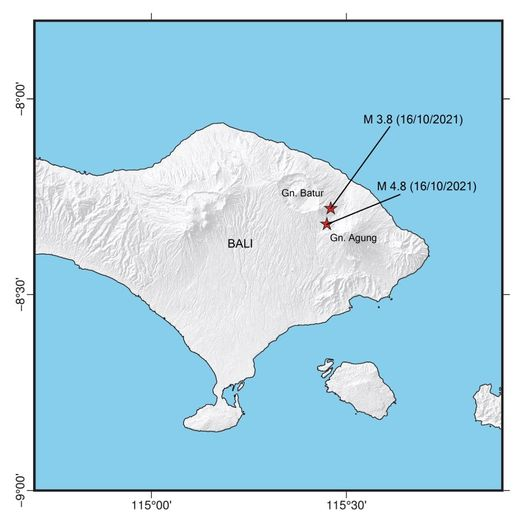 Bali - Tectonic earthquake of M 4.8 and localization near the Agung - Doc. BMKG - one click to enlarge
An earthquake of M4.8 was recorded between Agung and Batur, on Bali, this 16.10.2021 at 03:18 WIB; destruction is reported in Rendang / Karangasem.
Three aftershocks followed.
To be monitored carefully: landslides are likely to occur and new cracks may open following these earthquakes.
Source: BMKG