Publié le par Bernard Duyck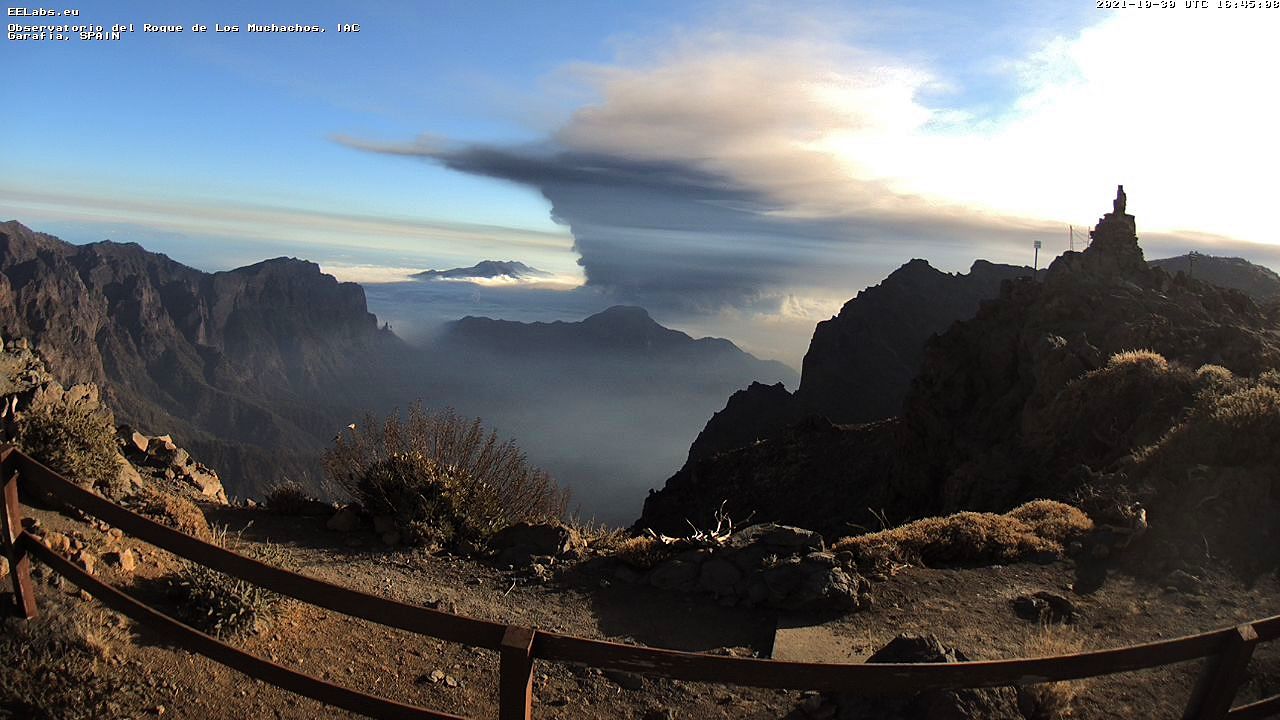 La Palma - the eruptive plume from the Roque de los Muchachos observatory on 10/30/2021 / 6:45 p.m. - one click to enlarge
Regarding the flows of Cumbre Vieja, the technical director of PEVOLCA, Miguel Ángel Morcuende, pointed out that the flow 3 flowed onto the flow 9, to which it joined in waves, until reaching the vicinity of the rating. This flow is the one that causes the most damage and affects buildings, banana plantations and greenhouses in its path.
At noon this Saturday, the lava was about 400 meters from the sea and is being watched, although it is not excluded that it will not reach the water as there is a flat area in which it can spread. . However, if it did reach the sea, it would not be necessary to take any containment measures since this is an area that has already been evacuated.
The lava emission focus on the northwest flank of the main cone provides a flow that moves southwest over previous flows, branching into two arms, one of which juts out west and the other to the southwest. This latest lava flow passes in front of flows 1 and 3, moving over previously unaffected terrain in a southwest direction, advancing 1,500 meters in the last 24 hours, reaching the lower island in the Las region. Hoyas, according to IGN.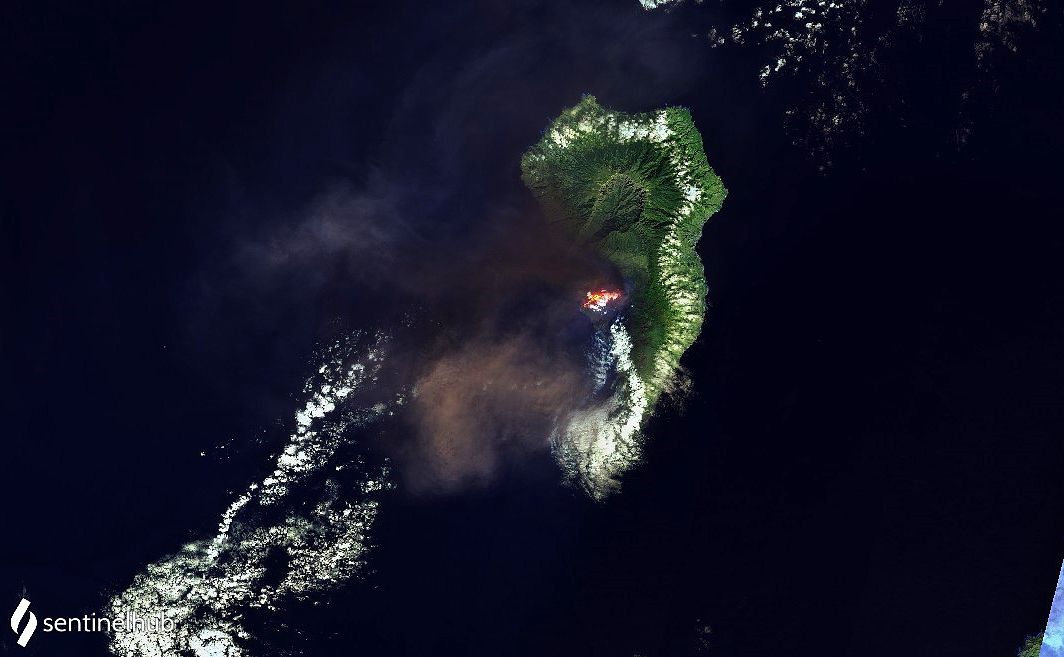 La Palma - lava and plumes of gas and ash - image Sentinel-2 bands 12,11,4 from 30.10.2021 - one click to enlarge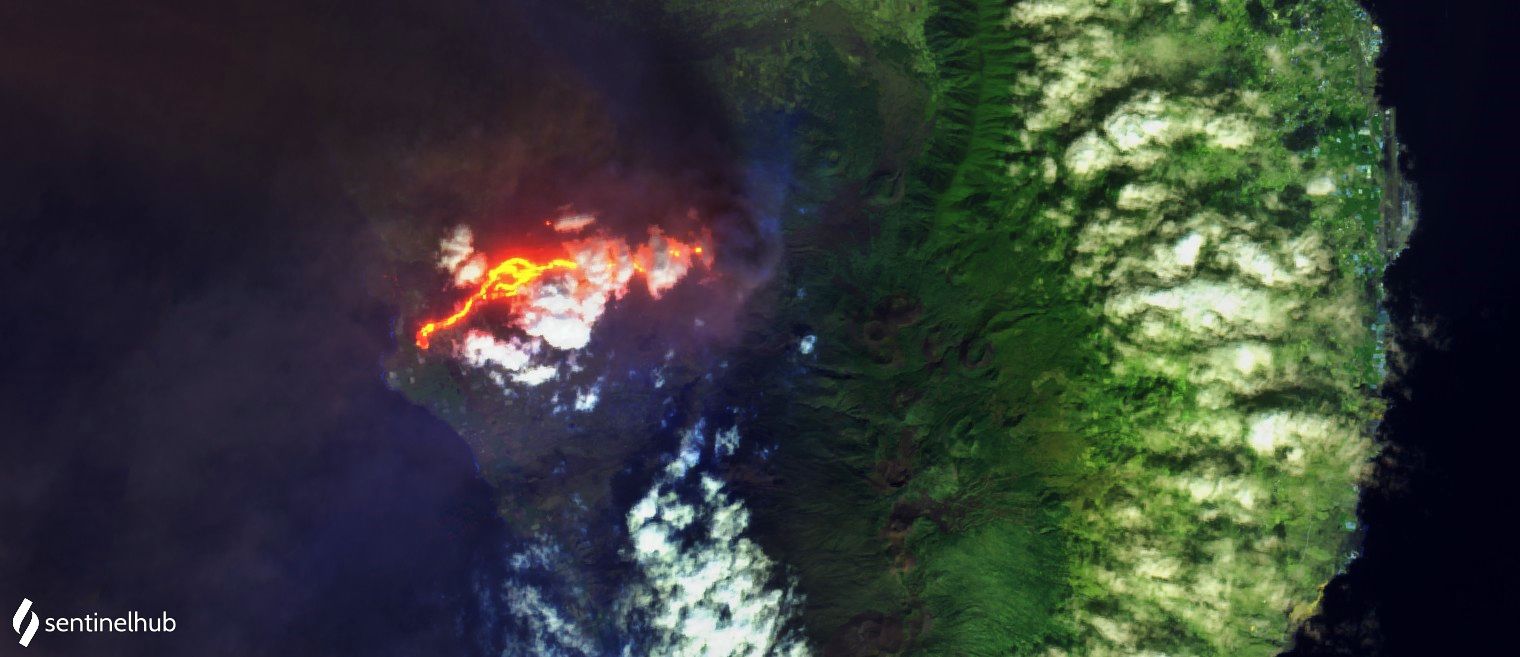 La Palma - zoom on the lava flows of Cumbre Vieja - image Sentinel-2 bands 12,11,4 from 30.10.2021 - one click to enlarge
Strombolian activity remains intense at 7:30 p.m. (Canary Island time). The fall of volcanic bombs is observed in the vicinity of the cone. In addition, landslides occur due to shock waves from the volcano, rocks are seen at the foot of the small rocky escarpment. (IGME)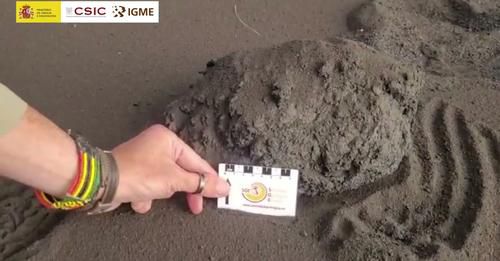 Copernicus has updated monitoring of the Cumbre Vieja volcano, whose lava has covered a total of 946.5 hectares since the eruption began on September 19, affecting or destroying 2,532 buildings / constructions so far.
On October 30, La Palma was rocked by a strong 5.1 magnitude earthquake 39 km deep under the Cumbre Vieja at 7:24 a.m. local time. It is the strongest tremor to date since the earthquake crisis and volcanic eruption began in September.
Sources: IGNes, IGME, Gobbierno de Canarias - Pevolca, Copernicus
La Palma - seismogram of 10/30/2021 / 6:25 a.m. earthquake of M 5.1 and seismicity of 10/30/2021 / 3:45 p.m. in 2 distinct depth zones - Doc. IGNes - one click to enlarge
An eruptive episode occurred in Suwanosejima, at Mitake crater on October 31, 2021 at 08:10 local time. The white plume rose straight to 2,400 meters above the crater
Source: JMA
A moderate eruptive activity from the Ebeko volcano, in the northern Kurils, continues. According to visual data from volcanologists in Severo-Kurilsk, an explosion sent ash up to 1.8 km altitude, an ash cloud drifts northeast of the volcano for 5 km
The aviation code has changed from yellow to orange.
Moderate eruptive activity of the volcano continues. Ash explosions up to 6 km (19,700 feet) altitude. could arise at any time. The current activity could affect low-flying planes and Severo-Kurilsk airport.
Sources: KVERT & VAAC Tokyo