Publié le par Bernard Duyck
The management of Pevolca ordered on the morning of Thursday the evacuation of several areas after the advance of the lava flow from Cumbre Vieja, which extends further north-west and because of its proximity to the limit area of ​​the perimeter already evacuated. The area included in the LP-215 (road from La Laguna to Tazacorte) has been evacuated, from the boundary with the municipality of Tazacorte indicated on the road, to the junction with the LP-213 (road to Puerto Naos)
An earthquake of 4.5 mbLg was recorded, located in Villa de Mazo.
Two large flows coexist: the first-generated flow, poorly powered, has three branches to the south of the Montana de Todoque; the second, further north, has two appendages and juts out into the industrial polygon.
An overflow of the lava flow at the level of the main cone on October 14 at 2:15 pm local ... a real "tsunami" of lava. Impressive speed and overflow of the lava channel, according to InVolcan. - https://twitter.com/i/status/1448760790413193224
At 9:30 p.m., the SPAR supermarket is on fire and the football field is covered for a third by lava ... worrying because it shows that the lava is approaching more and more the center of La Laguna.
As the ash from the eruption gets finer and thinner, the sky will remain dark for a long time!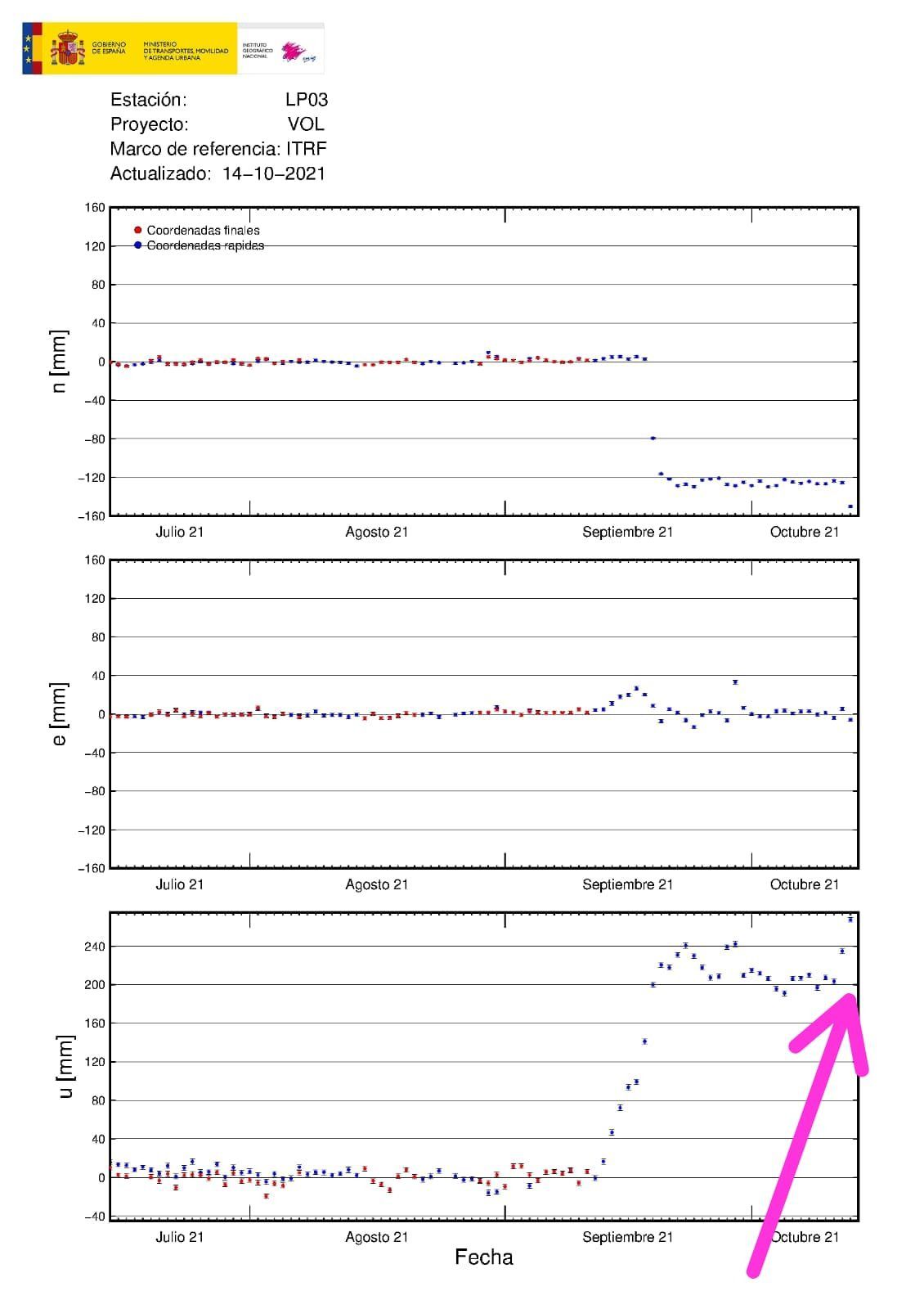 La Palma / Cumbre Vieja - 14.10.2021 - The variation in soil deformation (elevation and southward displacement) is confirmed in stations near the volcano, according to IGN
La Palma - Cumbre Vieja - a succession of lava overflows is observed this 14.10.2021 - IGME-CSIC video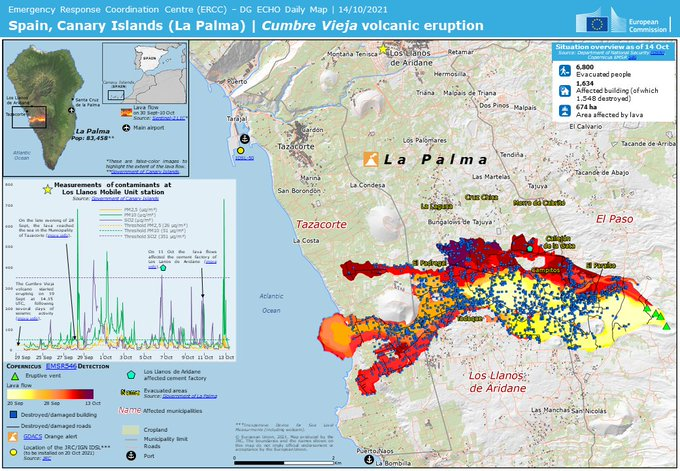 La Palma / Cumbre Vieja - maps of flows, evacuations, toched areas, etc as of 14.10.2021 - Doc. ERCC / European Commission - one click to enlarge
Copernicus data has been updated, indicating that 6,300 people have been evacuated. In terms of material damage: 1,634 buildings were destroyed by lava. In addition, the surface area affected by runoff is already 674 hectares. At its widest point, the lava reaches 1,700 meters.
Sources: IGNes, InVolcan, GEVolcan, Copernicus, La Palma en directo, DSN.
As of this morning of October 14, 2021, in Kilauea, lava continues to emerge from a single vent in the western wall of Halema'uma'u crater.
The western end of the lake showed a maximum elevation of around 785 meters above sea level measured by field crews on October 13, with a total increase of around 42 meters since lava emerged on the September 29.
The total erupting volume since the start of the eruption was estimated to be around 15.9 million cubic meters on October 8. The west vent had intermittent fountain heights of 5m with occasional bursts up to 10m observed by field crews on October 13. The fountain built a splash cone / Spatter cone about 10 meters wide opening east towards the lake. Lava flows into the lake through the opening of the splash cone.
Source: HVO