Publié le par Bernard Duyck
At Reventador, surface volcanic activity remains high according to IGEPN, which notes 88 explosions in the last 24 hours.
From October 7 in the afternoon until October 8 in the morning, gas and ash emissions were observed with heights ranging from 500 to about 1,000 meters high in a westerly direction.
The Washington VAAC reported two broadcasts, one with a height of 988 meters in a westerly direction and a second with a height of 1338 meters in a northwest direction.
FIRMS recorded 11 thermal anomalies at Reventador in the past 24 hours.
At night the area was cloudy and at times it was possible to see the incandescence in the crater.
Source: IGEPN
The northern crater of Mount Cerberus on Semisopochnoi Island remained active with numerous explosions detected throughout the week.
Low level ash emissions have been observed in web camera views a few times this week during periods of limited cloud cover. Small ash clouds were seen on satellite images on October 1, 2 and 3, all of which were below 10,000 feet above sea level and dissipated within 100 km of the volcano. Minor sulfur dioxide emissions were observed in satellite data on October 2-3.
Small eruptions producing minor ash deposits near the active northern crater of Mount Cerberus and ash clouds within 10,000 feet above sea level have characterized recent activity and show no signs slowdown.
Semisopochnoi is monitored by local seismic and infrasound sensors, satellite data, web cameras, and remote infrasound and lightning networks.
The current volcanic alert level is Watch and the current aviation color code is Orange.
Source: AVO
Since October 6 at 10 am, 180 earthquakes have been located in the area affected by the volcanic reactivation of Cumbre Vieja; 56 of these earthquakes were felt by the population.
This October 9 at 00:55 local, an earthquake of M4.1 at a depth of 39 km was felt on almost the entire island. It probably reflects a new surge of magma.
The average amplitude of the volcanic tremor remains stable within a range of average values ​​compared to the observations measured during this eruption.
The height of the eruptive column measured at 7:30 UTC is 2,200 m and the scattering cloud is around 3,500 m to the east.
The network of permanent GNSS stations on the island shows a return to stability in the deformations of stations close to eruptive centers.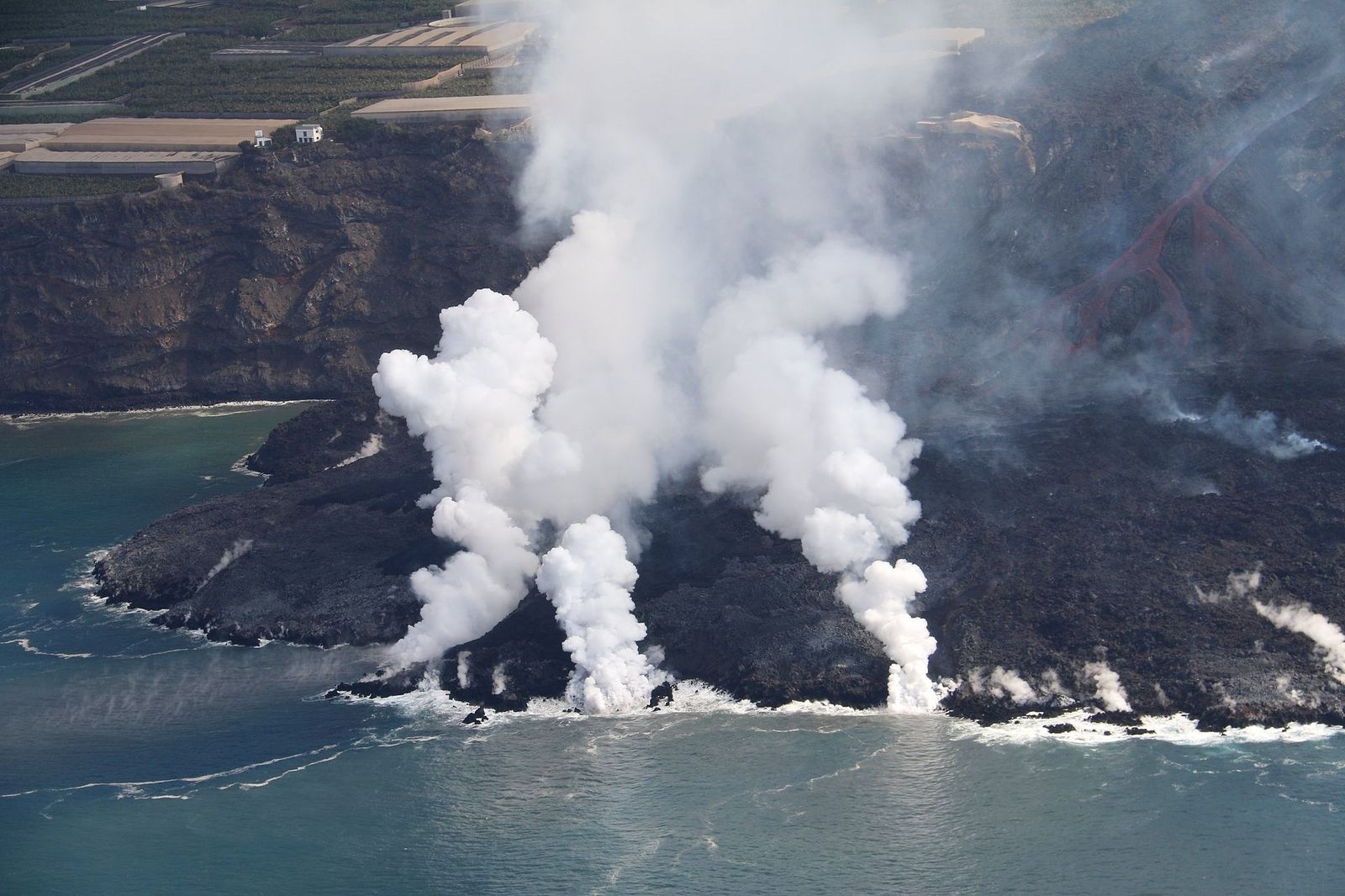 La Palma / Cumbre Vieja - Cumbre Vieja lava delta at 06.10.2021 - Doc. InVolcan / Guardia Civil helicopter
A scientific team made up of researchers from the Instituto Volcanológico de Canarias (INVOLCAN), the University of Manchester (United Kingdom) and the Istituto Nazionale di Geofisica e Vulcanologia (INGV) from Italy, led by Professor Mike Burton of the University of Manchester, succeeded in estimating the emission of hydrochloric acid (HCl) by the marine plume last Wednesday October 6, thanks to the use of a remote optical sensor of type OP-FTIR.
The recorded emission rate was 0.5 kilograms per second, or 43.2 tonnes per day.
According to data communicated by PEVOLCA, lava covers 471 hectares; the maximum width of the flows is about 1,250 meters. The new flow that has emerged in recent hours, and which has affected an area of ​​banana trees, is some 150 meters from the ocean, about to come into contact with water. A total of 120 agricultural hectares were affected (59.39 of bananas, 33.43 of vineyards and 7.36 of avocados).
Saltworks saw the production of two years lost because of the fallout of ash.
Sources: IGNes, Pevolca, InVolcan, RTVC