Publié le par Bernard Duyck
The PHIVOLCS published an abnormally high SO2 volcanic gas emission notice from the Taal volcano.
A total of 23,576 tonnes / day of volcanic sulfur dioxide emissions from the main Taal crater was recorded on the morning of October 15, the second highest after Taal's peak SO2 emission of 25,456 tonnes / day on the 5th October 2021. SO2 flux this month averaged 9,872 tonnes / day while the average flux trend continues to increase since March 2021. Sulfur dioxide emissions averaged 9,154 tonnes / day on October 16, 2021.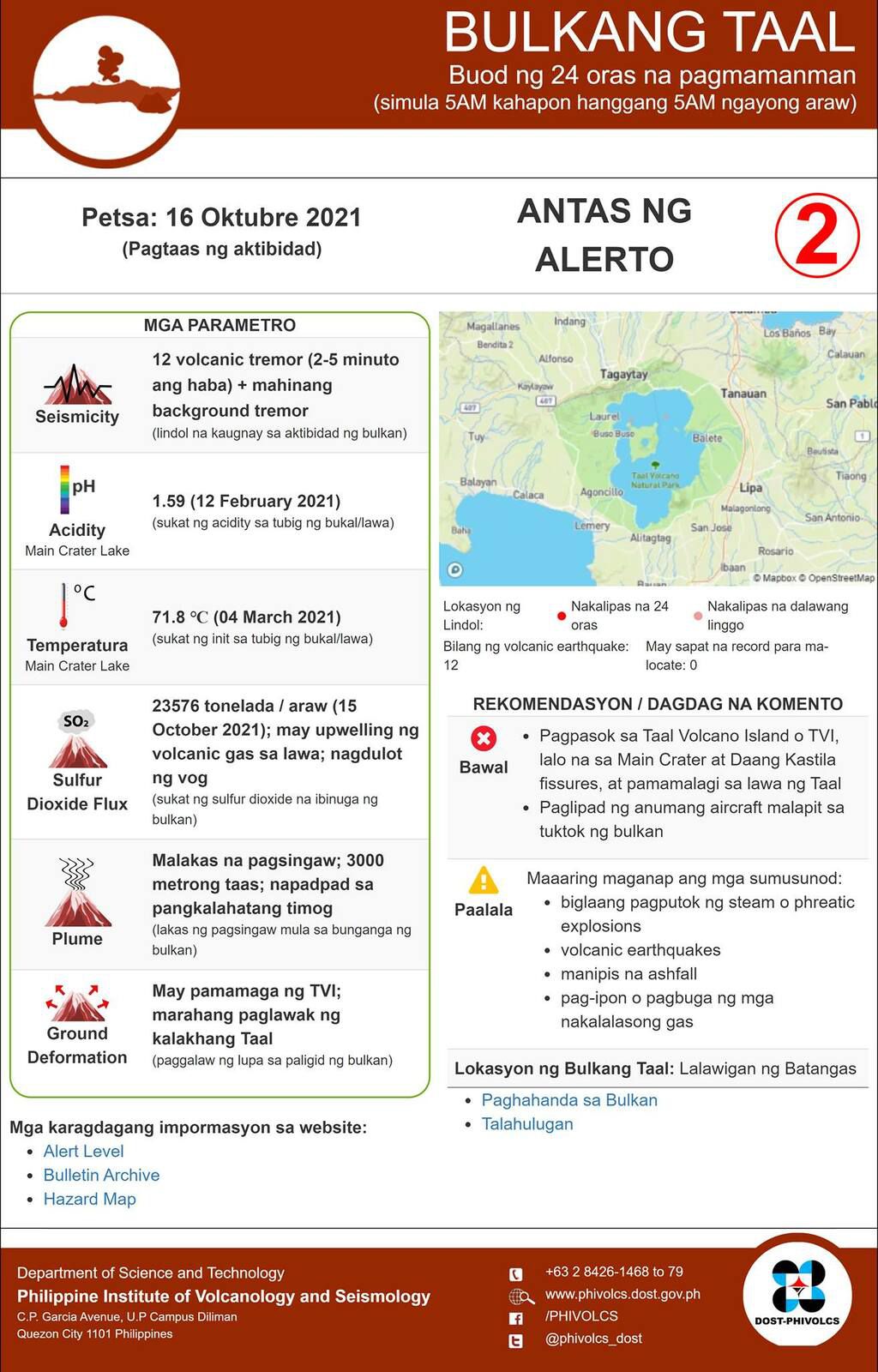 The degassing of the main Taal crater, moreover, was noticeably large and generated steam-laden plumes reaching 3,000 meters above the volcanic island of Taal or TVI.
The thick VOG observed over the Taal Caldera area can be expected to drift northwesterly based on PAGASA's air particle track forecast.
Volcanic seismic activity in Taal resumed on October 11, 2021 after a period of calm that began on September 27, 2021. A total of 145 events consisting mainly of weak low frequency earthquakes and volcanic tremor associated with magma and magmatic gas flows have been recorded since seismic activity resumed until 4:00 pm today. Finally, a sudden inflation of TVI was detected by GPS monitoring in August 2021, compatible with a new pressurization of the underground hydrothermal system due to continuous magmatic degassing.
In view of the above, DOST-PHIVOLCS reminds the public that alert level 2 prevails over the Taal volcano and that the current SO2 parameters indicate high levels of magmatic degassing from the main crater that could lead to explosive activity.
Sources: DOST-PHIVOLCS and PNA.gov.ph
Since the last survey, 90 earthquakes have been located in the area affected by the volcanic reactivation of Cumbre Vieja, 10 of these earthquakes were felt by the population. An earthquake occurred at 06:07 UTC on October 16, with a magnitude of 4.5 (mbLg) at a depth of 37 km.
At 4:41 am, the largest earthquake occurred since the start of the eruption (4.6 mbLg), at a depth of 37 km, which was felt by the population with intensity III-IV.
A total of 11 earthquakes were located at depths of about 30 km, the rest of the hypocenters of the period are located at a shallower depth, about 12 km.
The volcanic tremor signal maintains a high average amplitude, with intensifying pulses, since the last communication.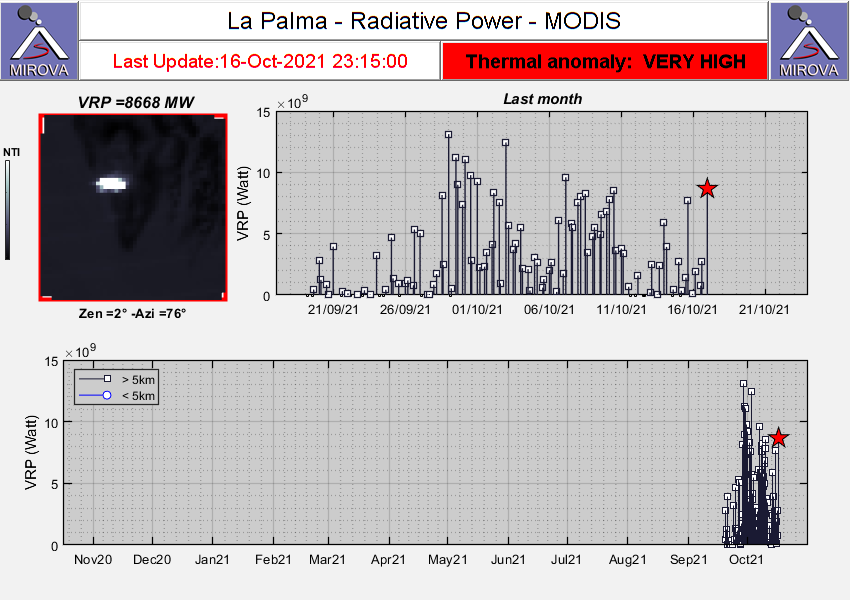 LaPalma / Cumbre Vieja - Anomalies thermiques en hausse au 16.10.2021 / 23h15 - Doc. Mirova_MODIS_VRP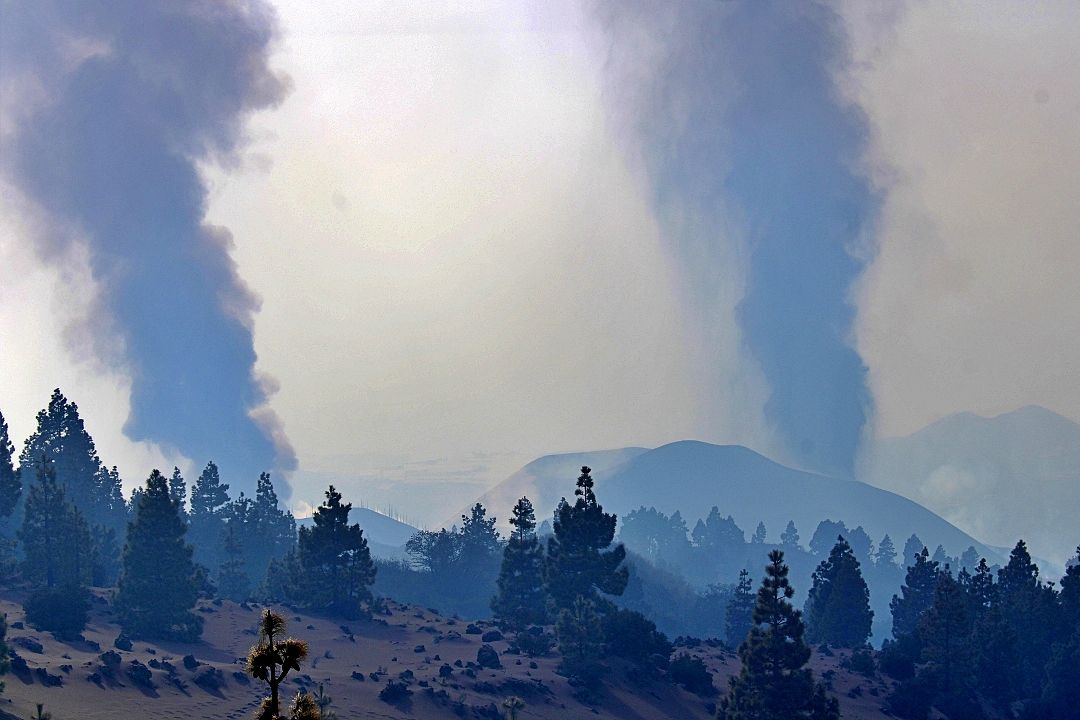 La Palma / Cumbre Vieja - the two eruptive columns, seen from the Mirador Astronómico Llano de Jable on 16.10.2021 - photo Jorge Eduardo Romero Moyano geologist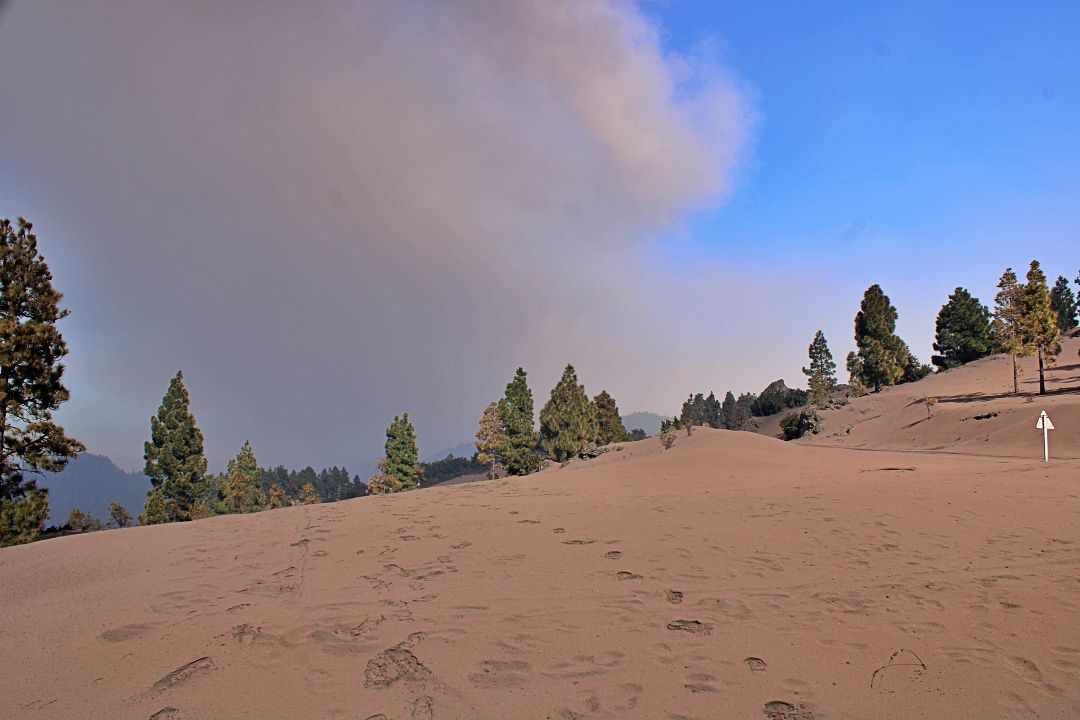 La Palma / Cumbre Vieja -brown ash coat at the ENE of the active vents - photo Jorge Eduardo Romero Moyano, geologist, 16.10.2021
Les coulées de lave ont affecté une surface de 742 ha. et détruit 1.058 bâtiments.
The height of the cloud is measured at 08:00 UTC and is estimated at 4,500 m.
The eruptive mouth that opened this Friday is not a new earthly opening, but rather an old one that would have been reactivated.
The two columns of gas and ash stand out well, the one that opened yesterday seems quite active, with a lot of water vapor and gas.
After the opening of the new emission center to the SE, an increase in lava flow is observed at the NW end of the eruptive fissure. Slowed flows can be reactivated.
Sources: IGNes, IGME, Involcan, DSN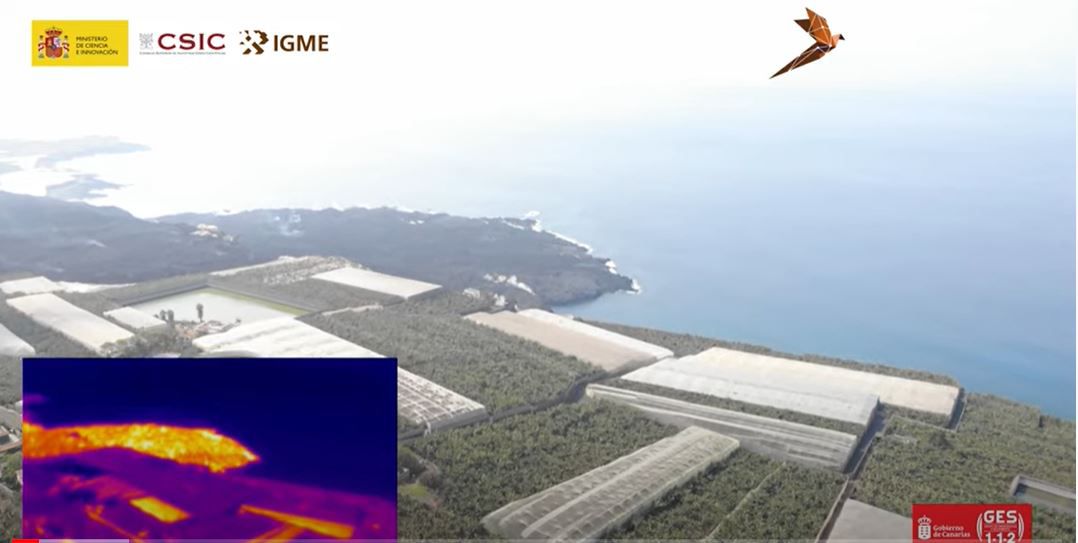 La Palma / Cumbre Vieja -the thermal image of the lava delta ... still very hot on 16.10.2021 - Doc. CSIC
Thermal anomalies, weak between VRP2 and 17 MW, were spotted by Mirova in October at Erta Ale in Ethiopia.
On the Sentinel-2 images, the activity seems more important at the northern pit crater
Sources: Mirova and Sentinel-2