Publié le par Bernard Duyck
The fissure eruption of Cumbre Vieja continues on La Palma, with an increase in sulfur dioxide emissions to around 31,300 tonnes / day and also a very striking fact since the GPS station LP03 increases in its vertical reaching ~ 10 cm.
The day passes between the emission of ash plumes, and explosions with lava fountains.
At 8:47 p.m., Strombolian explosions resurfaced in the upper craters. Air quality was extremely unfavorable in five municipalities: Los Llanos de Aridane, El Paso, Tijarafe and Puntagorda, according to Pevolca.
Deep seismicity recovers energy, with earthquakes of M4.7.
The amplitude of the tremor signal continues to increase and has already reached values ​​prior to its dizzying drop.
The lava partially filled, during November 5 and 6, a kipuka left between the previous flows. The flows affected 992.4 hectares and 2,719 buildings, according to the latest update from Copernicus.
Sources : IGN, IGME, DSN, Copernicus
La Palma - RSAM at 06.11.2021 / 11:45 p.m. and seismicity at 07.22.2021 / 06:48 - Doc. IGN - one click to enlarge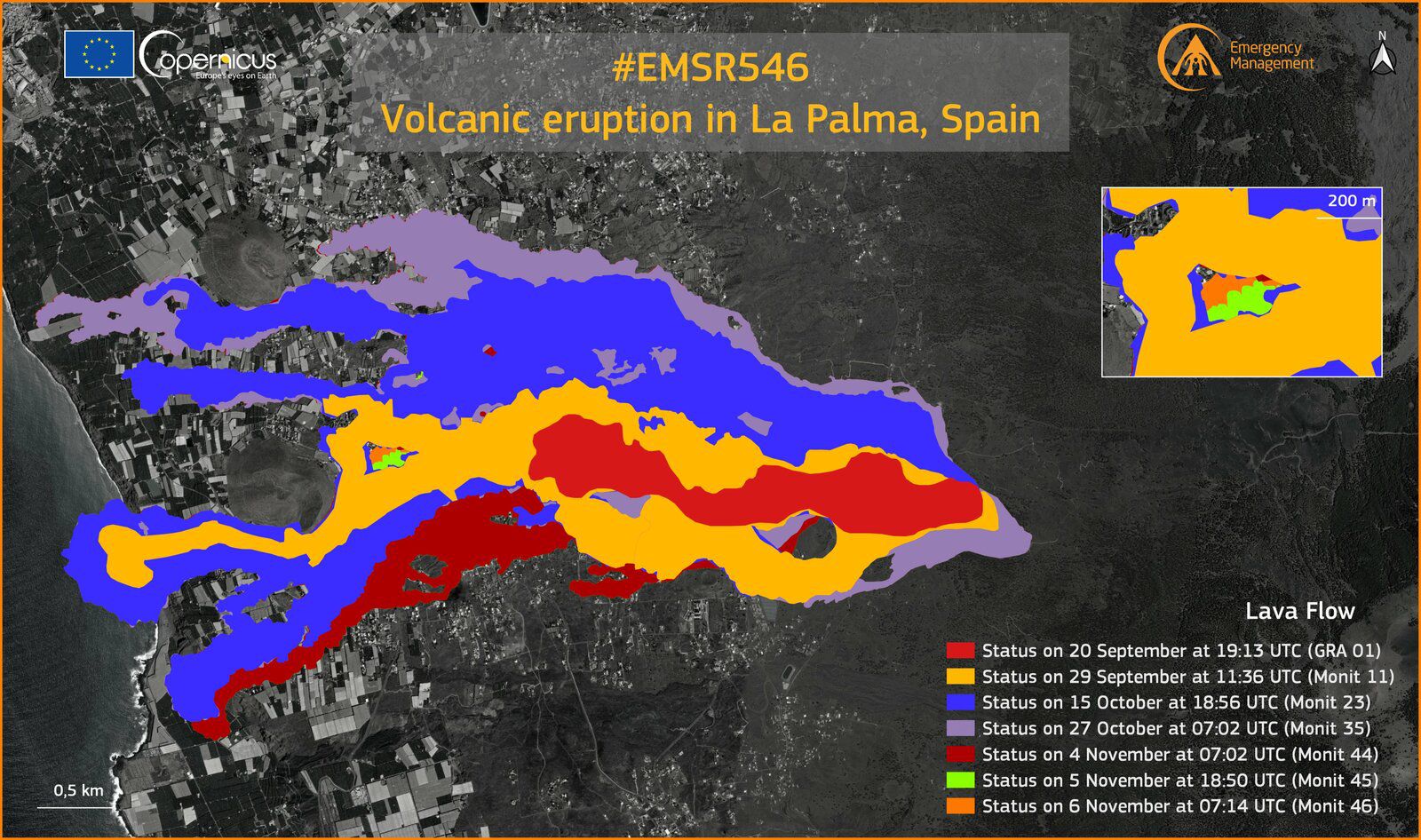 La Palma - the flows of Cumbre Vieja on 06.11.2021 / 07:14 UTC - in the insert, filling a kipuka on 05 and 06.11 - Doc. Copernicus EMRS - one click to enlarge
La Palma - 06.11.2021 - Thermal camera through which you can see how the central channels are mainly loaded with lava
In Taal, in the Philippine archipelago, sulfur dioxide emissions are increasing:
- November 04, with 7,345 tonnes / day; the rise of hot fluids in the crater lake generates plumes at 900 m.
- November 05, with 14.054 tonnes of SO2 / day; the rise of hot fluids in the lake causes voluminous emissions at a height of 1200 m, drifting west
- November 06, with 19,463 tonnes / day of SO2, and emissions at a height of 1,000 m., deriving from OSO.
In the past 24 hours, the Taal Volcano Network recorded 27 volcanic earthquakes, including 21 volcanic earthquakes lasting 2-5 minutes, and bottom tremor that has persisted since July 7, 2021.
TVI inflation has been observed since August 2021, as has a slow expansion of the Taal caldera.
The alert remains at level 2.
Source: Phivolcs
A moderate eruptive activity continues at Ebeko, in the northern Kurils.
This November 7, the KVERT reports an explosion, accompanied according to observers on the ground in Severo-Kurilsk, an ash plume at 2,200 meters asl. drifting northeast of the volcano for 5 km.
The activity continues and may impact aviation and the local airport, with further ash explosions.
Sources KVERT & VAAC Tokyo