Publié le par Bernard Duyck
Eruptive activity continues on La Palma / Cumbre Vieja
Since the last declaration 24 hours ago, the IGN reports 52 earthquakes located in the area affected by the volcanic reactivation of Cumbre Vieja, four of which were felt by the population.
The locations of earthquakes are divided into two groups according to their depth, a first group at 10-15 km and a second group with depths greater than 30 km. Yesterday at 10:19 UTC, an earthquake of magnitude 4.6 mbLg was recorded at a depth of 37 km, and felt by the population with a maximum intensity of IV-V (EMS) in the epicentral zone.
The tremor signal continues in a low value range with fluctuations over the last few hours.
The island's network of permanent GNSS stations shows a complete elevation reversal recorded between November 17 and 19, a partial westward deformation reversal, and a southerly deformation consolidation at station LP03 , which is closest to the eruptive centers. In the rest of the stations, the slight deflation possibly linked to the deep seismicity has stabilized.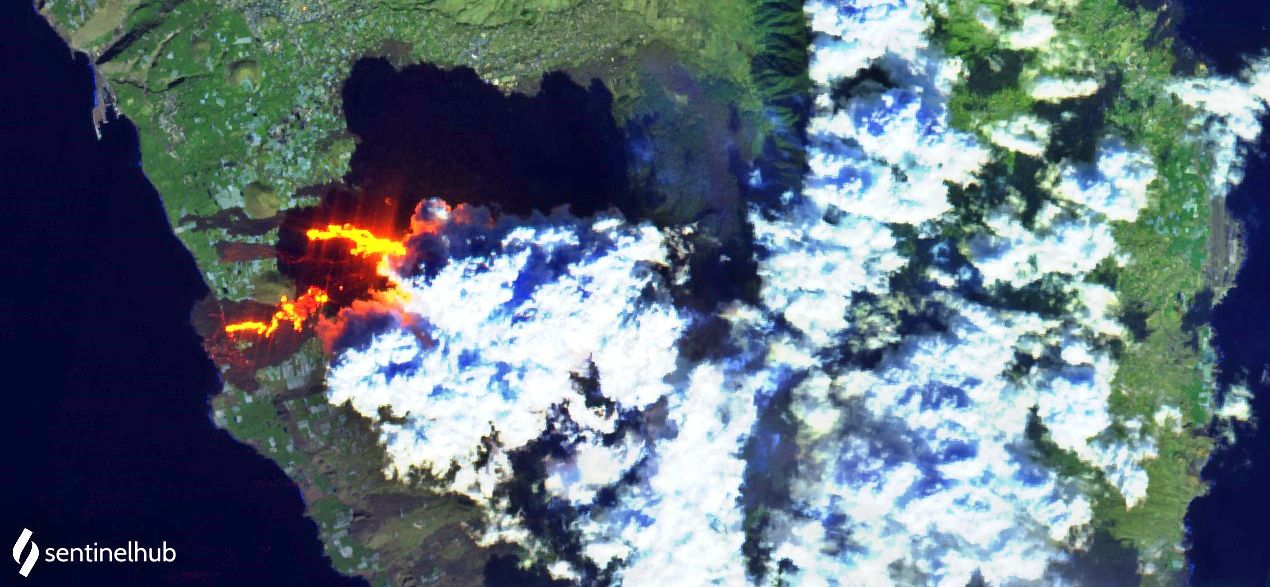 La Palma / Cumbre Vieja - lava flows, the plume and his shado - image Sentinel-2 bands 12,11,4 on 11.21.2021 - one click to enlarge
Strombolian emissions persist, with a mixture of variable explosive phases, which produce pyroclastic deposits, and effusive phases, which simultaneously produce lava flows. Lava is still emitted in several areas, after several overflows from the main cone lake. Pulses of phreatomagmatic activity have diminished, with an ash plume generating significant shadow on Sentinel-2 images on November 21.
Lows 4 and 7 united and affected other places.
Copernicus RapidMappingTeam has released its 53rd lava flow map, based on @ASI_spazio COSMO-Skymed radar imagery and updates as of November 20 at 19:32 UTC: Extent of lava flows: 1,065.9 ha (+23 , 8 ha in 5 days) and 2,651 buildings destroyed (+28).
La Palma airport remains inoperative.
The air quality data is variable but in the last few mornings there have been harmful levels of sulfur dioxide so it is necessary to take extreme precautions, use an FFP2 mask and avoid to play sports outside.
Sources: IGN, IGME, Copernicus, DSN, RTVC
La Palma - lava overflows continue - TN video
Mount Ili Lewotolok experienced an eruptive episode on Monday, November 22, 2021 at 11:47 a.m. WITA, accompanied by an ash plume observed at ± 2,000 m above the summit (± 3,423 m above sea level) drifting towards the southwest. This episode was recorded on a seismograph with a maximum amplitude of 35.5 mm and a duration of 136 seconds.
Seismicity is characterized by:
8 eruption earthquakes with an amplitude of 12 to 35.5 mm and a duration of 35 to 136 seconds.
33 blast / emission earthquakes with an amplitude of 6 to 12 mm and an earthquake duration of 22.7 to 52 seconds.
11 non-harmonic tremor episodes with an amplitude of 2.5 to 12 mm and an earthquake duration of 60.7 to 347.7 seconds.
1 distant tectonic earthquake with an amplitude of 4.9 mm, S-P was not observed and the duration of the earthquake was 60 seconds.
and continuous tremor with an amplitude of 0.5 to 13.5 mm, predominantly 8 mm.
The activity level remains at 3 / siaga.
Communities around Mount Ili Lewotolok and visitors / climbers / tourists are recommended not to engage in activities within 3 km of the summit / crater of Mount Ili Lewotolok. The community of Jontona Village should always be aware of the potential threat of weathered material avalanches which may be accompanied by hot clouds from the southeast peak / crater of G. Ili Lewotolok.
Sources: PVMBG, Magma Indoesia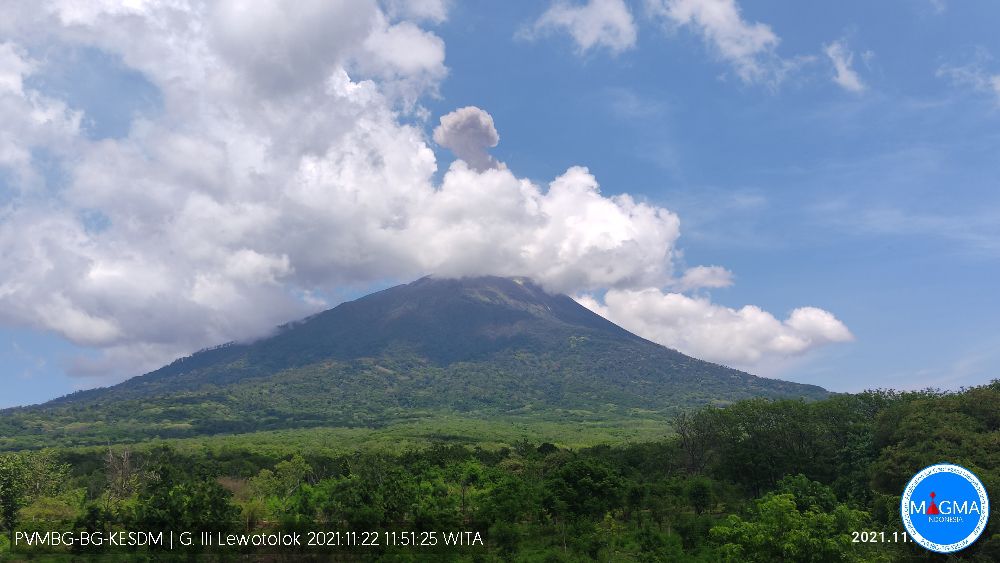 Ili Lewotolok - a plume of gray ash towers above the clouds - PVMBG Magma Indonesia 22.11.2021 / 11.51 am loc.
During the last 24 hours, thanks to the monitoring systems of the Popocatépetl volcano, nine exhalations have been identified, accompanied by water vapor and volcanic gases. A volcano-tectonic earthquake was also recorded yesterday at 4:55 p.m.
On November 21 at 2:30 a.m. a minor explosion was detected, which generated an ash column 600 meters high which dispersed to the northwest. On November 20, an explosion was also observed.
During the morning and at the time of this report, a slight emission of water vapor and gas is observed, which disperses towards the northwest
Source: Cenapred 21,11,2021 / 17h GMT