Publié le par Bernard Duyck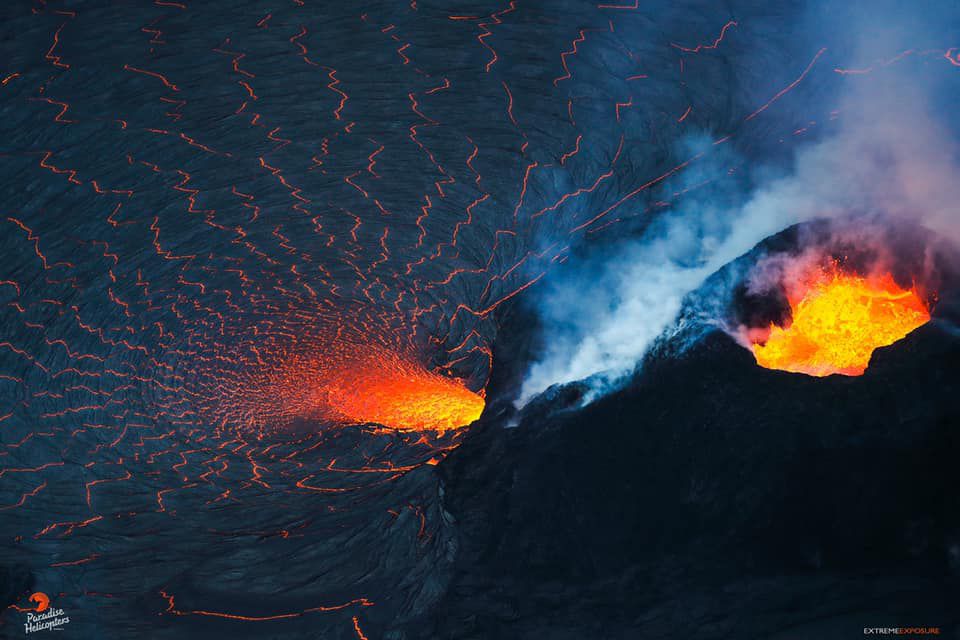 Kilauea / Halema'uma'u - west vent on 16.11.2021 - photo Paradise helic. / Extreme exposure / Bruce omori
Kīlauea volcano erupts from a single vent in the western wall of Halema'uma'u crater.
Activity returned to levels seen before the brief decline in activity. All lava activity is confined to Halema'uma'u Crater in Hawai'i Volcanoes National Park. Seismic activity and volcanic gas emission rates remain high.
Most notable is the formation of a pond perched on the surface of the lava lake, stretching from the vent cone to the edge of the large island floating in the middle.
Molten lava from the slowly rising lava lake began to crawl over the lower section of the boulder deposited in Halemaʻumaʻu crater, as can be seen here in the lower right corner of the photo below. Gases rising from the crater are blowing north due to light southerly winds this morning.
Source: HVO & Bruce Omori / Paradise helicopters
Kilauea / Halema'uma'u - west vent, and lava at the low point (bottom right) on 11.16.2021 - photo Paradise helic. / Extreme exposure / Bruce omori
In the last 24 hours, the Taal volcano network has recorded 5 volcanic earthquakes, including 3 volcanic tremor events lasting one to two minutes, 2 low-frequency volcanic earthquakes and low-level background tremor that persists since July 7, 2021.
The Phivolcs also reported two short phreatomagmatic explosions in Taal on November 17, respectively at 1:46 am and 2:54 am They produced plumes of 400 to 500 meters, visible on thermal cameras.
They lasted 1 and 2 minutes, based on the seismic signals,
The activity of the main crater was dominated by the rise of hot volcanic fluids in its lake which generated plumes 1800 meters high that drifted southwest. Yesterday, sulfur dioxide emissions averaged 11,846 tonnes / day. Based on ground deformation parameters from electronic tilt, continuous GPS, and InSAR monitoring, Taal Volcano Island has been inflating since August 2021 while the Taal region continues to experience very slow expansion since. 2020.
The alert level remains at 2.
Source: Phivolcs
In La Palma, the eruptive process of Cumbre Vieja continues stably, according to PEVOLCA and the energy of the system shows a downward trend.
However on November 16, the rate of ash emissions, and the weather conditions, caused a deterioration in air quality.
The ash amounts to 3,000 m and the latest estimated average SO2 data is 3,250 tonnes per day, the deformation is maintaining or increasing slightly.
The lava continues to flow, with a new entry into the sea at 1:15 p.m., affecting an area greater than 14 ha. To date, we deplore the destruction of 1,462 buildings.
Sources: IGN, IGME, DSN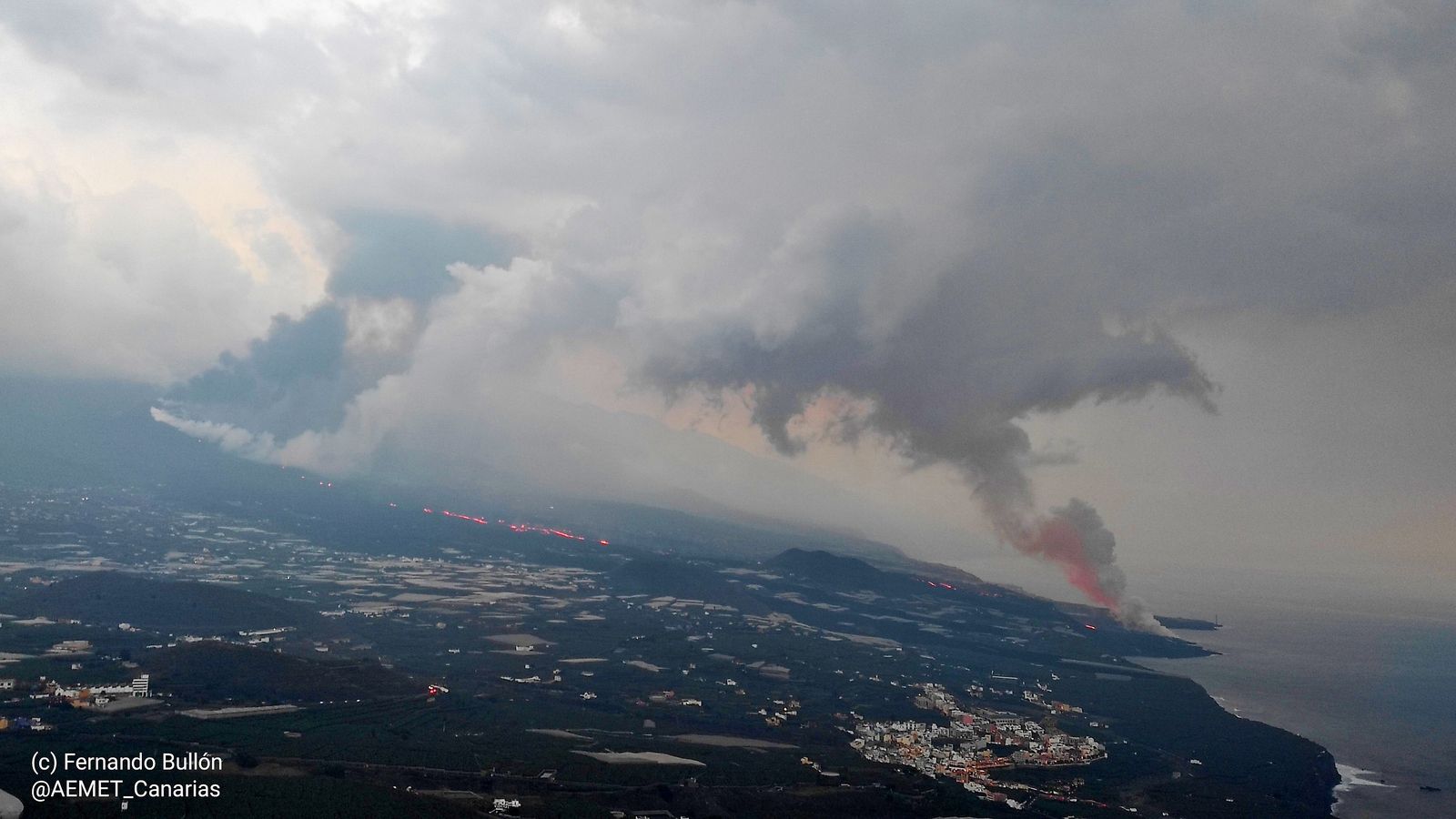 La Palma / Cumbre Vieja - from the eruptive site (left), by the flow to the sea, where the lava produces a plume of steam and gas (right) - photo Fernando Bullon / AEMET
La Palma / Cumbre Vieja - eruption direct17.11.2021