Publié le par Bernard Duyck
The Colombian Geological Service reports that the seismic volcanic tremor signal associated with ash and gas emissions into the atmosphere continues at Nevado del Ruiz, and persists over time.
Thanks to the web cameras installed in the area of ​​the volcano and the reports of the two officials of the Los Nevados National Natural Park and Civil Aeronautics, it was possible to confirm the constant release of ash. The height of the column maintained an average of about 500 meters.
During the last hours, the winds presented a direction of dispersion towards the west-northwest of the volcano favoring the ash fall in Manizales and Villamaría, as seen this morning. It should be noted that La Nubia airport has suspended its operations due to the ashes found on the runway.
The Nevado del Ruiz volcano continues at the yellow activity level (or III). At this level, in addition to other phenomena, gas and ash emissions can occur.
Source: SGC / Servicio Geologico Colombiano
The usual Pevolca press conference confirmed that on Saturday afternoon the emission of lava from the Cumbre Vieja increased further and that, fortunately, they continue to spread over the previous flows, without affecting any new surface.
Seismicity is low and continues to decrease this morning. The max. observed in recent hours was M4.5 at 36 km depth.
Air quality is reasonably good for sulfur dioxide over Los Llanos de Aridane and Puntagorda. However, it remains unfavorable compared to fine particles, with concentrations of more than 400 micrograms per cubic meter.
As of November 7, the lava field area was 993.7ha, with a small increase of 0.1 ha in the past 24 hours. No new destruction of buildings.
Sources: IGN, InVolcan, DSN, Pevolca, Copernicus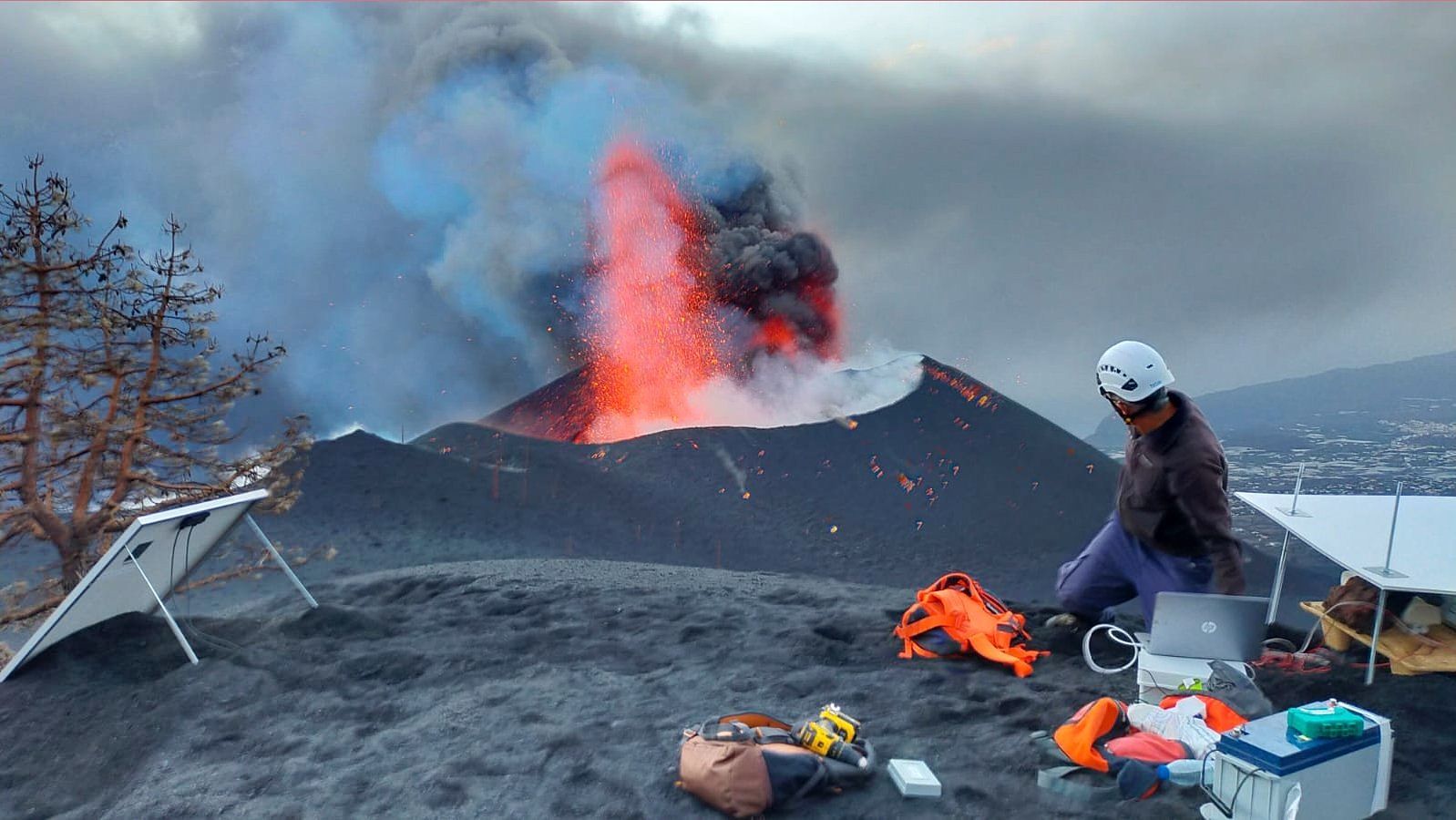 La Palma / Cumbre Vieja - installation of a thermal camera / visible area east of the volcano - Doc. IGN 07.11.2021
The Hekla volcano, in Iceland, seems to worry specialists.
Since its last eruption, inflation has steadily increased, to the point of being as high in 2006 as it was before the eruption of 2000. The pressure behind inflation seems to come from a depth. from 15-20 km.
This volcano, which erupts regularly twice a century, has a bad habit of not giving long notice ... in 1980, the notice did not exceed 23 minutes; in 2000 it was only 79 minutes. This constitutes a maximum danger for potential hikers.
For the moment, the aviation code is green.
Sources: interview with Páll Einarsson, geophysicist and professor emeritus at Morgunblaðið & Icelandic volcanoes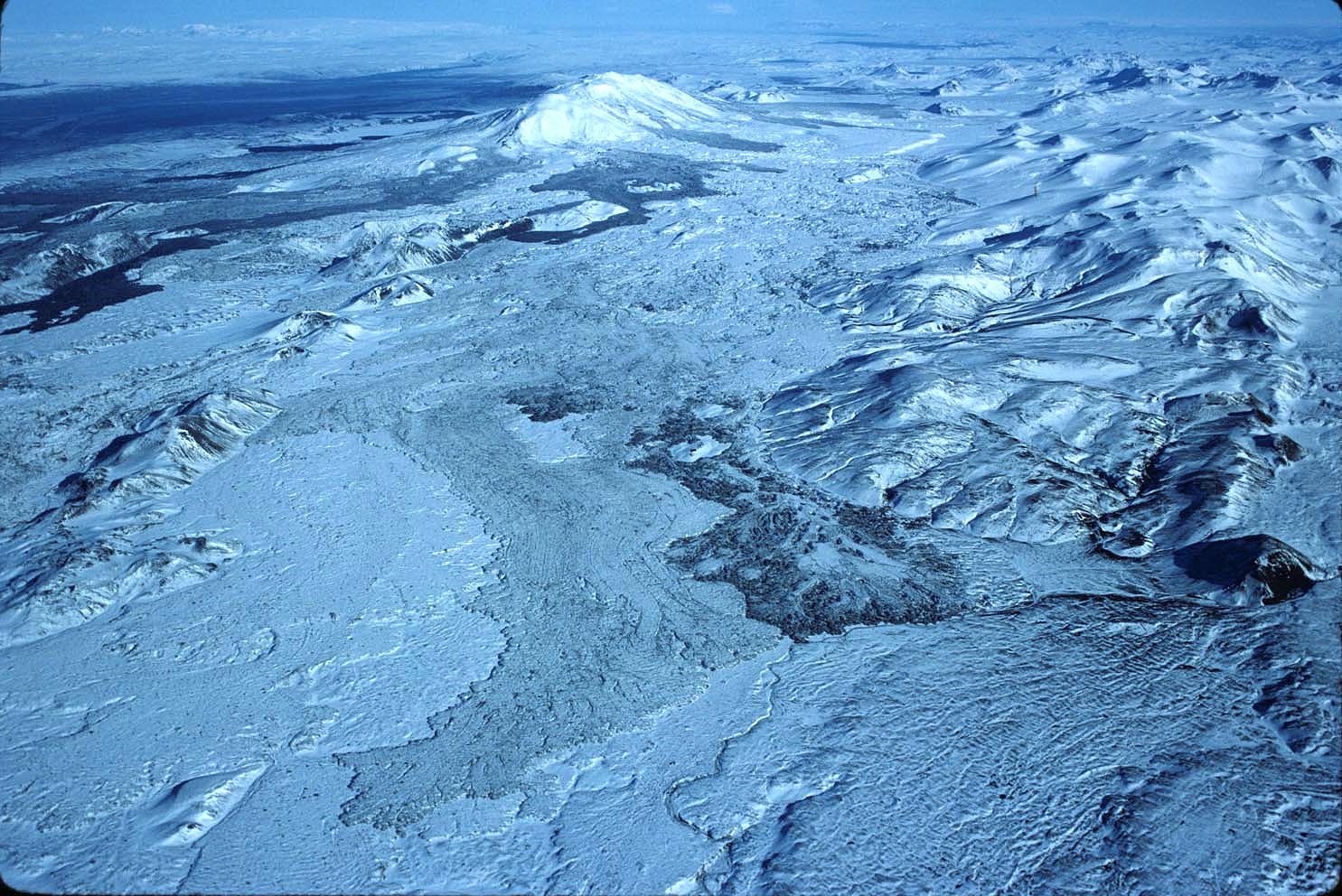 Hekla-Vatnafjöll volcanic system. The Hekla stratovolcano is at the top in the middle of the photo; Vatnafjöll mountains on the right. Vast lava flows can be observed. - photo Oddur Sigurðsson / Icelandic Volcanoes