Publié le par Bernard Duyck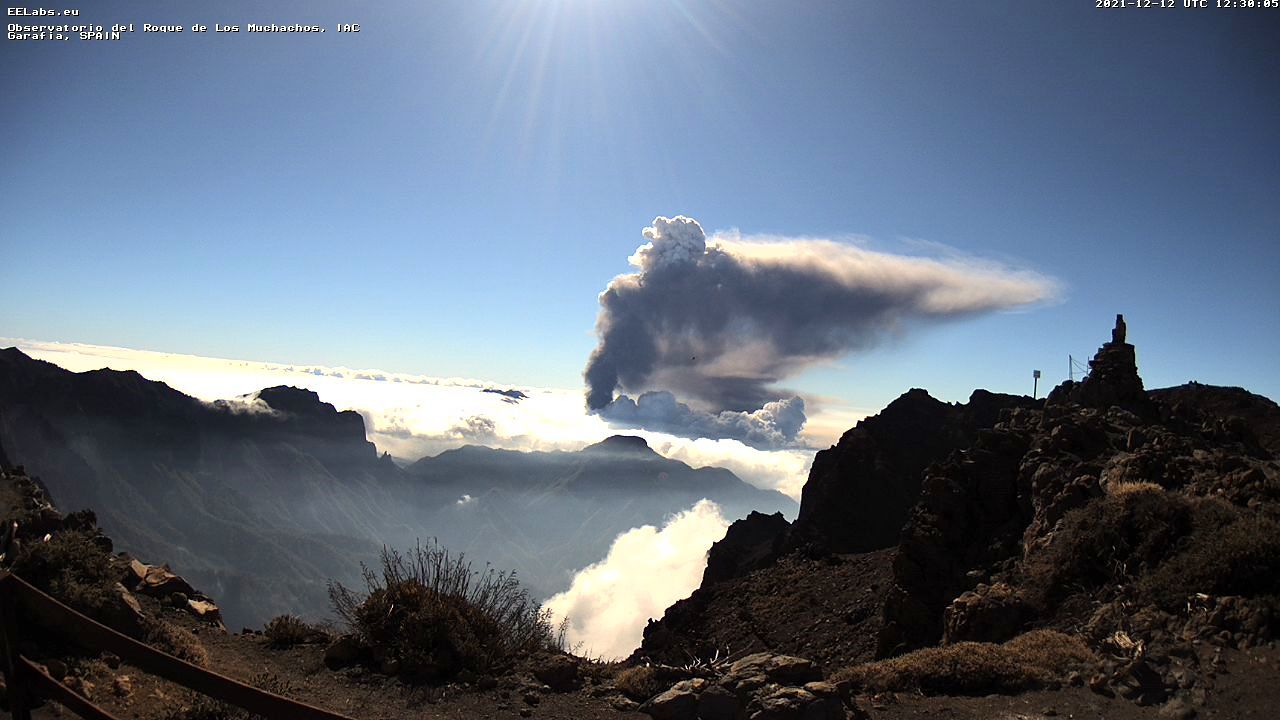 La Palma - plume of the explosion of Cumbre Vieja from the Roque de Los Muchachos webcam on 12.12.2021 / 12.30pm - one click to enlarge
An explosive episode occurred at Cumbre Vieja on December 12 at around 11:50 a.m. The peak of activity lasted for 75 minutes. The ash plume rose above the clouds and rose to an altitude of 5,000-6,000 m., Visible from Roque de Los Muchachos, and from Tenerife. Large bombs were released during the explosion.
After the pulsation of volcanic activity, the tremor signal (which indicates the vibration in the conduit during the passage of fluids) fell to a level similar to that of the shutdown of September 27: it has practically disappeared.
Sentinel-5P Tropomi detected a strong sulfur dioxide signal, with 18.09 DU of SO2 at an altitude of about 6 km and a distance of 34 km. The estimated mass is 3.3 kilotons within 300 km.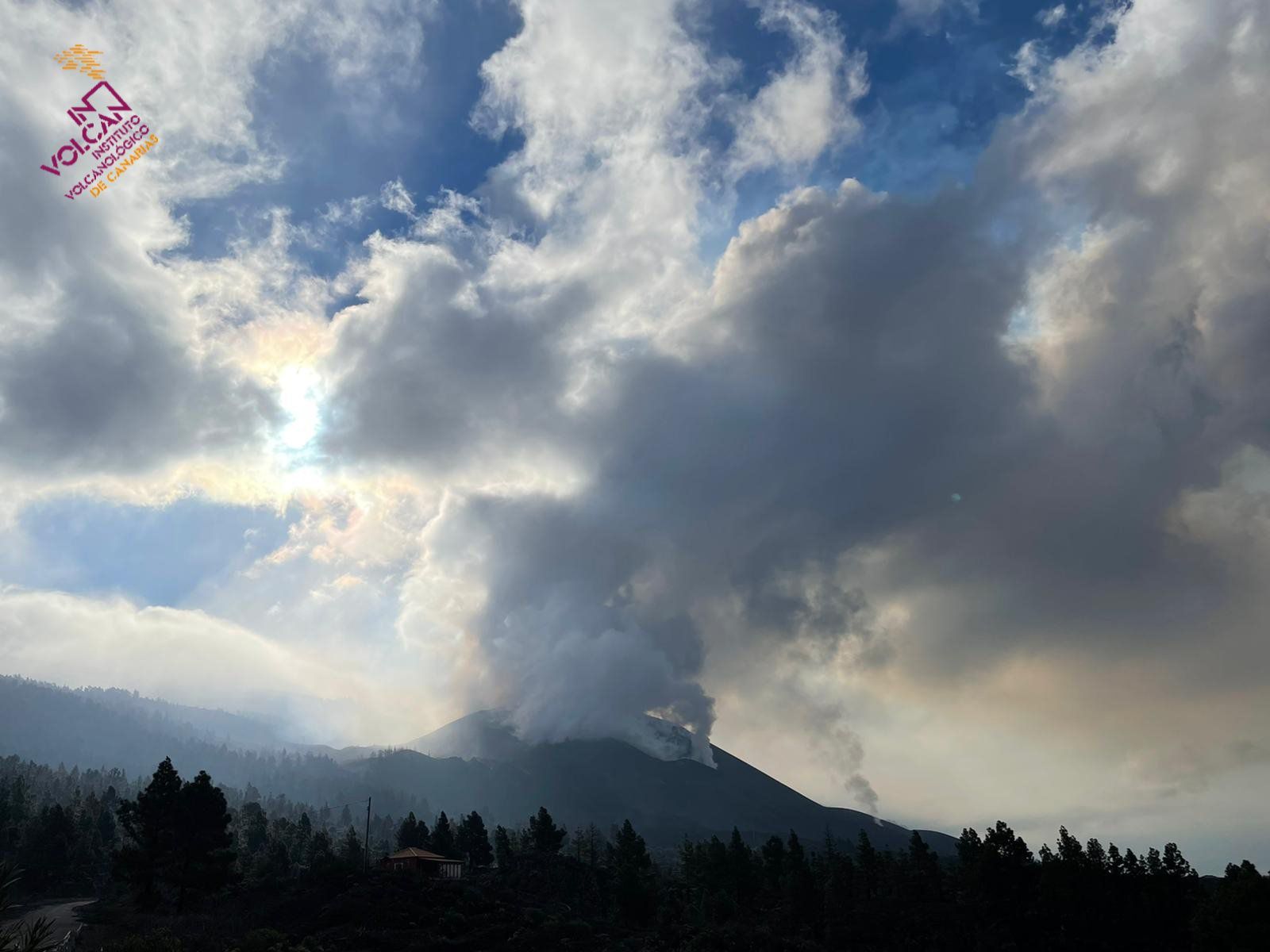 La Palma / Cumbre Vieja - the explosion was preceded by an intense degassing on 12.12.2021 - photos Itahiza and InVolcan - one click to enlarge
La Palma Cumbre Vieja - explosive impulse of 12.12.2021 / 12h00, with emission of big bombs - IGME video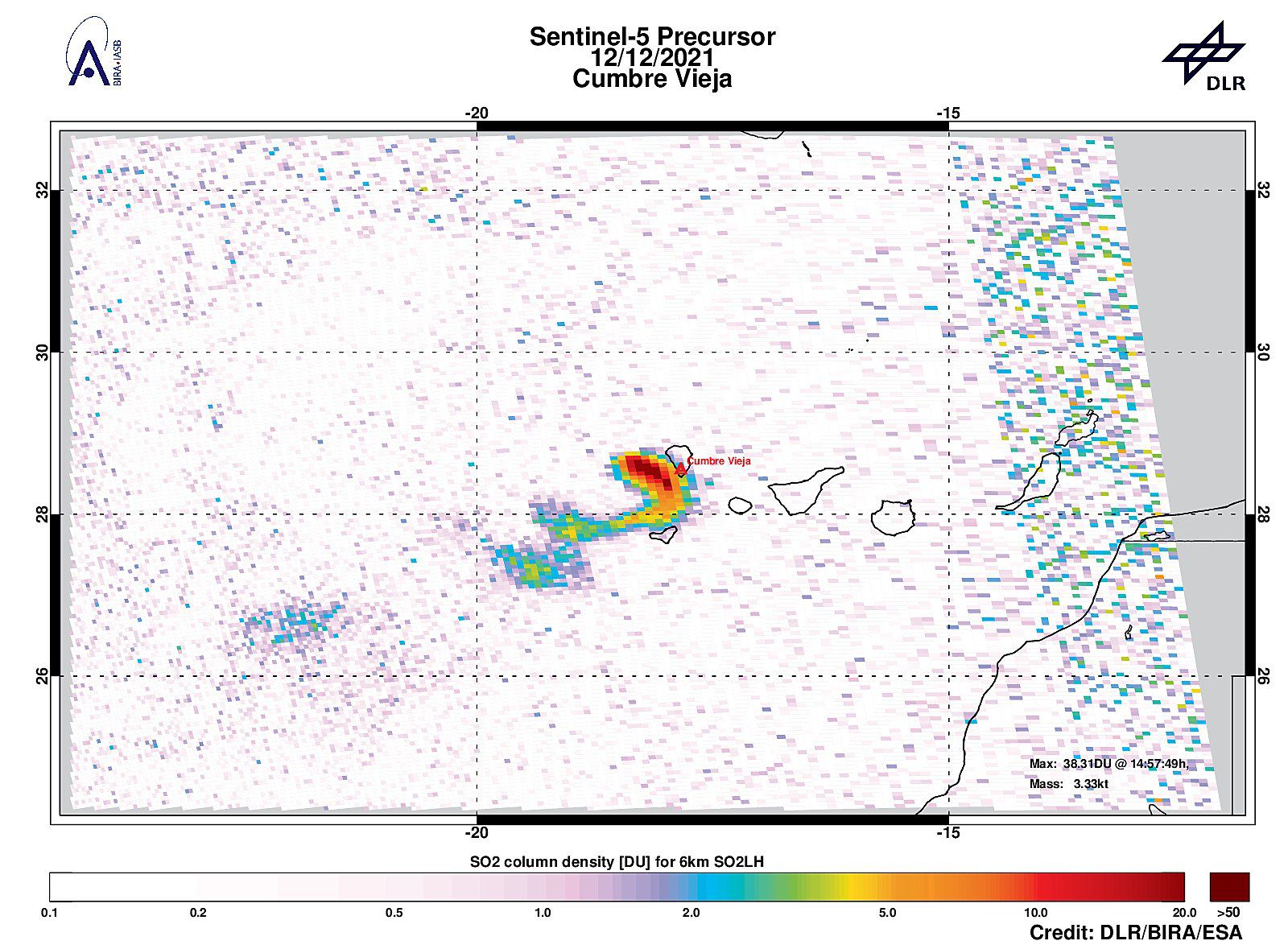 La Palma - SO2 signal at a distance of 33.9km to CumbreVieja with 18.09DU of SO2 at an altitude of ~6km - image Sentinel-5P Tropomi 12.12.2021 / 14h57 / DLR / BIRA / ESA
When the duct near the outlet closes, gas and water enter, the re-pressurization results in a hydromagmatic or rather phreatomagmatic explosion in the cone or the emission point, which produces a lot of ash at high speed for a period: an eruptive impulse. Once the drive is over, the pressure drops and the activity drops to almost zero and repressurizes, repeating the process, which can also be very violent. (see RSAM diagram above)
A new explosive episode occurred from 5:15 pm local, with new throws.
In the meantime, lava continues to flow mainly from the effusive focus, located west of the main cone, through a volcanic tube, which has several jameos / skylights, from which two flows originate that move westward on previous castings.
Regarding seismicity, the number of intermediate earthquakes remains low, and those recorded at depths greater than 20 kilometers remain at very low values.
Sources: IGN, IGME, InVolcan, DSN, Copernicus
Mount Ili Lewotolok exhibited a moderate to thick white and gray plume on December 12, about 100-600 meters above the summit.
Seismicity declined in:
- 42 eruption earthquakes, with an amplitude of 5.5 to 40.1 mm and an earthquake duration of 22 to 54 seconds.
- 129 blast / emission earthquakes with an amplitude of 2.2 to 18.6 mm and a duration of 11.1 to 65.1 seconds.
- 1 episode of harmonic tremor
- 10 episodes of non-harmonic tremor
- 2 Tornillo-type earthquakes with an amplitude of 5.3 to 7.2 mm and an earthquake duration of 3 to 5.7 seconds.
- 3 deep volcanic earthquakes
- 3 local tectonic earthquakes
- 1 distant tectonic earthquake
- 4 episodes of continuous tremor, with an amplitude of 0.5 to 1 mm, dominant of 0.5 mm.
Magma Indonesia has observed an increase in volcanic seismicity at Gunung Awu since October. Mount Awu is administratively included in the Regency of the Sangihe Islands, in the province of North Sulawesi.
Shallow volcanic earthquakes were recorded in the range of 7 to 26 events per day, whereas previously the maximum was recorded at 5 events per day; for deep volcanic earthquakes, an increase was also observed. The seismic amplitude (RSAM) which reflects the energy of volcanic activity increased gradually from November until 12,12,2021.
Its last eruption in June 2004 produced an eruption column reaching 2 kilometers above the summit and left a lava dome in the crater. This lava dome has a diameter of about 370 meters and a height of about 30 meters.
Based on the results of the analysis of visual and instrumental data and taking into account the potential threats of danger, from 12 December 2021 at 12:00 WITA, the level of activity of Mount Awu increased from level I (normal) to level II (waspada / alert).
The main potential dangers that may arise may be in the form of magmatic eruptions with ejection of incandescent material and / or ejection and pyroclastic flows or in the form of phreatic eruptions dominated by steam and volcanic gas as well as previous eruptive matters.
Source: Magma Indonesia 12.12.2021