Publié le par Bernard Duyck
OVPF scientists were able to carry out reconnaissance in the field (lava samples) and by helicopter on December 23. The eruption of Piton de La Fournaise continues.
With the decrease in the first lava fountains, the amplitude of the eruptive tremor (indicator of a lava emission in surface) strongly decreased during the day yesterday, and has stabilized today at around 30% of its initial amplitude .
The activity is now focused on a single crack (with the constitution of an eruptive cone); average lava flow rates vary between 4.7 and 22 m3 / sec.
Source: OVPF
Piton de La Fournaise - snapshot of 23.12.2021 / 18:47 - webcam IRT / IPGP-OVPF - one click to enlarge
There are still a large number of earthquakes in the Reykjanes Peninsula, but since 12 a.m. on December 23, around 2,000 earthquakes have been detected, most of them near the Fagradalsfjall eruption sites at a depth of 5-8 km .
According to continuous GPS measurements from the Meteorological Bureau, the deformation pattern in relation to the current earthquake is very similar to what was observed as the Geldingadalur eruption approached, which began on March 19. Therefore, there is every indication that magma is making its way into the earth's crust in a manner very similar to it then. GPS measurements show signs of overheating from areas with the highest seismic activity. It must be considered very likely that if an eruption does occur it will be in areas very similar to the Geldingadalur eruption, but it cannot be ruled out that magma will occur somewhere in the Nátthaga area in Keilir.
Source: IMO 23,12,2021 / 4:10 p.m.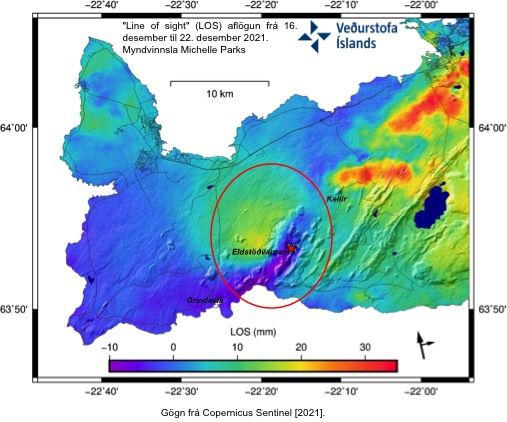 Reykjanes Peninsula - Interferogram / Deformation from December 16 to December 22, 2021. - Michelle Parks Image Processing. - via IMO
During the morning of December 23, the activity of the Nevado del Ruiz volcano was characterized by the recording of a continuous volcanic tremor and by constant degassing. The column of gas and vapor reached a maximum height of 1,400 meters measured at the top of the volcano at 8:20 a.m. local time (photo on the right). The dispersion of the gas column varied from east to south-east according to the preferential direction of the wind.
Occasionally the column presented ash content as mentioned in the last VONA report released at 6:25 a.m. local time, when a volcanic ash emission was recorded (left photo) associated with a change in the continuous volcanic tremor.
The Nevado del Ruiz volcano continues with a yellow activity level (or III).
Nevado del Ruiz continues to show instability in its behavior. The appearance of new gas and ash emissions or an acceleration of the volcanic process that leads to changes in the level of activity of the volcano is not excluded.
Source: S.G.C.