Publié le par Bernard Duyck
The INGV-OE, reports that from 00:15 GMT this January 30, 2022, we observe the resumption of a modest and sporadic explosive activity at the southeast crater of Etna, the activity produces weak ash emissions brown (old materials) that disperse quickly in the summit region.
The amplitude of the volcanic tremor is on medium-low values. The source of the volcanic tremor is located in correspondence with the Southeast crater at an altitude of about 2500 m above sea level. The rate of occurrence of infrasonic events is low.
The stations of the soil deformation monitoring networks operating on the volcano show no significant change.
Sources: INGV OE and LAVE webcam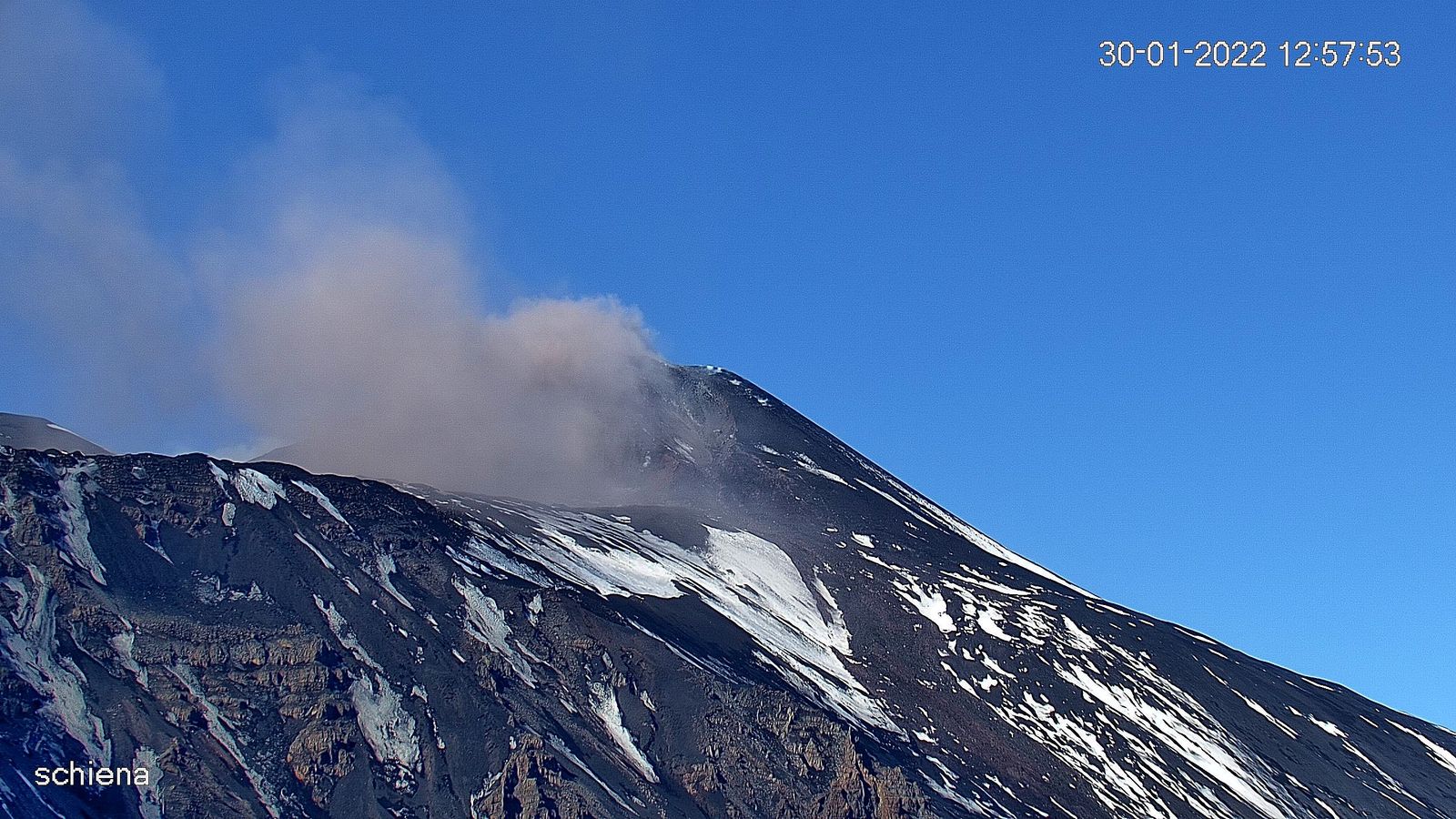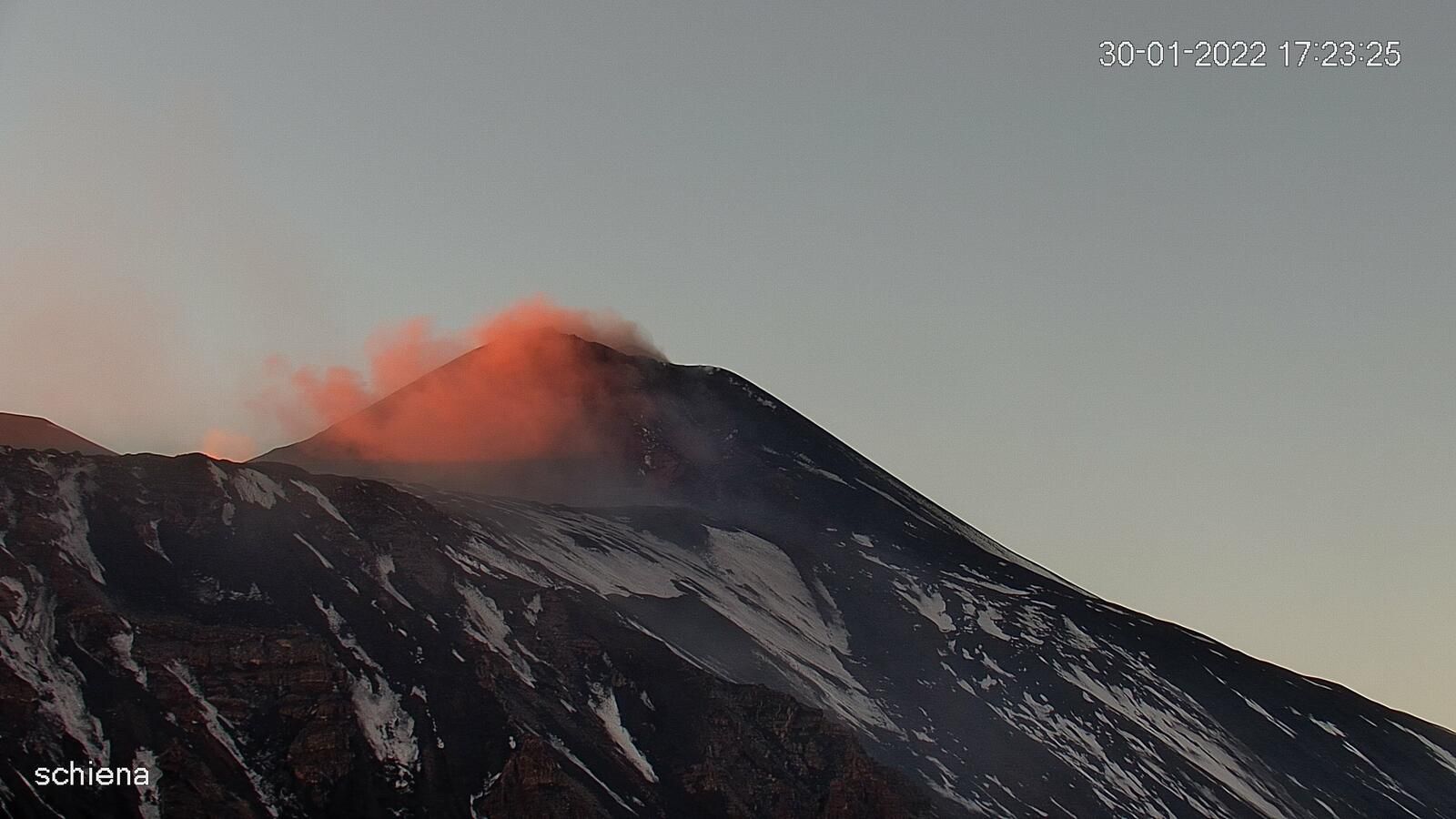 Etna SEC - different type emissions on 30.01.2022, respectively at 12:57 p.m. and 5:23 p.m. - LAVE webcam - one click to enlarge
Since 8:00 a.m. TL on January 30, 2022, several gas and ash emissions have been observed at Sangay with heights reaching 1500 meters above the level of the crater and in the east-southeast directions. The W-VAAC reported 4 emissions observed through the satellites and their directions varied between east and southeast, the
The estimated heights did not exceed 1800 meters above the level of the crater.
According to reports from SNGRE, a slight fall of ash has been confirmed in Macas, in the province of Morona Santiago.
According to the simulation of the ash cloud and the direction of the winds, this phenomenon could continue and generate ash falls in the province of Morona Santiago. This phenomenon has been recurrent throughout the current eruptive period of Sangay.
It is recommended to take appropriate measures and receive information from official sources.
Between January 29 and 30 at 11 a.m., seismicity is characterized by 122 explosion earthquakes, 10 LP earthquakes and 70 episodes of emission tremor.
The level of activity remains high, without changes.
Source: IGEPN
In the Galapagos, the Washington VAAC did not record observed satellite emissions at Wolf Volcano.
WORLDVIEW applications recorded 18 thermal anomalies and MIROVA recorded 1 high thermal anomaly (672 MW), and three smaller ones on January 30 in the past 24 hours.
At 19:52 UTC, through the MOUNTS project, a measurement of 2,173 t of SO2 is recorded for the Wolf volcano.
Surface and internal activity levels remain high, although decreasing.
Sources: IGEPN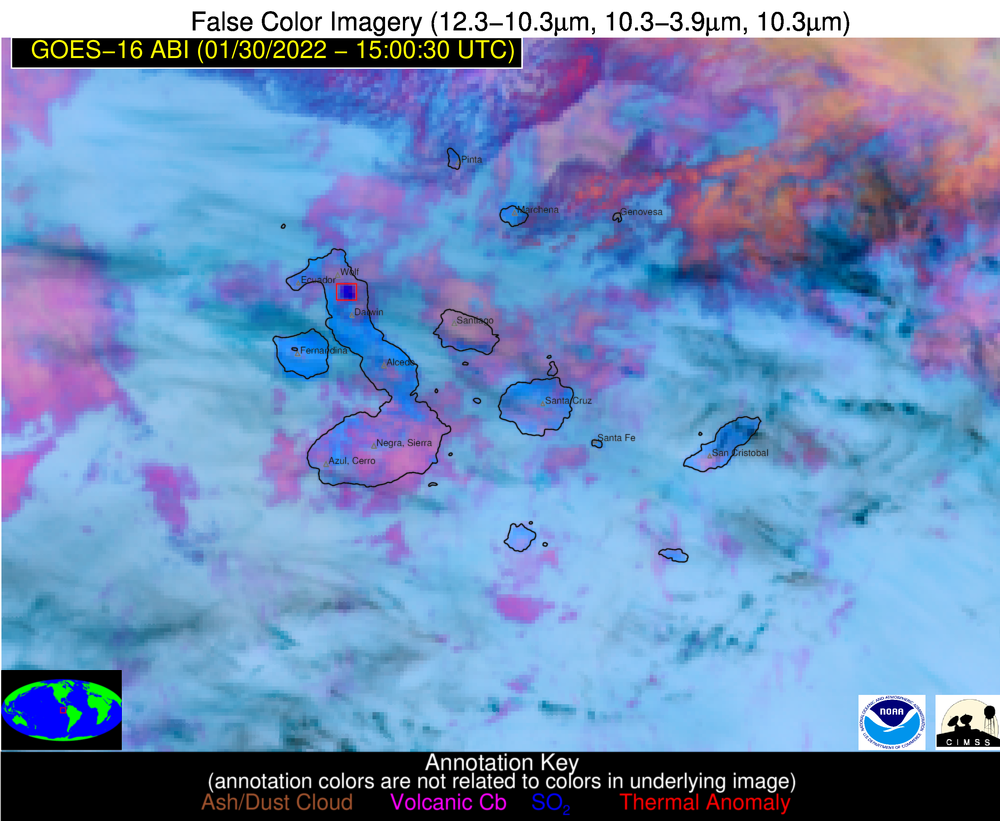 Galapagos / Wolf volcano - GOES-16 sat measurements as of 01.30.2022 / 3:00 p.m. - Doc. IGEPN / NOAA- CIMSS