Publié le par Bernard Duyck
In the central group of the Tonga Islands, called the "Ha'apai group" in the news right now, another volcano is considered active: Tofua.
Thermal anomalies are detected there by Sentinel-2.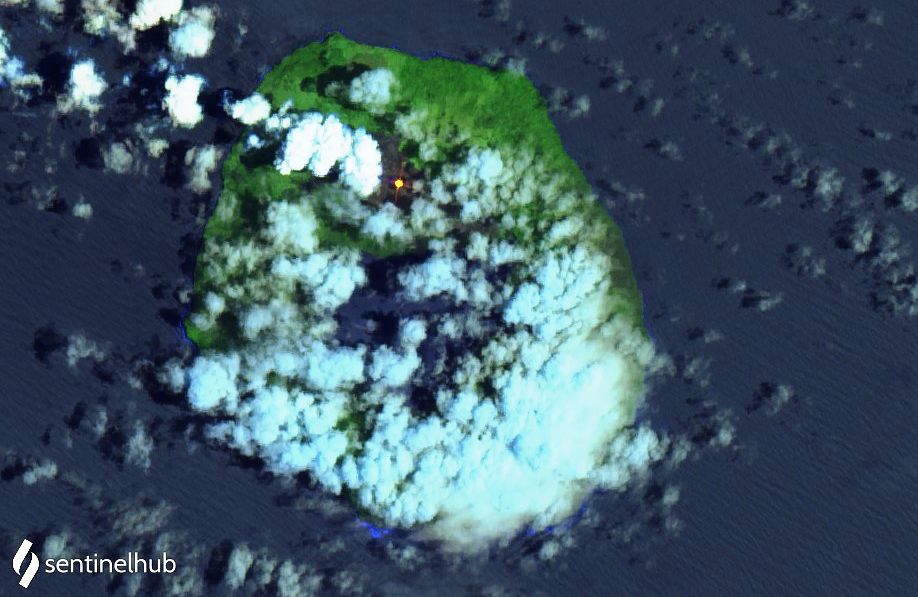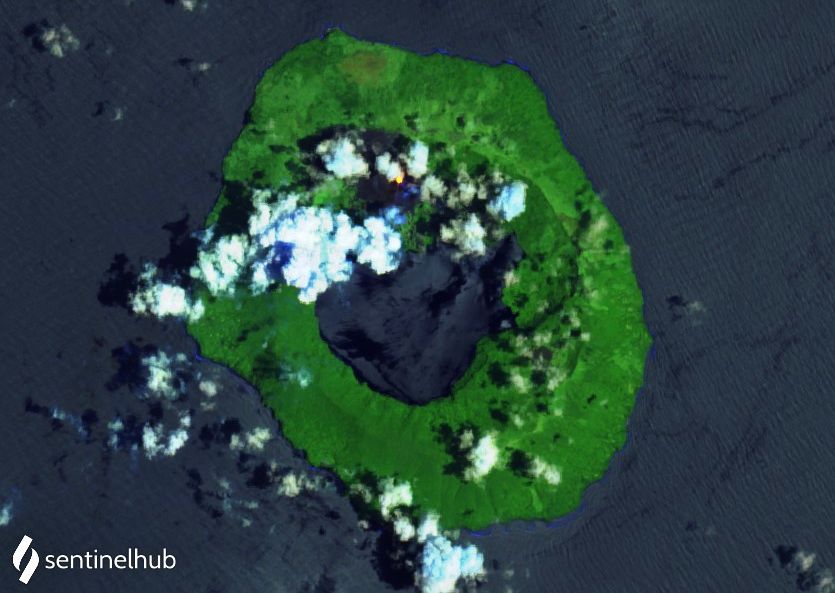 Tonga Islands / central Ha'apai group - Tofua - incandescence at Lofia cone - image Sentinel-2 bands 12,11,4 from 17.01.2022 (top) and from 08.12.2021 (bottom) - one click to enlarge
Covering an area of ​​55.63 km², Tofua is a circular island-volcano which has a lake in its center, housed in the bottom of a caldera.
The low, forested island of Tofua forms the emergent peak of a large stratovolcano that was seen erupting by Captain Cook in 1774.
It contains a 5 km wide caldera whose walls drop steeply to about 500 m.
Three post-caldera cones have been constructed at the northern end of a cold freshwater caldera lake, the surface of which is only 30 m above sea level.
The easternmost cone has three craters and produced young basaltic and andesite lava flows, some of which made their way into the caldera lake.
The largest and northernmost of the cones, Lofia, has a steep crater 70m wide and 120m deep and has been the source of historic eruptions, first reported in the 18th century.
The fumarically active crater of Lofia has a flat floor formed by a lava flow in a pond.
Sources: Sentinel-2 and Global Volcanism Program
According to the ERCC / European Commission, the number of victims as of January 17 following the tsunami following the eruption of Hunga Tonga-Hunga Ha'apai is 4 dead (2 in Tonga, 2 in Peru) and several injured, including 2 in Japan ; Communications with the islands following the deterioration of the submarine cable remain cut off.
The UN said a distress signal had been detected in a group of isolated, low-lying Ha'apai islands, and it was particularly concerned about the Fonoi and Mango islands. According to the government of Tonga, 36 people live in Mango and 69 in Fonoi.
A satellite image released by the United Nations Office for the Coordination of Humanitarian Affairs (OCHA) indicates that dozens of structures were damaged on Nomuka Island.
It is possible that more than 50% of Nukualofa, Tongatapu's largest city, was affected.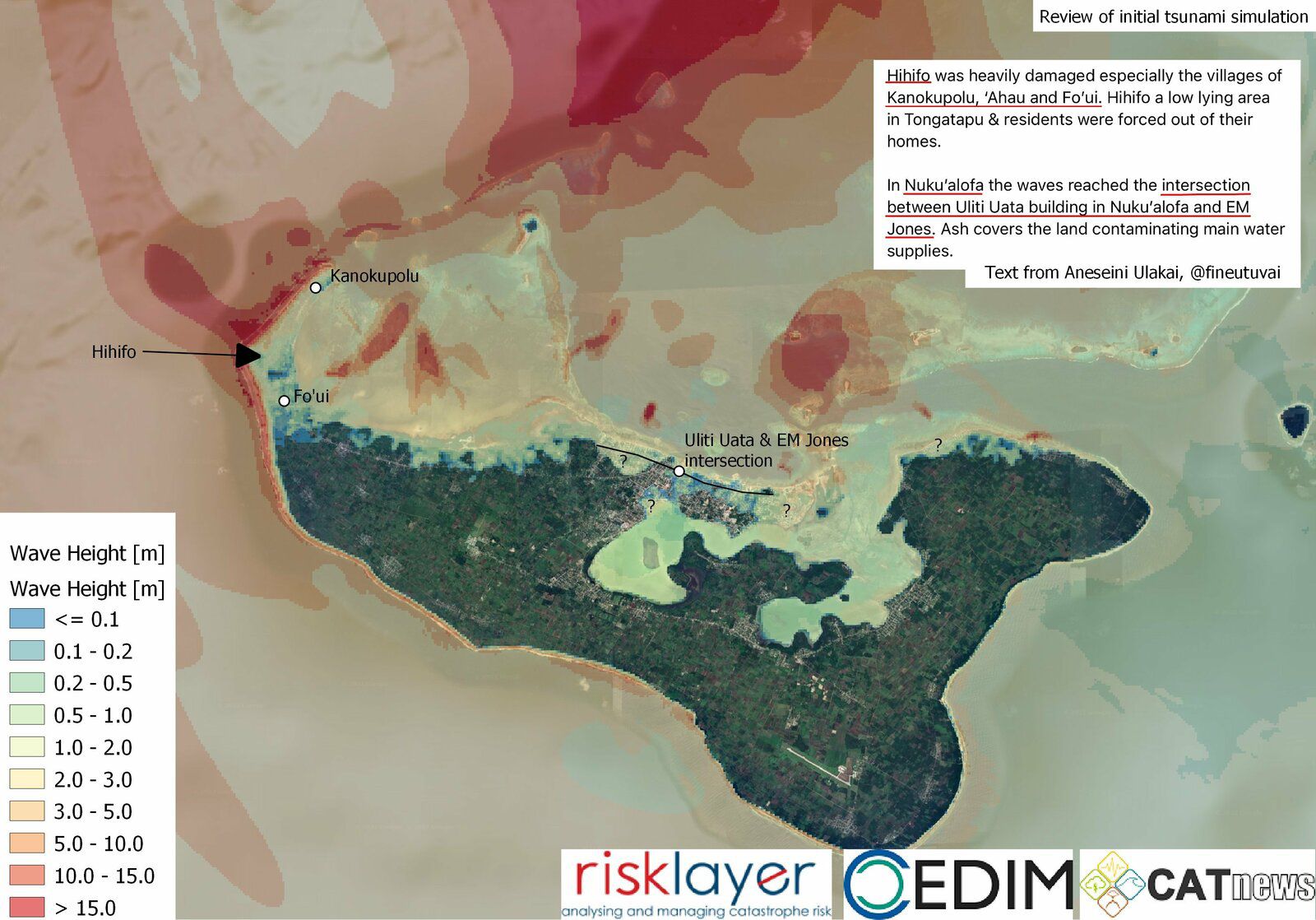 Tonga Islands - Togatapu - tsunami and destruction as of 17.01.2022 - first models of tsunami wave heights created by Dr Andreas Schäfer - one click to enlarge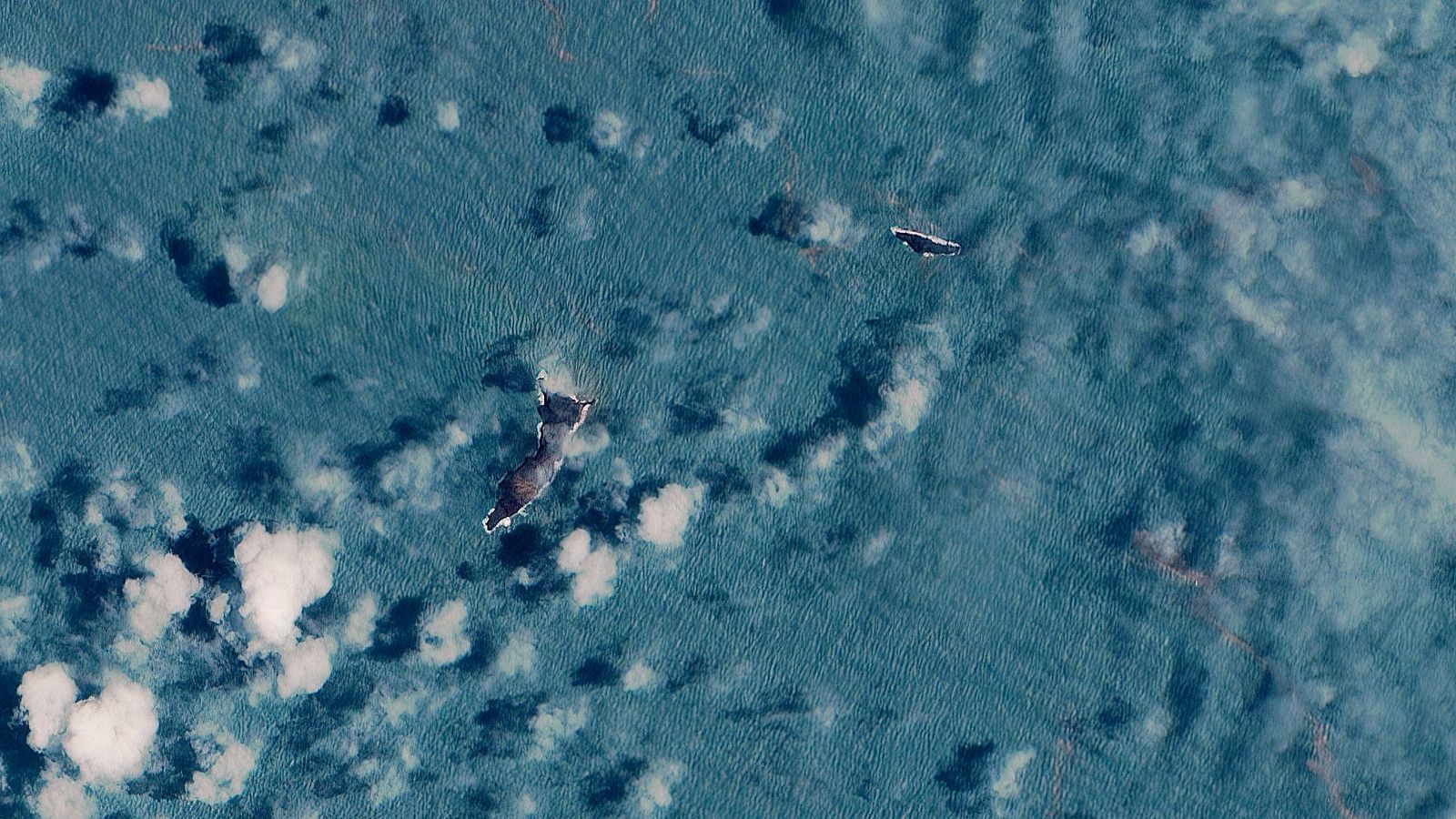 HTHH - the destruction of the old cone took part of the 2 pre-existing islands - image Sentinel-2 nat colors bands 4,3,2 from 17-18.01.2022 - one click to enlarge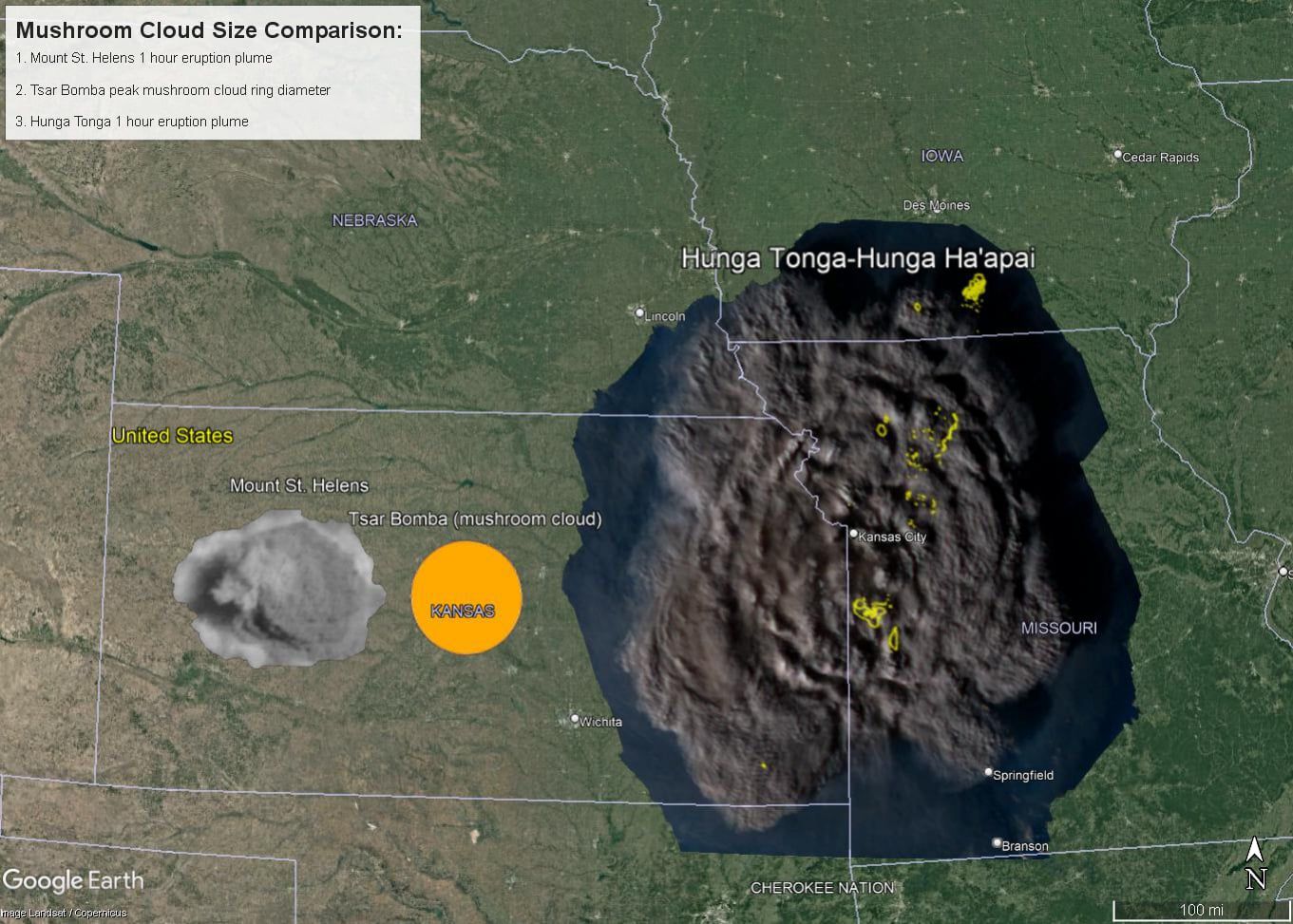 Comparison of mushrooms from HTHH, St Helens and Tsar bomba eruptions; NASA estimates the blast at 10 megatons - Doc. Nelson Tucker of Tornado Talk 18.01.2022 - one click to enlarge
On the positive side: the rapid announcement of a tsunami thanks to the DART network.
DART (Deep-ocean Assessment and Reporting of Tsunami) buoys are deep-ocean instruments that monitor changes in sea level. They detect tsunamis by measuring changes in water pressure via seabed sensors. At present, they are the only accurate means of quickly confirming that a tsunami has been generated before it reaches land.
Any abnormal element detected on a DART buoy is immediately communicated to the National Geohazards Monitoring Center of GNS Science / Te Puna Mōrearea i te Rū (NGMC). On Saturday, the NGMC was already monitoring the situation closely, following observations of an earlier eruption at the Hunga Tonga-Hunga Ha'apai volcano.
Strong and unusual currents are expected to continue for at least another 24 hours. This particularly applies to the east coast of the North and South Islands of New Zealand, and the south and west coasts of the South Island. Strong currents can injure and drown people.
It is advisable to remain vigilant in or near water close to shore (including swimming, surfing, fishing, small boats).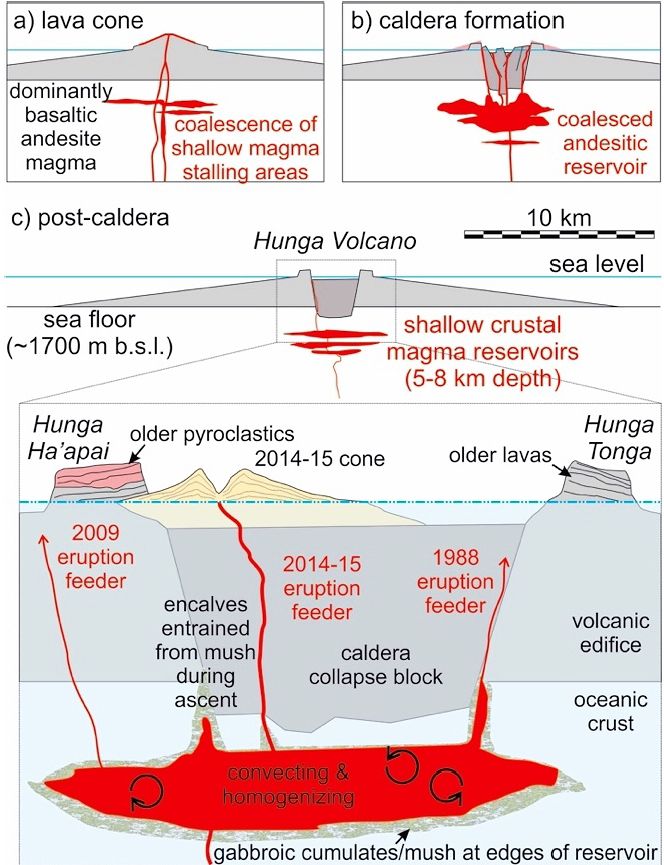 Geochemistry of the 2009, 2014-15 and older HungaTonga-HungaHaapai eruptions - Doc. study led by Dr. Marco Brenna (U. Otago). January 2022 (*) - click to enlarge
With an incredible timing, here is a link to the manuscript on the geochemistry of the 2009, 2014/15 and older eruptions of HungaTonga-HungaHa'apai, edited by Dr. Marco Brenna (U. Otago) - (*).
Recent events are interpreted as a step in a growing magmatic system, with evolution towards repeated recharges of the andesite reservoir.
Sources:
- ERCC – DG ECHO
- GNS Science – Dart network - link
- (*) Post-caldera volcanism reveals shallow priming of an intra-ocean arc andesitic caldera: Hunga volcano, Tonga, SW Pacific – by M. Brenna, Sh. Cronin, I. Smith, A. Pontesilli – 01,2022 – text complete following this link.
On 01/17/2022 at 9:27 p.m. local time, an eruption is recorded on the Turrialba volcano, in Costa Rica, with a plume that rises 1,000 meters above the height of the crater and 4,340 meters above the sea ​​level.
Duration of activity: In progress.
At Poas, the fumaroles on the north and east walls remain active. Few low frequency and very low amplitude volcanic earthquakes are recorded. During the last 24 hours, 2 proximal volcano-tectonic earthquakes of low magnitude have been recorded. Magmatic gas concentrations remain below detection thresholds. The summit of the volcano continues to experience a slight extension. To monitor !
Source: Ovsicori
Satellite monitoring of Wolf Volcano, Galapagos, shows that thermal anomalies are continuing on January 18, 2022.
The MIROVA system reports 2 very high (2,190 and 7,581 MW) and 1 extreme (14,048 MW) thermal alerts in the last 24 hours, and the WORLDVIEW system reports hundreds of thermal alerts.
They are due to lava flows that have not yet reached the sea.
Slight gas emissions were observed on the satellite towards the southwest.
At the seismic level, only three LP earthquakes are reported.
Alert level - SNGRE: No alert
Source: IGEPN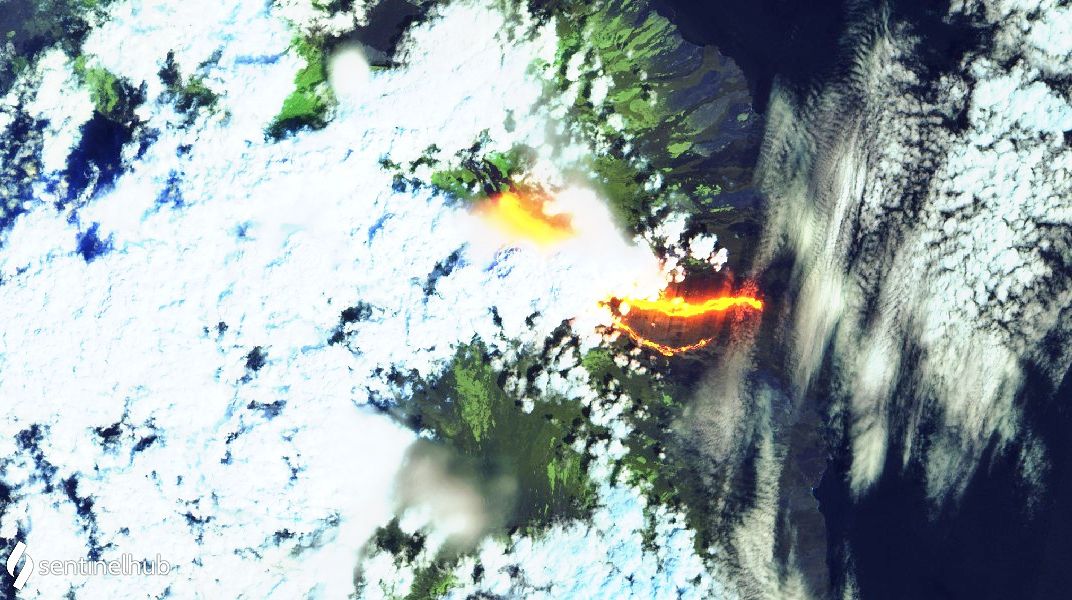 Wolf - the lava flows did not reach the sea - image Sentinel-2 bands 12,11,4 from 16.01.2022 - one click to enlarge