Publié le par Bernard Duyck
In Costa Rica, on 2022-01-24 at 7:06 a.m. local time, an eruption is recorded at the level of the Turrialba volcano, with a column that rises 100 meters above the height of the crater and 3440 meters above from sea level. (meters above sea level) (11283.2 feet).
Duration of the activity: 2 minutes.
The winds blow from the southwest.
At 02:25:00 local time on January 23, 2022, an eruption is recorded at the level of the Rincon de la Vieja volcano, the height reached by the column is unknown due to the visibility conditions of the site.
Duration of the activity: 1 minute.
Seismic activity is similar, compared to yesterday.
At the time of this report, the winds are blowing westerly.

This morning's eruption generated lahar(s) to the north of the volcano. A very slight 1-2 Hz frequency tremor was detected after the eruption. This signal has gradually disappeared this morning. In recent days, geodetic observations show no significant change.
Source: Ovsicori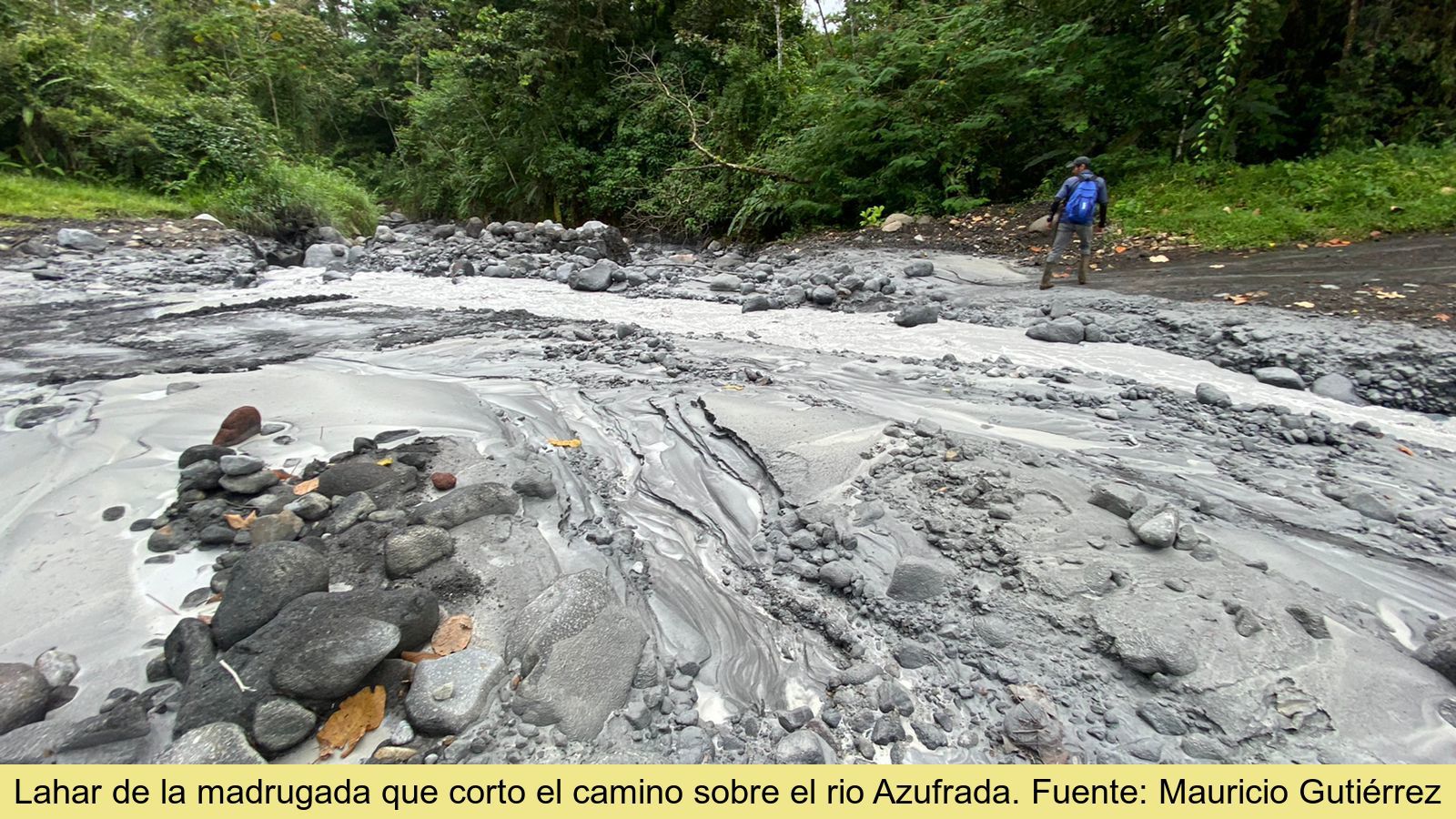 Rincon de La Vieja - lahar generated by the eruption of 23.01.2022 / 02:25 on the rio Azufrada - Ovsicori / M .Gutierrez
Regarding the monitoring of the activity of the Nevado del Ruiz volcano, the Servicio Geologico Colombiano reports that during the last week, according to the analysis and evaluation of the parameters considered in the monitoring of volcanic activity, it has been shown that the Nevado del Ruiz volcano continues to exhibit behavioral instability.
Seismic activity, primarily related to fluid dynamics within volcanic conduits, continued to be recorded similarly to the past week.
On January 24 and 25, 2022, Mirova reports small thermal anomalies of VRP 5MW.
For the moment, this activity does not imply any change in the planned scenarios.
the level of volcanic activity remains at YELLOW or III, however, an acceleration of the volcanic process and consequently changes in the level of activity of the volcano remains possible.
Source: Servicio Geologico Colombiano / SGC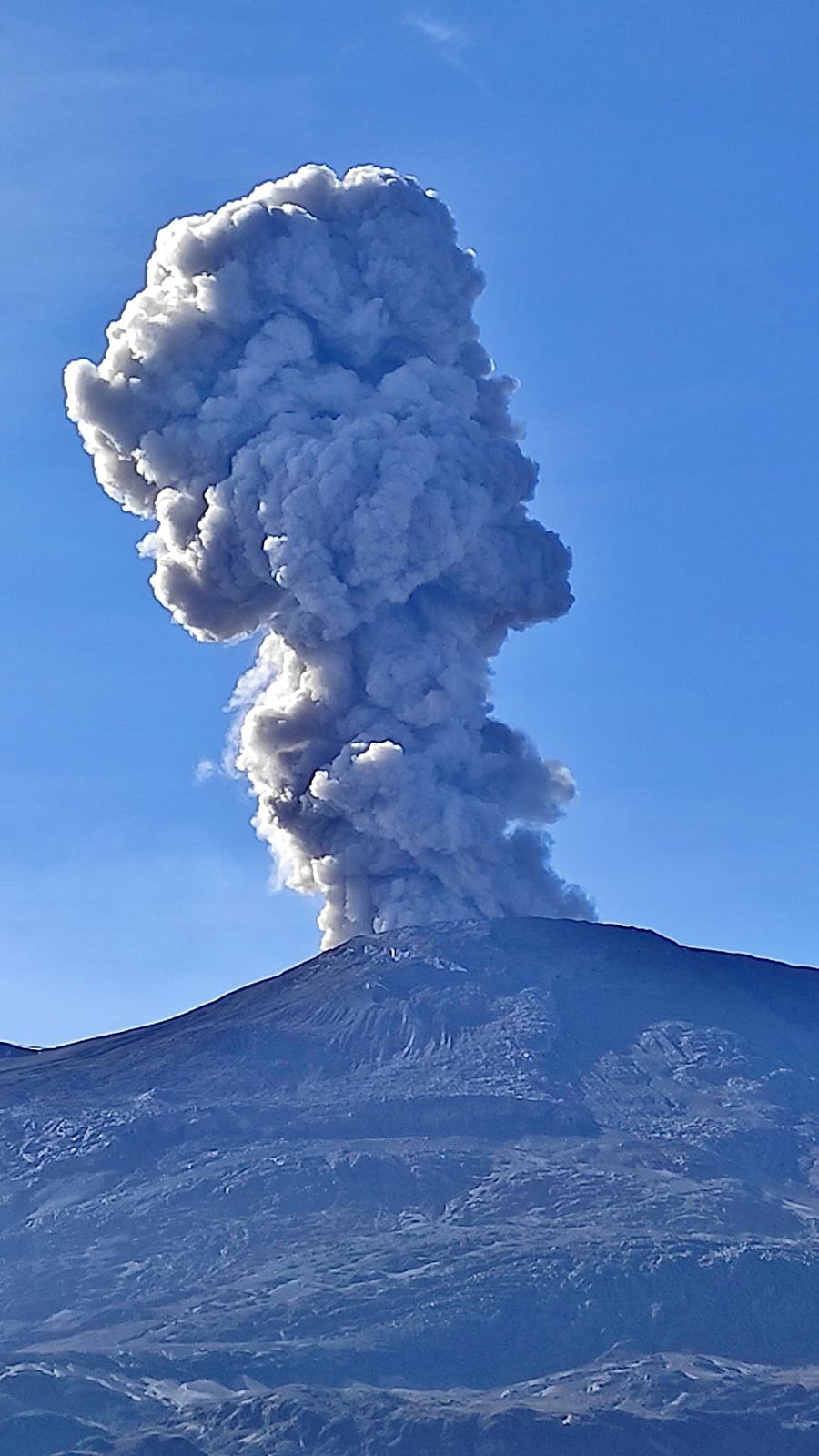 Nevado del Ruiz - ash plume from 24.01.2022 / around 8 a.m. - photo © Sylvain Chermette / 80 jours Voyages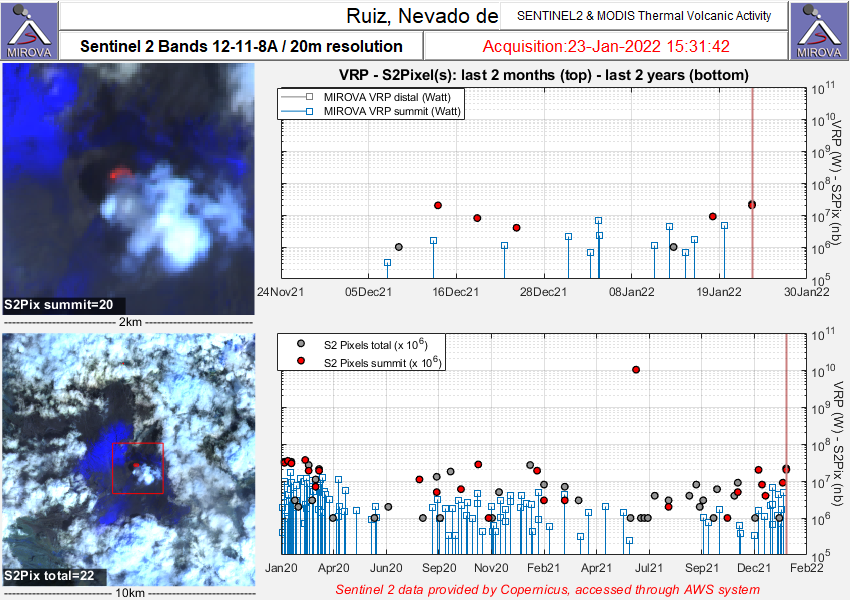 Nevado del Ruiz- anomalies thermiques au 23.01.2022 / 15h31 - Doc. Sentinel-2 bands 12,11,8A & Modis thermal volcanic activity - docMirova
Low-level eruptive activity continues at Semisopochnoi from the northern cone of Cerberus. Seismicity remains elevated. Low-level steam and ash emissions were observed in web camera images. Nothing unusual was observed in the cloudy satellite data. A small explosion was detected by the local infrasound array this morning.
Small eruptions producing minor ash deposits near the active north crater of Mount Cerberus and ash clouds generally below 10,000 feet above sea level have characterized the recent activity. Small explosions and associated ash emissions may continue and be difficult to detect, particularly when heavy cloud cover obscures the volcano.
Semisopochnoi is monitored by local seismic and infrasound sensors, satellite data, web cameras, and remote infrasound and lightning networks.
Current alert level: Watch; Current aviation code: orange
Source: AVO