Publié le par Bernard Duyck
Last week, GNS technicians began work to improve the transmission of seismic data and webcam images from Whakaari / White island. Images can now be received more often and downloaded more quickly, and data from the single operating seismometer is nearly continuous.
Minor amounts of ash emission continue to be observed on the webcam. Other intermittent ash emissions may continue to occur. The lake water level has risen in response to recent wet weather and mud geysers have been observed in one of the main craters. The geyser has been quite common over the years when the lake level is high and water floods some of the vents.
A gas measurement flight was also conducted three weeks ago, recording an increase in one of the volcanic gas emissions measured at the volcano in mid-January 2022. The sulfur dioxide gas emission rate (SO2) was similar to that of the last survey but The carbon dioxide (CO2) emission rate was slightly higher.
The current activity level corresponds to moderate to high levels of agitation. As such, the Volcanic Alert Level remains at 2 and the Aviation Color Code remains at Yellow.
The Volcanic Alert Level reflects the current level of volcanic unrest or activity and is not a prediction of future activity. While Volcanic Alert Level 2 is primarily associated with the risk of volcanic unrest (including the discharge of hot volcanic steam and gases, earthquakes, landslides and hydrothermal activity), there is also a rash risk and rashes can still occur with little or no warning.

Source: GeoNet 15.02.2022 / 4:20 p.m.
From February 7 to 13, 2022, the IGPeru informed us that the activity of Sabancaya remained at moderate levels, with an average of 15 explosions per day, and plumes of ash and gas reaching a height of 1,700 meters above the summit.
During this period, 122 volcanic earthquakes associated with the circulation of internal magmatic fluids were detected. Volcano-tectonic earthquakes, related to rock fracturing, occurred mainly to the west of the volcano, with max. of 2.7.
The structural deformation does not show any significant anomalies.
Mirova identified 8 thermal anomalies, with a max. of VRP 26 MW, associated with the presence of a lava body on the surface of the crater.
The volcanic alert remains at naranja, associated with an inaccessible zone of 12 km radius around the crater.
On February 14, a strong SO2 signal was detected at a distance of 3.3 km from Sabancaya, with 39.84 DU of SO2 at an altitude of about 2 km. The estimated mass at less than 300 km is 10.3 ktons. ( Sentinel-5P Tropomi)
Sources: I.G.Peru and Tropomi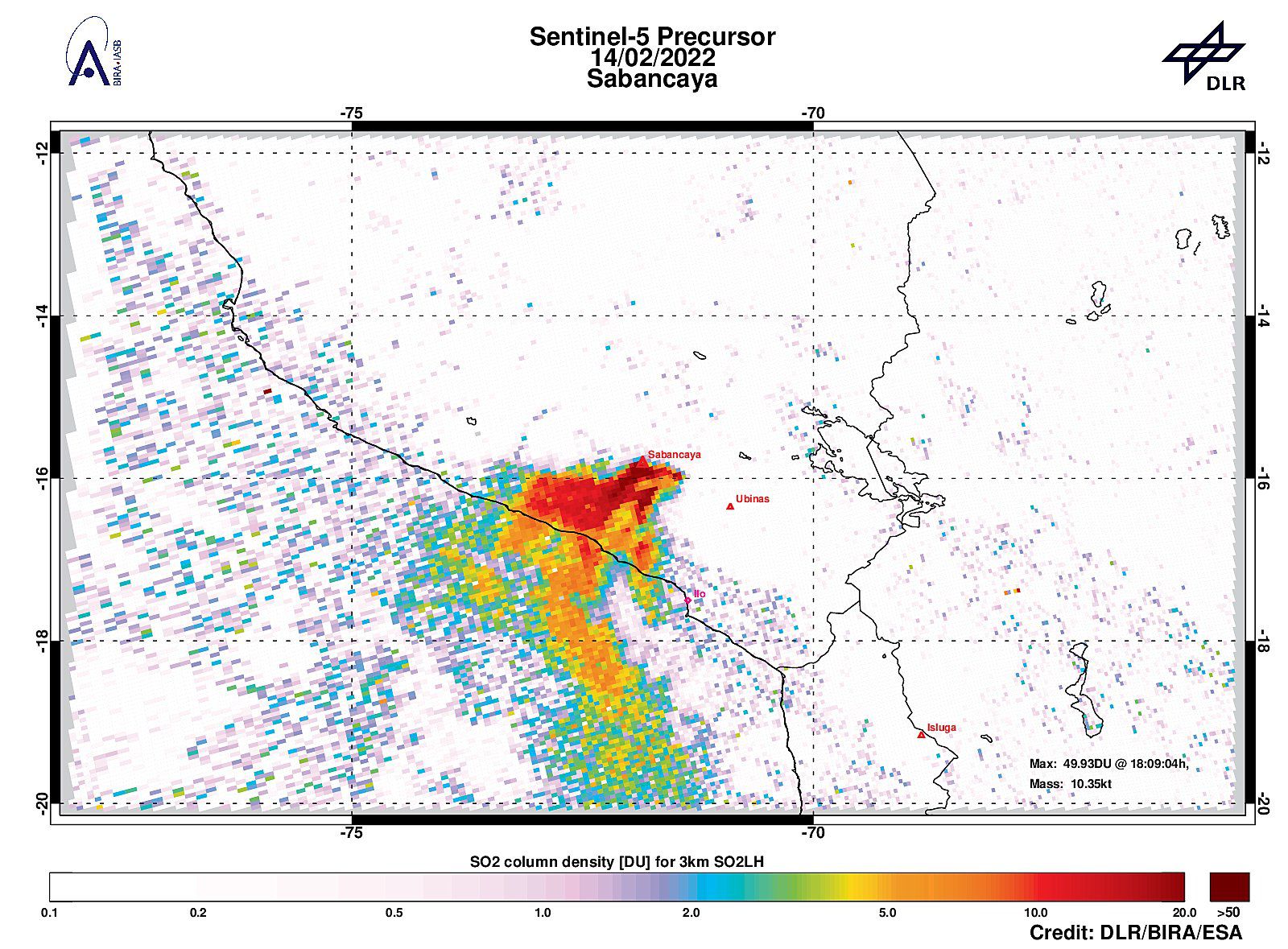 Sabancaya - 2022.02.14 - strong SO2 signal at a distance of 3.3 km from Sabancaya with 39.84 DU of SO2 at an altitude of about 2 km. - Doc. Sentinel-5P Tropomi / DLR / BIRA / ESA
In Ethiopia, the southern pit crater of Erta Ale still shows thermal anomalies visible on Sentinel-2 images.
The Mirova site noted thermal anomalies between February 12 and 14, between VRP between 1 and 10 MW.
Sources: Sentinel-Hub and Mirova
In Iceland, on February 14 at 5:27 p.m., an M3.0 earthquake was detected 2.5 km north of Grindavík, in the Reykjanes Peninsula; it was felt by the townspeople. A few aftershocks have been detected.
Today February 15 at 00:23 a M2.9 earthquake was detected about 13 km SSW of Flatey, felt at Akureyri. Several aftershocks have been detected. The island is located in Breiðafjörður, northwest Iceland, between Snæfellsnes to the south and Vestfirðir to the north.
Source: IMO