Publié le par Bernard Duyck
In the Galapagos, thermal anomalies continue to be observed at Wolf Volcano by satellites, due to advancing lava.
The WORLSVIEW system recorded 170 thermal alerts in the last 12 hours and MIROVA recorded 4 very high thermal alerts (1783, 1424, 2343 and 2364 MW) at the Wolf as of February 25, 2022.
on February 26, the WORLDVIEW system recorded more than 100 thermal alerts, and MIROVA recorded 2 high thermal alerts (105 and 999 M.W.) and 1 very high (1522 M.W.) in the last 24 hours.
Seismicity is limited to one daily LP earthquake.
Sources : IGEPN, Mirova, Sentinel Hub
At Merapi, the BPPTKG provides information for the week of February 18 to 24, 2022:
- a pyroclastic flow observed to the southwest (upstream of Kali Bebeng), with a slip distance of 1.8 km. It was reported that there was light ash rain in Pakem district on February 18, 2022.
- 173 lava block falls were counted in the southwest, dominant at Kali Bebeng, with a max. 2km.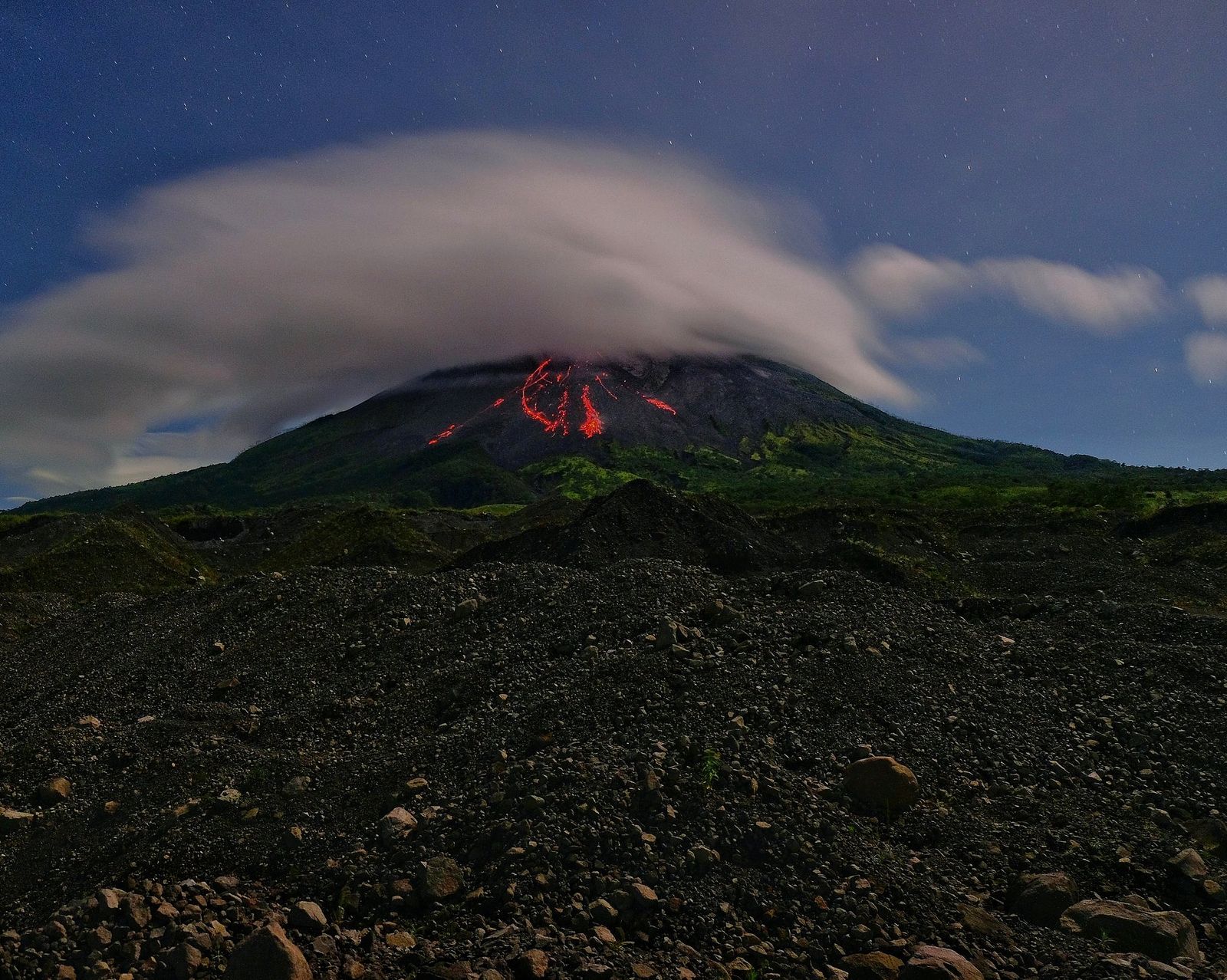 Merapi - avalanche of incandescent blocks on 22.02.2022 - photo IG: Merapi uncover - one click to enlarge
Drone data analysis showed that there were morphological changes in the southwest and center of the crater due to avalanche extrusion activity and lava dome growth. The volume of the southwest lava dome is 1,578,000 m³ and the central dome is 3,228,000 m³.
Seismicity this week is still quite high. Mount Merapi's deformation, which was monitored using EDM this week, showed a distance shortening rate of 0.2 cm/day.
The activity level remains set to the "Siaga" level. The current potential danger consists of lava avalanches and hot clouds in the south-southwest sector covering the Boyong river for a maximum of 5 km, the Bedog, Krasak, Bebeng river for a maximum of 7 km. The southeast sector covers the Woro River for a maximum of 3 km and the Gendol River for a maximum of 5 km. Meanwhile, the ejection of volcanic material in the event of an explosive eruption can reach a radius of 3 km from the summit.
Source: BPPTKG
NASA has unveiled new prototype equipment it says will help predict volcanic eruptions. The sensor, the smallest spacecraft dedicated to detecting gases like sulfur dioxide and nitrogen dioxide that can be precursors to volcanic activity, will weigh just 13 pounds and have the best resolution.
The new sensor aims to provide volcanic activity and air quality information as quickly as possible via a small satellite, helping to speed up the response to eruptions.
Nanosat Atmospheric Chemistry Hyperspectral Observation System, or NACHOS, will fly 480 kilometers above Earth and use a hyperspectral imager to monitor the ground.
NACHOS launched into space on the 17th Cygnus cargo resupply mission, which docked with the International Space Station on Monday (February 21); it will be deployed at the end of May when Cygnus leaves the orbital complex.
The tiny satellite, once operational, could be able to detect chemicals in areas as small as 0.4 square kilometers, or about the size of the Mall of America in Minnesota. As a result, NACHOS will be the smallest and highest resolution sensor for searching for volcano-related gases, such as sulfur dioxide, nitrogen dioxide and other gases.
After its launch in May 2022, the small satellite should remain in orbit for a year. This year, a second NACHOS experiment will be launched into low Earth orbit as part of the US Department of Defense space test program cited by NASA.
Source: Natureworldnews.com